How to Hire an Offshore Front-end Development Team
Key takeaways
The offshore front-end development is expected to grow 70% by 2023.
Find out why startups and companies follow IBM looking towards outsourcing development and building R&D centers.
Discover 10 cases from our clients that persuaded them to hire a remote web developer.
Challenges with local hiring in the technologically advanced regions.
Tech stack, development cost, and cooperation benefits with Ukrainian developers.
After the pandemic, the demand for software development was up. In particular, for frontend services. It explains the acceptance of newly opened opportunities in offshore development. If, before 2019, outsourcing was gaining momentum, then in the post-pandemic world, with a massive shift to digitization, some managed to enjoy all the charm of smart spending. The rest have grasped the idea of following cost-effective software outsourcing.
There has been a large increase in job postings for IT specialists in the recent month (June 2022) – over 15 500 openings are active on Glassdoor all over the world, part of which is remote offerings. In this article, we are going to cover the tendency to hire frontend developers offshore.
What is offshore frontend development?
The first hire, that's naturally, is a backend developer. A frontend developer is the one you hire following the backend developer. Commonly, every single startup starts with someone who generates the first lines of code for the future business. However, a frontend developer is needed to have even a tiny chance to be featured by online users.

Developing the functionality of the user interface of a website or web application is the main task of a Front-end developer. One misconception is that you can replace a frontend developer by assigning their tasks to backend developers. Partially, yes, if your application is based on Node.js – a JavaScript programming language suitable for core development.
This is something those real-time web applications built with Node.js. Read more in our article.
Take me there
However, putting frontend tasks on the persons responsible may cause obstacles related to downtimes and blooming bugs.
Let's see what spurs startups and businesses to hire offshore frontend developers.
Why startups and companies offshore frontend development
If you started building your core team in-house, frontend developers engaged from the offshore area could become a cost-effective supplement asset of your project team for future scale.

Shortlisted reasons for hiring front-end offshore are in place when you:
Have a shortage of local tech experts
Feel fatigued because of a time-consuming hiring process in your area
Consider local compensation too high than offshore rates
Are fine with it outsourcing frontend development as it is not core processes
Are attracted by the flexibility of offshore hiring models
Feel comfortable with completing your backend assets with remote peers
Want to keep your in-house employees focused on customer support and operations
Want the job to be done qualitative as only a niche specialist can do
Prefer performance level to the measured way of work inherent in your region
Faced with an urgent need of engaging extra hands that is impossible to do locally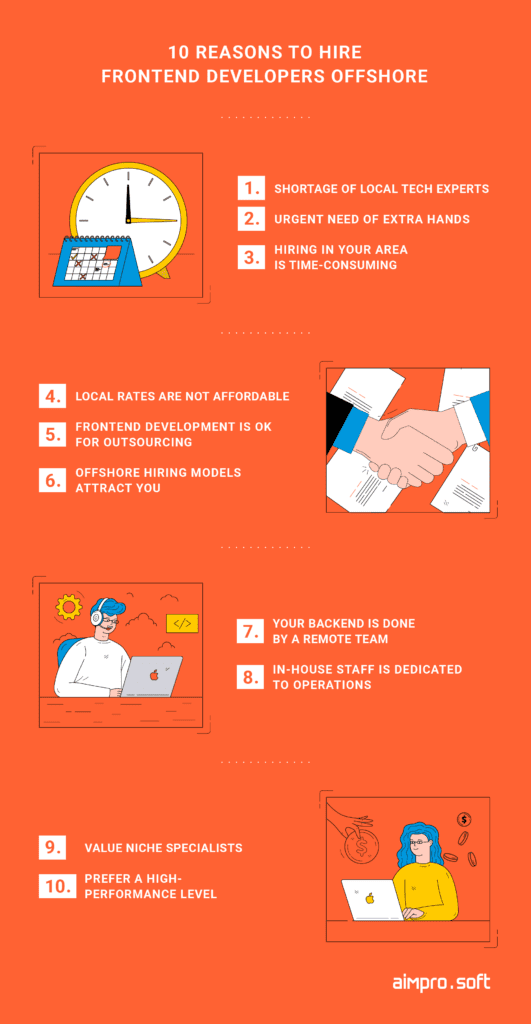 Hiring a front-end developer for R&D centers and startups
Expectation from the offshoring team is completing tasks not making a product one may think. That's right. To solve market problems and make money with your product you need a partner.
The reason why startups choose to set up a core team locally is that investors require that.
The reason why startups choose outsourcing is that they have to save bootstrapped and fundraising budgets.
R&D centers are most often established overseas pursuing cost-saving interests, with the quality of services being equal. If based on certain project requirements, an R&D center is based in the original country, then outsourcing non-core development tasks to an offshore development company is acceptable, for example, in case of a shortage of specific tech talents locally.
A tech talent panic emerging in 2020 only intensified in 2022. Recruiting technologists to fill open tech positions is a serious problem for 73% of companies as the recent report states. As of 2022, the tech worker shortage raised 40%, which is 1,6 million job postings for technology occupations compared to the same period a year ago.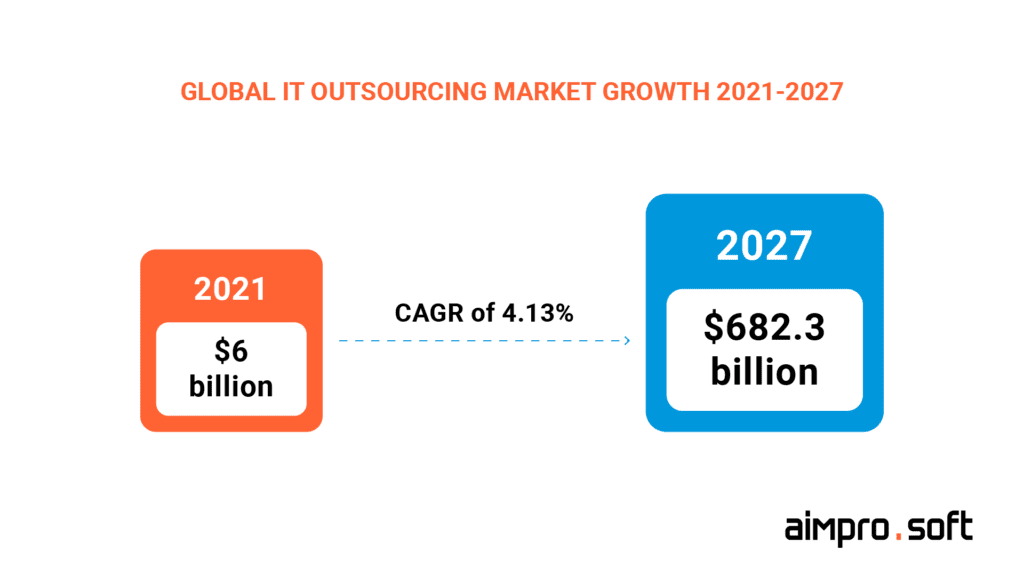 The research found that the hourly rates of European developers have increased by 31% in 2021. The global outsourcing market tends to employ offshore frontend development programmers.
What led to the IT worker shortage in developed countries like the US, UK, Germany, and Scandinavia?
The phenomenon of tech talent shortage in these regions is not new. Since the Russian invasion of Ukraine, the human resources constraints have intensified as the US and EU businesses began to reduce activities in Russia and Belarus, which will lead to a huge tech gap with 410k and 40k relatively in their project teams needing to be filled with someone. Finland and Baltic countries cut ties with Russia as well.
Tech giant SAP SE, whose Hybris line of product development we offer, is planning to open an R&D center in Ukraine after gradually disengaging its activities with Russian enterprises, as stated in Mikhailo Fedoriv after talking with Cristian Klein, SAP's СEO.
Apart from that, there are some remarkable reasons why local hiring may get stuck:
Mismatching of the skills and employers' expectations (UK)
Predominance of power in the hands of the employees rather than employers (USA)
Massive migration of people and outflow of experienced tech candidates (Sweden)
A talent attraction and retention are pretty competitive (Germany)
As forecasted, software development outsourcing at tech startups will lift by 70% by 2023. Among staffing shortages, front-end engineers take 5th place.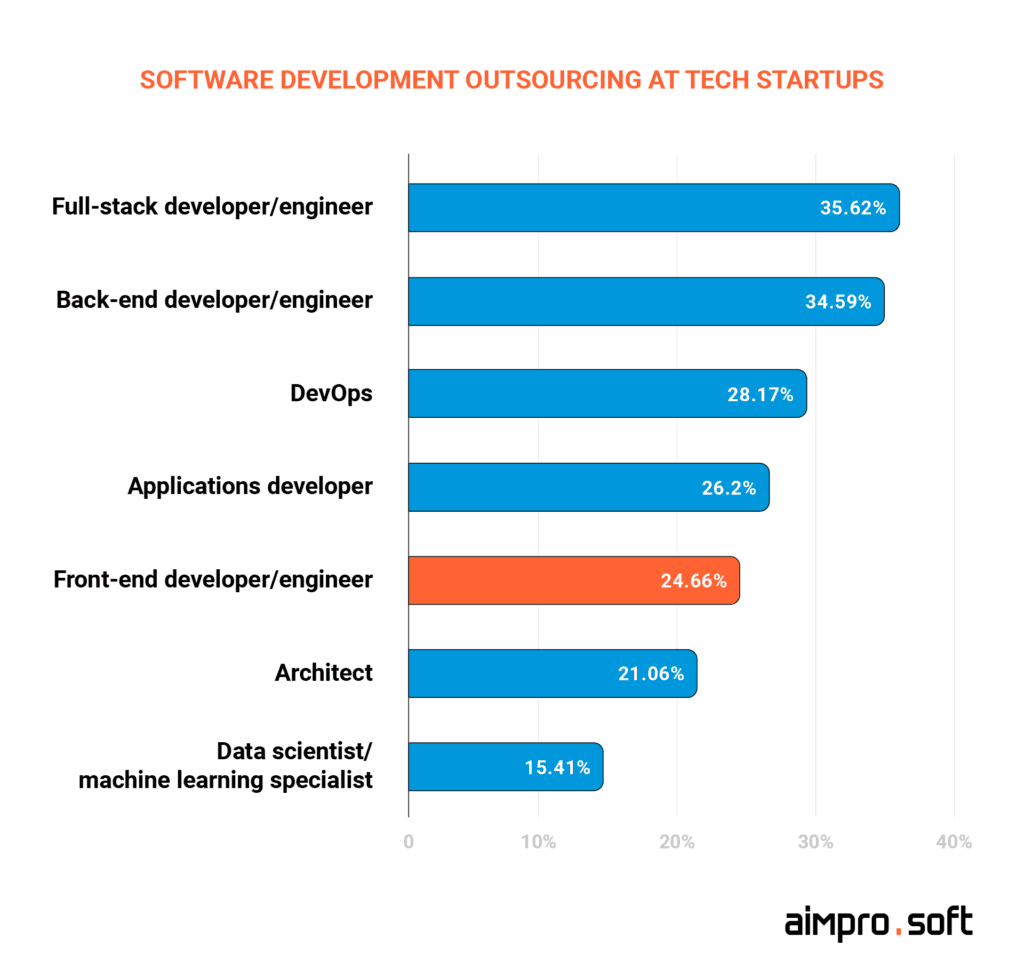 Barriers to local hiring in technologically advanced regions
States-side hiring front-end developers in the USA
Peculiarities of recruiting in the USA are based on work years and skill set rather than education. An Ivy League degree is essential only for 24% of respondents when evaluating technical talents, according to Indeed. Work experience continues to be the most important qualification. Nevertheless, cost-per-hour is arguably the most important metric when hiring frontend developers in the long run.

Arthur Hu, CIO of Lenovo Group Ltd., admitted the competitiveness and rapid growth of the IT market. More than 35 000 frontend developer jobs are listed on Indeed in June 2022. Finding qualified candidates locally is tough. Since businesses place a high value on talents, outsourcing seems rightly so: employers can close their openings with specialists of rare skills and in addition for a reasonable price.
An employer in the US has to be ready to compensate a sum of $100 000 per year on average for the frontend development services, sometimes exceeding the mark of $150 000. $100 in the US, when offshore regions with a more favorable tech climate can promise two developers for the same rate.
Remarkably, startups that succeeded spectacularly often involved serious engineering talents remotely right from the start from the world-famous tech hubs involved.
Kyiv, Kharkiv, Lviv, Dnipro, and Odesa are the most popular software development hubs in Ukraine that are the choice of businesses worldwide.
Take me there
IBM consists of 60% offshore staff. Thus, the company cut the budget without compromising the quality level. If IBM had R&D centers in the US only, it would cost it fabulous money.
Challenges with local recruiting staff in Great Britain
Demand is outstripping supply. 2021 has shown the most significant jump in rates in the UK, forcing Briefly.app, a professional media platform, to overpay 50-60% for onshore development than 2019. For a small startup like this one, it may turn out ruinous.
On top of that, searching for experienced candidates consumes 40% of the working hours of business owners, which stagnates a generation of income. Even though the additional spending of filling the tech gap laid on the shoulders of UK companies is £2.2 billion. Besides, an employer will pay from £70 000 to £120 000 per year in the United Kingdom area, according to Glassdoor. For startups, especially at the early stage paying £34-60 per hour for frontend development services may be too much of a burden.
Shifting to overseas development is a means of survival for business. Rates are lower at the same level of quality. Despite the russia-Ukraine war, Wirex, a UK-based digital payment platform for cryptocurrency transactions, opened an R&D center in Lviv, being optimistic about spreading its presence in Kharkiv and Odesa, which shows the trust gained for years of hard work and support the Ukrainian people during challenging times.
Tired of high rates and competing for frontend candidates?
We onboard web developers from our pool within 2 weeks.
CONTACT US
Deficit of tech personnel in Germany
A serious shortage of skilled frontend developers is a problem that manifests itself in Germany. Speaking about a mid-senior level, there are areas of low availability of software engineers and regions with an intensive talent supply but for higher costs. It's a double-edged sword.

Startups create around 430,000 new full-time jobs in the German area fostering competitiveness and innovation in a Social Market Economy. 2021 fixed around 2.6 million Small and Medium-Sized Enterprises (SMEs) in Germany as Statista reported. The more traditional sectors are digitalized, the more demanded software developers become. According to LinkedIn, the number of Senior Frontend Developer positions counts almost 5 000 openings for today (June 2022).
Business owners can hire tech talents of the higher seniority for €72 000 per year according to Glassdoor. However, an hourly rate of €88 isn't affordable for startups and unfavorable even for many small and midsized businesses. Moreover, internal recruiting costs are pressing starting from €4,000 per hire – a two months salary for an offshore frontend developer, by the way.
With enterprises the situation is the following: they don't have enough time to train their staff which forces them to outsource tasks or deploy R&D centers in Eastern Europe.
Why it is tough to hire locally in Scandinavia
A Nordic type means innovation and purpose. A clear mission represents Swedes, Danes, and Norwegians as houses with foundations. Entrepreneurs-reinventors, be it startups or companies, are moving with an incredible speed launching new digital products. Such a skyrocket on the Nordic startup scene is derived from the national peculiarities of being relatively low-populated areas; they have to think global from the get-go.

As the Swedish Higher Education Authority notes a reduction of Ph.D. holders in 2022 to the level of 30 years ago. A well-rounded technical education wouldn't help matters either. 2022 sees a deficit of 70,000 digital roles. Nobody is coming in to satisfy the demand.
Even if you try to hire someone locally, it will cost you $5 000-7 000 per month. While the same specialists from Eastern Europe make $3 000-4 000 per month. The savings with Ukrainian tech talents may be up to 50% in addition to benefits such as faster turnaround times, flexibility, and access to skills not readily available in the Nordic markets.
The fact is that companies are also vying for tech talents both in their region and in their own industry. Is there any way out of this impasse?
Benefits of offshore front-end development in Ukraine
The Ukrainian IT market was forecasted to fall by 44% in 2022. Alternatively, we saw a keen interest in the Ukrainian software developers which is far from falling, but increased. The efforts of Ukrainian IT workers brought $2 bln of export volume in the 1st quarter of 2022, lifting the level by 28% comparatively to the same period in 2021 as reported.
"A crisis is always about the speed of reaction", Maxim Ivanov, CEO of Aimprosoft, told in an interview with Emerging Europe.
After all, the world hunger for tech talents has not gone away, for 3 months during the Russian invasion, the new mids and seniors did not appear locally and in the rest of the global tech hubs. Ukrainian developers rather than have gone, but the current crisis is observing a flux of new joiner self-educated developers and graduates of training centers by the leading software providers in the region. This is because the industry is now one of the economical pillars in the country.
The Ukrainian technologists are recognized as hard-working people having diligence in their DNA. According to the survey, 99% of senior technology and HR leaders admit the advantages of remote staff in increased productivity.
Want urgently close your frontend development skill gap?
Let's schedule a call to know how we can help you.
CONTACT US
Hiring an offshore front-end developer: a checklist to succeed
There are several winning principles followed by startups and companies when looking for developers on distance. These key points of successful hiring overseas can help you find your perfect match:
1. Time zone compatibility
Commonly clients from the European continent prefer Ukraine's developers for the proximity to the place. A difference in 2 hours is quite acceptable for synchronization and keeping the rhythms. North America and Canada, on the contrary, focus more on Latin America for its proximity. But Ukraine as a tech hub is appreciated by U.S. clients for the decent quality of services at an affordable price.
2. Best tech stack destinations
For over 20 years, the Eastern Europe regions have been meeting the tech needs of Estonia, Finland, Sweden, the United Kingdom, and others. Historically the mentioned regions are technologically advanced with a high pace of scaling and competition, which causes permanent skills shortages. Many companies and startups found the way out with Ukrainian outsourcing providers that supply staff with relevant tech expertise. For instance, Aimprosoft partnered with Virtual1, a leading telecom provider in the UK, for over 12 years. We have come a long way together, providing full-stack services with AngularJS for building a user interface.
Check the VIrtual1's case study: how we made a web portal for wholesaling telecommunication services.
Read more
3. Culture fit while choosing an outsourcing area
Europeans have similarity in values and mentality. That simplifies comprehension between Ukrainian developers and customers from the Western region. If you have never thought about cultural compatibility, pay attention to it. Though, a skill to get into the substance developed over the years may mean more than the outsourcing destination. First of all, you expect the things to be done right that's why the ability to be totally digging in may have wider implications.
4. Recruitment time when it matters
Companies from tech hubs of Eastern Europe, Ukraine's in particular, have established a perfect process of recruiting candidates with a high skill set. Many companies promise to staff software specialists within 2 weeks. Sometimes it will be some days. Aimprosoft for example, onboarding to the client's team takes 2-4 weeks depending on the skill set specificity.
5. Affordability even under the high competition
One could remain silent about this, but it would not be superfluous to say that lower hourly rates and peculiarities in benefits make offshore development very attractive. However, the overheating in outsourcing in 2020 led to a sharp rise in salaries of software developers in the outsourcing areas. The median salary across all categories grew 30% in 2021, excluding junior hires according to our recruitment research. But in any case, even higher salaries are profitable for outsourcers along with the opportunity to close the expertise gap within the core team.
Tech stack when hiring an offshore front-end developer
Meeting user expectations is a goal of every business. Commonly in the 21st century, clients interact with user interfaces. The way they do it defines the result. Effective, well-executed web interfaces improve the interaction between the user and the business.
HTML, CSS, and JavaScript and a squad of JS tools are responsible for it. Let's discover the most popular tech stack.
JavaScript takes a leading position among programming languages, which provokes again a growing demand for personnel.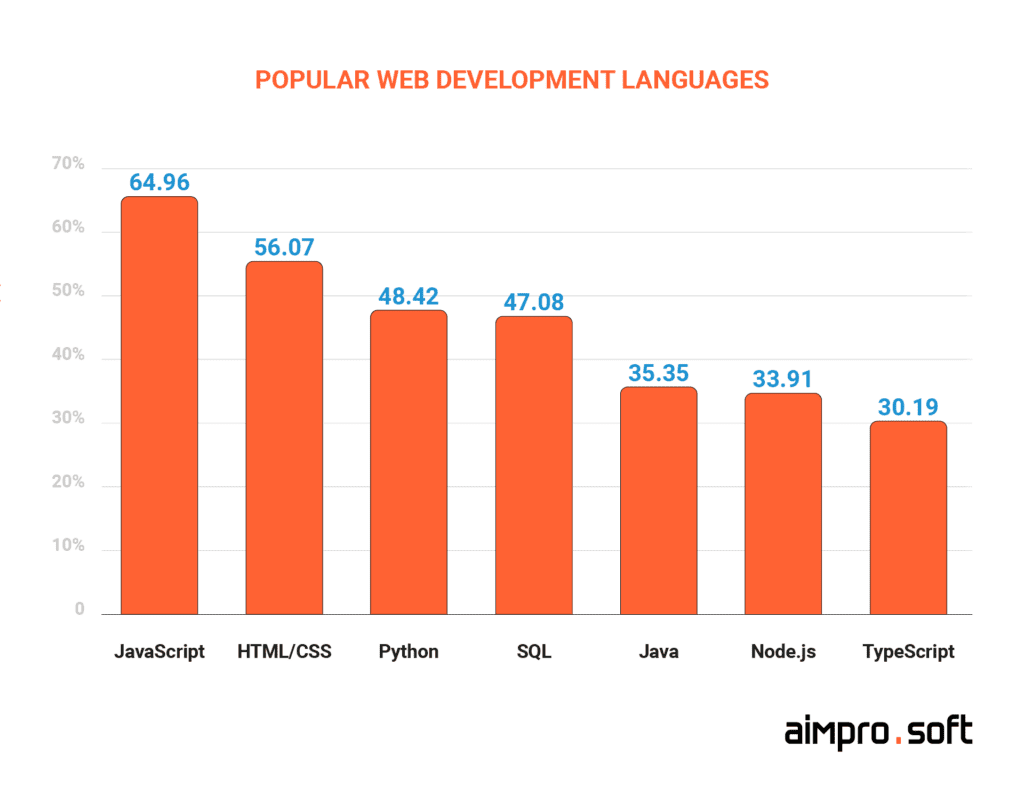 In 2021 React.js is at a record high in the list of web frameworks, which is intensively reflected in the technologically developed markets. We at Aimprosoft felt it on the raised inquiries for React.js developers during the last year. It is the choice of many for its reusable components, which can reduce development costs for apps with high functionality and complex calculations.
We made a hiring guide about how to onboard the best React.js programmer to your dev team.
Read more
Among other web frameworks in high demand are jQuery, Express, Angular, and Vue.js.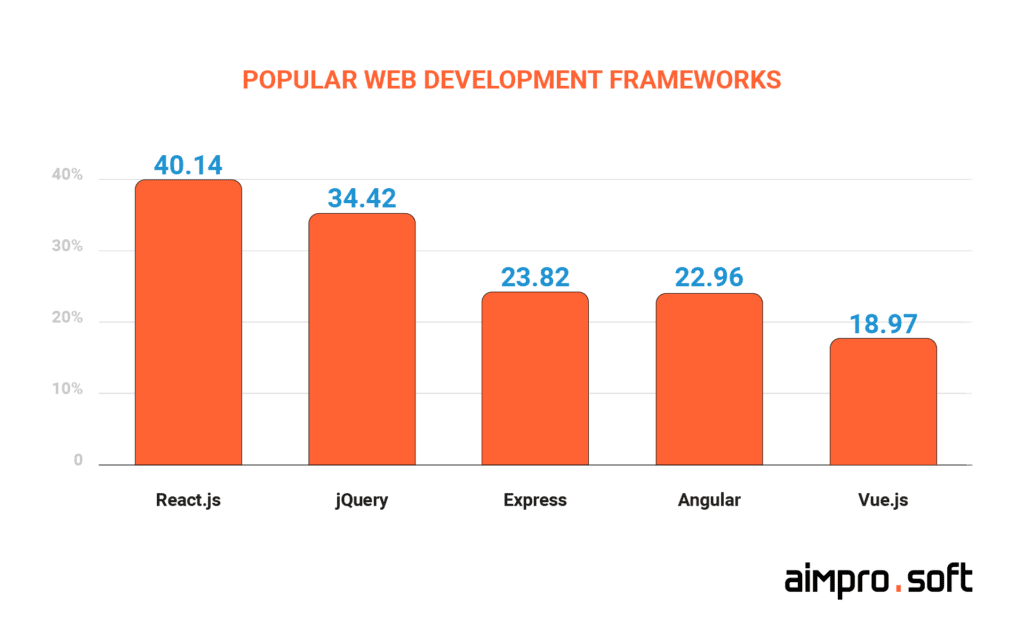 Angular is a Google-backed framework responsible for speed optimization and performance of web applications. If you want to build a single-page application or an enterprise interface, then find an offshore front-end developer with an Angular skillset.
Read Also: How to Hire Angular Developers
Vue.js developers can create JS-based dynamic websites and complex single-page web applications. In our rating among the most inquired tools Vue.js places the 3rd line while in the world rating it is the fifth.
jQuery recently has been very popular, however, we saw a significant decline in demand for the developers skilled in this JS library.
Following jQuery, Express, a top layer on Node.js, is used preliminary to build Node.js-based single page, multipage, or hybrid web applications.
Of course development process at Aimprosoft means using other technologies which are Redux, Redux-Saga, Material-UI, Bootstrap, RxJs, NgRx, and Vuex. All your tech preferences are negotiable.
Need a front-end developer with a different skill set?
Let's discuss how we can help you.
CONTACT US
Cost of offshore frontend development
Chasing the scalable and easy-to-maintain systems leads to an increase in rates for frontend developers. But still, offshore front-end development is worth it in the long run. Below, the comparison table illustrates the difference between local rates and rates from the Ukrainian technological hub. Please, note, that cost isn't a decisive factor in regions intensively suffering from a staff shortage and may vary depending on the market situation.
Front-end developer hourly rate distribution

| Region/Technology | React.js, hourly rate | Angular, hourly rate | Vue.js, hourly rate |
| --- | --- | --- | --- |
| USA | $70 | $72 | $60 |
| Scandinavia | $62 | $62 | $62 |
| Germany | €65 | €66 | €60 |
| UK | £75 | £65 | £67 |
| Ukraine | $38 | $35 | $33 |
*Data used from Glassdoor, Salary Explorer, FiGD, Talent, ZipRecruiter. Dated June 2022
As we see, rates have a wide diapason among countries. For example, the Scandi rate of $62 per hour may seem acceptable for the specialist in the region but isn't light on the employer's wallet. Thus, $35-40 (net) for the frontend developer with React, Angular, or Vue.js skills from Ukraine is more than acceptable taking into account the growing demand for the services.
We don't talk about juniors when it comes to top-notch products. Therefore, the rates are presented for specialists of the mid-senior level.
Why hiring front-end developers from Aimprosoft is gainful for your project?
Aimprosoft is a software development company offering startups, SMBs, and enterprises digital transformation services.
Over 600+ successfully delivered projects. For over 16 years, we've been delivering projects for startups and businesses of any level. Aimprosoft has a great pool of frontend development specialists, among which 33% of web development experts are full stack.
Wide industry landscape. Education, e-Commerce, Healthcare, Real Estate, Retail, Telecom, and IoT are the most active domains we currently deliver software solutions having a deep expertise there.
Affordable prices without compromising the quality. "Aimprosoft offers a unique combination of development expertise, collaboration skills, and great value for money," our client, Mark van der Waal, Head of Product Design, Triall, says.
Niche experts are tailored to projects based on specialized solutions. We have web developers skilled with frontend technologies applied to Hybris, Alfresco, and Liferay platforms.
Business and payment models. Dedicated teams, full-cycle development, and staff augmentation are contract options available at Aimprosoft. Fixed price and Time&Material are possible payment options for customers who hire a frontend expert from us.
Exceptional diligence and fulfillment of commitments. We are war-affected us but didn't break. In 5 days since the russian invasion, we restored our working mode, and in a month back to the 100% work capacity. We continue delivering, making new partnerships, and hiring people.
Aimprosoft is repeatedly recognized by clients as a trusted provider.

Conclusion
Frontend technologies do their job to blur the lines between business and user. The need for specialists with modern web development skills only increases. And behind it all, offshore is a more reliable way to manage the development process (as software providers cherish their reputation, they are continuously improving methodologies, unlike freelance developers. Despite the attractive prices and quite a fast engagement, freelancers may be a more costly option if there are any disputable questions.
Offshore frontend development is more comfortable and reliable for doing business. Contact us today, and we'll be happy to schedule an interview with front-end developers to bring to life your most ambiguous plans.
FAQ
How much does it cost to hire remote developers?

Companies from the regions with a short supply can find developers in outsourcing destinations with a high density of tech talents, such as Eastern Europe, Latin America, and India. The rates for developing web apps there are up to 40% less than in countries with high demand.
Where can I find a software development team?

Numerous countries with a great potential for tech recourses developed their IT workforce to provide relevant tech engineers to a high-demanding global market. They are Ukraine, Moldova, Poland, Hungary, Georgia, Philippines.
What is better offshore or onshore frontend development for startups?

Startups usually need extra hands to pivot and roll out a new feature for the demonstration to investors and often are budget limited. Thus, offshore frontend development coders are the option to cope with it. In contrast, onshoring development is more time and money-consuming in staff engagement, often lacks professional talents, and doesn't deal with the issue on time.