Tips on Hiring an Offshore Quality Assurance Team
Key takeaways
Accelerated product development, reduced expenditures, and enhanced software quality are the primary benefits you can obtain when you decide to hire offshore software testers. Learn more about these and other advantages of outsourcing this service to offshore companies.
The variety of engagement models to hire offshore QA testers can be rather confusing. Figure out the differences between the models and learn the tips on how to choose the one that will work best for your project.
Don't know how to hire an offshore testing team without facing major challenges on your way? Check out our pieces of advice that will guide you to choose the right QA specialists in a problem-free way.
The tendency to outsource services related to software development has been flourishing over the past years, especially to offshore companies. According to the Technavio report, "The IT outsourcing market share is expected to increase by USD 97.51 billion from 2019 to 2024, and the market's growth momentum will accelerate at a CAGR of 5%." Once the business owners discovered those benefits that can be obtained from hiring offshore specialists, nothing could no longer stop them.
Cost reduction, access to a larger talent pool, and optimization of business processes are the key outsourcing market drivers. Quality assurance is one of the most popular outsourced activities since it doesn't only pave the way to flawless product quality, but also gives you a great opportunity to delegate a great share of SDLC-related processes while obtaining an opportunity to concentrate on business activities. Continue reading this article to figure out why outsourcing QA to an offshore software vendor is a win-win option.
What benefits do you gain from hiring an offshore QA team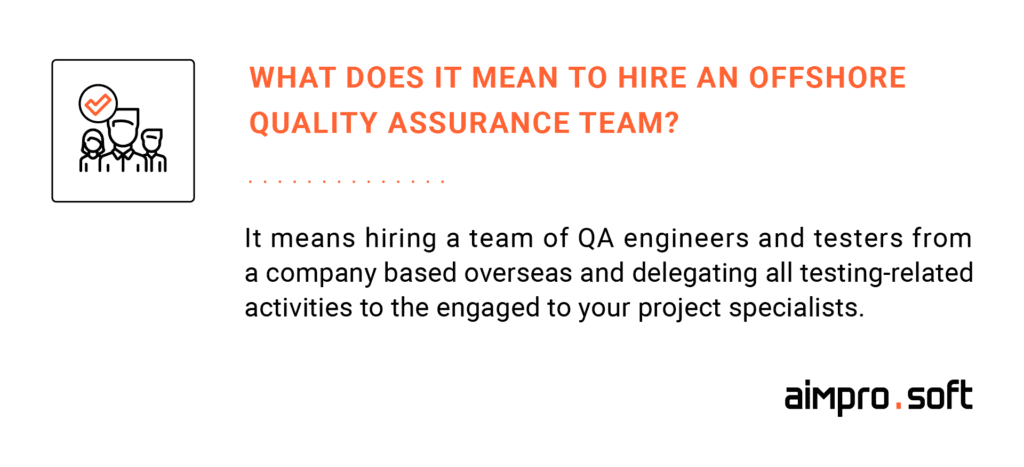 While the major perks of including QA and testing into your software development cycle (SDLC) can be quite evident (e.g., improved product user experience, ability to ensure that the software development cycle is going in the right direction), the benefits of hiring a particularly offshore QA team should be explained. Based on our clients' feedback, we have prepared a list of the most beneficial aspects that you can obtain when deciding to hire offshore QA testing engineers.
Cost-efficiency — this is where everything starts
Just the mere fact of engaging testers in your project can significantly save your budget, since fixing the identified weak areas and bugs is much easier and cost-efficient during the earlier stages of product development rather than after the solution's release. But hiring an offshore software tester or an entire team just adds to the budget-saving process since the specialists from the most popular in terms of outsourcing countries, such as Ukraine, Poland, China, countries in Latin America, etc., have lower rates than in such countries as the US, the UK, Germany, or Canada.
Interested in learning more about outsourcing to one of the most popular directions?
Check out
Additionally, by outsourcing the testing of your product to the offshore countries, you can cut the expenditures that are usually spent on recruiting, onboarding the specialists, maintaining their loyalty, paying for taxes and insurance, etc.
Scalability
The offshore software development companies are chosen quite often since they can provide you the scalability in terms of the number of QA specialists and testers. Such firms usually have a wide talent pool and can either scale up or down the required number of team members upon request . This gives you significant flexibility, especially if you think you will need to adjust the number of testers at different stages of the product creation.
Faster time to market
By choosing to outsource QA to an offshore company, you may be sure, you will speed up your product release and, as a result, meet the budget limitations. The hired testers can help meet the deadline precisely by detecting critical bugs and errors before the launch date and ensure that the product meets the quality requirements and can be released without delay. Most likely, they have expertise in delivering the testing part on time even under extreme workloads. For instance, one of our clients hired a team of our developers and QA engineers to complete the project, which was started by the previous IT firm and wasn't finished in time.
We had to build and test an MVP of an eCommerce Hybris-based project in the short term, taking into account already developed code and that there wasn't any software product testing performed at all. Before going live, 98% of the functionality was covered by test cases and fully tested. The strict QA process, the mixture of automated and manual testing, allowed us to go live on time with the MVP version and meet the client's requirements precisely. It also resulted in the client's budget and time-saving since the high quality of the product didn't require any reworks after the release.
Free yourself from the burden — delegate
In the majority of the cases, when the business owners choose to hire an offshore software testing team, they opt for the outsourcing business practice. It's a highly convenient option since it allows you to not only delegate the testing part, it also gives you an opportunity to delegate the rest of the product development and its management. It's possible mainly due to the fact that offshore software vendors have a wide range of different IT specialists under the roof, and you can hire an entire dedicated team that will work solely on your project and will consist of experienced professionals who know how to start the project from scratch and deliver it successfully.
By following such a scenario, you can devote your time to various business activities, including marketing, sales, development of your brand, etc., instead of wasting time on management, administrative, and operational ones.
As you can see, it's quite profitable to choose an offshore software testing team over onshore or nearshore options since the benefits are significant not only for the "well-being" of your product, but also for your ability to develop business. Once it has become clear what hiring testers from overseas can give you, let's examine those ways to hire them.
Engagement models to hire offshore QA teams
Once you've made up your mind to find an offshore QA team, it's time to decide which business and payment model you should choose to collaborate with the offshore software vendor. The engagement model defines payment terms, deadline, the way the project is managed, and hired specialists are engaged in the project. But first, you have to decide whether you need to opt for outsourcing our outstaffing approach. Your choice should be based on the following factors: the size of the project, budget, and level of control over the project and the team you require.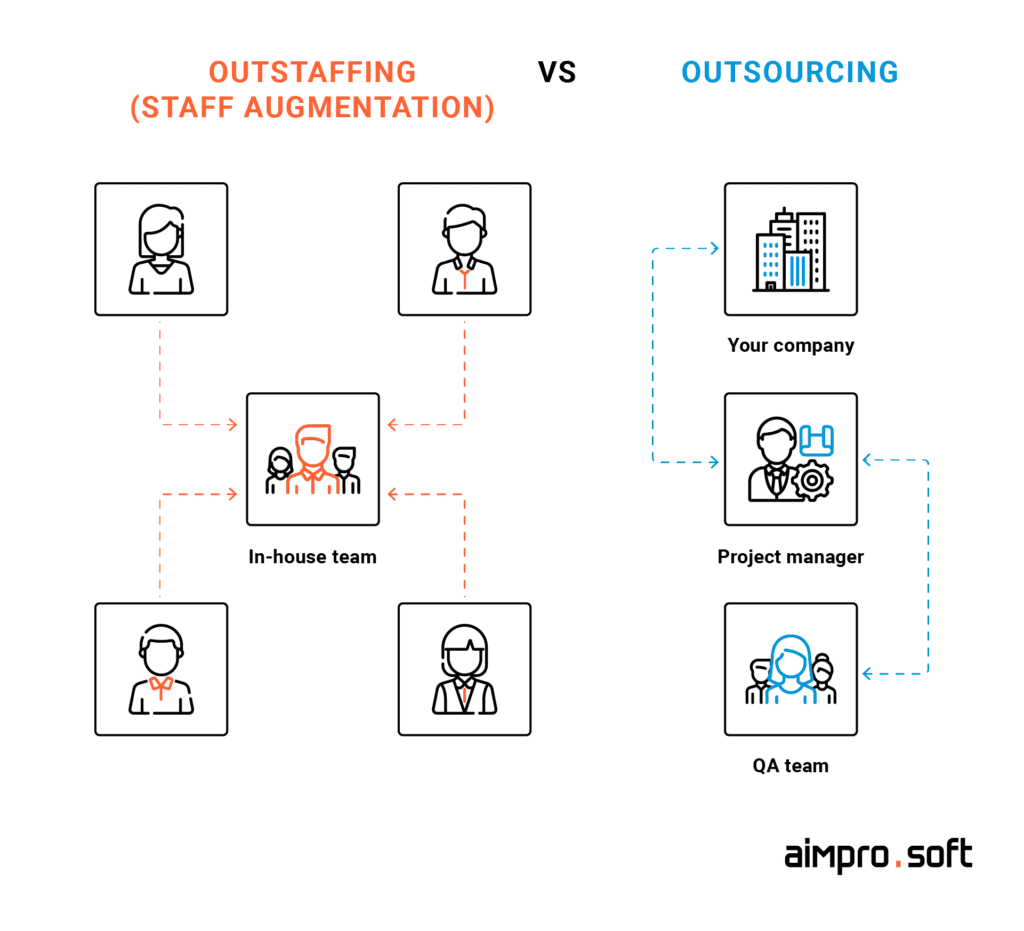 Outsourcing
Outsourcing is more suitable for those companies that don't have an in-house team and are not heavily tech-focused. It will also be suitable for those business owners who require the QA team's management by the chosen vendor. Moreover, if you need to outsource not only testing but also other software development services like design, business analysis, DevOps, etc., outsourcing is definitely for you.
Outstaffing
Outstaffing or staff augmentation model will work better for those scenarios when you need full control over the QA and development process and need to extend your in-house tech team. Moreover, one of the most significant benefits of outstaffing is that you can always hire one or several specialists, to begin with, and expand the team later if necessary. Thus, you can always start with a minimum budget.
Once you know which type of business practice mentioned above suits you, it's time to learn more about the most popular engagement models and find out the one that meets your requirements most.
Engagement model
Characteristics
Advantages
Disadvantages
Outsourcing or outstaffing
Fixed price
Perfect for small and medium-sized projects with limited budget, determined deadlines, scope, and requirements. The price for the final product is predefined.

The terms of work, workflow, and objectives are clear from the very beginning;
Low risk of incorrect budget allocation;
Testing will be conducted by the predefined deadline.

Limited flexibility;
Minor control over the testing process;
In case of the extra work (additional services that haven't been discussed before) additional contractual agreements will be required;
Client involvement is low.

Employed in outsourcing and almost never in outstaffing.
Time & Materials
Works best for projects without clear requirements. The cost is usually based on the labor hours at a predefined hourly rate.

High degree of flexibility and rapid adaptation to changes;
Greater accountability of the resource allocation.

The price may vary significantly depending on the time and effort used.
Client involvement is high;
Lots of amendments can delay the project.

Both scenarios are possible
Dedicated team
A dedicated team model will work great if your project is complex and long-term, you wish to manage all testing and development processes with ease, your requirements may change, and you want flexibility in terms of scaling up and down the team.

Ability to scale up operations when necessary;
The QA team is perfectly assembled according to your requirements;
Simplified project monitoring and management;
Full control of the project;
This model enables significant cost saving;

Inefficient for small-sized and short-term projects;
The establishment of the team isn't immediate; it will take some time;
Variable budget, flat rate, depends on actual team composition.

Both scenarios are possible
In the table above, we have reviewed the most popular engagement and pricing models. The choice of the right one should be discussed with the offshore software development company that can evaluate your case and suggest the best-fit option.
Still not sure which engagement model will be most suitable in your case?
Aimprosoft consultants can evaluate your requirements, desired outcome, and project type, and offer the best-fit option.
CONTACT US
5 Tips on how to profit from offshore QA testing team
If you want to profit from your overseas QA team, you need to take care of two important aspects: whom you hire and the way you manage those whom you hired.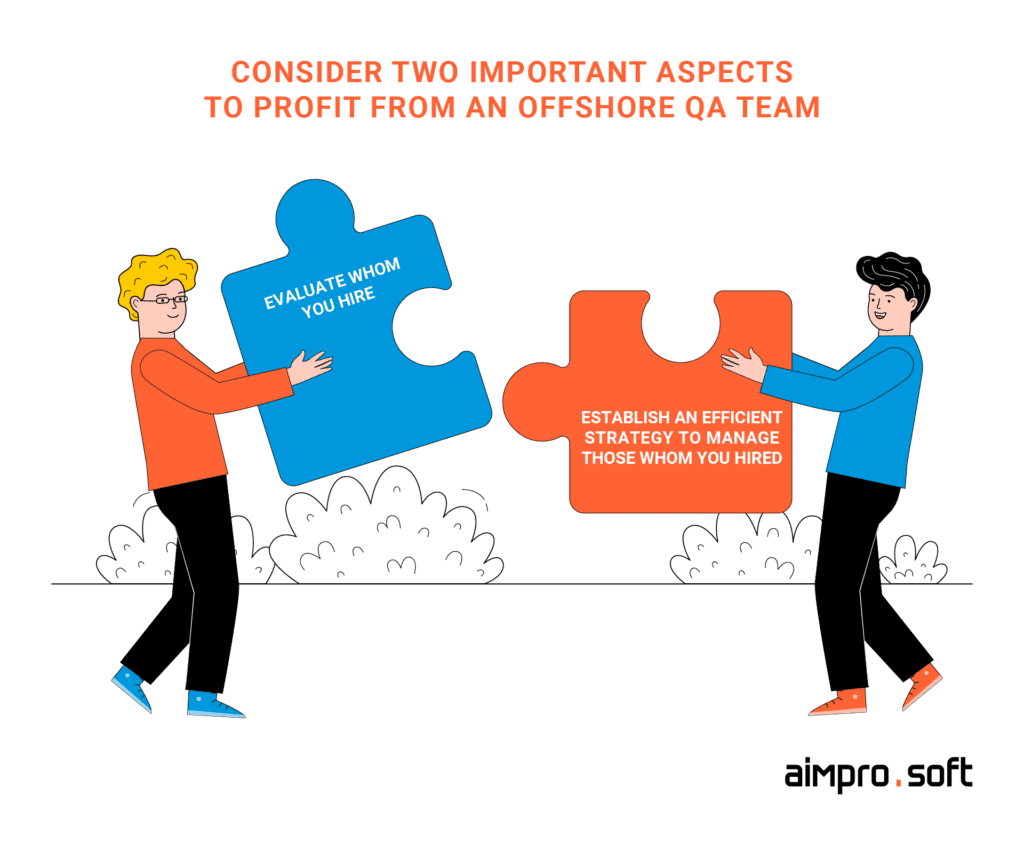 Let's examine the first aspect. Undoubtedly, it's impossible to profit from the team that was hired from the company that wasn't the best fit for you in the first place. We highly recommend paying attention to the following aspects when you choose an overseas company.
Evaluate the trustworthiness of your software vendor
One of the most frequent preoccupations of business owners, when they hire an offshore QA engineer or an entire team, is security and compliance. If you don't want to have a negative experience and deal with some serious security issues, we recommend checking the vendor's previous clients' reviews on proven independent review platforms, like Clutch, which will provide you with a clear image regarding the chosen company, paying special attention to what they say about the cybersecurity aspect. You can also interview the company and check whether this aspect is one of the top priorities for the chosen vendor.
Examine the portfolio. Domain knowledge does matter
One of the key factors that can enable the hiring of the right QA specialists is the in-depth domain knowledge that the testers have and the company's portfolio with the projects with the conducted testing similar to your case. Profound domain knowledge of the QA engineer can add valuable insights to the product of a particular domain, such as a better understanding of end-users' needs and creation of corresponding amendments in the earlier stages of the development, creation of more precise testing scenarios, categorization, and prioritization of bugs with the help of previously obtained expertise in a certain domain.
In the interview to Functionize, our CEO, M.Ivanov, said that "From the QA team's perspective, a particular tester/QA engineer will likely be more productive and valuable than the one with a lower degree of knowledge in a certain domain." In turn, the Head of Aimprosoft QA Department, A. Sereda, says that each industry vertical has its unique business processes, so bringing in testers who have never worked in your industry before may slow down your testing efforts.
In his opinion, if you choose a software development partner with experience, they can help direct your quality assurance efforts to ensure that the areas with the highest level of business impact get the highest testing priority. Testing experts and engineers with an understanding of your business may even be able to help review your existing test design and turn it into something that works in the long run.
Don't forget to learn more about Aimprosoft QA and testing services to ensure we are the right offshore software partner for you.
Learn more
Now let's move on to the second aspect of how to profit from an offshore QA team — the management of the hired specialists.
Ensure your communication is efficient
Since the offshore QA team for hire is located overseas, you will require stable and efficient communication to make everything run like clockwork. The communication bridge that connects the offshore QA team, and you are a multifaceted notion and consists of the absence of a language and cultural barrier, a correctly chosen collaboration software, and a designed communication plan.
The communication plan can help deal with time and location differences, and it should clearly state what communication channels will be used, what collaboration activities will be performed and how often, who are the members of such activities, and what deliverables are expected. All these will help you establish efficient communication with your team, increase productivity, and avoid possible misunderstandings and challenges that may come with hiring an offshore QA team.
Create onshore-offshore balance
In case you aim to execute a hybrid model, which means you have an offshore team and an onshore project lead who will manage the specialists overseas or any other in-house team members who engage with the hired testers, you will have to establish an onshore-offshore balance to use the full potential of the engaged QA engineers. This will require a well-designed communication plan that we mentioned in the section above, constant updates on the progress, and feedback to ensure that everyone is on the same page.
Make the testing process clear. State your deliverables
If you want to obtain the desired results, you have to define the testing process accurately. The hired QA team needs to have a clear understanding of what your goals and expectations are and what deliverables you want to obtain by the end of the quality assurance check. The overseas QA team should know the exact problems you want to solve, the users of your product, the types of testing applicable to your project, the format for reporting the results, and much more. All these aspects must be clearly stated in the test plan that should be designed before the QA & testing process.
With all the mentioned aspects in mind, let's view what those steps that constitute an efficient QA process are.
High-quality QA process from Aimprosoft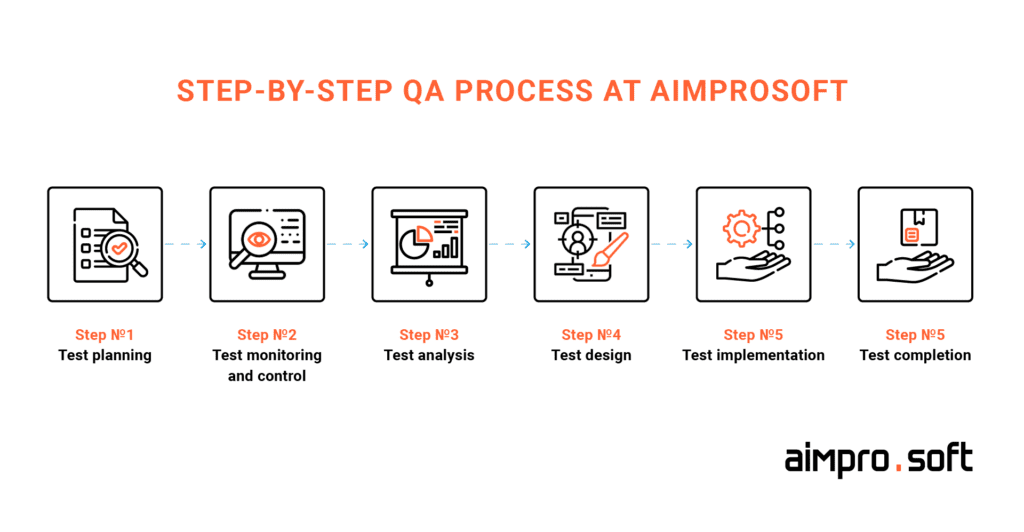 More than 16 years of experience in software development allowed us to create and polish the process of providing various types of IT services for countries all over the world. We know what business owners who decide to outsource QA and testing to overseas companies have to deal with, and what challenges they fear facing. Thus, we offer to take a look at a step-by-step guide to the QA and testing process at Aimprosoft to get a sense of what a well-established flow looks like and what you should expect.
Step 1. Test planning
It includes activities that determine the goals of quality check and the way test objectives will be met under limitations within a certain context (e.g., identifying test techniques and creating a test schedule for meeting a deadline).
Step 2. Test monitoring and control
The stage includes the ongoing comparison of current progress with previously planned one with the help of those test monitoring metrics that are mentioned in the test plan. Test control, in turn, means our QA engineers will perform all the required actions to meet the objectives of the designed test plan.
Step 3. Test analysis
During test analysis, our QA team analyzes the test basis to identify testable features and define associated test conditions. Test analysis identifies "what should be tested," and it should be determined considering measurable coverage conditions.
Step 4. Test design
During this stage, our testers elaborate the test conditions into high-level test cases, sets of high-level test cases, and other testware. So, if the previous stage should answer the question "what to test," this activity, in turn, answers "in which way to test." Test design covers several key procedures, such as:
Creating and prioritizing test cases;
Determining required test data to back up designed test cases;
Forming the test environment and choosing the necessary tools;
Trying to capture two-way trackability among the test criteria, test basis, and test cases.
Step 5. Test implementation
During this activity, the testware for testing is designed, including sequencing the test cases into test procedures. Thus, test implementation answers the question of"whether we now have everything we need to run the tests."
Step 6. Test completion
As you may guess, this is the last stage in the testing process. It presupposes gathering data from completed activities to unify experience, testware, and other important data. Such a procedure can be completed at different project milestones (e.g., when a product is launched, an Agile iteration is completed, or a maintenance release is finished.
Want to go through the testing process, omitting possible challenges?
Don't hesitate to contact us, and our specialists will help you assemble the right QA team.
CONTACT US
At this point, you've got a clear understanding of what's like to go through the entire testing cycle, now we offer to examine the points of how the testing method is selected.
How to choose the type of QA testing for your team?
When you decide to hire the overseas QA team, normally, the choice of the testing approach and testing tools is made on the software vendor's side unless you have an already established QA process. Numerous factors usually influence this choice, and we would like to highlight the most important aspects that are usually considered:
When the testing approach is selected, the following points are taken into account: the specifics of the project (industry, type of the product), the complexity of the product's architecture, the client's requirements, budget limitations, risks, and project's scope.

These are the aspects that affect the choice of the QA approach
Manual vs. Automated testing. We highly advise combining both methods, especially in situations where there is too much of a workload to be handled with manual testing. Manual testing is the execution of test cases without automation software and allows you to ensure that the product is user-friendly enough and provides great CX. Manual tests are preferable for usability, ad-hoc, and exploratory testing.
Automated testing, in turn, is more reliable and time-saving, and is more suitable when a large number of repetitive tests have to be run and to perform regression, load, and performance testing.
Functional vs. Non-functional testing. The same applies here. Both functional (e.g., integration, user acceptance, unit testing, etc.) and non-functional (e.g., load, security, stress, etc.) testing are integral parts of the comprehensive software testing cycle that should be applied together to achieve better results. Certain types of functional testing are chosen depending on what aspects of the product's functionality have to be checked on whether they meet the created requirements specifications.

In turn, the types of non-functional testing are selected to check those aspects that don't deal with the functionality of the product, but rather deal with how the product works.
Overall, it's impossible to provide the exact guidance on how to choose the type of testing for your QA team since the number of scenarios is endless, and there are numerous aspects that affect the choice. Thus, the correct choice of the outsourcing IT vendor with profound experience in testing can eliminate the problem of choosing the incorrect approach towards testing.
Why hire an offshore quality assurance team at Aimprosoft?
Since Aimprosoft is a full-cycle development company, we know how important it is to engage QA engineers in software implementation to prevent it from failure. We strive to create high-quality products that can not only benefit their creators but bring actual value to the end users. Thus, the continuous evolvement of our QA team is something we are constantly maintaining. The reasons why Aimprosoft software testing company is the right place to hire an experienced QA team are:
Expertise
Almost a decade of experience in QA and testing allowed us to obtain experience in 20+ domains which ensures we can cover testing of projects of any complexity and size. IoT, automotive, healthcare, real estate, e-commerce, and telecom are a few examples of domains we cover. In addition, all our QA engineers have experience in participating in all steps of SDLC with the use of Agile methodology. Also, all our QA specialists worked in different roles, such as QA automation specialists, manual testers, and mixed. Finally, several of our testers have ISTQB certification.
Large talent pool
More than 300 specialists work at Aimprosoft, which allows us to cover not only the testing stage but also enable the successful completion of every phase necessary for the product development from scratch. This provides our clients with the ability to hire our QA team together with software developers, PM, and a BA, and obtain seamless collaboration within the development team, since they are located in one place, improved productivity, and high commitment to the project.
Multifaceted QA portfolio
Our testing portfolio comprises the completion of a wide range of projects. For example, robust corporate portals (e.g., Motive Retail, Virtual1) and mobile applications (e.g., Aimchat), feature-rich online stores (e.g., Well CA), robust web platforms (e.g., HomeLike, Genesys PGR), and many others which means that we have all the necessary experience to complete any type of request.
Some of the most frequently used technologies that are used by our specialists in the course of the testing are: Java/JavaScript, Cypress, Mocha, WebDriver, Selenium GRID, JUnit, TestNG, Serenity, Jbehave, Cucumber, MySQL, PostgreSQL, Selenide, and Appium.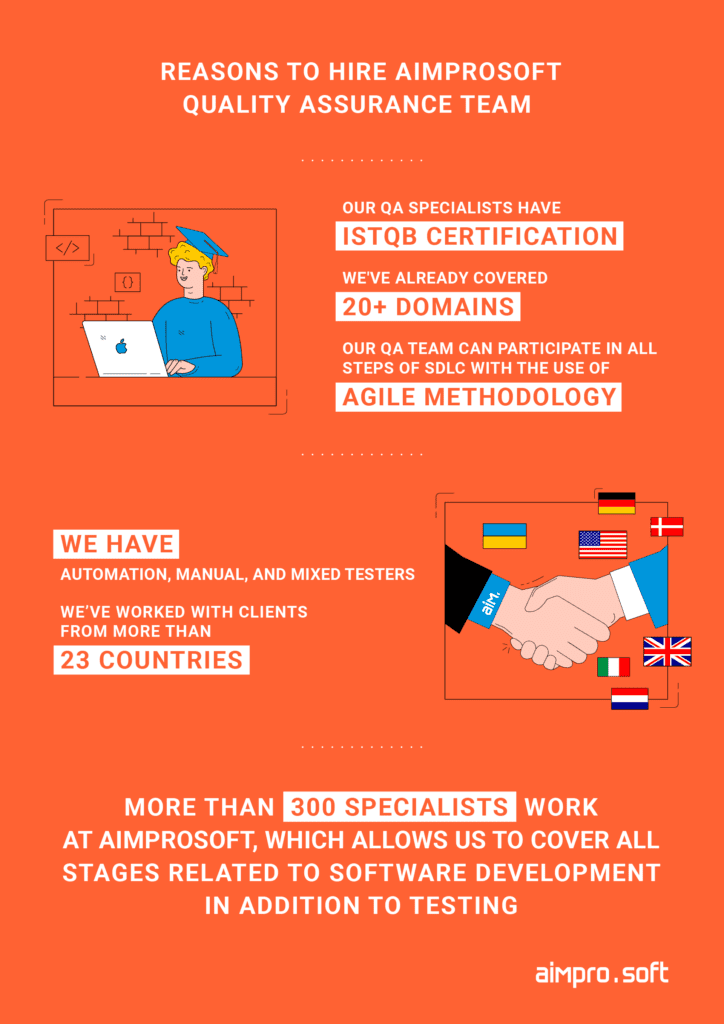 Wrapping up
Improved product quality, reduced expenditures, scalability, and the ability to concentrate on business activities rather than management and administrative ones are those benefits that you obtain while opting for hiring an offshore QA team. And even though time and location differences, security concerns, language and cultural barriers may seem like insurmountable challenges, with a trusted software vendor that has a well-established mechanism of providing outsourcing QA and testing services, like Aimprosoft, you can entrust the quality of your product without worrying even a bit.
FAQ
How to choose the engagement model correctly when you need to hire a QA team from an offshore company?

When you choose to outsource testing of your product, several options become available to you in terms of collaboration with the software vendor: time & materials, fixed price, and dedicated team. To make the right choice of the engagement model, you should take into account the following aspects: the size of your project, clarity of the requirements, budget limitations, deadline, and the degree of flexibility you require.
What are the drawbacks of outsourcing QA to an offshore software vendor?

Despite all those advantages that outsourcing such a service to offshore countries can bring, there are still certain obstacles that are possible if the necessary precautions are not made beforehand, such as desynchronization due to time and location differences, cultural differences that can affect the communication style and the level of formality, lack of control, and security issues. To avoid possible obstacles, choose a proven software vendor with profound experience in providing outsourcing services.
In what scenarios is it better to hire an offshore quality assurance team?

There are several widespread scenarios when you need to hire an offshore QA team. Firstly, you don't have in-house testers, and there is either shortage of local specialists or their rate is extremely high. Secondly, you need to scale your existing team very fast, and there is no time and extra resources for recruiting, onboarding, and retaining specialists on your own. Finally, you don't need a QA team on a permanent basis, and hiring offshore specialists is a cost-saving temporary option.