Articles
27 October, 2020
How to Create a Mobile Health App: Innovation on Guard of Health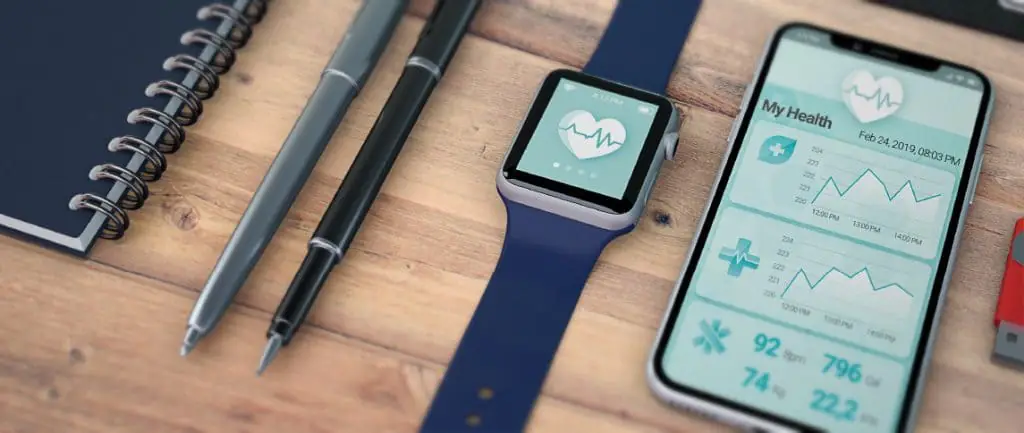 Publilius Syrus, a Latin writer, once called good health and good sense two of life's greatest blessings. Indeed people are ready to invest money to keep fit and be in good health. For their part, healthcare providers are doing their best to help people meet their health needs by implementing the latest digital technologies. Healthcare app development is becoming one of the promising trends in the healthcare market. And here is why.
According to consumer surveys, nowadays 25% of adult Americans use at least one health tracking app. Hospitals adopted this idea and equipped key personnel with mobile devices.
The tendency of the mHealth market to grow is present not only in the USA but in the whole world. It is expected to exceed $300 billion by 2025. Let's take a look at why it is so.
Building mobile app for healthcare – why not?
The key factors that brought high demand for medical mobile app development services include the growing number of chronic conditions, strong need for patient monitoring, and increasing concern for the health among the patient population in both developed and emerging economies.
The desire of end users to manage their health and get insight into their fitness level on the one hand and the need of healthcare authorities to reduce cost with the help of mHealth apps, on the other hand also explains why healthcare providers are so eager to invest in medical app development.
The IQVIA Institute for Human Data Science proved the ability of mHealth apps to save money. Their study for the United Kingdom showed that the development of digital healthcare apps that are further used in diabetes and asthma prevention, cardiac rehabilitation, and pulmonary rehabilitation could save the UK healthcare system approximately £170 billion per year.
The increasing usage of wearable devices is another reason why many start a medical app because mHealth apps are getting so popular. Wearables give the most detailed statistics related to a user's life activities and exercise when synchronized with an app downloaded on the smartphone. eMarketer predicts that roughly a quarter of US adults, 56.7 million, will use a wearable device at least once a month in 2019.
The total mobile health market revenue
In 2016, global mobile health revenue was expected to reach about $23 billion. This forecast became a reality in 2017 when the global mHealth market indeed generated $23 billion in revenue. It is predicted to progress at a CAGR of 33.5% during 2018–2023.
Prognosis concerning the global mHealth market size is also promising. Grand View Research (GVR) estimates that by 2025 it will be worth US$151.57 billion. GVR names the expanding geriatric population, rising penetration of smartphones, and the Internet as the main driven forces of such rapid growth.
Now let's consider how the best health and medtech startups of the past few years managed to succeed by taking advantage of mobile app development for healthcare.
Telemedicine startup Nurx made life easier for people living in rural areas when they developed a mobile medical app that allowed patients to consult a physician for choosing the right contraceptives and HIV prevention medication without a hospital visit. They got the medicine delivered straight to their homes. Nurx also became the first company that delivered PrEP (pre-exposure prophylaxis) pills for people who do not have HIV but are at a substantial risk of getting it. This initiative allowed Nurx to raise $5.3 million in Series A financing from Union Square Ventures. In 2018, it closed a $36 million funding round.
Doctolib made a hit due to its online booking platform for 60,000 practitioners. It enabled doctors to manage their calendars and let people book appointments easily and effortlessly with medical specialists through Doctolib's website. This convenient system raised $72.7 million (€61 million) in 2017 and became one of the best-funded health startups in Europe.
A company that produces wearable devices like Fitbit can benefit from developing a mobile health app compatible with their wearables. Fitbit founders James Park and Eric Friedman saw the potential for using sensors in small wearable devices and launched their first tracker in 2009. This release was very timely since people already wanted to have a device for monitoring their activity and health. By developing mobile apps for healthcare, Fitbit engaged users to take a more active role in their healthcare and got revenue of $393.6 million in the third quarter of 2018.
We explored here just a few examples of medical startups that made an entry in the industry during the past few years. There are many more. The mHealth market is fast-growing and flexible. There is always a chance to create a mobile medical app that will bring value to your customers and win the market.
How many users download mobile health app today?
There are 325 thousand mHealth apps available on App Store and Google Play. They equate to an expected 3.7 billion app downloads worldwide in 2017. Android and iOS are the most popular mobile operating systems. According to the latest report, at the second quarter of 2018, market shares of iOS and Android were 99.5% in the USA, 99.2% in the UK, 99.74% in Canada and 99.75% in Australia.
The American adults mostly download applications related to weight loss, exercise and women's health.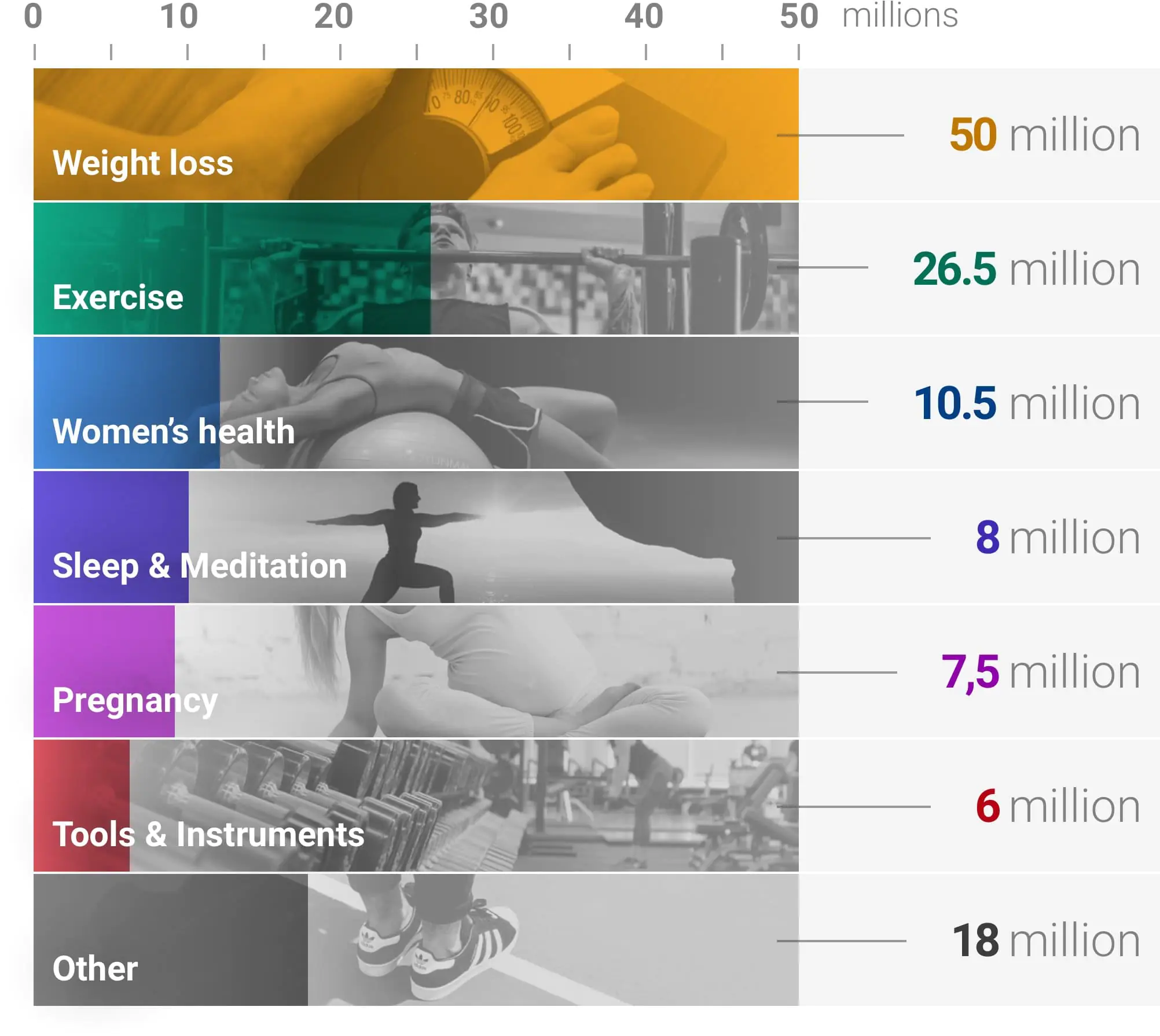 Users' willingness to monitor their nutrition, lead an active way of life and reduce stress level with the help of meditation explain the popularity of Strava, BetterMe, and Sweat.
In 2018, according to Sensor Tower, Calm, MyFitnessPal, and Sweat became the top 5 mobile health apps with the biggest global revenue.

Each of these apps has more than 600 thousand downloads. They are of the freemium business model. The publishers of such apps for healthcare develop some free feature set that explains a large number of downloads and then engage people to become premium users by offering additional features and more advanced tracking tools. There are also paid apps that charge customers at once.
If users download the freemium version of an app and enjoy it, they will be ready to pay for it. At the same time, if you decide to create a paid healthcare mobile app, fewer users will want to download it. For example, AutoSleep Tracker was downloaded 40 thousand times in App Store up to December 2018. You may release a free app and offer extra functionality for the additional cost or place a paid version in a market place but be ready that users will be more interested in freemium apps.
So what are you waiting for?
The mHealth market shows great business potential. It had been growing steadily for the past few years and did not show any signs of slowing the pace. Nowadays, doctors, patients, and people who want to take better care of their health take advantage of mobile medical applications. What you should do is find a specific niche building an mHealth app that will satisfy your potential customers' requirements, and you will be able to achieve your business goals.
Before building a health app, consider classifications of mobile health apps already issued. They can be divided depending on the intended user (doctors, patients, or both), users' needs (to keep fit, to manage a chronic disease, etc.), or connection to some medical institution.
We combined them all and got a complete universe categorization that we are glad to share with you.
Types of applications
There are two major categories of mHealth applications: general healthcare and medically intended.
Striving to launch a medically intended mHealth app, you have to think about how to create a medical app that meets the needs of two user roles: doctors and patients.
General healthcare applications provide health-related services to owners of smartphones and tablet PCs. Depending on their functions, they can be divided into six broad subcategories.
Health and Fitness Apps
Health and fitness apps are aimed at people interested in lifestyle management. They track steps, calories burned, miles walked, active minutes, and engage users in leading an active and healthy life. The most common types of this category are health tracking apps, obesity and weight management apps, fitness, and nutrition apps. When it comes to fitness and nutrition apps, yoga apps increase their popularity every year.
When it comes to fitness and nutrition apps, yoga apps increase their popularity every year.
Founders of Asana Rebel, a Berlin-based startup launched in 2015 noticed that the diversity of yoga styles (Kundalini, Vinyasa, Bikram) confused customers. So they avoided issues of styles, still providing a good workout experience with the help of video content by combining the best of yoga with a fitness program. The startup raised $6.5 million in funding. Using the freemium model, Asana Rebel boasted more than 150 thousand paid subscribers in 2017.
Apps for running keep up with yoga apps. Such applications as Runtastics attract lots of users who want to get more of their running sessions. This Austrian mobile fitness company was founded in 2009 and soon became one of the world leaders in health and fitness apps because of its active online community that allows users to interact and compete with each other. Their applications for running have detailed statistics on each session, various preparation plans and sharing location option with other users. In 2015, the company was acquired by Adidas for $240 million.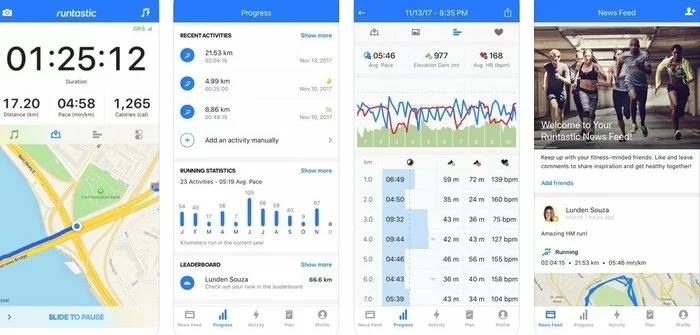 Chronic Care Management Apps
Chronic care management apps help patients with chronic illnesses manage their medical condition. Patients using these applications for regular monitoring of their vitals (blood pressure, blood glucose) and specific symptoms require less frequent visits to the hospital. The main types of chronic care management apps are mental health and behavioral disorder management apps, diabetes management apps, blood pressure, and others.
An Austria-based startup mySugr launched in 2012 has a noble mission of making diabetes management easier. The mobile application motivates patients to stay compliant with diabetes therapy due to gamification elements and daily goals. Such an approach changed for the better the process of measuring blood sugar, making it less annoying. In June 2017, mySugr was acquired by Roche Holding for an undisclosed price. According to some estimations, the sum reached between $75 million and $100 million.
Medication Management Apps
With medication management apps, a patient downloads an app, enters the required information about the medicine he takes (dosage, frequency, timing directions) and sets alerts and reminders.
Medisafe a registered leader in the field of digital patient engagement platforms was founded in 2012. The company developed a medical app, perfectly synchronized with smartwatches that send push notifications to patients when it is time to take their meds. If the medication intake is missed, the patient's caregiver, so-called Medifriend, will also be informed. The application is free, but if a user wants to change Medtone reminder voices or get rid of banner ads, it will cost him $4.99 per month.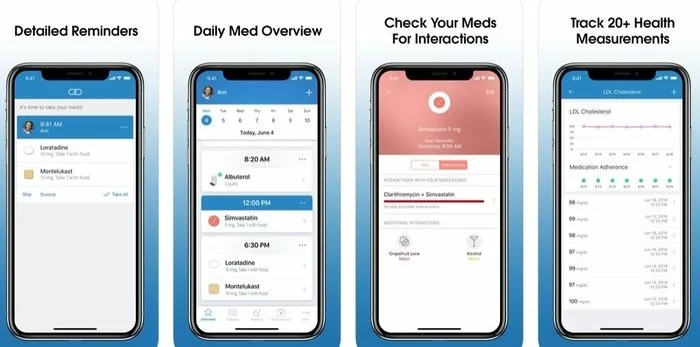 Women's Health Apps
Women's health apps cater to the specific health interests of women. They are getting increasingly popular among millennial women who make well-being and self-care their highest priority. Such apps offer a wide range of services, starting from the opportunity to track an individual's menstrual cycle to direct access to prescriptions for oral contraceptives. They include pregnancy apps, fertility apps, breastfeeding apps, and other women's health apps. A patient downloads an app, enters the required information about the medicine he takes (dosage, frequency, timing directions), and sets alerts and reminders.
Startup Glow, founded in San Francisco is devoted to female fertility. A woman who downloaded this app inputs menstrual cycle information and gets accurate predictions for the next cycle and its duration and information on the next fertile ovulation windows. The app added the Glow Community feature, where couples who are trying to conceive and future parents share their experiences. By introducing this feature, the startup increased customer engagement. The sleek and elegant design of the application brought $6 million of funding.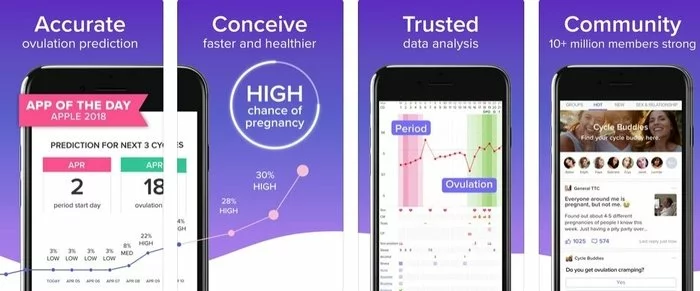 Personal Health Record Apps
Personal health record appsare designed for storing personal health information and documents on mobile devices, extracting health information on a patient's demand and connecting the patient with their doctor.
MedFusion Plus takes care of patients' records and keeps them organized. A patient who downloaded this app extracts the critical data, including lab results, illness history, treatment measures through a medical portal, and stores them electronically on the application. They can also connect with the practitioners and make an appointment.

Read also how to create an EMR software.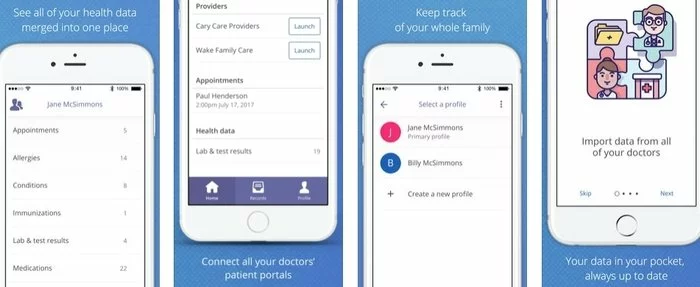 Mobile Apps for Health Insurance
Mobile apps for health insurance are designed to make an insurance company more productive by faster information exchange between clients and insurance managers. You can sell more insurance services with the app and add to your users' convenience, which means the app can attract more clients to your company.
Aetna, an American company that sells health insurance plans and related services, has developed a mobile app for people who want to become more engaged with their healthcare. With this app, patients can easily view recent claims, their health expense funds, front and back of the ID card, in case they have forgotten it. They can also get a cost estimate of services and check the balance on their health saving accounts. With such a comprehensive approach, the company manages to prevent customers from switching to another health insurance provider. On November 28, 2018, mega-pharmacy retailer CVS Health confirmed Aetna's acquisition for $69 billion.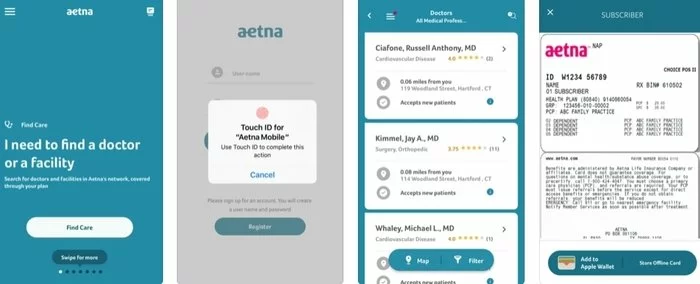 Medically intended applications are developed for medical professionals to improve healthcare services quality and contribute to positive patient outcomes. They can be categorized into four main subcategories:
Medical Reference Apps
Medical reference apps enable doctors to keep up with the latest trends in the healthcare industry. Physicians use them to get medical data, including custom-curated news, disease information, and summaries of medical articles in audio and video format.
Medical mobile reference app Epocrates was developed by three students of Stanford business school in 1998 and acquired by Athenahealth in 2013 for $293 million. The application is famous for its extensive drug database and useful compilation of guidelines. The content in this app is mainly free; however, for getting access to additional medical information, e.g., lab guides, users have to make an in-app purchase of Epocrates Essentials for $159.99 per year.
Continuing Medical Education App
Continuing medical education apps are aimed at those healthcare providers who want to work on their medical education and earn an advanced degree but do not have time to take classes.
Medscape CME & Education app by WebMD uses a personalized approach to medical education. Doctors can choose courses related to one of 30 available specialties, create and follow customized activity lists. A credit tracker makes it easier to review activity progress and earned credits and certificates. Since funding of WebMD comes from advertising and sponsors, who have influence over the content, the company does not charge application users any fee.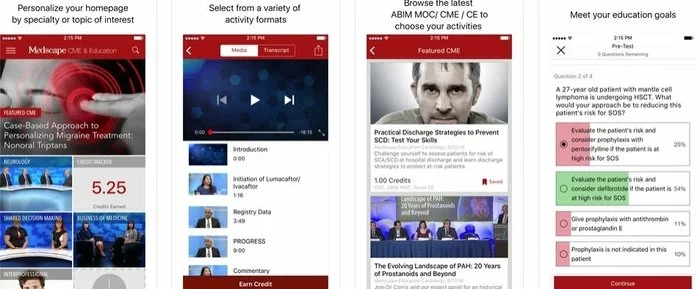 Related article: How to Create an Educational App

Patient Management and Monitoring Apps
Patient management and monitoring apps offer healthcare providers a better way of keeping an eye on the patients' medical condition and enhancing communication with them. Practitioners can remotely monitor their heart rate, oxygen level, and blood pressure without the actual appointment.
TriVox Health a web-based platform for remote monitoring, real-time analysis, and tracking of patients' disease symptoms, launched a mobile medical app that enables physicians to take care of their patients' health between visits. With the help of electronic surveys, clinics can reduce patient care costs and shorten visit duration. Time and resources will be saved by automated data collection.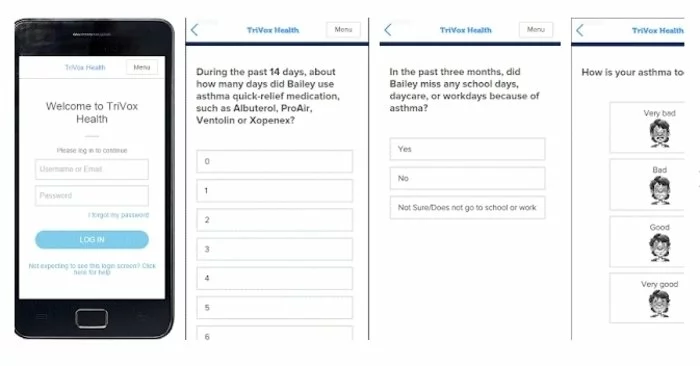 Communication and Consulting Apps
Communication and consulting apps are perfect tools for communicating with other practitioners and getting valuable insights into the newest treatment methods.
Doximity, launched in 2011, serves as a social networking service for the American clinicians that was quickly adopted by the thousands of physicians and their assistants, nurse practitioners, and pharmacists. With its help, physicians can consult any other specialist, exchange medical information, discuss patient treatment, and find an appropriate expert for patient referrals through a convenient text-messaging system. Doximity is free to join and does not contain any advertisements. It provides interested recruiters with paid access to a large talent base instead.

Read also how to build a messaging app like WhatsApp, Viber, Slack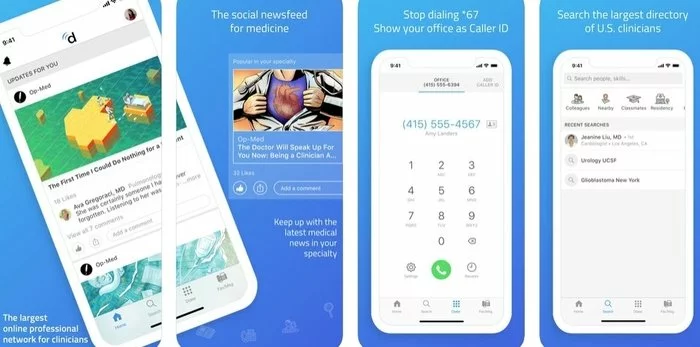 Not an easy choice, is it?
The examples mentioned above show a great variety of healthcare niche market segments. You can choose an existing niche for your mHealth app, but how to make your product stand out from the competitors? You can work out a unique solution and go to the market with it because as many people, as many challenges, as many niches to cover.
Let's discuss what steps you should take to develop a successful and profitable mobile app for the healthcare industry.
How to Hire Healthcare Developers?
You should take several factors while choosing a company that offers services in the field of medical app development.
When it comes to developing a Healthcare app, a vendor's experience, in no small degree, determines the future application's success. Opt for a development company with relevant experience and a tight-knit team of developers located in the same office to cooperate productively and substitute each other. You can also read the testimonials of other customers and view their certificates.
There might be issues related to time-difference if your partner is located in another part of the world, but the right vendor knows how to resolve them.
It is beneficial to focus on a company that provides a full development cycle: business analysis, development, UI/UX design, testing, support after release. There are several reasons why it is so. The first one is risk reduction. The company that offers the whole range of services is big enough to establish itself on the market firmly. It values its reputation and is interested in delivering a high-quality product. The second reason is time-saving. The collaboration with one vendor on the whole project is less time-consuming than communication with several companies. For instance, you can discuss used technologies and designed constraints related to the project in one place and escape possible inconsistencies.
Business analysis for medical app development
Before creating a healthcare app, you have to conduct business analysis to understand your target audience's basic needs to develop a successful and profitable mobile medical app.
Suppose you have just a basic idea in mind, or you have already worked up a more clear project that will cater to the specific requirements of the particular target audience. In any case, you need to check it.
The software partner will help you by posing questions to specify your idea and initial details of the project. Its specialists will perform business analysis to identify hidden opportunities in the mHealth market and clarify how your app may fully satisfy the customers' needs.
Each app we described in the section "Types of Applications" meets the needs of its target audience. For example, yoga apps aim at people who take care of their health but lack time or money for yoga classes. They want to have an app with an appropriate program of activities at hand. Other people want to exercise in the park or near their house. That is why such apps as Asana Rebel combining the best of yoga with a fitness program have become increasingly popular.
Chronic care management apps, like mySugr, satisfy customers' requirements for tracking their vitals, store the health data, and form a full picture of the patients' health condition for their practitioners.
Identify the target audience and the problem that needs to be solved
The software development company makes your app for healthcare tailored to the specific group of customers you want to focus on. The better you know your audience, the easier it is for you to find out their queries and choose the proper functionality for further monetization of your mHealth app.
For example, the target audience of such running apps as Runtastics is ambitious runners who want to compete with other athletes and see their running sessions' detailed statistics. This app attracted many users by creating a community where users can encourage and challenge each other. It also displays the outcomes of their running sessions and provides its users with various preparation plans.
The examples above show how understanding the target audience and their needs define the choice of a feature set for attracting more customers and building a proper sales channel for your app.
The American giant Nike that produces sportswear and equipment, has chosen another way. Its app for runners Nike Run Club serves as a means of promoting the brand. The app contains many trendy appealing features. One of them is when the runners receive in-run audio cheers from their friends that encourage them to achieve their goals. Such features attract more users, increasing brand loyalty and the number of sales.
The feasibility of your idea can be easily checked by means of launching a Minimum Viable Product (MVP) that is an app with sufficient features to satisfy early adopters. It is launched to test the demand for any health or medical app without releasing a long-delivering full-fledged product.
Healthcare App Development Process
The level of competition in the healthcare industry dictates to approach the issue of a new medical app launch more thoroughly. Development process goes beyond just development itself. It reasonably divides into several integral stages as follows.
Business analysis. You have to know whose needs you are going to satisfy. Your target audience and an app type are derived from it. Business analysis is conducted to gather insights; you will go with that.
Project kickoff delivers a specification for your unique medical app with primary and secondary functionality and the follow-up actions for a project team.
Pre-development (proof of concept) may be or may not be. It happens clients want to check the feasibility without going to market. A short period of development of minimum functionality works well at it.
UI/UX design covers issues related to the mhealth app design, usability, color scheme, intuitive tapping for actions, etc. Here you first may see in static and with animation a look of your app.
Development (MVP, alfa, beta). Here you have already decided on the methodology, project management, and divided development on iterations. As a client, you wait for the functionality and compare it with expected deliverables.
Quality Assurance is a crucial step at every development stage to launch a product smoothly, especially for mHealth apps, because human life may depend on the data they deliver. Both manual and automated testing is applied to check different soft spots.
Go-to-market or a product launch phase permits bug fixing, acceptance testing, and a release on the app marketplaces. Нyour app is deployed and ready to be used.
After-launch support is optional but recommended. It depends on you want or not to continue product development with your vendor. Sometimes it is more comfortable to proceed with an in-house team. However, it would help if you considered the level of dive-in of a project team worked on your app. You can already have a team for further actions.
Сreating a Healthcare App With Aimprosoft
User stories, wireframes, and mockups are required to define the feature set of your future app. For example, we at Aimprosoft draw up a Statement of Work (SoW) for our clients using the agile methodologies in the form of user stories, use cases, wireframes, mockups.
Then, our developers will use the SoW straight for medical app development with minor changes. The vendor can also make a proof of concept, which is a demo set of features with outlined UI that shows the feasibility of your project.
Healthcare application development can be divided into several stages. Let's take a look into each of them and define what is essential to get a marketable app in the end.
Project kick off
On the project kickoff stage, you come to a vendor with an idea or a ready mockup. If you have created a mockup in advance, we send you a rough estimate.
If you do not have a mockup or use cases, expect a list of questions to specify your requirements. The experienced software partner always comes up with fresh ideas for a medical app development project to make it feasible. Our team creates a mockup and prepare a rough estimate based on your responses.
All specified details about your product are fixed in a Statement of Work are fixed to make a healthcare app. The choice of features directly depends on the type of mHealth app.
For example, if you develop a heart rate app, be aware that your users will need to monitor their vital heart performance, see its dynamics, and connect with the practitioner in the case of an emergency. You can answer the users' queries by presenting the collected medical data in graphs or charts. It will make it easier for them to see the dynamics of their health condition this way.
Another crucial feature of a heart rate app is integration with a medical portal. It will help practitioners monitor their patients' condition and make a fast medical decision when needed. On top of that, you can integrate such an app with different measurement devices and store any incoming data on a person's health: weight, blood pressure, ECG, etc.
When the Statement of Work is completed, you get a detailed estimation that clears the service cost.
Regulatory compliance
Before you tackle to create a health app, pay great attention to regulatory compliance as one of the key demands placed on your mHealth app. Medical apps collecting Personal Health Information must be compliant with policies, standards, and laws of the country where your target audience lives.
For example, if you focus on the American market, all mobile medical apps except general health and fitness apps must be compliant with Act HIPAA (Health Insurance Portability and Accountability Act) and HITECH (Health Information Technology for Economic and Clinical Health Act) that protect the confidentiality of Personal Health Information.
The regulations are even more strict in Canada where all types of healthcare app must be compliant with PIPEDA
In the EU private health information is protected by GDPR (General Data Protection Regulation ) so if your target audience lives in European countries, make sure that your Health app is compliant with this regulation.

Find a minute to read our guide to General Data Protection Regulations

When all details are specified, the company creates a Statement of Work where all requirements to a future app and the desirable features are fixed. The choice of features directly depends on the type of mHealth app.
Pre-development stage
The software development company can make proof of concept to check the feasibility of the project.
Developing your medical app considers that there are backend side, admin panel, and mobile or web client. Server-side is required for storing all information, including personal health data of your users. If you have no created backend side, we can do it. The same vendor could develop an admin panel. Without it, you will not be able to manage your app.
If you want to build a healthcare app, consider the option of a platform-based one. We will thoroughly discuss turnkey solutions on the market at the pre-development stage that can work effortlessly with any system or database. Say you need an EHR (Electronic Health Records) app. Alfresco will be a good option since this platform has rich out-of-the-box functionality that simplifies clinical process automation and health content management.

Read this article if you wonder how to make an electronic health records system

It is practical to use popular technologies that are widely represented in the market. For example, Android-based applications are written mostly on Java and Kotlin. Swift and Objective-C are used for building iOS apps. React Native and Ionic are suitable frameworks for hybrid applications that work correctly on Android and iOS platforms. Finally, it is better to choose such proven technologies on the health market as Java, Scala, Node.js, and Python when it comes to the backend.
UX/UI design
UX/UI is essential for mobile health app development. Some of them will be used by vulnerable, distressed people seeking remedies to their medical issues. You should provide these people with seamless user experience. Designing a mobile health app, we approach with particular attention to a clear navigation and color palette.
Medical app development stage
Developing an mhealth app, we proceed to the server-side development right after agreeing on design details. The server part of any mobile app is responsible for the data exchange between users and its application.
We build a proxy server to import your data to their database stored on the cloud server on the development stage. When the backend side, admin panel, and mobile client are ready, we roll out the app's alpha and beta-versions with the expected functionality.
We engage a project manager who ensures communication with developers and coordinates the project right away. They will offer an appropriate project management methodology that will meet your requirements. The agile methodology may be a good option for mHealth app creation to provide its early delivery.
Quality check and mobile testing
Any application requires quality assurance. While developing a medical app, we give special attention to quality checks and mobile testing since health, and patients' well-being depends on your app's proper functioning. If your app also connects to the devices with sensors, then it's crucial to validate the results with alternatives.
After specifying your requirements, Quality Assurance Engineers write test scenarios that allow checking functional aspects of the application (performance, usability, security) and use a range of relevant manual and automated tests: smoke testing, acceptance testing, stress/load testing, regression testing.

Look at the offer of our quality assurance software testing company

Certain types of application testing are performed throughout the entire project to ensure that the medical app that is being developed satisfies all your requirements.
When all functionality is implemented in the last stage, we perform User Acceptance Testing to determine if the functionality complies with the app's specification.
While developing a mobile app for healthcare, it is advisable to do alpha and beta testing. Alpha testing is carried out by internal employees only, while beta testing requires a limited number of end-users to give their feedback on product quality. Together, these types of testing help build confidence in the product before launch and ensure the product's success on the market.
When you decide to focus on a certain market, you need to understand what devices are incredibly popular in that region. For this reason, our team will help you with that and test your app on the most common smartphones and tablets in the country of your target audience. We will also provide you with the list of versions of the mobile operating system that your mobile app will be compatible with.
Product launch
Different product versions are introduced before the product launch. The code is moved to the production environment. It is frozen before go-live, and you have 2-3 weeks of user acceptance testing during which only bugs are fixed without permission of any changes. As a result, you have a project deployed on your servers.
When the developed mobile part of the medical app passes all testing stages, your vendor publishes the application on Google Store and Apps Store.
After-launch support
YYou need your application working 24/7 without any fails, especially given that users of mHealth apps may continuously monitor vital signs and need their doctor's assistance at any time. The full-cycle software development company can monitor your app's mobile or web system and ensure its smooth operation in normal mode 24/7 up and running. With the time passing by, you may need to expand the app's existing functionality, so the vendor will help you with an updated version to take your app to the next level.
An exciting question: how much does it cost to develop a medical app?
To build healthcare applications that would be in demand means to allow for users' favors, hence the importance of development efforts and investments. So, the cost of an app for healthcare and time spent on its development depends directly on the complexity of its functionality.
Let's consider the approximate cost of health app development services on the example of applications with different functionality starting from the apps with the simple functionality to the most complex healthcare software solutions. Thus, you can get a better understanding of how much the development of mobile medical app with the server-side may cost.
Apps displaying in graph form the vitals transferred from special medical devices to smartphones via Bluetooth usually have a small feature set. Their functionality is limited to authorization, a system of alerts, and data visualization. Developers will require 800 hours to create mobile health apps like those.
The development of a heart rate app will take approximately 2030 hours. It has an extended functionality (heart rate and blood pressure recorder, the doctors' measurements sharing, integration with wearables, activity calendar, notification system, and integration with health platforms Google Fit and Samsung Digital Health).
Finally, talking about how to make a medical app based on Electronic Health Records System, it is worth saying that a mobile version of it will be the most advanced technological solution. Its functionality includes electronic document management, task management, E-prescribing, patient support, and cloud hosting. Developers will need more than 3030 hours to complete a similar project. This term includes the development of a mobile client for patients and a medical portal for doctors.
You know now how to build a medical app for patients and doctors in hours. Now let's take a look at how the cost of app development for healthcare changes depending on the vendor's geographic location.
Approximate values of medical mobile app development cost by size and countries
Country
Average hourly rate
Simple functionality
800 hours
Extended functionality
2000 hours
Advanced functionality
3000 hours
USA
$80
64 000
160 000
240 000
Western Europe
(Germany)
€60
48 000
120 000
180 000
UK
£55
44 000
110 000
165 000
Eastern Europe
(Ukraine)
$30
24 000
60 000
90 000
As you may see, the healthcare app development cost is the most expensive in the USA with $64,000 for the app with simple functionality. In European countries, it varies greatly when you move from West to East ranging from €48,000 for a complete project with simple functionality in Germany to $24,000 for a similar project in Eastern European countries.
The approximate values to develop an MVP for the healthcare apps will be as follows:
Approximate values of an MVP for medical mobile app by size and countries
Country
Average hourly rate
Simple functionality
80 hours

Extended functionality
160 hours

Advanced functionality
500 hours

USA
$80
6 400
12 800
40 000
Western Europe
(Germany)
€60
4 800
9 600
30 000
UK
£55
4 400
8 800
27 500
Eastern Europe
(Ukraine)
$30
2 400
4 800
15 000
When it comes to an MVP, the prices for a project with simple functionality will start from $2,400 in Eastern Europe and grow up to $6,400 in the USA.
Conclusion
As you can see, healthcare app development requires much effort, dedicated work, and proven expertise.
There are many ins and outs there, starting from defining your target audience and choosing the feature set attractive for your users to particularities of development, security, and testing.
However, your efforts will be rewarded since the mHealth market is very perspective.
All you need to do is to create a successful medical app. Whether you have a raw idea or already have a current project and want to complement it with a mobile application, the experienced vendor will pave your way to success.
If you need further assistance, do not hesitate to contact us. Our experienced team will gladly consult you and provide you with the rough estimate.
Frequently Asked Questions
How to monetize the mHealth app in 2021?


In spite of COVID-19 stimulus for the rising of healthcare apps, monetization models can give profit with the same form. You can integrate a freemium with microtransactions within the app, subscription fees, or charge for extra functions.
Which platform for a healthcare app to choose Android or iOS?

Android or iOS follows by your decision on the market you target. There is a clear division globally: US citizens favor Apple products on iOS, Asia region likes Android-based. Dancing to users' tune, note that people tend to use a one-platform line of mobile devices (smartphones, tablets, and smartwatches). A native technology framework is better to enable users to access your app quickly and instantly.
What technology stack to choose for medical app development?

Technology stack is a toolkit used to develop a medical app. It covers technologies for backend (Java, Ruby on Rails, PHP, Python), programming languages for developing mobile apps (Java, Kotlin, Swift, Objective), frameworks and libraries for the frontend of web version (React, Angular, Vue), etc.
What are the factors influencing the choice of the technology stack?

Business factors influencing the technology stack's choice are app goals and type, market, industry-specific requirements, security requirements, and multiple platform coverage.
What should you pay attention to building a healthcare app?

Aiming to improve people's lives, you should strictly define your target audience, choose the platform considering AI, AR, VR, or IoT integration, and make it regulatory-compliant for the area of use and ensure encrypting patients' protected health information (PHI).
How to choose a software vendor to make a healthcare app?

Sure, you should draw your attention to the companies experienced in developing apps like you want to launch. Consider vendors that can offer a full-service cycle from business analysis to after-launch support. Doing it in one place, you save time for search and time for dive-in of engaged specialists.