#Alfresco
#Business management
#Digital transformation
14 January, 2021
Pharmaceutical Document Management Software: How to Choose the Best System
No doubt, a document management system is the golden ticket to a paperless documentation flow, flexibility, and compliance. The pharma industry is surrounded by document-related processes on various levels that need to be conducted seamlessly, safely, and efficiently. Thus, if you wonder how such software may help your pharma organization, continue reading this article, and you will learn about its main advantages, must-have features, ways it helps with the industry's compliance, and approaches towards pharma document management system development.
Market overview
The wave of digital transformation, changes in consumer behavior, and a global pandemic are just a few factors that significantly impacted the pharma industry in terms of business and technology. To obtain a better comprehension of the pharma industry, let's take a look at a few facts about its market.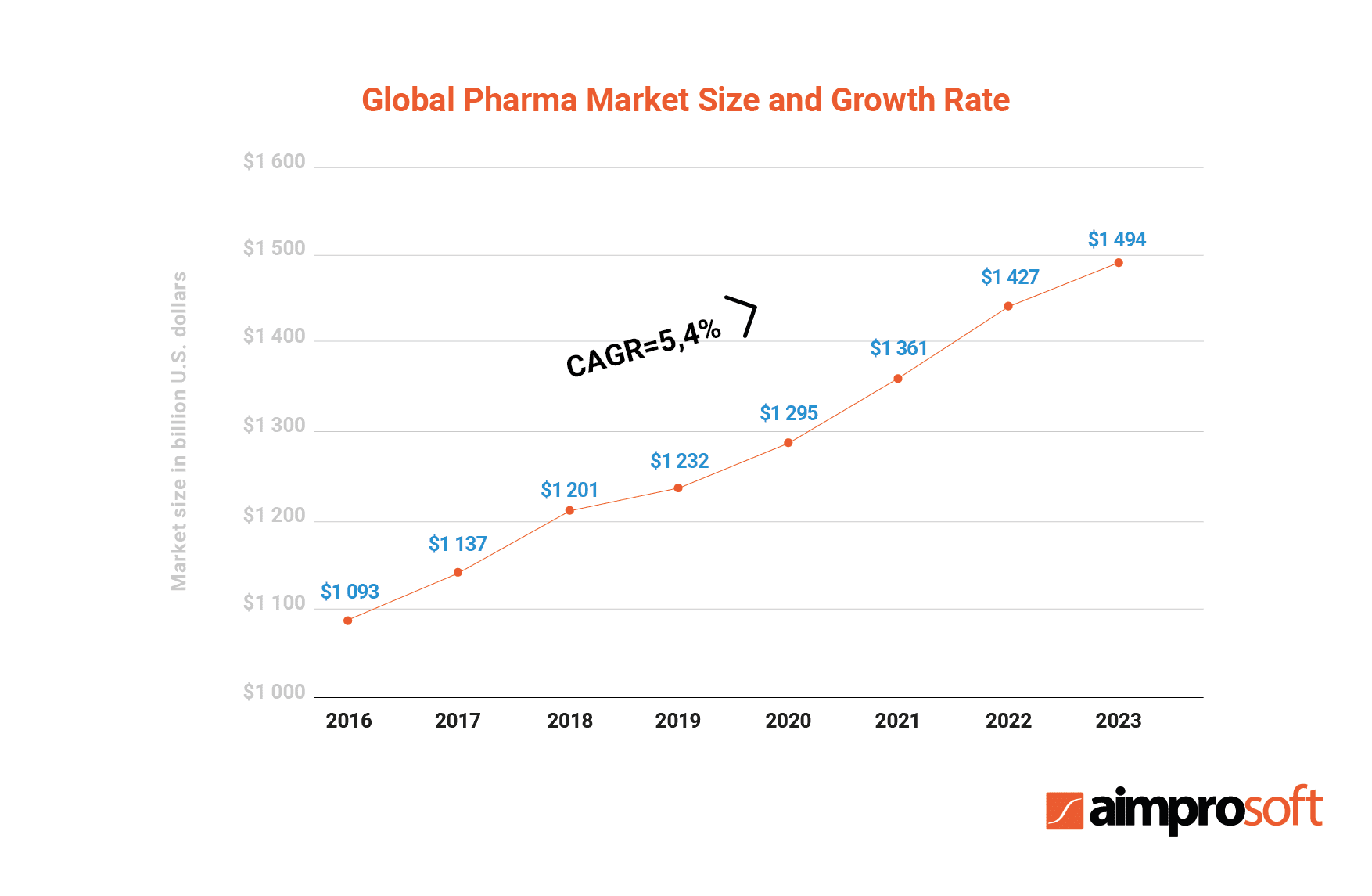 The table above shows the growth of the global pharmaceutical market since 2016. According to the research, the growth rate will have reached $1,494 billion by 2023. The same research identified major segments on the market based on their location and pointed out that the Americas held a 38% share of the global market.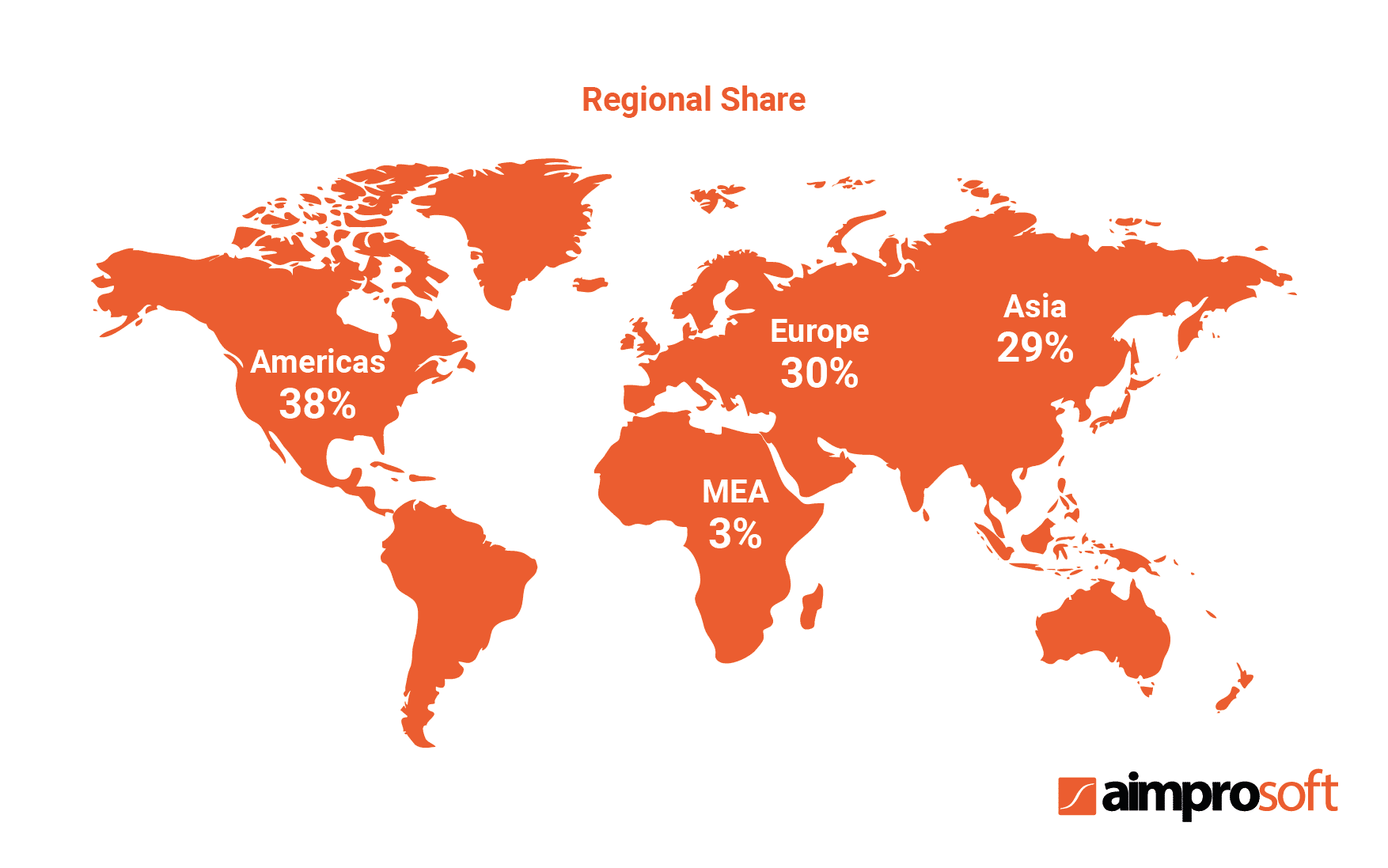 The increasing growth of the pharma industry means that this domain requires new technological enhancements to facilitate its further development. As a result, constantly emerging digital trends within the industry became the driving force for numerous pharma companies that follow them to enhance their capabilities.
Digital trends in the pharma industry
Digital transformation encouraged numerous organizations to integrate robust software solutions, such as cloud computing, big data, artificial intelligence, etc., into the organizations' infrastructure. It made various pharma companies become more digitally mature to keep up with the industry's demands. Thus, let's look at the prevailing market trends to understand this industry on a deeper level.
Changes in consumer behavior
Technological changes and innovations impacted consumer behavior in the majority of industries, including the pharma sector. Consumers became more willing to share their opinions regarding medical treatments via surveys, polls, and comments. They have also expressed a growing interest in leveraging software tools that would help them make the decision on the medicine they want to purchase. The consumers' feedback helps pharma companies create patient-centric strategies that focus on health plans and systems, technological improvements, and better monitoring of drugs' impact on patients.
Invasion of IoT in pharma manufacturing
The role of IoT in pharma manufacturing is growing due to numerous advantages of this technology, such as better management of the supply chain, improved efficiency, more accurate equipment monitoring, etc. Pharma companies must adhere to strict guidelines regarding drug packaging and transportation. Thus, in terms of the supply chain, IoT devices ensure precise monitoring of temperature and conditions of drugs once they are transferred from the manufacturing plants to their next destination.
IoT devices also help monitor storage conditions and their compliance with GMP (Good Documentation Practices) regulations and ensure better visibility of shop-floor activities. Moreover, the integration of IoT provides better tracking of pharma company's warehouse operations. IoT devices provide warehouse employees with real-time metrics that enable accurate monitoring of product location, help identify inconsistency and misplaced items, track inventory, etc.

Learn more about IoT appliance development challenges, and Aimprosoft insights on the integration of this technology

Growing usage of AI
The growing usage of AI-powered technology in the pharma industry can be explained by its ability to streamline numerous processes related to drug manufacturing, enhance prediction accuracy, handle large volumes of data, etc. Various pharma companies have already integrated such software to improve drug creation since AI helps in the identification of formulas for rare disease treatments and assessment of whether drug compounds are worth testing or not. In addition, the AI-powered technology identifies the appropriate doses of each drug that is different for every patient, making the treatment more accurate.
COVID-19 impacting collaboration among organizations
Despite the challenges that the global pandemic brought to the pharma industry, it has fostered a better collaboration among biopharma companies and research centers. Numerous organizations are uniting to share data obtained from the research and clinical trials to accelerate vaccine-related testing processes, speed up drug development, standardize regulatory approaches, and establish centralized monitoring. The strengthening of the partnership among organizations has facilitated the demand for new software solutions that would ensure seamless cooperation, simplified access to necessary resources, and efficient data sharing within the industry.
Demand for robust software tools
Apart from AI and IoT growing popularity in the pharma industry, numerous organizations have started transforming their daily operations with other types of robust software tools, such as document management systems (DMS), clinical trial management software (CTMS), electronic records management systems (ERM), etc. Each of them serves to automate the majority of the routine processes, streamline the companies' capabilities, and ensure higher ROI.
Based on our experience, the DMS is one of the most widely-used software tools in those industries that need to handle large volumes of documents. The pharma industry is all about document circulation, and its market is constantly expanding with new document management systems that differ in terms of functionality and efficiency. Thus, let's examine how to use DMS in pharmaceuticals.

Find a minute to learn interesting facts about document management software market trends

What is a pharmaceutical document management system?
Generally, the software market for the pharma industry encompasses a wide range of solutions, such as LIMS (laboratory information management systems), Pharmacy Inventory Management Systems, Pharmacy Compounding Software, etc. The relevant software for the pharma industry can be divided into groups depending on the company's primary activity. For instance, if we look at the clinical trial stage, the most popular eClinical software, such as CTMS (clinical trial management system), eTMF (electronic trial master file), EDC (electronic document capture), eDMS, etc., will cover major needs of the clinical trial companies.
On the other hand, if we consider the pharma manufacturing segment, robust ERP (enterprise resource planning) systems powered with pharma document management software, QMS (quality management system), etc., will be more efficient at this stage. In turn, pharmacies will require efficient document management systems and drug inventory management software. Whether it's the manufacturing or distribution stage, monitoring of the pharmacy activity, or inventory management, documentation will be one of the most important elements to control. Since the industry is surrounded by an increasingly regulated environment, all document-related processes should be secure, well-managed, and error-free.
Pharmaceutical DMS turned out to be one of the most efficient and flexible tools for electronic document management that can provide compliance with these requirements. In terms of the pharmacy industry, it's better to use such software not as a standalone solution but as the integration to other systems, such as ERP, CTMS, etc.
Overall, such systems aim to help pharmaceutical companies deal with a never-ending stream of documents that must be processed and standardized for further convenient usage. Such documentation flow may include notes from pharmacists and physicians, batch records, faxes, quality control records, etc. The pharmaceutical document management system ensures that all types of papers go through a certain set of stages necessary to prepare the document for its exploitation. Let's look at major stages that documents undergo with the help of pharmaceutical document management software:
Document capture.
This stage encompasses several steps that help documents become readable: scanning, importing, indexing, and extraction. Firstly, capturing helps digitize documents with various scanning tools, such as OCR (optical character recognition), ICR (intelligent character recognition), IDR (intelligent document recognition), onsite and offsite scanning, etc. Secondly, capturing ensures that previously digitized documentation in different formats (PDF, TIFF, JPG, or CAD) can be uploaded to the electronic repository and transformed into uniform and retrievable documents.
Once the documents are scanned or imported, they can undergo the indexing step that is also called classification. The essence of indexing is to categorize documents using metadata (information that most accurately describes the document) fields defined by users. Documents can be indexed by invoice number, keyword, employee name, prescription number, etc. The main advantage of the indexing stage is to make documents easily searchable. After being classified, the documents are ready to be extracted and further distributed by users.
Document distribution.
Distribution is a process of document sending to internal employees and external customers that can be completed either manually or automatically. A properly adjusted pharmaceutical document management software will allow its users to set up an automatic distribution of documents (set receiver, edit, view permissions, etc.) as soon as they are available, which is highly convenient if a particular type of documentation should be regularly sent to the receiver.
Document workflow management.
Tools for the creation and management of document workflow are vital for a robust DMS. They allow employees to work collaboratively within a chosen document, including editing, reviewing, assigning, setting notifications, and so much more. Created workflows ensure that pharma companies can save time and resources spent on the completion of disparate stages of working with documents, providing a unified place instead.
The stages described above is an overview of the flow that documents undergo within a pharma DMS. All of them serve to provide an efficient and error-free circulation of the documentation. Proceed to the next section to dive deeper into the advantages of the document management system in the pharmaceutical industry.
Main advantages
The ultimate goal of pharma DMS is to provide organizations with a full set of tools for seamless and secure documentation flow. The major advantages of this software are:
1. Automation and increased efficiency
According to the statistics, employees spend 1.8 hours daily, that is 9.3 hours per week searching and collecting information. The pharmaceutical document management system is the key to the transformation of inefficient operations that help reduce the time of the personnel spent on unnecessary activities. Such an advantage enables employees to concentrate on more important tasks allowing the system to complete repetitive operations.
2. Significant cost-savings
The statistics show that an average office employee uses 10,000 of copy paper annually. Another report shows that almost 45% of printed copies are thrown away by the end of the day. Apart from the wasted resources on the supply costs, they are also excessively spent on the storages, equipment, and its maintenance, etc. The integration of pharma DMS into the company's infrastructure allows reducing costs significantly by transforming the majority of the processes into a paperless flow.
3. Improved regulatory compliance
Needless to say, documentation that circulates within the pharma industry should be highly compliant to ensure product quality and safety. According to the report, non-compliance costs companies approximately $14,8 million annually. Another annual report released by the US FDA in 2018 states that pharma companies received 3,344 observations for 390 various categories of non-compliance.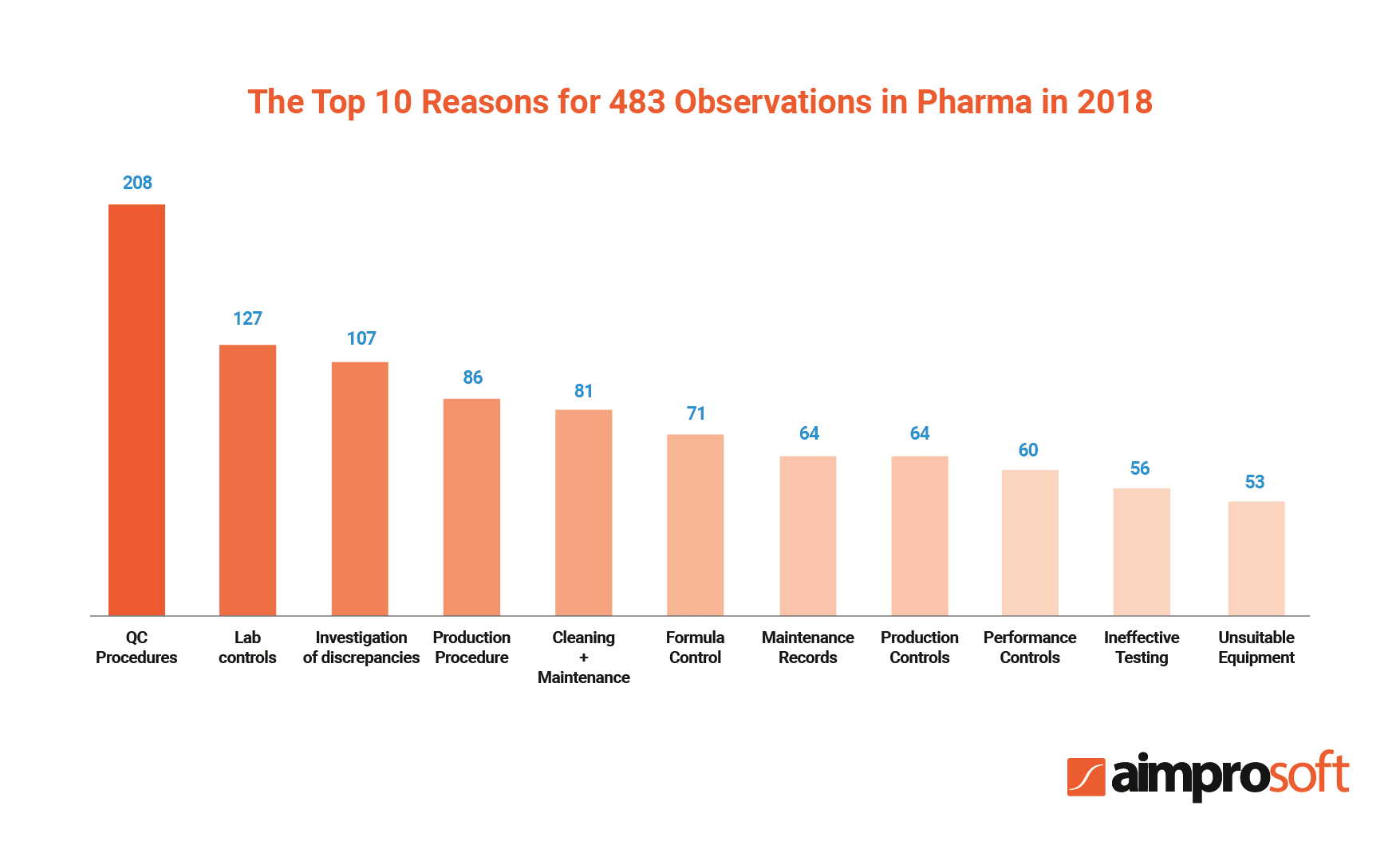 Thus, the implementation of such software can help pharma organizations meet the industry standards by providing checklists, templates, and standard forms that help eliminate risks of human error, enabling version control, etc. Moreover, a robust DMS can ensure that all documentation in pharmaceutical companies follows GMP.
These regulations point out what practices the pharmaceutical manufacturer must follow to maintain accurate and error-free documentation and records. A highly functional DMS adjusted to the requirements of a pharma organization will guarantee that all GMP regulations, such as regular audits, frequent reviews of all documents, legible handwritten entries, signed delegation responsibilities, and many others, are strictly adhered to.
4. Enhanced security
A thoroughly developed pharma document management software can minimize a wide range of security risks that are quite frequent in this industry, providing an extra layer of protection to the documentation via the following security measures:
audit trails allow tracking all interactions with the documentation, preview changes that were made, and check the deleted files. Such precise tracking helps identify suspicious behavior, actions, and unauthorized access by adding great visibility of the overall documentation;
disaster recovery (DR) strategy is a useful set of measures that are designed to prevent documentation loss in case of a disruptive event;
automated backups are highly important since they prevent possible data loss, saving the documents in special storage folders that are separate from your organization's database;
timely updates of your software will eliminate the risks of possible vulnerabilities and mitigate the risks of cyberattacks. The same applies to the patching of libraries and frameworks used in the course of your DMS development.
advanced access control enables the employees of your pharma organization to set permissions on editing and viewing particular documents and limiting access to them. Such a DMS feature eliminates the possibility of a data breach, ensuring more profound control over the documentation.
The mentioned advantages are a few examples of what a properly adjusted pharma DMS is capable of. Continue reading this article to learn more about the essential features of the electronic document management system for the pharmaceutical industry and the ways to develop one.
Must-have features and characteristics
Whether you are developing a pharma DMS from scratch, deploying an already-existing solution, or customizing one, the feature set should be chosen precisely to ensure that the software has the necessary functionality to streamline the documentation flow. Now let's look at the vital features for a robust electronic document management system for the pharmaceutical industry.
1. Role-based access control (RBAC)
This feature allows setting access permissions to the documents that vary depending on the employee's role and responsibilities. It means that the DMS with RBAC will provide access to those files that are relevant for a particular position. Apart from the additional protection, this feature increases the document management efficiency within the organization eliminating the necessity in processing individual permission requests, decreasing error rate, etc.
2. Advanced content search
The faster document search and retrieval, the more streamlined is the entire workflow. A robust DMS for the pharma industry should provide users with various search filters and methods that ensure more accurate results. The filters should enable search by following parameters: formats (PDR, MS Office files, etc.), text even in the scanned files, keywords, indexes, file name, executive's name, etc. Ensure that you include a wide range of search options to reduce the time spent by your employees on this activity and enhance overall performance.
3. Audit trail
This feature allows monitoring all the actions that were performed with the documents, such as file sharing, downloads, editing, deletion, etc. The ultimate aim of this function is to provide better and streamline the pharmaceutical document management process.
4. Efficient reporting
A full-fledged DMS should provide employees of pharma organizations with easily generated reports. The types of the reports may vary, from the inventory status in the warehouse to sales, depending on the pharma organization's activity. It's vital to ensure that the reports can be generated in various formats for better convenience, such as PDF, XML, XLS, etc. Also, users should be able to apply various filters and display data in different charting styles so that they could customize the reports to their needs.
5. Workflow management
Workflow creation and its management is one of the most powerful features of a DMS. It provides a wide range of tools for efficient and centralized document creation, editing, archiving, versioning, and sharing.
One of the great advantages of the workflows is that they simplify administration and add more visibility since you can see what scope of work the employees have and coordinate it more efficiently. The main requirement towards the implementation of such a feature is to make the interface easy-to-use and intuitively understandable since the set of tools for workflow management may be rather extensive.
6. Controllable sharing
When developing document management software for the pharma industry, it's necessary to ensure seamless collaboration for the organization's employees via a controllable sharing feature. It allows multiple employees to work with documentation simultaneously, which helps to increase overall performance and enhance the entire pharmaceutical document management process.
7. User-friendly dashboard
The overall interface of your document management system is of the same importance as its functionality. The employees should be able to navigate easily without the necessity to make unnecessary operations to perform the set tasks. It's desirable that the interface includes: visible notifications and alerts, an embedded calendar and email, a menu to view reports, an overview of tasks, settings, and other necessary elements to perform document-related activities.
The set of features mentioned above is just an example of those features that are vital for a robust DMS. The functionality in your particular case may differ depending on your pharma organization's needs. For instance, you may require offline mode for your document management system or integrate it with certain third-party services.

If you want to dive deeper into the essence of document management software, the way it functions, and get useful tips on choosing the right solution, check this comprehensive guide

Thus, having reviewed the essential features for a pharma DMS, let's take a look at top solutions on the market and analyze those elements that ensured their success.
Top 3 best document management systems for the pharmaceutical industry
To provide a precise overview of existing pharma document management solutions, it's necessary to clarify that each of them differs in terms of functionality, areas of application, and purpose of usage.
It means there is no unified document management solution that would cover all needs and requirements of different pharma organizations. The list below includes the description of different systems for document management to show a diversity of tools for document-related activities within the pharma industry.
1. pharmaReady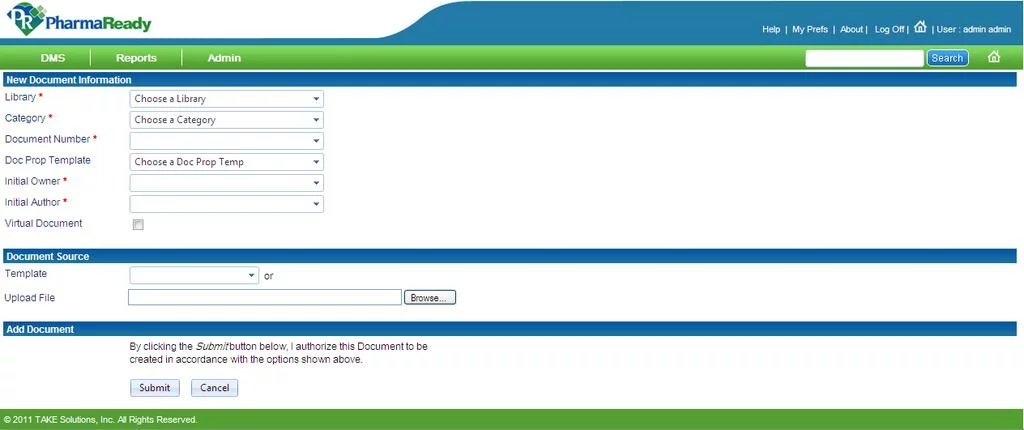 Description. This is a highly-customizable web-based document management system that is designed to streamline and automate pharma document-related activities. It guarantees thorough compliance with FDA 21 CFR Part 11, GDP, and a number of international regulations vital for the pharma industry. Apart from the pharmacy domain, pharmaReady can be adjusted to the needs of a large range of Life Sciences organizations, such as biotech, clinical research organizations, generics, etc.
Feature set and characteristics.
pharmaReady DMS offers a vast toolset to ensure an efficient documentation flow to pharma workers:
Reporting feature allows users to manage reports related to documentation, workflows, check-in and out activities, etc.
User-friendly dashboard ensures that all elements, menus, and structural blocks of the interface are organized in an intuitively understandable manner and are easy in terms of navigation.
Admin menu provides a diversity of tools that are required for a successful system administration, such as functionality to create, edit, review, and approve groups, manage categories and libraries, manage roles and responsibilities, etc.
Workflow management includes all settings necessary to support a document workflow efficiently, such as tools for document creation, editing, reviewing, commenting, reporting and approval, email alerts, watermark settings, etc.
Preferences feature allows users to manage their profiles, such as edit personal information, change passwords, delegate document review authority to other users, etc.
Besides, the DMS also includes e-signature settings, group management tools, role-based access control, and many others.
The software will suit: The company offers a wide range of licensing models and will meet the requirements of small and mid-sized companies and large enterprises.
2. MasterControl
Description. The MasterControl document management system provides efficient functionality for document control with thorough industry regulations compliance. The software guarantees adherence to GMP practices, post-market requirements found in 21 CFR Part 314, various FDA regulations such as 21 CFR Part 58, 21 CFR Part 312, and other vital regulations.
Feature set and characteristics.
Multiple FDA submission templates, such as NDA, BLA (biologic licensing agreement), eCTD (electronic Common Technical Document), IND (investigational new drug) application, etc., are provided by the system to make document formatting more precise and error-free and enhance dossier-creation flow.
Automated PDF file generation tool provides a simplified conversion of electronic files containing regulatory information. This feature is rather helpful since document submission to the FDA should be conducted solely in PDF format.
Centralized repository ensures that pharma organizations can store all documents in a centralized electronic repository. It makes the entire process of document search, update, and retrieval more simplified. This electronic repository consists of virtual vaults that are highly secure. All documents are located in these vaults and can be accessed solely by authorized employees depending on their roles and responsibilities.
Flexible integration is designed to help companies integrate easily the already leveraged software, such as ERP software, LIMS (laboratory information management system), etc., with the MasterControl DMS.
Virtual Workspace is a combination of tools necessary for seamless collaboration. It ensures cross-functional document review and approval.
The software will suit. The MasterControl DMS can be leveraged on various stages of drug discovery, from the preclinical phase to the post-market stage.
3. PrimeDMS
Description. PrimeDMS is a robust HIPAA-compliant solution for simplified document control. The software enables users to complete main documentation-related processes, such as document digitization, processing, storing, editing, and retrieval, effortlessly. Moreover, it's directly connected with the PrimeRx pharmacy management platform and ensures that all files can be securely and easily transferred from the PrimeDMS.
Feature set and characteristics.
Tools for document digitization ensure a seamless way of prescription scanning, processing, and transferring to PrimeRx pharmacy management.
Document reconciliation enables automated statements and checks attachments to the corresponding insurance records.
Document displaying provides pharmacists with a convenient way of viewing the prescription image during the refilling process of a certain drug, eliminating dispensing errors.
A diverse system of scanning workflows provides pharmacies with 3 prescription scanning options: intake workflow that can be created and managed before filling the prescription, the second workflow can be created during the prescription filling and the last one after prescription filling.
Document scanning and attachment with various data elements allows pharmacy workers to easily attach prescription records with delivery slips, patient ID with patients records, prescriber-related documents with prescriber records.
The software will suit. PrimeDMS can be used as part of the software package leveraged in the pharmacy. It helps pharmacists of various sizes digitize and manage records, patient ID cards, prescriptions, insurance statements, and other types of documents related to pharmacy operations.

Find out all necessary steps to create a full-fledged pharmacy management system that will digitize and automate your paper-based processes
Having reviewed 3 robust but different in terms of functionality and purpose of usage pharma solutions, let's dive deeper into the actual development of such software and analyze possible approaches to its creation.
Ready-made vs. custom solutions
There are two main approaches to the development of document management software for the pharmaceutical industry. The essence of the first one is to use the capabilities of the already existing software on the market that best meet your pharma organization's requirements. In turn, the second way to integrate such software into your company's infrastructure is to develop it from scratch. Thus, let's review each approach more precisely.
Ready-made solutions
This approach can also be divided into two possible scenarios. On the one hand, you can find a ready-made solution, choose the most suitable pricing model, and leverage its functionality to cover your needs. On the other hand, you can adjust the OOTB functionality of the existing, highly customizable solution. Each option has its pros and cons, and to make sure you follow the right path, we have compared both approaches addressing the most important criteria.
Degree of customization
If we look at those top solutions mentioned in the section above, we will notice that their functionality, despite being robust, is designed to meet the basic needs of pharma companies. However, the additional requirements of every pharma company may vary. For example, the pharma company may want all received emails to be displayed in DMS or add some custom document view. The ready-made solution with a low degree of customization may not allow implementing such a request.
On the contrary, let's consider a more flexible document management solution like Alfresco Community Edition. It provides efficient OOTB (out-of-the-box) functionality and allows the implementation of various features that are not inherent to a standard market pharma DMS. Based on our experience, Alfresco OOTB functionality can be used and customized to implement the features, such as enterprise-grade security controls, robust workflows, multiple integrations with other software, custom plugins, and many others.
Alfresco allows companies to develop a custom DMS using the technologies, such as ADF (Application Development Framework), AMP (Alfresco Module Package), and build the product on top of the Alfresco API. Moreover, if you customize the OOTB functionality of the Alfresco DMS, you will be able to take the source code and review it by turning to the services of the corresponding organization that conducts the source code auditing. Such full control over your code provides you with an ability to check whether your product is fully compliant with various industry regulations and improve the system's security accordingly.
Conclusion: Both options meet the requirements of pharma companies in terms of essential DMS functionality. However, the first option will be more suitable for those organizations satisfied with the feature stack of the chosen ready-made DMS and need to integrate it into the company's infrastructure as soon as possible. In turn, the second option is more suitable in the long run since it gives full control over the functionality and allows adjusting it to the company's needs.
Security aspect
Documentation flow within pharma companies is rather voluminous, requiring high security and strict compliance. The majority of the DMS market solutions offered by cloud service providers guarantee top-notch security. However, numerous reported data breaches and other security threats are still those vulnerable aspects of cloud document management solutions that don't allow them to be entirely secure.
On-premises software for document management is considered a more secure environment for your documentation since you can manage your servers, restrict external intrusion to your sensitive data, and generally create a powerful security strategy. This option can be considered less cost-effective as hardware maintenance, storage-related spendings, and power consumption are expensive.
Conclusion: If the security aspect of the documentation is a top priority for your organization, then an on-premises document management solution is the right option. However, mind that such an option presupposes significant expenses and may not be quite convenient for small-sized pharmacies and pharma companies satisfied with the security system provided by cloud document management solutions and would like to avoid spendings on the development of the on-premises solution.
Financial benefit
Both options have pros and cons in terms of the expenses. Cloud document management solutions won't require hardware and storage maintenance, electricity costs, etc. However, the expenses will include regular payments based on the chosen subscription model and possible cost increase related to the growth of the documentation, such as additional spendings for the storage extension, increased scalability, and other consumed resources.
The major part of the expenses spent on the on-premises solution will revolve around operational costs. However, this option will relieve you from the necessity to pay for the licensing and subscription. For example, Alfresco Community Edition doesn't require additional payments to the service provider since the chosen software vendor will adjust Alfresco OOTB functionality to your needs.
Conclusion: When it comes to the integration of document management software, it's impossible to avoid high expenses due to the constant growth of documentation within the pharma industry. The choice of the cloud DMS solution should be rather careful to avoid vendor lock-in and possible financial pressures. In turn, the on-premises software offers you more flexibility and control.
However, it may cause unpredictable operational spendings. Overall, the properly chosen software vendor that specializes in the development of document management software for the pharmaceutical industry can evaluate your needs and offer the most suitable option based on your budget, the size of the company, and functional requirements.

If you are looking for a software vendor with a profound expertise in DMS creation, check out Aimprosoft approach to product development

Custom solutions
Custom development of the document management system in the pharmaceutical industry is a more time, cost, and effort-consuming approach compared to the adjustment of the ready-made solution. It may take up to several years to develop your own pharma DMS that will meet market requirements. Such a way of DMS development for pharma companies is relevant in case you aim to build a competitive solution and become a document management service provider in this domain. For pharma companies, it's more rational to opt for a ready-made solution or adjust a highly customizable one.
Continue reading the article to examine which approach to such software development we chose to meet the customer's requirements.
Aimprosoft experience
A few years ago, our customer turned to our services with an idea to create a document management system for a small-sized pharma company that worked with clinical researchers.
The main requirement was to create such a product that would help the organization's personnel efficiently work with the documentation related to the researches. Additionally, the requirement was to ensure that employees could seamlessly start and configure workflows. The essence of workflows was to help personnel upload, review, edit, and sign documents to approve specialists that were potential candidates to conduct the actual research. Our previous experience with the creation of a document management system using the capabilities of the Alfresco platform assured us that its OOTB functionality would help us meet specific customer's requirements.
Having analyzed document-related challenges, we identified that the personnel hadn't had properly-adjusted processes of the collaborative work with the documentation. We implemented the creation and management of several types of workflows, ensuring that all specialists assigned for their completion could manage their tasks in the profile, obtain email notifications, comment on documents, etc. The developed feature set also included e-signature, the ability to set a document expiration date, and a user-friendly dashboard that helped easily configure their profiles and manage documents.
Moreover, thanks to Alfresco capabilities, our developers implemented visual displaying of the created workflows in the form of diagrams that showed all milestones of the workflows and operations that were performed within them. Finally, our team developed a system of groups that divided all employees who used the system according to their roles on the assigned task. Each group had different functionality available to them and certain limitations.

Check out more cases developed by Aimprosoft software engineers to obtain a better understanding of our capabilities

Overall, the created document management system solved the major challenges of this pharma company, decreasing the time necessary to fill documents, approve candidates for the research, and ensuring better control and compliance of the corresponding files.
Conclusion
As you may see, the creation of a pharmaceutical document management system is not a piece of cake. However, the correctly chosen approach to its development and the profound understanding of the industry's requirements and pitfalls may help create a highly-functional solution that will enable paperless document management, files safety, and compliance. If you want to provide your personnel with such a tool but still not sure of starting a digital transformation path or questioning how to use DMS in pharmaceuticals, contact us, and we will answer all questions regarding DMS integration.
Frequently Asked Questions
How can a pharma DMS help achieve the industry's most important regulation?

The very essence of the pharma DMS is to help companies digitize, structure, and safely store the necessary documentation. All these factors are important to ensure that the company complies with the main pharmaceutical rules and regulations, such as FDA and GMP. The software will provide you with ready-made templates and forms that can reduce the chances of human error, incorrect document filling, file loss, etc. Finally, a correctly adjusted pharma DMS helps comply with main GMP practices, such as constant audits, clearly documented procedures, correctly reviewed and signed documents, etc.
How much does it cost to develop a document management system for a pharma company?

The cost of such software creation will significantly differ depending on the approach that you will choose for its development. For instance, if you choose custom development that presupposes the product design from scratch, the spendings will be a few times higher than in the case of customization of the already existing software on the market. The cost may vary significantly depending on the budget and the desired functionality. Alfresco offers a free community edition solution that allows you to use OOTB functionality and test the software without paying for it. However, the usage of the OOTB functionality of the existing solution and its customization to your needs is considered a more time and cost-saving option.

The minimum time for Alfresco basic functionality customization such as workflow management, role-based access control, advanced content search, audit trail, controllable sharing, user-friendly dashboard, and reporting along with technical specification, UI/UX design, and QA will be approximately 500 hours. Taking into consideration that the average rate for development services in the USA is $80 per hour, it will amount to $40,000. In the UK, you'll pay a minimum of $35,000 as their rate is about $70/h. If you are located in Western Europe, it will cost you $32,500 as they charge a lower rate of $65/h. The lowest bill is applicable for Eastern European countries like Ukraine, where the cost will start from $17,500 because the average rate here is $35.
How long will it take to develop such software?

Once again, the time aspect is similar to the financial one. It depends on the approach to development. If you choose a low-customizable solution from the market, it will take less than one month to deploy it and train your staff for its effective usage. In turn, the configuration of a highly-customizable solution like Alfresco may take from a few months up to less than a year. The development from scratch may take up to several years. Finally, the exact time estimation required to develop a pharma document management system will depend on the complexity of the chosen feature set.