Alfresco
01 February, 2023
How to Build a Document Management System
Key takeaways
We'll highlight here the main reasons for document management app development that at least stop you from hesitating.
You'll find the industries and business types in the overview that create a perfect match with DMS capabilities.
A step-by-step flow will shed light on how DMS works so you'll get an understanding of how it can work in your particular case.
Read on about picking up the right DMS and implementation peculiarities (design, tech stack, vendor).
Aimprosoft's use case: learn at the example of how Alfresco can contribute to document management.
Meet John, the CEO of a company with a traditional paper-based workflow. He is constantly losing vital documents. As a result, his partners find it difficult to deal with such a disorganized person. On top of that, the low productivity of the staff overwhelmed by the paperwork causes damage to the company image. It is a gloomy picture. Isn't it? However, there is no need to press the panic button. There is a solution that can make things better. It is called a document management system. Are you intrigued? Let's discuss this magic bullet.
What is a DMS file?
DMS file" means a file that is stored in a document management system (DMS). A DMS file can be any electronic document managed and organized in a DMS. It can be text documents such as Word, PDFs, spreadsheets, presentations, images, and other digital file formats. A DMS system stores and tracks these files, allowing users to easily access, search, modify, share, and control the documents in the system. DMS files typically have associated metadata, such as file name, creation date, author, version number, and other relevant information that helps manage and organize documents efficiently.
What is documentation management?
Documentation management refers to the systematic process of creating, organizing, storing, and controlling various types of documents within an organization. This is the kind of thing that can significantly improve the way your organization works. By implementing a structured approach to creating, organizing, and controlling documents, you can streamline the flow of information and enhance collaboration among team members.
This ensures that documents are easily accessible, relevant, and accurate, which saves time and reduces errors. In addition, proper document management helps maintain process consistency, increases regulatory compliance, and facilitates decision-making by providing reliable and traceable information. It also facilitates knowledge sharing and prevents data loss due to staff turnover. Document management can provide many benefits, increasing efficiency, productivity, and overall organizational effectiveness.
If you still question yourself, "What is a document management system?", then let's go through all points.
5 reasons you need a document management system
Some creatives prefer organized chaos and don't even think why an electronic document management system is required. They say it inspires them to come up with the brightest ideas. However, concerning storing and retrieving the documents, the mess at the workplace is out of the question. Discipline and order prevail there. So if the search for a file turns into an intimidating quest, it is time to build your own document management system. It solves the following typical job-specific challenges caused by the abundance of paperwork: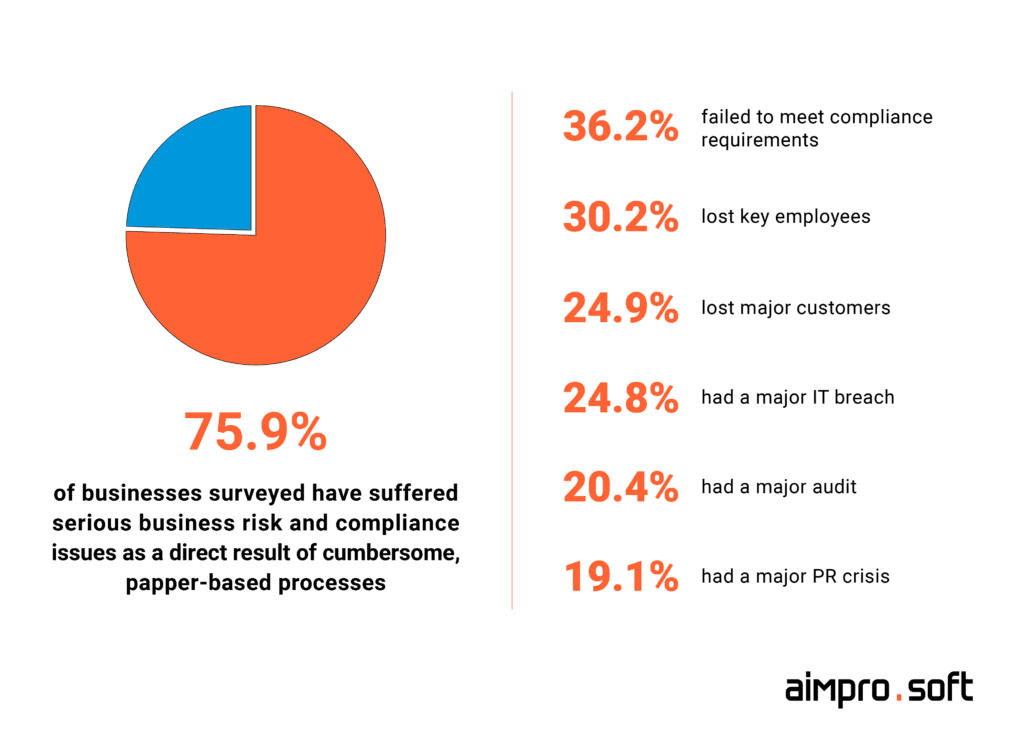 1. File damage caused by technical issue
Imagine the following scenario: your sales manager spent day and night on a presentation for a new client. He left the office satisfied. Coming back the next morning, he sees the document disappeared, or even worse, it suddenly became inoperable. A virus attack or a major system crash is among the possible reasons for this mishap. Either way, the meeting is in half an hour, and the sacred file is beyond repair. Sounds scary, right? Luckily, there is a solution that can avert this catastrophe.
2. Stack of papers looks like the mount Everest
The paperwork is an annoying issue for all companies without exception. The documents produced, signed, and exchanged between departments daily should be stored in a secure place. In practice, they are strewn across your desk, the desks of your assistant, or other employees. Document management software development allows leaving behind the long row of filing cabinets or cold repositories, where secretaries spend their lifetime searching for long-forgotten accountant, reports. Just think how awesome it would be to tackle the paperwork using your laptop or a smartphone. It is still a dream for many business owners, but not for you. We will talk about it a bit later.
3. Team collaboration is far from great
Collaborative project work, like updating the brand book, can unite the team members better than any team-building activity. However, this assumes an organized document workflow for engaged users. The inability to see who edited the file and what changes were made to track down the final version prevents meeting the deadlines and influences the team's microclimate negatively.
Document management services become useful there. They leave no room for mistakes by showing the latest version. Moreover, the out-of-the-box integration with such file storage systems as SharePoint, Dropbox, or Google Docs, inherent to a number of document management systems, can only empower users to work with files simultaneously regardless of their location. A DMS can serve partly as a document tracking system taking under control even minor changes in files.
4. When data security is a primary concern
Being the most valuable asset for almost any enterprise, data may be at risk in numerous instances. Natural disasters, and digital threats, such as data leakage, snooping, and human error while document sharing, are just a few examples of factors that may drastically damage your documents. Thus, correctly adjusted to your business needs DMS may eliminate those risks via:
data encryption during transit;
automatic backups
disaster recovery;
encrypted storage;
role-based access control;
audit controls, etc.
A thoroughly designed security strategy that should be integrated during document management solution development will help you overcome the challenge of insufficient security.
5. Desire to save the planet
Conscious companies feel their responsibility for the environment. They adhere to paperless principles showing their intent to be more eco-friendly. Why don't you follow suit? With document management services, you have the opportunity to reduce the use of paper documents in your location. Imagine how many trees you can save throughout the year. Moreover, you can also save energy if you use printers and copies less frequently.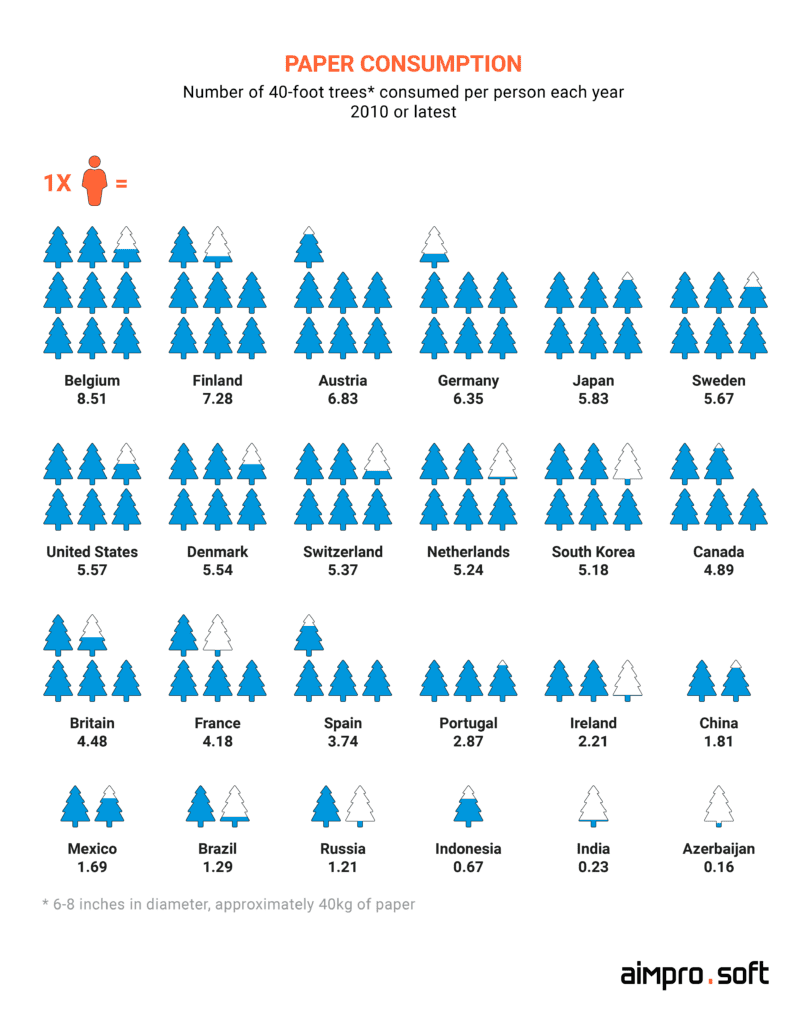 Types of businesses that need a document management system
What are your ambitions? Have you already worked out plans for the next business season? You should take into account the current state of affairs and potential growth of your business when you consider embracing new technology and designing a document management system since it will affect your further cooperation with document control software providers.
For example, the vendors will offer a cost-effective and user-friendly solution to small organizations and focus on security and enhanced features for big enterprises. Let's see how the attitude toward the file management system is changing as the size of the business increases:
SMB (small and mid-sized businesses)
Even companies with less than 100 employees have business files of great importance that should be carefully organized, stored, and retrieved. With annual revenue of $5-10 million, these businesses can afford turnkey document management software development with diverse out-of-the-box functionality. However, if you need to create a document management system with extended functionality, adapted to the specific needs of your company, there will be additional costs for some enhancements. They will not be at the expense of the big enterprises for sophisticated Content Management Systems, though.
SME (small and medium enterprises)
The bigger companies where the staff is up to 500 employees apply new technologies more willingly. Usually, there is an IT department with qualified specialists who may efficiently integrate document management software into the enterprise. Sometimes business owners still see the DMS as a potential training problem for the staff. The lack of in-house experts forces them to seek vendors who offer customized technical support and maintenance services. It is not a big deal because there are vendors on the market who provide staff training after the project completion.
Large enterprises
The big companies with more than 1000 employees and annual revenue that exceeds $1 billion solve the typical and specific content management challenges with the ECM system. Excessive use of emails, sending confidential data via messenger or chat, and duplicated versions of one file are some of them. Such platforms are designed to address these issues by carefully storing lots of previously unstructured and duplicated business files.
The list of challenges solved by a reliable DMS is far from complete. Not only different types of business can benefit from implementing a document management system, but different industries as well. Let's consider this issue in more detail.
Top 8 industries in desperate need of stable document management software
The power to save time, space, and money makes document management software a lifeline for any business but especially for the following industries:
1. Logistics
If you are in logistics, you know for a fact how hard your personnel relies on shipment information. Proof of concept, bill of lading, freight bills, and other essential documents should be unified in one system and be easily accessible. Insufficiently configured process of document management that may negatively affect the whole workflow can be solved with the integration of an efficient doc management system.
Thus, the development of a highly-functional workflow will be rather helpful for order tracking and support throughout all shipment stages. Moreover, any modern file management system has an internal mechanism for workflow creation. Such ability, together with document storage within the same system, make DMS a perfect solution for the improvement and cost reduction of operating expenses or any other type of logistics cost.
2. Education
At all times, education was the industry that consumed an enormous amount of paper. Until the education software development approach penetrated it, every educational institution produced lots of student and alumni reports, enrollment forms, annual reports, and admission details. Implementing one single platform for storing all this documentation is no longer a choice. Its main benefit for education is improved cooperation between the school office, parents, and external bodies (local authorities).
3. Healthcare
Healthcare is another paper-driven industry. The stacks of paper cause disorder. It is so easy to lose or misplace a vital document, for example, a patient's prescription. Without having it in time, a patient may receive an improper dosage of medicine that can lead to a fatal outcome. The healthcare software development guarantees the safekeeping of medical records and patient information, secure sharing of patient discharge instructions, e-prescriptions, billing information, and insurance details, improves patient safety, and reduces the number of legal sanctions against health workers.
Read also about app development for healthcare and how to create an EHR software.
4. Government
The Council of Economic Advisers (CEA) released the report showing that the malicious cyber activity, including the theft of sensitive financial and strategic information, cost the US economy between $57 billion and $106 billion in 2016. As we can see, saving confidential information (e.g., tax information, financial records, business licenses, land-use records, building permits, and other sensitive data) becomes the primary task in this field.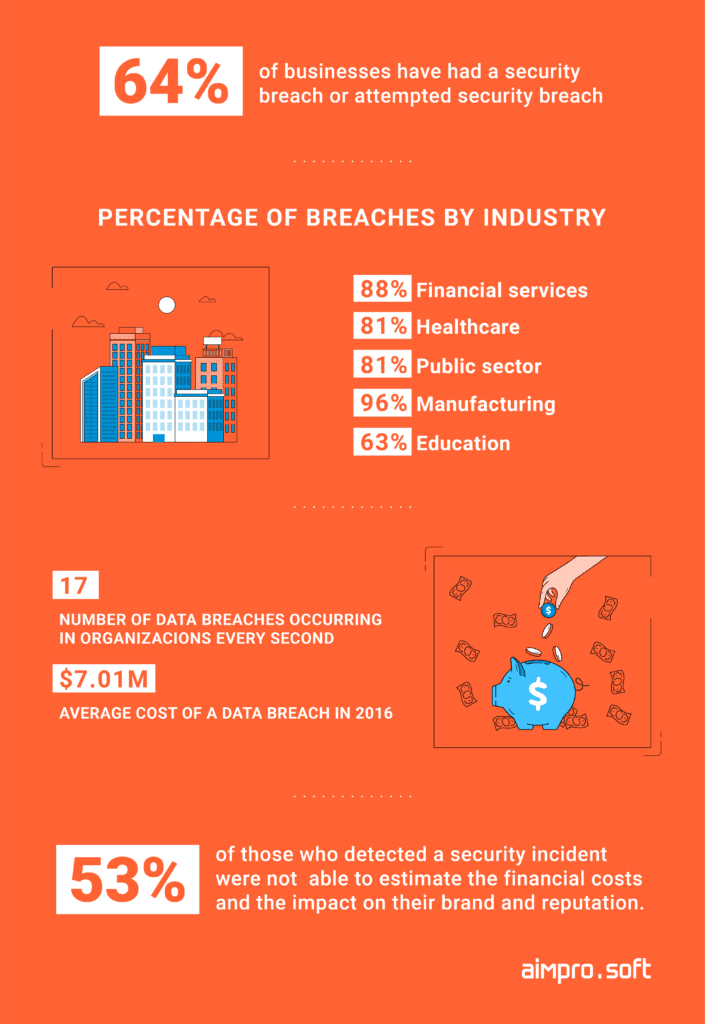 5. Accounting
Main article: How to Choose Accounting Document Management System
The account statements and spreadsheets are carefully monitored within the company for fraud detection and prevention purposes. Admit it; it is pretty hard to control all financial paper flow in the organization without document control software, which can convert every incoming invoice into an electronic file with a unique identifier. It wouldn't be too difficult to manage any records (receipts, vouchers, debit and credit, cash memos, and e-checks) either for accounting firms or departments. The digital solution with an option of advanced search, for example, greatly contributes to preparing accounts for the financial audit of your enterprise by the regulatory bodies.
6. Retail
As the volume of paper sales records grows, retailers struggle with fast finding the necessary item. In its turn, the document mismanagement and the nonconformance for the movement of products within the vast supply chain lead to delays in customer service. The retailers started contemplating retail application development in the form of EDMS to keep the purchase orders, inventory reports, invoices, receipts, retail and wholesaler contracts, and employee records coming from dealerships in one place. Evidently, the simplified document audit will speed up the business processes and deliver an enhanced customer experience.
7. Banking
The bank officers deal with a great number of papers, including policy papers (rules, regulations, circulars, instructions, orders), which should be accepted for execution, intrabank documents concerning bank operations and services, bank's regulatory reports, loan reporting, and accounting. It is getting hard to manage and provide per request any record without the DMS platform, which fits industry standards and offers audit trails and robust data security. The proper digital solution will improve cooperation between bank centers giving those parties concerned instant access to necessary files. To learn more, read the article on document management for banks.
8. Legal firms
The legal experts sometimes have to review the statements, abstracts of records, and protocols retrieved from the storage in the process of progression of a new case. The absence of a specific record at hand hinders the lawyers from moving forward. The precious time is lost. Often, when the document finally arrives, it requires being copied to dig into the case of all members of the lawyers' team at a time. Document management software development solves these problems. All engaged team members can get access to the documents and can work on them simultaneously via out-of-the-box third parties like Office 365 and Google Docs. We recommend reading the article in our blog about document management software for law firms.
Know more about the digital document journey in different industries and its touch points with users.
How does a document management system work?
Despite being different in terms of efficiency, interface simplicity, and level of usability, numerous document management systems function somewhat similarly to each other.
The very essence of this information system is to capture, sort, store, retrieve, and distribute documents. Each of the stages follows a specific sequence of actions, but the whole system functions as a unified smooth running mechanism. However, let's review all these internal processes more precisely:
Document capture process
When all the physical documents are transformed into digital ones, the DMS starts the process of capturing, and scanning, in other words, organizing them further into one centralized archive. During this stage, the documents are converted into different editable and searchable files in PDF, MPEG, JPG, CAD, and other common formats.The main purpose of document capture is to allow you to have prompt access to the required data. The key point here is that you may capture all files from any source. From email messages and generated reports to different integrated into your business applications (ERP, CRM, etc.), you may easily save necessary documents for further exploitation.
The main purpose of document capture is to allow you to have prompt access to the required data. The key point here is that you may capture all files from any source. From email messages and generated reports to different integrated into your business applications (ERP, CRM, etc.), you may easily save necessary documents for further exploitation.
Document sorting process
Following the capture step, this process helps to index all files and sort them in accordance with certain criteria. Thus, all the documentation undergoes classification that is based on those terms that you add to the document's metadata (number of orders, document type, vendor's name, etc.). As a result, such a benefit of a document management system significantly reduces the time and effort the employees spend on file searches.
Document storage process
After the stages of document capture and sorting, DMS saves all the data in a centralized place, namely database. There are two possible scenarios according to which the documentation may be stored:
On-premise. In case you opt for on-premise DMS, no internet connection will be required.
Cloud-based. If you choose a cloud-based one, the ensuing retrieving process will be conducted online. However, in this case, the cloud provider will be responsible for the maintenance, security, and backup creation of your documentation.
We highly recommend paying special attention to the security aspect of data storage. For instance, the chosen DMS should have role-based access control so that you can manually regulate permission to specific files. DMS should also provide you with version control that will allow you to revert and cancel the amendments that were made during the document checking.
Document retrieval & distribution processes
The process of document indexing/sorting that we mentioned earlier aims to simplify the retrieval of such files and make it significantly faster. Document management software provides you with the keyword or filtered search to find a required file instantaneously.
Finally, after the retrieval of a particular document, DMS allows you to distribute it among vendors, your employees, etc. The distribution is normally conducted with the help of either email or other provided methods of file transferring.
Among other document management system benefits is workflow support. For instance, it's one of the most efficient features in Alfresco DMS. The platform makes documentation workflows automated and efficiently manageable with the help of numerous for their execution and monitoring tools.
Each task within the workflow, in turn, is performed easily between people and groups. The whole task completion process is rather seamless since Alfresco allows you to adapt it according to your needs (schedule time, assign employees, set notifications, etc.).
With the correctly chosen DMS that enables you to configure the workflows, you may easily keep track of the things you and your team need to do, and even see the slightest changes in your documentation.
Having figured out the internal processes of DMS, let's dive into those parameters that should be considered when you are about to implement such software.
Implementing a document management system
If you want to eliminate the number of pitfalls when you develop a DMS, follow the list of helpful tips that will answer the question of how to build a document management system seamlessly.
It is essential to define the compatibility of your company's software with the new document management system you are going to create. You can get document management on the right track only with a fully integrable DMS solution.
If you have chosen a web-based DMS, you should choose a platform that will serve as its basis. Creating a document management system based on Java due to its scalability, cross-platform nature, modernized architecture, the great number of libraries, and extensive pool of developers will be a sound idea if you do not have any preferences.
If you need to create a completely new document control system or use existing solutions, the target database will be different, so you have to think carefully about how your data will be migrated. If you have a database, experts from the company you are going to work with should analyze it and convert old data into the DB format of DMS. If it is needed, specialists will do it for you. ER-diagram (entity-relationship diagram) is often applied for database optimization. It highlights undesirable characteristics and redundant data to eliminate.
The number of concurrent users is an important metric for planning, measuring, and managing the system capacity. If developers know the number of your employees using the solution simultaneously, they can perform load tests for checking the reliability of the software. As a result, it will be scaled up if the testing shows that DMS can't withstand the load.
At some point, a need to scale up your project may occur. Clustering is the best solution here. Even if you do not need it right now, it can prove useful in the future. Before the actual development, it is important to configure your software so that it supports clusterization. It should be done from the very beginning, even if you do not require scaling your DMS software now. Be aware that adding this feature to the existing solution takes enormous efforts.
With these aspects, crucial during document management system implementation, in mind, let's dive into those parameters that will help you choose such software wisely.
Choosing the right DMS solution
You have already seen how to solve document-related problems with DMS, explored the architecture of such a solution, learned the main tips on how to create a document control system, and implemented it flawlessly. All that is left to do is to get back on track and take specific actions that will lead you to the right solution.
Define your document management needs
Before you even start searching for possible options, mark the business tasks that the CMS is aimed to solve. Bear in mind possible alterations of these challenges in case of the business extension. Discuss the current paper flow with the employees. What are their most common tasks? Is it the document scanning or review and modification of previously created files? Getting timely responses to these questions is crucial to implement the DMS with the essential features, whether it is batch scanning, optical character recognition, or easy work with the drafts.
Explore the basic software in your organization
When you are about to integrate DMS into your business, its compatibility with any other software (CRM, ERP databases, etc.) is one of the most crucial aspects to consider. Easily integrable DMS is the key to boosting the productivity of the enterprise. Moreover, if it is compatible across your already installed platforms, with the company's hardware, and different file types like text, office, open office, XMS, PDF, HTML, JPEG, etc., you will be able to streamline the whole internal workflow significantly.
Check the compliance of the system with industry regulations
Every industry has specific regulations that control the process of storing electronic documents. HIPAA for health providers, FDA for pharmaceuticals and PCI for the retailers are some of them. The system you are going to install should be compliant with the regulations of your industry regarding the work with confidential information. It is vital if you want to avoid judicial proceedings in case of security leakage.
Take care of post-launch support
At Aimprosoft, for example, the DMS integration comes with post-release staff training. However, it would not hurt to inquire if there is someone for backup after a sudden outage. Suppose you want to learn more about a particular option. Is there any training material (e.g., online help desks, guides, manuals, and videos) that will help you? What about live chat available 24/7? We know firsthand how vital it is for clients to get assistance. We provide them pre-agreed man-hours dedicated to technical support monthly. It might be the perfect variant for any organization.
Focus on security settings
Clarify the security measures against identity thieves or disgruntled employees. Is it possible to restrict particular departments from viewing the documents? Can you set a password for the specific folders or files? What about data encryption and multi-factor authentication? How are the e-signatures generated for the digitally approved documents? These questions should not be left unattended.
Pay special attention to the user interface
There is always a person in a company who is reluctant to embrace innovative technology even if it promises to free him from routine tasks. Opt for a solution with a simple, user-friendly interface so that your employees with any background and skills can quickly understand how it works.
Why Alfresco is the best choice for document management software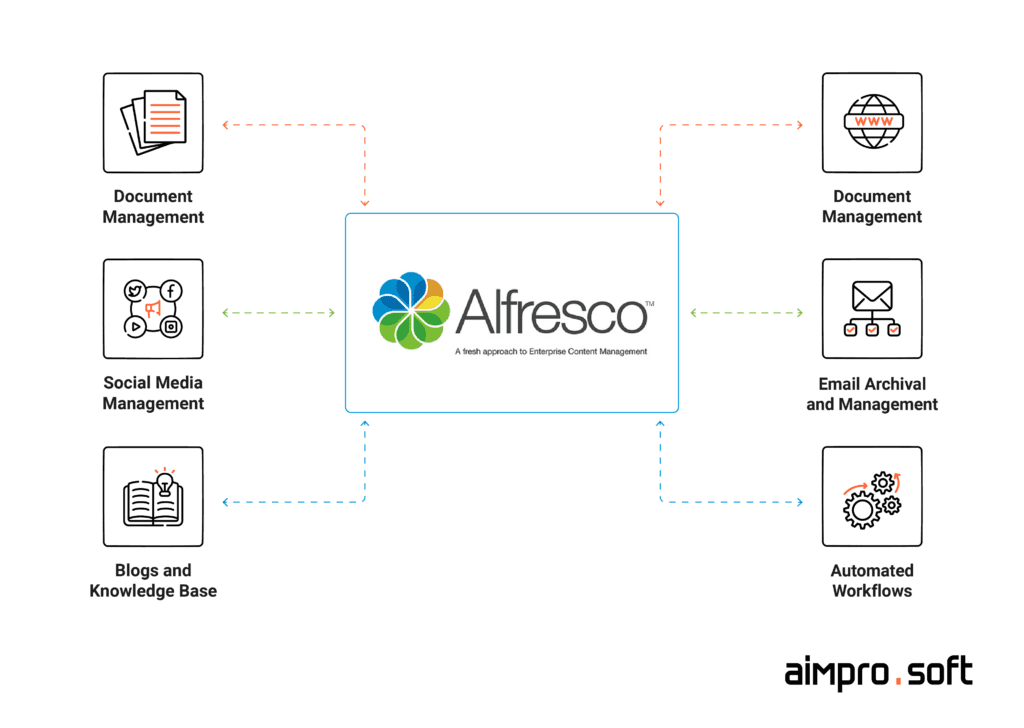 We have examined how to make a document management system, which is such an irreplaceable tool for any organization. Now you might wonder what the best solution for all platforms offered on the market is.
Over ten years our customers have been going paperless with us. We manage to do this with Alfresco Document Management solutions, and that is why:
1. Open architecture
For over ten years, our customers have been going paperless with us. We manage to do this with Alfresco Document Management solutions, and that is why:
2. Seamless integration
Alfresco, used for creating document management software, is famous for its out-of-the-box integration with the most popular third-party services, including Microsoft Office, Google Docs, email clients, etc. The cross-platform nature, modular architecture, and openness of its components allow the integration of Alfresco ECM with any existing infrastructure. If there is a need to implement an off-beat functionality, it is much easier and faster to develop new modules rather than create the product from scratch.
Find a minute to read about the most popular third-party integrations in Alfresco, like Seclore and Ephesoft and others.
3. Highly customizable
The open-source basis of Alfresco document management software makes it possible to change the default functionality. A Spring Surf framework allows adapting the UI to your specific requirements. Dashlets (modules) effortlessly extend capabilities. They are mostly used to display the collected information. In addition, Alfresco released the Application Development Framework (ADF) that allows developers to build a custom UI based on existing components to better fit customer needs.
Another win-win offer is custom pages for full view. When it comes to metadata, the flexibility of Alfresco enables users to add properties to the uploaded files apart from using the default ones. A wide variety of options are designed to meet the most extraordinary needs of the business with Alfresco ECM.
4. Reliable data protection
The authentication and authorization guarantee the security of sensitive data. Alfresco supports different types of authentications. Moreover, Alfresco lets developers configure standard authentication protocols easily, integrate LDAP into Alfresco, and implement their own or custom authentication protocol. You can also apply additional modules for custom authentication types. With a role-based security model of Alfresco DMS, users should be authorized to access the business files. It is possible to register via invitation only.
5. Scalability
When it comes to scalability, the main difference between Community and Enterprise Editions is that the latter supports clustering. Both Community and Enterprise Editions of the DMS by Alfresco provide an unlimited number of concurrent users and API sessions. The only restriction you can meet is the performance of the servers and databases you use. The number of active users and the number of files define the required hardware capacities. For example, you need 2x server CPU (1xDual-Core) min 30GB + storage for storing 1 billion documents viewed and edited by 20 users maximum.
How to develop a document management system for optimizing your business processes?
The next big question we'd like to discuss is what points to consider when you are developing a document management system. To do that, it is necessary to single out requirements specification, business, and functional requirements of the chosen DMS and examine its architecture.
Document management software requirements
Business requirements
Compiled by a business analyst, such documentation is a vital component that you should have before the actual integration of DMS into your business. It aims to clarify the reasons why your enterprise requires such a solution and determine the ways document processing software will meet your needs. The document will also help you define financial requirements, including a thorough cost-benefit analysis.
Requirements specification
Based on a business requirement document, the business analyst creates this fundamental documentation, also known as SRS (Software Requirements Specification), that contains in-depth functional and technical characteristics of the software to be developed. It can be created either on your or the software vendor`s side.
The high importance of this document is explained by its capability to decrease possible risks of further DMS redesign. It also helps form a clear vision regarding the project and optimize the document management app development beforehand.
Functional requirements
This document is an integral part of SRS that contains a thorough description of the chosen DMS, namely its functionality, authorization levels, the intended behavior of the product, use cases, etc. When dealing with functional requirements, consider that such a document should state that the chosen DMS can provide the following capabilities:
capture;
indexing
search, retrieval, and distribution;
integration with any other software, not only in-house one;
workflow management;
version control;
security;
role-based access control, etc.
Overall, the functional requirements specification will assist you in figuring out which functionality may be missing and clarify all technical aspects of your future DMS with the development team. Having completed this stage, it's time to explore the essence of DMS architecture.
Document management system architecture
DMS architecture is the basis you should consider when integrating such software into your business. The choice directly affects the document management system development. Hence, it allows you to minimize certain DMS implementation risks beforehand. Therefore, consider the following list of tips that should help you answer the question of how to create a document management system with the best-suited architecture:
it should be flexible enough to meet all your business requirements;
it should support clusterization to scale the developed application and effectively support the number of customers;
consider choosing DMS with an architecture divided into components. Such architectural style presupposes the opportunities to make adjustments, deploy, and easy support;
the architecture should enable the creation of backups and have disaster recovery to prevent data loss in case of emergency;
make sure that it's extendible as such characteristic enables developers to create required for you application custom modules;
mind that an efficiently working DMS architecture should support a workflow engine which will help set up properly and automate all business processes of your enterprise;
Let's take Alfresco DMS as an example to see how all the mentioned tips can be embodied in one software solution: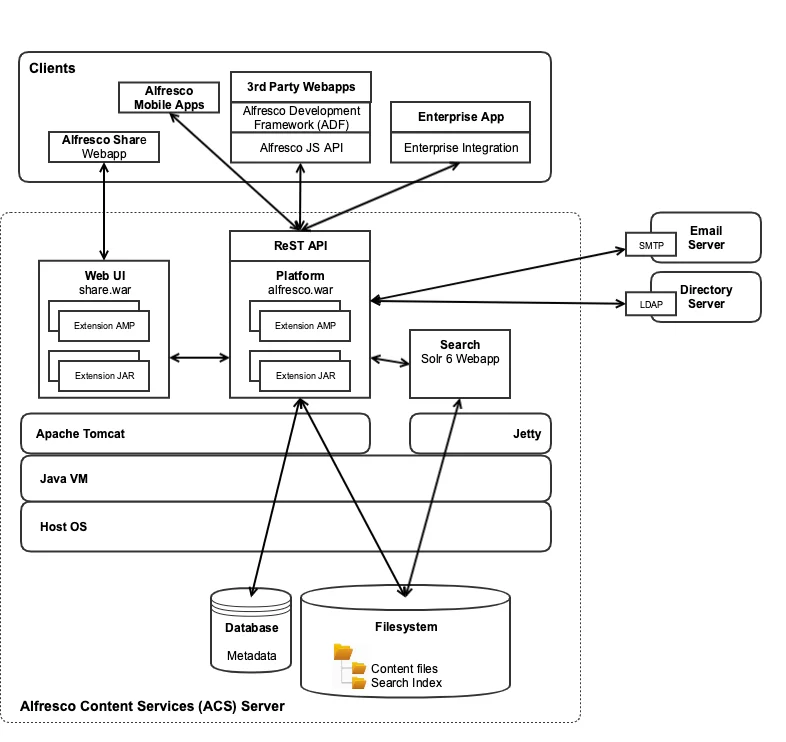 Repository, the heart of Alfresco DMS, is supported by the server and functions as a storage for content and metadata. All programming interfaces support numerous languages and protocols. This allows software engineers to implement custom modules and features. Since Alfresco DMS allows storing a great amount of data, it also offers its users to search the documents quickly and flawlessly. The search functionality is built on top of Apache Solr 6 and provides document indexing, advanced filtered search, and custom search based on the customer's metadata.
Another architectural feature of Alfresco DMS is the extendible number of clients (mobile, web, etc.) through which the data may be accessed. For instance, mobile clients can access the data stored in DMS through the REST APIs which the system provides. Moreover, if you integrate Alfresco DMS into your enterprise, you may be sure that the exchanged data via all available clients is completely secure due to on-device encryption and access controls.
Finally, the architecture of Alfresco DMS is what makes this solution so efficient and scalable. The flexibility of its internal structure allows software engineers to implement the variety of custom features enhancing the initial potential of out-of-the-box functionality and, as a result, the overall productivity of the enterprise.
Now that you have a vision of the internal structure of the DMS solution, you are probably wondering how to create a document management system that will meet your particular requirements. But before proceeding to the aspects that should be kept in mind during DMS implementation, let's first examine how it works.
Choosing the development services company
Your document management system implementation plan has to include the software partner selection.
Usually, a software development company specializes in particular technologies. You can check their practical experience in the portfolio or case studies. It will give you valuable insight into the scope of projects the company deals with.
You may outline the technological challenges in your company, which will influence further development and ask your potential partner how they are going to solve them. The developers' answers will reveal their level of competence and expertise.
So if you decide to use Alfresco document management system and adapt it to your needs, search vendors with real-time hands-on experience in Alfresco development. It is advisable to have a partner who is a member of the Alfresco Community, where developers have access to the latest Alfresco technological advancements.
Search for the reviews about the chosen company that would include the evaluation of the vendor`s provided services related to the development and implementation of a document management system. Also read customers' testimonials and ask the potential software vendor for the Certificates. These measures will also prove to be handy.
You probably know that the cheapest option is seldom the best one. However, the most expensive services can also raise suspicions. A transparent pricing policy helps to avoid any miscommunication when it comes to the cost of the services. It will be a sound idea to inquire how the price for a specific service was calculated. Remember, all prices should have reasonable justifications.
Communication between the development team offering document management system services and your company is another important aspect. It is crucial to have the possibility of interacting with the developers during working hours regardless of their geographic location and time difference. Define what communication means you will use. It should be easy to contact any member of the development team as if they are sitting in the next room. Bear in mind such a possible issue as the language barrier when you hire developers from another part of the world. English is a must these days.
Everybody is interested in frequent deployment. Based on our experience, we can assert that Agile development is preferable for the early delivery of a product. However, the company you work with should also know other PM methodologies as well and advise you on the technique which will be effective for your business. For instance, when we are dealing with complex projects, we engage an available PM who specializes in different methodologies and can apply the necessary ones to manage the whole workflow efficiently.
Suppose you have your document management software installed. It is now up and running. What is next? What if your employees do not know how to use DMS software properly and need further assistance? Or a major system crash had caused DMS failures and malfunctions, and you need to bring the server up to avoid forced downtime? If you want to prevent such consternation-causing situations, it is practicable to discuss with the vendor their maintenance services beforehand. Ideally, it is your vendor who provides ongoing maintenance and support, including the development and release of the new system versions and updates. Besides, you should have 24-hour access to the support portal or knowledge base.
Avoid companies that settle for any solution you offer without second thoughts. Serious companies providing document management system services always show their expertise by providing you with better options if the initial one is unnecessarily complicated or expensive.
Use case
To understand the advantage of DMS integration in building a document management system for your enterprise, let's examine a real-life example based on one of our document management use cases.
The developed product functions as an efficient solution for a big business that is related to the legal industry. According to the initial requirements and implementation project plan, we created a full-fledged file management and message sharing system with a custom UI design.
The core of the application is based on Alfresco DMS software. Its out-of-the-box functionality, such as ready-made custom modules, aspects, and audits, allowed us to save time for the development significantly. However, the functionality required additional changes to meet the customer's requirements. Our team also developed 2 sub-applications that were interconnected with each other and the core one.
Built with Angular 7, the first one allows users to create and share files. The second one, in turn, is created with Angular 6 and enables its users to preview and download shared data. The challenge here was to implement two-factor authentication to provide the highest level of security. To do so, our team implemented the feature in the first additional application that allows users to create a password to the document that will be shared. All the created passwords, in turn, were hashed with a one-way function.
To enable the second authentication step, our developers integrated OTP (one-time-password) token, which sends a single-use password every time the user receives a shared file from someone. Our developers also secured the connection of the data in transit with the help of the HTTPS protocol. Overall, with a thoroughly designed implementation and management plan of Alfresco technology and Angular efficient merge, we created a highly-secured DMS-based product.
The final thoughts
With the online document management system from Alfresco, John definitely will be able to righten his ship. The documents will be carefully stored and accessible per request. The staff will be freed from the abundance of paperwork and become more productive. If his example convinced you to implement the Document Management Software, contact our Alfresco team to hit the ground running and assist you with document management system design.
Frequently Asked Questions
What is better: on-premise or cloud-based systems?

The choice of on-premise or cloud-based starts from the place of the document storage system. An on-premise setup means the system is deployed in your local machine environment. Users do not need an internet connection to work with documentation in it. With a cloud-based solution, your documentation will be stored online, and the maintenance, security, and backup creation of your files fall on the shoulders of the cloud provider.
What is a workflow in document management systems?

A workflow automates all business processes in your company with a digital transformation from paper-based to electronically orchestrated. It relates to the processes going up in DMS: documents' production, tracking, editing, storing, and management. They are associated with the company's business processes and can be tailored to requirements on the spot.
How much does it cost to create a DMS?

The services for setting up a DMS include development (installation, configuration, third-party connection), testing, and after-launch support. The full cost may vary from the scope of services needed to develop a DMS for your company. Note there are three paid editions in Alfresco: Starter, Business, and Enterprise that require a different level of development efforts. Also, there is an option to install free Community Edition; however, you will need developer help in configuration and customization.
How does a document management system improve efficiency and productivity?

Most importantly, DMS automates document-related tasks, reduces administrative workload, and improves workflow efficiency, increasing productivity. A document management system (DMS) increases efficiency and productivity by streamlining the organization's storage, retrieval, and management of documents. It eliminates the need for manual processes such as physical storage and retrieval of paper documents by providing a centralized digital repository. By building a document management system, you can easily organize, index, and tag documents for quick retrieval, saving valuable time. It also enables collaboration by allowing multiple users to access, edit and share documents simultaneously, facilitating teamwork and reducing delays. In addition, document control software supports version control features to provide access to the most recent records, preventing errors and confusion.
Is a document management system secure for storing sensitive information?

Yes, a well-implemented document management system (DMS) can provide strong security measures to protect sensitive information. For example, Alfresco includes features such as access controls, user permissions, and encryption mechanisms to protect stored documents. In addition, regular backups and disaster recovery plans to increase the security of stored information. By applying these security measures, DMS can provide a secure environment for storing and managing sensitive documents.
What are the benefits of implementing a cloud-based document management system?

Implementing a cloud-based document management system (DMS) provides easy access to documents from anywhere, eliminates the need for physical storage and server maintenance, reduces infrastructure costs, and provides automatic backups and disaster recovery, reducing the risk of data loss. You also get scalability and can easily increase storage capacity as your document needs to grow.
Can a document management system handle different file types and formats?

Yes, a robust document management system (DMS), including document control systems, is designed to handle a variety of file types and formats. It can handle a wide range of file formats, including common ones such as Word documents, PDFs, spreadsheets, presentations, images, and more.