#Business management
#Digital transformation
26 April, 2021
Accounting Document Management System: How to Choose the Best Software
Key takeaways
The accounting sector is the type of industry where the need for accounting document management software that helps go paperless is substantial.

Approximately 7.5 percent of paper documents get lost. The other statistics show that up to 15% of the company's revenue may be spent on maintenance and management of paper-based processes. The figures prove that lack of document automation can lead to various devastating consequences.

The document management system (DMS) can help accountants overcome major document-related issues, such as failed audits, inefficient collaboration, poor document security, etc.

Accounting DMS can benefit small, mid-sized, large accounting and CPA firms, any type of company with an accounting department, and private accountants.

When choosing the right accounting document management solution, the company should consider its size, business and functional requirements, current challenges, degree of customization, and the desired type of accounting DMS (ready-made, customizable, or custom).

Customizable accounting DMS is the golden mean between custom and ready-made options in terms of time and cost.
The lack of a robust document management software for accountants can often lead to low productivity, repetitive errors, poor time management, and lost documents. Thus, if you have been wondering what technology can help overcome the majority of document-related challenges, this article is for you. We will examine the essence of such software, must-have features and will figure out how to choose one. Let's start this journey to document automation, shall we?
Document management challenges facing the accounting sector
Accountants may often feel pressured due to tedious manual tasks and ever-growing document piles. Slowly but surely, document-related challenges start overwhelming such specialists if they lack robust software for document management. However, if you're not sure whether it's time for accounting automation, let's look at those red flags that can help you identify the problem timely to prevent its escalation.
Repetitive errors
The cost of human error is especially high in the accounting sector, where mistakes can cost companies reputation and major financial losses. For instance, a few years ago, an accounting error cost Uber company almost $50 million. Because of numerous manually completed tasks and amount of paperwork, accountants may duplicate invoices, make data entry and tax reporting errors, conduct incorrect income reporting, etc.
Low productivity
Numerous non-automated operations and negative factors related to the absence of a digital tool for document management, such as lack of centralized document access, inability to retrieve necessary files rapidly, manual handling of various routine tasks, significantly affect the performance of the accountants.
Questionable document safety and compliance
Keeping the documents secure and compliant can't be achieved with physical document storage, unsafe file sharing, and the absence of data backups. Without an efficient software solution for document management, accountants often face document loss, misfiled papers, and compliance issues with industry regulations (i.e., GDPR, GAAP, IRS, VAT, etc.).
What is the most efficient way to prepare for GDPR compliance? With our checklist, you can easily ensure GDPR readiness and forget about the aftermath of non-compliance
READ MORE
Risks of failed audits
The lack of the accounting software for document management is often accompanied by hardships going through audits: insufficient visibility into audit trails for each document and record, compliance problems with regulatory requirements, and overall document audit unreadiness.
Excessive document-related expenses
Paper-based document management presupposes great expenses, including supply costs, storage and equipment maintenance, expenditures on paper documents shipping, etc. For instance, the statistics show that the average worker uses 10,000 sheets of paper annually.
As you can see, the lack of solution for electronic document management for accounting firms leads to numerous acute problems that can be easily solved with the help of a digital solution for document management. Such a solution is called a document management system or simply DMS that is designed to optimize inefficient processes, enhance employee productivity, and help accountants overcome the majority of the pressing issues. Thus, let's examine this system more closely.
What is accounting document management software?
What is it? A document management system is the type of software designed for document automation that enables accountants to tackle the majority of document-related challenges that they deal with on a daily basis.
What is it capable of? Thanks to its multifaceted nature, it serves as a tool to complete the following 'life-saving' tasks with the documents in accounting:
capture;
storing;
tracking;
distribution;
workflow management.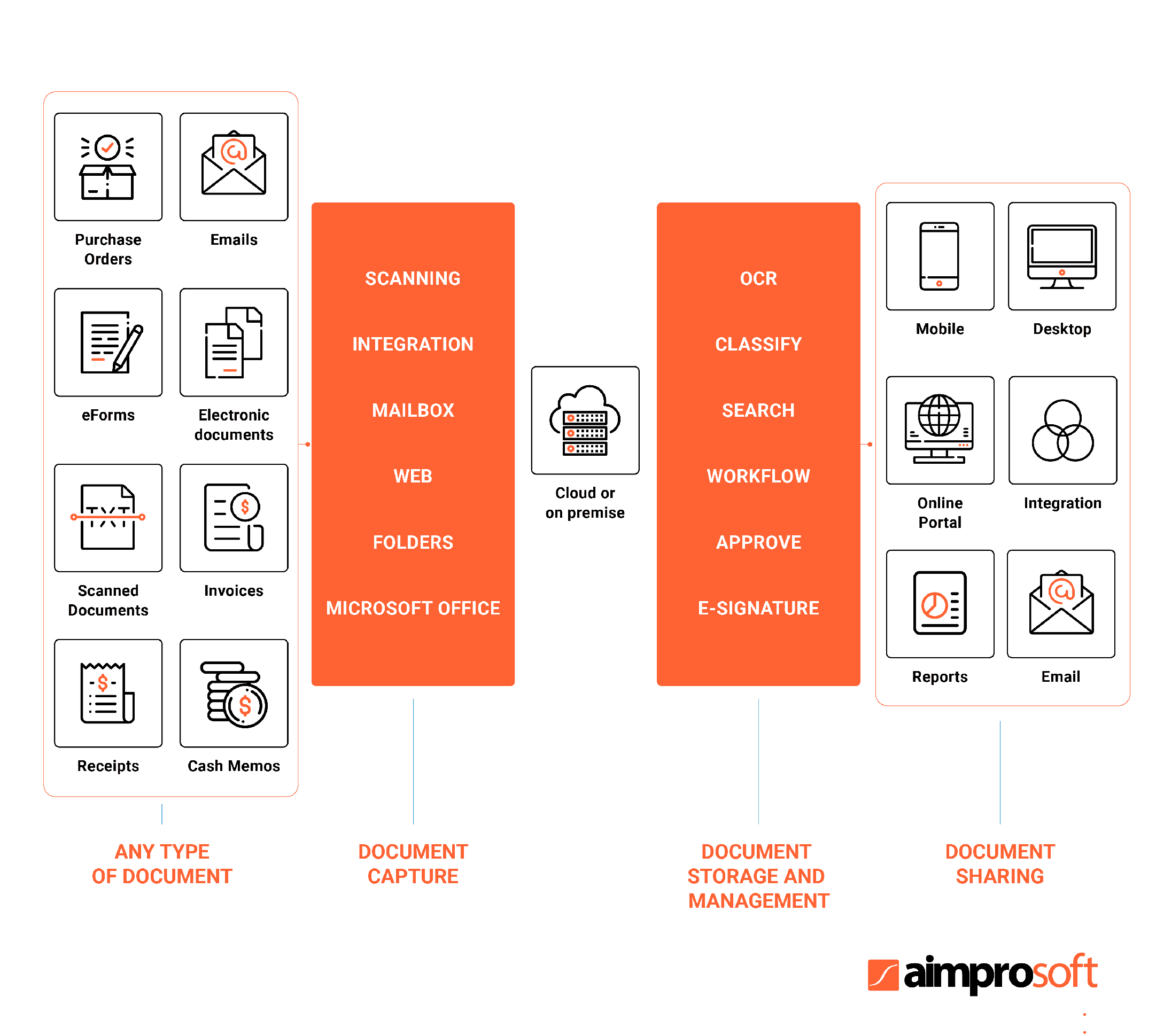 Who can benefit from such software? Three major groups of users can enhance their document management processes with such technology, namely:
Small, mid-sized, large accounting and CPA firms.
Any company that has an accounting department.
Private accountants who provide services for multiple clients simultaneously.
Learn more about DMS, the way such a system functions, and the reasons behind its popularity among businesses of various sizes by checking our guide to document management software
READ MORE
Having examined the essence of document management software for accountants, it's time to take a closer look at the most vital features that such a solution should have for seamless document management.
Must-have features for accounting DMS
Since the requirements, needs, and challenges of every accounting department and firm differ, there is no such thing as a perfect DMS functionality that will fit everyone. However, there are certain core features that are a must for any robust accounting document management system. Thus, let's take a look at them.
| Feature | Description | Advantages |
| --- | --- | --- |
| Workflow management | It allows users to create, edit, archive, approve, and store documents efficiently. | – simplifies the entire cycle of document creation and management; – automates repetitive activities; – provides better visibility into document-related processes; – increases productivity. |
| Audit trail | It allows accountants to track the exact path of the document lifecycle, including dates of changes, the name of the editor, the type of the performed action, etc. | – provides better visibility into made changes. |
| Version control | Versioning helps accountants not only track content changes but also go back in history and restore a necessary version. | – enables users to trace all amendments easily; – helps to undo changes; – improves control over various document-related processes. |
| Role-based access control | It allows setting permissions to the particular documents and providing access to the files depending on the user's role and responsibilities. | – ensures additional security layer; – helps decrease error rate; – enables more efficient document management. |
| Advanced document search | It enables fast and convenient search by format, keyword, index, file name, document content, and any additional metadata. | – improves employee performance; – helps keep documents organized and easily accessible. |
| Collaboration and file sharing | It allows users to exchange documents, leave comments, and work simultaneously with documents. | – improves the performance of the accountants; – enhances cooperation between accountants. |
| Integration with third-party APIs | A robust DMS should enable seamless integration with other solutions, such as SharePoint, Dropbox, Google Docs, and others. | – provides seamless communication with different software applications; – more efficient document interchange among various systems. |
| Tagging | It ensures that users can categorize documents for better search by adding necessary information to them, such as keywords. | – improves the accessibility of all documents; – allows retrieving necessary documents rapidly. |
All these must-have features for a robust DMS for accounting firms can help cover the essential needs for seamless document management. However, you may require additional features to meet specific requirements of your company, such as e-signature, notifications, embedded calendar, or any other.
Top 4 Document Management Systems for Accounting Firms
The process of choosing the right DMS for accounting firms is often tiresome, time-consuming, and complicated. To make this endeavor less challenging, we advise considering the following parameters when selecting such a solution:
the size of your company;
current business needs;
degree of customization;
desired feature set.
With these vital parameters in mind, let's take a look at the comparative table of the best document management software for accounting firms that may help you identify the most suitable solution for your needs.
| | Folderit | Doc.it | Alfresco | iManage Worksite |
| --- | --- | --- | --- | --- |
| Best for | – Small and mid-sized accounting firms; – accounting departments | – Small and mid-sized accounting firms; – accounting departments | – Accounting firms of all sizes; – accounting departments | – Mid-sized and large accounting firms; – accounting departments |
| Degree of customization | Not stated | Customizable workflow, report, and folder templates | Highly customizable | Low degree of customization |
| Pricing model | Monthly and annual subscriptions include 3 pricing plans: silver (up to 20 people), gold (up to 50 people), and platinum (up to 200 people) | Monthly subscriptions include 2 pricing plans: one for minimum 3 licenses and the other one for more than 40 licenses | Alfresco provides two packages: Community Edition (free) and Enterprise Edition that includes 3 pricing models (3 pricing models: Starter Edition, Business Edition, Enterprise Edition | Quote-based (the company doesn't publicly share its pricing) |
| Free trial | Yes (30 days) | No | Yes | No |
| Free version | No | No | Yes | No |
| Unique features and characteristics | – Emailing files to the system | – Combines DMS and accounting portal features; – work binders; – embedded PDF editor | – Smart folders; – highly customizable workflows; – great number of extensions; – easily configured dashboard; – adaptive UI | – Compliance tracking; – document change alerts |
| Third-party integrations | Integration only with Microsoft Office 365 | – Microsoft Office 365; – DocuSign; – Tax software; – CaseWare | – Microsoft Office 365; – Amazon Web Services; – Microsoft Outlook; – Google Drive; – Salesforce | – Microsoft Office 365; – Microsoft Outlook; – Adobe |
| Disadvantages | – Poor performance if accessed from a mobile web; – not seamless uploading process in the offline mode; – poor UI | – Outdated UI; – not fully flexible workflow module | – Absence of mobile version; – cumbersome UI | – Not fully effective search; – cumbersome UI; – lack of customization options |
| Support | Email, live support | Email, live chat, and training | Email, phone, training, Alfresco Support Portal (available only for Enterprise Edition), and open-source knowledge base (for self-help) | Email, phone, chat, training |
| Deployment | Web-based cloud, SaaS | Cloud, on-premise, compatible with mobile app | Web-based, SaaS, cloud, on-premises | Web-based, cloud, SaaS, on-premises, desktop, compatible with mobile app |
Still not sure how to choose the right accounting DMS that will cover your needs perfectly?
Contact us, and our specialists will analyze your current state of affairs and help you make the right choice based on your functional and business requirements.
TALK TO US
Apart from the parameters mentioned above, it's important to consider one more crucial aspect when selecting best document management software for accounting firms. Thus, in order to choose wisely, we suggest analyzing the pros and cons of three different types of DMS, namely, a ready-made, customizable, and custom solution.
Ready-made vs. Customizable vs. Custom accounting DMS
To figure out which type of document management software for accountants will meet your needs better, let's analyze the pros and cons of each option.
Ready-made document management software
Advantages.
The software providers of such solutions ensure regular updates and bug fixes.
A ready-made DMS for accountants is a perfect option for a quick start since its installation won't take much time.
Since such solutions are developed for mass production, their cost is low in comparison with custom and customizable ones that are tailored to your needs.
Disadvantages.
It will be rather challenging to extend functionality and add certain enhancements in case your company will grow or the business requirements will change.
A ready-made DMS will provide you with limited control over it and won't allow you to analyze how your data is stored and handled.
Despite the low cost of the product, its installation may require additional costs related to data migration, software adjustment, etc.
This type of electronic document management for accounting firms is more vulnerable to malware and security threats.
Ready-made DMS comes with a defined set of features. However, some of them may be useless in your case, yet you have to pay for them.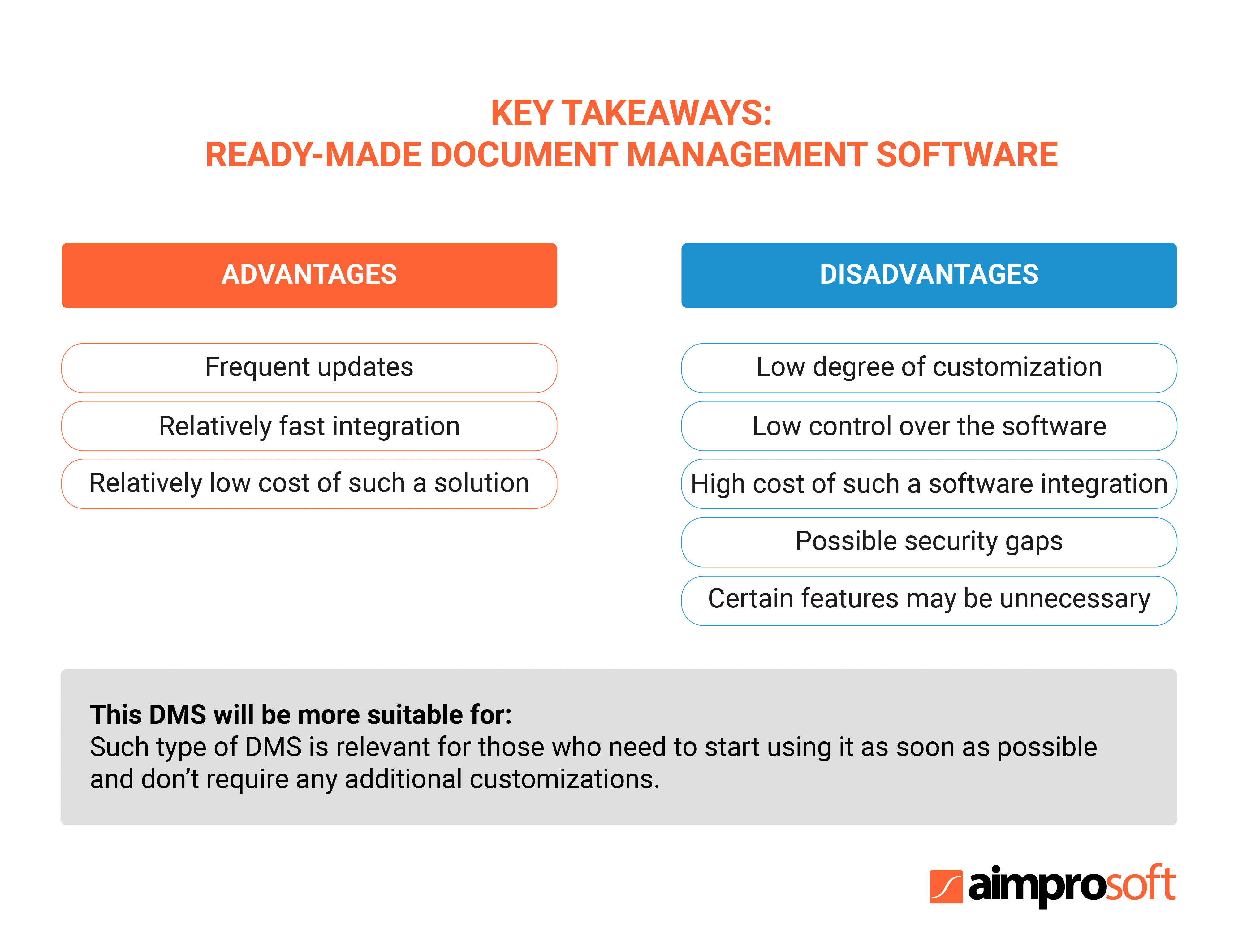 Customizable document management solution
Advantages.
Customizable document management system for accountants allows you to tailor functionality to your needs and requirements. For instance, the Alfresco document management solution, namely Alfresco Community Edition, enables the implementation of various additional features that are not inherent to a standard, ready-made DMS for accountants.
Such type of DMS enables you to implement the necessary security measures, such as multi-factor authentication, SSO, data encryption, etc., to ensure the overall safety of your documents.
It allows you to respond efficiently to possible growth in any aspect, such as an increase in the number of employees, documentation flow, workload, etc.
It gives you full control over your software and great transparency.
Disadvantages.
If you want to customize a document management system for accountants, it may take some time to find a trusted software vendor with profound experience in DMS implementation.
Tips on how to choose the right software development team and where to hire one:
READ MORE
Depending on the degree of customization and complexity of the desired functionality, the cost to develop such a solution will vary. On the one hand, you won't have to pay for licensing and subscription. On the other hand, you will face spendings on the functionality implementation and possible operational costs (in case you will choose on-premise software deployment).
The customization of DMS functionality takes more time than just integration of the ready-made solution.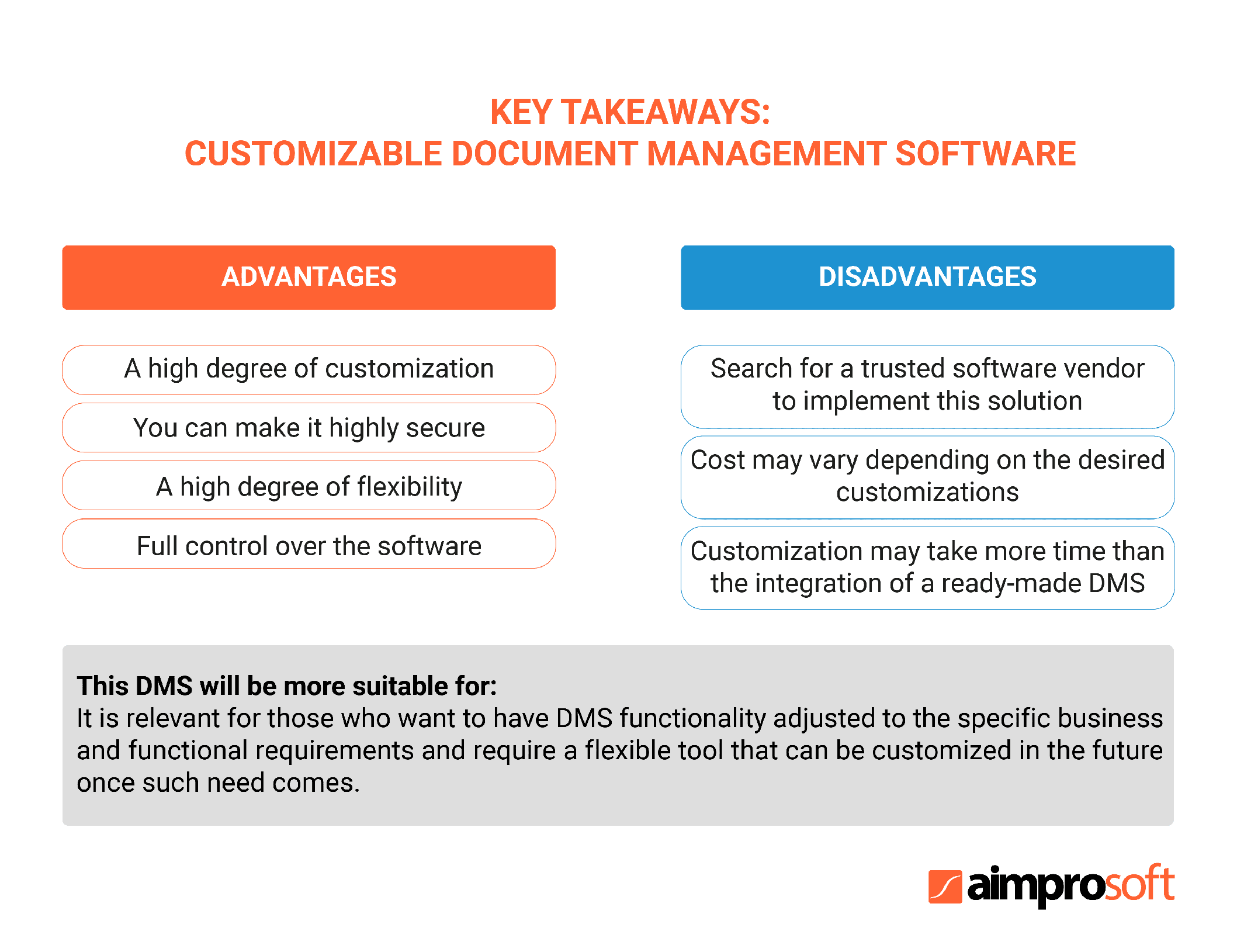 Custom document management system
Advantages. The pros of a custom accounting document management system are similar to the ones of a customizable solution. The only difference is that it's a completely unique product.
Disadvantages. The development of such a solution is more time and effort-consuming than customization of a ready-made one. In certain cases, it may take up to several years to develop a robust accounting DMS from scratch.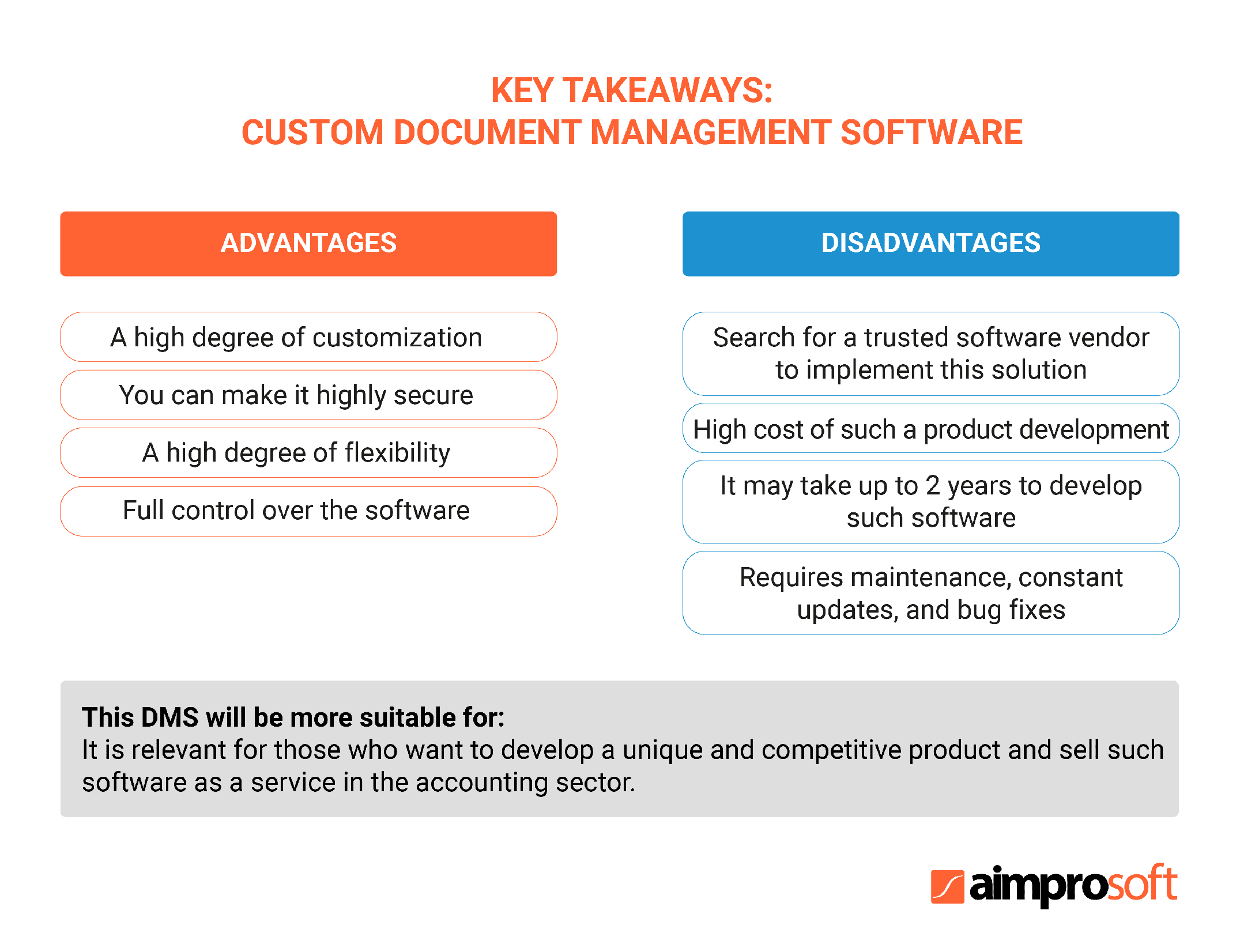 Proceed to the next section to figure out which approach to the development of a document management system for accountants we chose to implement our customer's idea.
Aimprosoft Experience
The digitization of paper-based processes is what we are truly passionate about. Thus, let's examine one of our cases where we turned our passion into action.
Case: DMS for accounting department in a consulting firm
Background. Three years ago, our client turned to our services with the request to develop a document management system that would optimize processes in the accounting department of his mid-sized consulting firm.
Requirements. The client wanted to optimize inefficient invoicing, implement tools for workflow creation and management, integrate e-signature, automate the uploading of scanned documents, and automate several time-consuming manual activities.
Technology. We opted for the capabilities of the Alfresco platform and its OOTB functionality to implement the core of the future DMS for accountants. In turn, certain customizations were required to adjust it to the client's needs. To develop a custom UI, our developers selected Alfresco ADF (Application Development Framework).
Solution. Our first step was to create a custom module that served as a customer base and contained all the necessary information about the customers, payment information, contact details, etc. Our developers implemented tools to edit the data, add and delete customers from the base.
The second step was to optimize the invoicing process that was previously completed manually. Our team ensured that accountants could use DMS to generate invoices in PDF, extract data from the customer base to fill in the invoice template automatically, and schedule recurring invoices sending to the customer's email. In turn, to ensure that the accountants could receive the receipts that prove the payment conveniently, our specialists adjusted the accounting document management system so that it could also serve as an email.
In addition to the functionality mentioned above, the developed DMS included tools for workflow management, document editing, visual displaying of the created workflows in the form of diagrams, RBAC (Role-based access control), and many others.
Third-party integrations. To ensure seamless digitization of scanned paper-based documents, our team integrated DMS with Ephesoft. Once Ephesoft captured the necessary data from the documents, it automatically sent it to DMS, where they were further categorized according to the extracted data. Apart from Epehsoft, DMS capabilities were also enriched with DocuSign integration for seamless e-signature, KYC software, and Solr-based search.
Outcome. As a result, we provided our client with a robust web-based accounting document management system that was deployed on-premises. According to our client's analytics, the integrated document management solution improved employee performance by 45% and significantly decreased expenses that were related to the paper-based processes.
Conclusion
The shift from paper-based processes to document automation is the key to increased performance, compliance, and efficiency. However, the choice of the right accounting document management software that will meet your business and functional requirements and its seamless integration is something that can't be easily achieved without a trusted software vendor. Thus, if you need such software in your company's infrastructure but you are not sure how to start a digital transformation journey, contact us, and our specialists will assist you with any DMS-related questions.
FAQ
How much does it cost to develop an accounting DMS and how long will it take to implement one?

There are several major factors that may affect both time and cost of DMS software development, such as the desired functionality and complexity of its implementation, degree of customization, deadline, and budget. For instance, if you opt for custom development from scratch, it may take up to several years to implement this solution. On the contrary, if you opt for a ready-made solution with a fixed pricing model, you may face unpredictable costs related to its installation. However, there is a customizable solution that we perceive as a golden mean among these options both in terms of time and cost.

Alfresco offers a Community Edition solution that has robust OOTB functionality sufficient to cover the essential document management needs. Its installation may take from 40 to 80 hours. The basic installation will take 40 hours. If you need to integrate DMS with additional services, it will take approximately 80 hours and will be considered as an advanced installation. In turn, the cost of basic and advanced functionality will be approximately $1,400 and $2,800 (depending on the additional integrations) if you decide to do it in Ukraine with a rather low rate of $35 compared to the USA and other European countries. Once you test the core functionality and identify the number of additional features that you require, the flexibility of the solution will allow you to expand the feature set easily. Thus, you won't have to pay for unnecessary tools but only for those that you actually need.
If I have a small accounting firm, do I need such software to handle document-related processes?

Despite the size of your accounting firm or department, you may still experience common challenges related to paper-based document management, such as repetitive errors, low productivity, excessive spendings, etc., that DMS helps overcome. DMS is a flexible solution that can be adjusted to the needs of a company of any size and any number of accountants.

Although such software is rather multifaceted, you may still use it to cover the specific needs of your small accounting firm. For instance, you can use it as digital storage to cut costs on a physical one. We have a client with a small accounting department who decided to integrate DMS to automate invoicing.
What are the major stages of the accounting DMS development process?

When our clients turn to our services to integrate DMS into their company's infrastructure, the first thing we offer is an in-depth business analysis to gather requirements, identify weak points in the document management processes, outline the necessary feature set, etc. However, the start of our cooperation may differ if the client comes with well-documented requirements and already completed BA. No matter which scenario marks our collaboration, the second stage is to estimate the time and cost needed to implement the DMS for accountants. The rest of the stages include the actual development, product testing, and release. We also provide after-launch support and functionality expansion, if necessary.