How to choose a legal document management system for your law firm?
It's bad enough lawyers, paralegals and attorneys are in overdrive over the past half-century being under pressure of industry high pace. They are strung up with work driven by competition day after day. They overlook something important.
Ask lawyers about their opinions on paper document management, and you will hear a portion of indignation. This is because they do have a lot of paper documents in active use and do not have the right legal document management software for document exchange keeping it confidential.
Importance of document management system in the legal industry
Well, today you can start using any software for workflow management and business process automation. Market swarms with small companies making products for narrow application domains, for example, CaseFox, S&C Document Sorter, Process Street, and Doctual apart from full-fledged ECM+BPM solutions of general use like Alfresco and SharePoint. Their rich feature set allows being adapted to any business.
Also, there are some platforms with a positive history tailored to the legal field exclusively on the market. For example, LogicalDOC, Logikcull, and LexisNexis are designed for large and SME law firms in mind above all and concern functionality and security issues.
Specific document management software for law firms cover only one niche and can't be customized to any other industry. At the same time, multipurpose document ECM and BPM platforms contain a wide variety of out-of-the-box features. Their architecture is devised so that the system can be easily adjusted to medical, legal, insurance industry and others. The cost depends on the offering whether it is open source or subscription fee. Monthly payment starts from $10 per user with an average price $50 on the basis of a one-time fee.
What is a legal document management software?
Then back in the 1980s, the first electronic document management for law firms began to appear. They were far from being perfect. The primary goal was to store case files in one place and keep them as secure as possible. Well, let's make it out what kind of software it is.

Since a legal DMS is trending, there are three essential types of software on the market: web, cloud-based, and on-premise. The web interface based on the local server is the most user-friendly way to collaborate on the case files for lawyers and case followers. Cloud-based apps are the most accessible legal document management tool from anywhere by anyone with credentials. So the on-premise solution is considered as most secure and less customizable; it is implemented in the law firm's intranet.
For law firms it is not reasonable to fear to implement a general-purpose document management systems. As we mentioned above, there are solutions on the market which can compete narrow-focused legal document management systems by meeting industry requirements. Following is a description of the software feature set that helped our client's company to cope with tasks in legal practice.
Reasons why legal companies need DMS
We'd like to start with the vital reasons when it makes a sense to use document management systems for law firms. We also recommend reading our previous article on 5 reasons you need a document management system.
First off, moving to the electronic file management must be compliant with the security requirements of sensitive data protection as it is crucial. Secondly, a secure way of sharing and storing matter files is expected to be simple.
Learn about types of sensitive data and rules of GDPR compliance in our article.
Having a talk with our client, a representative of the legal firm from Pennsylvania, we have discovered the core issues that bother lawyers:
search for keywords within the file binder;
hard to retrieve the documents;
no ability to annotate and amend case files;
unknown status of a particular case;
lack of alerts and notifications;
synchronization with originals and version control;
bulks of paper to carry on the move;
slow determination of caseloads;
no reporting tools for pleadings.
"We are ready to go digital, but we are under pressure of keeping confidentiality of files," — our Team Lead heard during the Skype call.
The team of 12 attorneys offers representation in professional malpractice, long-term disability, construction and motor vehicle accidents, premises and products liability, dram shop claims, nursing home negligence across the United States.
Case story: Aimprosoft's DMS for legal
Lawyers handle hundreds of documents a day which are stored in email systems and internal sharing tools. They tackled to find a proper case file, share it internally and externally, at the same time keeping it secure and don't expose proprietary information. In the meanwhile, everybody in the company desired the simplicity and comfort of the process in an office-in-a-pocket era.
At the end of 2017, we started developing a solution effective to manage insurance settlement cases, which is now in production. Passing the first stage, we proceeded with document management and workflow for the rest firm's activity.
It was like this: in the case of an insured accident, a responsible lawyer went to meet a client with a stack of paper. Taking into account the fact that each insured accident required filling 15 different forms plus adding case confirmation documents, each rep had to travel with a big amount of files. To avoid time-consuming paperwork on the spot, our customer determined to automate work as much as possible. Also, the legal team has an option to fill in the forms offline and sync with an Alfresco content hub when an Internet connection is available.
"It was pleasantly surprised when a meeting with the client took 1 hour instead of 4. Our secretary conducts a baseline survey by the phone which we can work out before the private meeting. The rest information on the case is included in the final form later. Having a graphic signature added to the mobile app we took the next step of paperless document workflow. We managed to show our deep respect for the time of every client. We see document management for lawyers as a sine qua non for success."
We've got that law firms are ready for document management systems practice long ago feeling overloaded with the paper routine. The firms of any size are fast to adopt technologies to become more resourceful in getting things done. Let's see which features are necessary for document management software legal companies prefer to choose for office processes automation.
Features of legal document software
Credibility is the key to success in law practice. To establish clients' credibility helps a legal files document management system which works flawlessly. To choose the right platform, first of all, let's clear up the core and extra features which it should contain.
Core features
Matter-centricity. The first thing any lawyer draws his attention on is the possibility to have documents retrieved on demand after a case is completed. We advise choosing among matter-centric law firm document management systems with an adjustable folder structure. It is like a virtual file cabinet with a variety of cases in one place. For the sake of convenience, each case stores a set of documents relating to the specific client with files of different types (pdf, photo, video, email, etc.) on a particular accident.
In the first stage, Alfresco generates a file with the client's contacts and case brief automatically. We made a template to extract data on a case which a secretary uses during the first call, then at the meeting with an attorney, and for the judicial process, if any. Data on each case are stored inside a file case. A single knowledge base in one place is one of the most appreciated things by users.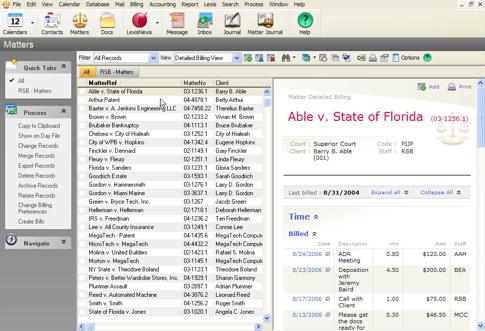 Document management and storing. Simple cloud storage is a follow-up to the matter-centric concept. Law firm staffers can be more productive with a good law firm document management. Document organization is expected to be robust and clear for legal professionals to reach and keep track of files in a few swipes.
This is exactly what you need, an enterprise-class CMS with an intuitive web user interface similar to your file systems used intensively. One centralized storage with a familiar folder structure can be a perfect substitute for email systems and shared drives which may be used in the absence of viable alternatives.
Workflows are not a subject to neglect. Their primary goal is to establish a work process on the company's standards. Frequently, document management solutions for law firms have one or two predefined workflows. It is getting hard to develop some custom functionality to tailor a system positively.
Alfresco, for example, delivers five out-of-the-box workflows which allow the legals to assign, review, approve, sign documents, work on the case file with multiple collaborators collectively or in a pooled teamwork. For some cases, single user access is best to perform following actions on his own. Any kind of a document management system for storing legal files should be easily customized to leverage workflow potential, for example, while planning meetings with clients, hearings, trials, etc.
Five workflows of Alfresco and SharePoint for businesses. Check out its benefits.
Attorneys and lawyers want to quickly see all files by matter. It's imperative to have documents listed including matter concerned files and emails if they are stored in the repository and remaining unheeded irrelevant ones. Document processing, as a part of task management workflow, is among enterprise business process management solutions targeted to handle different tasks.
Your firm's management needs may concern document tagging, amending, changing roles and permissions for documents, transferring a document between folders, generating new docs, updating docs, etc. As you can see, nothing is impossible with Alfresco workflows in document-intensive areas of law firm daily work. There can be a possibility in the legal files document management system, for example, like Alfresco Activiti app, through which a staffer will be able to create a simple workflow on his own. More complex ones are readily available upon request from an Alfresco development company.
Discover a full set of Alfresco development services we offer for your business.
Let's see what kind of custom workflow we made for our client, a law firm from Pennsylvania.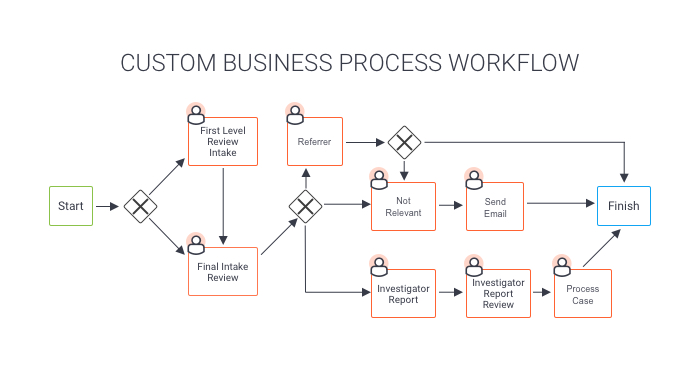 Workflow steps that set a business process and document management
Start. A secretary initiates a workflow start after the client's first call.
First Level Review Intake. A lead attorney reviews a case.
Final Intake Review. A person in charge decides if a company takes on the case.
Referrer. If a case is worth considering but is contrary to their company profile (Not Relevant), it goes to the partner legal firm via letter template (Send Email) prepared in Alfresco. Staffers can leave comments in the letter, a complete set of case files is attached to the email automatically.
Investigator Report. If a case is considered as relevant, an attorney goes to a client meeting.
Investigator Report Review. With a phone, tablet, or browser, a responsible attorney fills in forms, checks all client's data, assigns tasks for a colleague who will deal with the client's case.
Process Case. Undertaking the work (e.g., claiming workers compensation, compensation for costs or losses associated with the insured accident).
Finish. Upon conclusion of the case, a client receives an email detailing the outcome of the case. A client can continue to refer to the lawyers; all his cases will be stored in one dedicated matter folder in Alfresco document management system.
Roles that empower users to work with documents and distribute duties
Standard roles:
Alfresco_Adminstrators
Alfresco_Model_Adminstrators
Alfresco_Search_Adminstrators
Email_Contributors
Site_Adminstrators
Custom roles:
Activity Reporting
Case
Setup Managers
Founders
Intake Review_Final
Intake Reviewers
Investigators
That example clearly shows a strong desire of lawyers to serve better along with unlimited capabilities of Alfresco.
Permission management. Anything that's relevant to legal action is vulnerable, confidential, non-disclosing. It's very critical to allow the right access to those who can read, amend, edit, and approve case files. Along with roles management, permissions are a matter of each legal team to be set up as it is necessary. We advice paying attention to the systems with permission-focused options enabling users to work with content based on their business role.
Version control. Talking with our client, we realized how it is incredibly important for law firms to keep in order documents after amendments were done. One of the most frequent types of collapse is a loss of the last modified document version while sharing. It results in a waste of time, money, and reputation that does not come about easily for legal professionals.
Software market has ad-doc version control systems that support the retaining of the complete history of changes, revisioning, audit trail capturing, standardize version control and other. The challenge is that you need to integrate this software as a third party to the legal document sharing software you've been using for collaborative work. Alfresco and lookalikes have auto-versioning out of the box.
Faceted search. In case of thousands of files for a matter, a fast search is precious. Though, a straightforward layout can help to find things and work on documents faster. Here we would like to point out a legal document search software technique that uses several filters simultaneously to deliver sought content in a second. You may wish to have a system with its in-depth search. Then it can be programmable for internal database. In some cases, the law firm document management software may be integrated with external systems; therefore, chosen software should be integration-friendly.
With electronically stored information (ESI) boom the necessity to discover amounts of information has only increased. Search for emails, video and voicemails, visuals and other instant information is achieved by a full-text search of a legal system.
Focusing solely on implementing core features is failing because some value options are left beyond users. Let's see what extra features can streamline law practice processes.
Extra features
Smart folder. This is another mechanism for structuring and filtering content. Users of the system with smart folders can easily extract frequently used documents for a quick view. At the same time, a general folder keeps being located at the core of the system, thereby avoiding file duplicates. These smart virtual folders benefit legal document management platform making it easier to access files.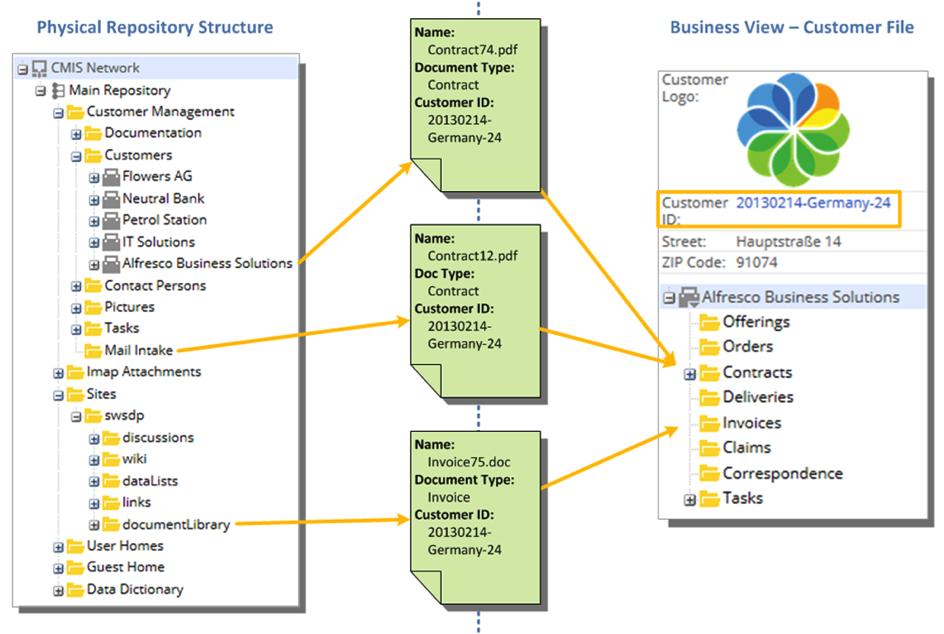 Tagging. Small-sized narrow-focused law firms usually have similar matters which are labeled confusing. Tagging helps solve the problem of long document quest. Some providers of document management software for law firms offer platforms with a wide variety of tags. For example, you can apply tags to folders and documents. You can mark files as Favorite, Reviewed, Shared (View only), Accepted, Pending, Recent, OnHold, NoCase, Referred, Declined and other every single company prefers. Tagging may be used for convenience or categorizing content.
Notifications. Document management software for legal teams should also have a notification system to guarantee timely remind of current changes in files, folders, or processes. Activity notifications can be popped up (reminder, event-driven) and emailed (action-based); however, the way to inform is not limited to your preferences. Usually, platforms have the option of self-subscription, or the administrator can set it.
Mobile support. More and more lawyers prefer dealing with issues on the go rather than waiting for an opportunity to sit with a laptop. As a result, providers of document management platforms expand their software package with mobile apps. For example, it allows collecting data on the spot: to fill up the form, make incident scene pictures and add them to the case, review data, sign with a graphical signature, upload for storing in the system.
Integrations
No one system is totally perfect. There is always a place left for features to add. We cite a list of the most required integrations below:
Email client (SendGrid, Outlook)
MS Office
Scanner
Fax
Google Docs
Adobe Acrobat
Automatic OCR
Accounting software (PCLaw, Quickbooks, LawPay)
Billing (Bill4Time, Freshbooks)
Other software to complete lawyer practice can be easily integrated with general-purpose and highly customizable Alfresco via API.
Conclusions
Document management software for legal industry become of great demand. Law practice two decades earlier in comparison to nowadays has changed. Technologies allowed focusing on cases more than traveling with bulks of papers. We hope to know you have a clear understanding of how to choose legal file management software for your law firm to facilitate. Contact us if you have any questions about designing and developing a legal document management system.
You may also want to read