Which Document Management System is the Best: SharePoint vs Alfresco vs Nuxeo?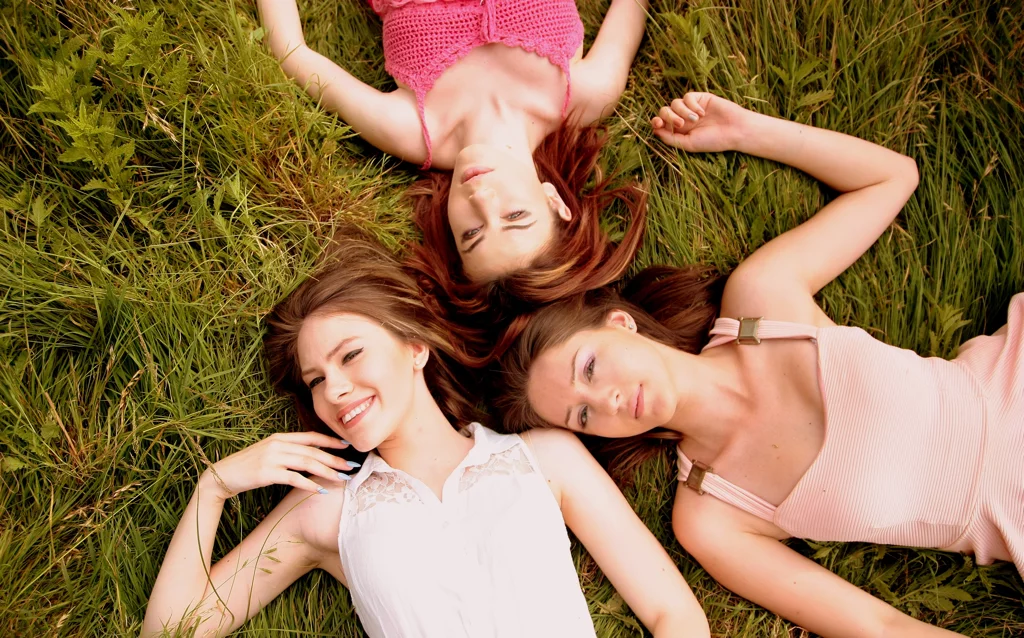 One of our clients, let's call him George, recently came to us with a problem: I'm sick of a heap of paper in our office. I can't bear this chaos anymore. Just help me to figure out how to deal with that. I was attacked with tips from well-wishers and now the only thing I need to have got a clear professional view to agreeing on the SharePoint vs Alfresco vs Nuxeo solution.
His cry of heart confused us a little bit; however, we grasped that this will require a major effort. He was not alone who was desperately baffled with a choice of the best dms software. So this occurrence shifted us to write about the word-of-mouth document management systems. So on what our client set his sights at least, you will know having read the story till the end.
When you should consider using an Enterprise Content Management System
Before we start gathering business requirements, we ask a client how things are, conduct a survey to define the most irritative issues of his employees. If there is a chance, we definitely take it and talk directly to the staff. Why we do it? Because it makes a picture clear to get to know where and how an automatization can avail.

Surveying, we were somewhat surprised by discovering that a single employee at the company of our client wastes around 31 hours per week for document management issues, lose productivity, and stagnate instead of moving forward.
The interviewed noticed they would like to have more control over the documents which leave their possession. Also, it is expected a user adoption of the document management system with the best hierarchy of roles. Since the interviewed were representatives of enterprises, they emphasized the easy-to-use pattern. No matter what size of the company is, people want to solve simple daily problems with a simple solution. Electronic Content Management (ECM) users expect the best document management system to be tailored to their personal needs. As figures say below, a high rate of employees is continuing to run risks of sensitive data losses and rely on email in managing document issues.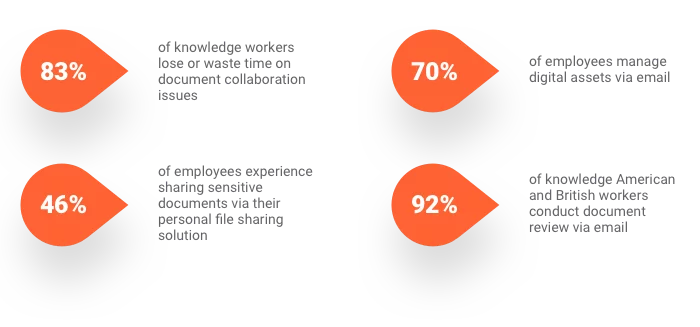 This sobering data makes to rethink collaboration policy at the company in favor of automatization. And for a point on top, employees battle with a bulk of applications different in purpose.
Let's now clarify when you need a document management system.
8 key document management challenges in enterprises
You clearly need to have a document management software if you face the following document challenges in the workplace:
Finding the right document is stressful because the operating physical and digital filing systems exist and work out of sync.
No collaborative work with the document. Modifying, contributing, approving, archiving, and restoring does not subordinate to the coordinated principle that causes versioning issues.
Undefined principles for the safe storage. Your filing system is imperfect.
Old habits die hard. Your company suffers from a bad habit of single employees to take paper files on meetings, handling and reading printed files.
There are no disaster recovery plans for cases of frequent outages in your content management system.
Documents pass their journey from initiation to delivery slowly and inaccurately. There are no document-centric workflows to determine the sequence of actions.
Multiple branches in different locations, remote staff collaboration. Your on-premise solution can't cope with it. The cloud-based solution is beyond your reach at all.
Signing issues follow the need to sign a document, lack of a present-day secure signature solution.
First off, you should detect the most paper-intensive processes in your company. They are usually unprofitable, drive up operational costs, slow down communication and document processing. Further, concern the features you need to relieve the processes.
Must-have features of a gainful Document Management System
Document management is a technology-based practice on documents storing. It comes to holding all files of different formats in one single repository streamlined to manage them smartly. Naturally, each company has its custom demands; therefore, very often the systems are developed with respect to their needs. However, there are core features of any content management system which can be on default albeit they may be tailored:
Controlled access to the documents
Records retention
Scanning, imaging, recognition
Version control
Common file formats creation
Backup and restore
Collaborative access
Metadata marking
Notifications and reminders
Digital signatures
Fast and search
Importing/exporting
Which DMS is the best: Platforms Overview
Capabilities
SharePoint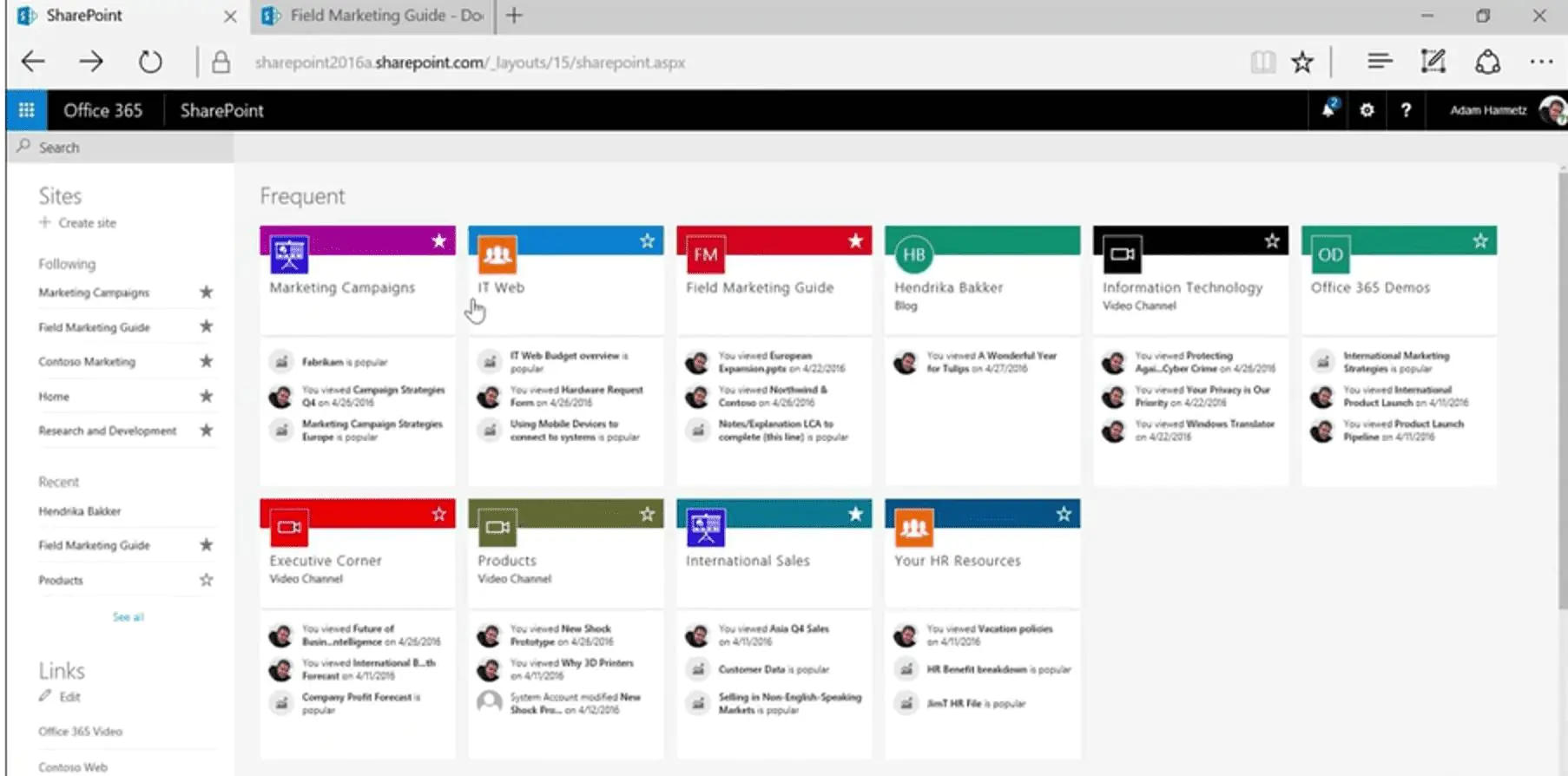 People-centric SharePoint can refer to one of the various solutions to it. In this article, we show you SharePoint and Alfresco comparison so that the focus will be shifted towards a solution for document management.
Usually, there are businesses which operate within the Microsoft environment and those which consider more affordable alternatives. SharePoint is an excellent mechanism for data management. With SharePoint you can manage an information securely from any device:
store in one place;
organize files categories and folders;
share files across remote offices;
set up access types.
Most clients opt for SharePoint because of their technological advantage and feature set. We repeatedly heard from them about secure external content sharing, excellent metadata records management, retention policies. However, if it was we who were hearing them out, things are a little tense with Microsoft. Anyway, teammates get enough place for working with a particular content staying on the web page at the same time having intranet communication space across the organization there. Such familiar things like mobile apps of all kinds are available as well.
SharePoint Online allocates 1 TB of cloud storage for every single user. The system is biased in favor of automation, fast search of particular content, electronic storing, and protection of sensitive data. And lastly, there is an In-Place Hold Policy Center in SharePoint due to which you can place on hold particular content for any period (months, years). This is handy for cases when a company needs to preserve electronically stored information.
With all that SharePoint doesn't have to use an open source model for marketing purposes, for example. This service will suit perfectly for those being indignant with open source DIY philosophy. But one should not forget nothing comes free. More about that a bit later on.
Alfresco document management system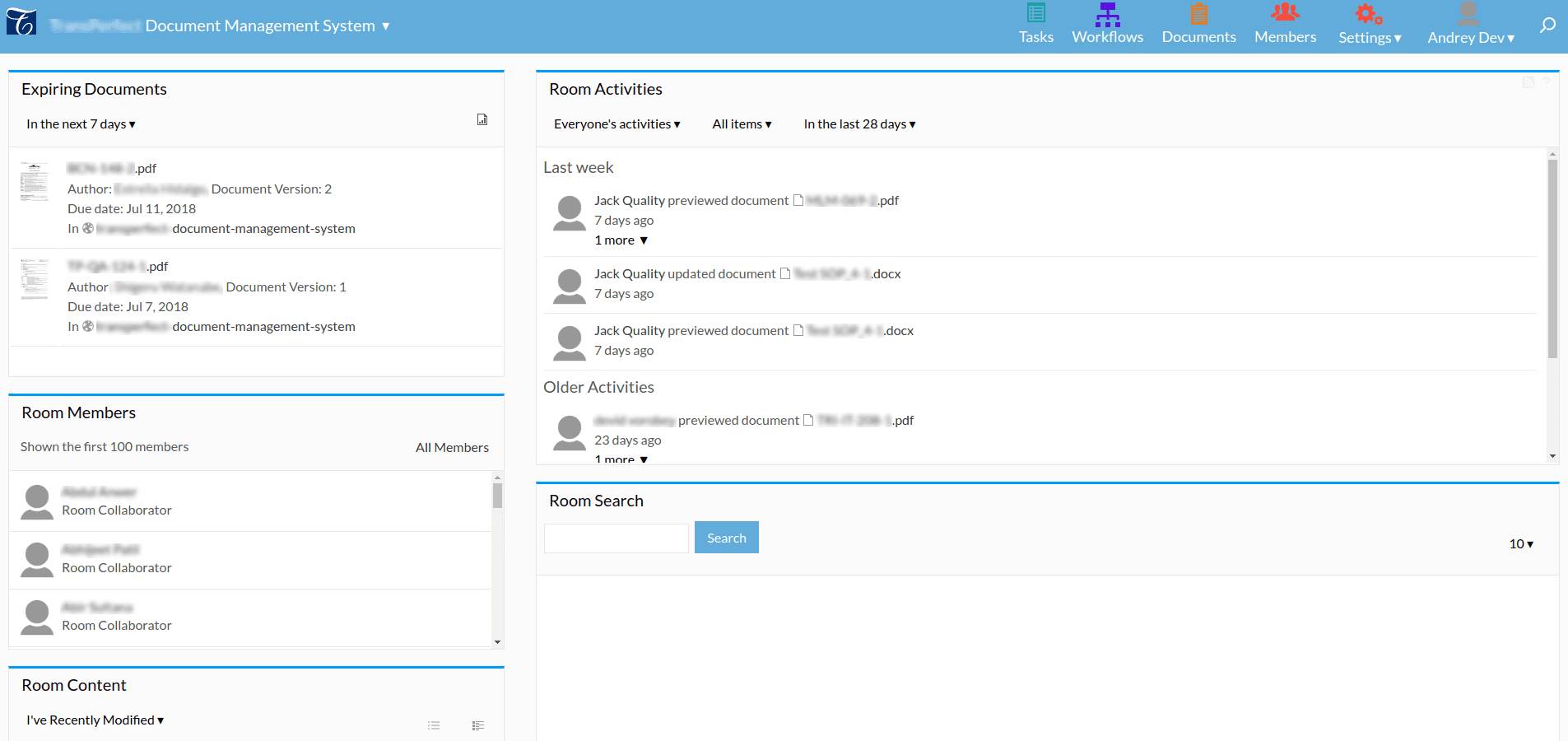 CEOs just want to get solutions to document storing issues. CTOs seek a reliable platform which will bear integrations, updates, and migrations avoiding big risks. This overview is general and focused solely on an Alfresco's ECM offering without going into detail on business process automation.
In promoting the idea of paperless office Alfresco Content Services is based on five backbones.
Openness, easy integration, and extension. Alfresco ECM supports lots of pre-built solutions (SAP, AutoCAD) out of the box and the most popular tools in hand of Microsoft Office, Google Docs, and Salesforce CRM to please their customers. So why pay more?
The company tried to make the system as accessible as possible. Its cloud-native architecture and modular approach set in motion the right performance and scalability for Alfresco Content Services. Quick Start of the system with AWS takes time less than you have lunch.
Content and process are at the heart of its design philosophy. Available complex document processing would really impress with its simple settings not requiring excessive spending for development. If take Alfresco vs SharePoint, the business content is ordered with metadata and folder system identically. And sure, you can strengthen a flow with Alfresco Process Services.
Information Governance. Scary and vital, right? Here it relates to a well-thought-out automated content lifecycle management required a little user intervention. It provides total control over documents within the platform and enables integration with third-party systems keeping to the standard of compliance.
Online and offline (with Desktop Sync) access to files of any size and format from anywhere. It is worth saying that meanwhile, Alfresco Cloud is declining gradually because the management sees no point in continuing to maintain a cloud-based version. In Alfresco and SharePoint comparison the collaboration is based on the same principles of group sites with threads, activity feeds, tracking, tasks, etc. Alfresco enriched mobile apps with on-device encryption that has been lost by Nuxeo and SharePoint.

Do you want to know more about core and extra Alfresco capabilities? Find out in this article.

As we see, Alfresco definitely knows a thing about the document journey.
Nuxeo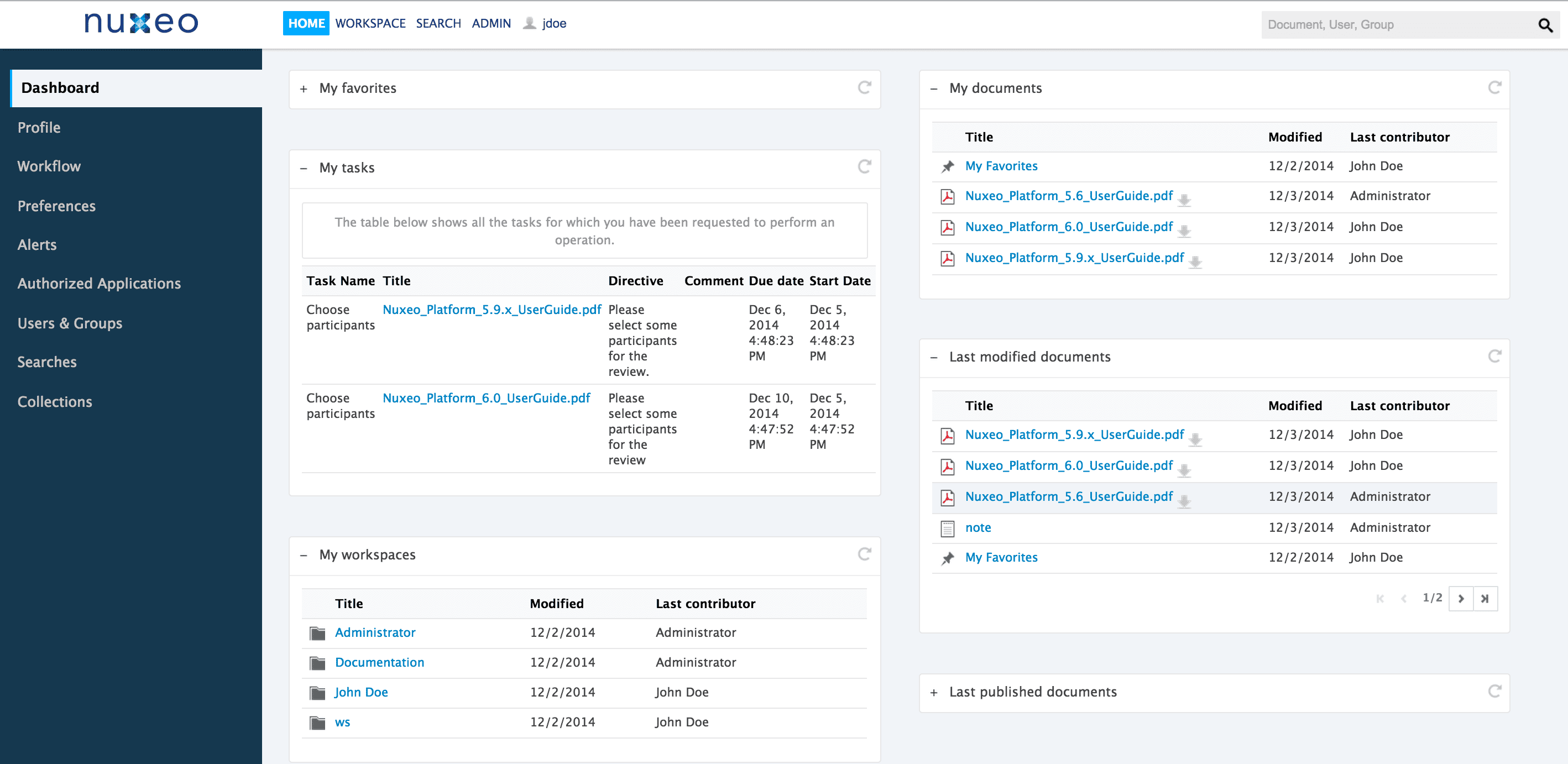 Nuxeo, an enterprise-ready digital asset management system, is open source with code publicly available on GitHub and Mercurial. This ECM is cloud-native like Alfresco document management solution to run scalable and high-performed content-centric business applications. Similar to Alfresco-based DMS, it supports integration with cloud deployment infrastructures AWS and Azure to keep it scalable.
The platform provides plenty of opportunities to reuse custom object models for those who like convenience. You may appreciate batch import as well there. Over 150 plugins, full-text search, video transcoding, flexible workflow engine and other features put Nuxeo in the raw with a document management system by Alfresco and SharePoint.
Its API-first approach presents Nuxeo in a particularly favorable light in addition to microservices architecture. Due to the desktop sync source code (Nuxeo Drive) available for free users can get replicated files to their local computer easily.
Another feature of Nuxeo, Live Connect, to the contrary of its competitors, allows using cloud content due to connectors, so users don't have to switch on the apps and work with them as if they are local. Many clients are satisfied with the opportunity to continue using Dropbox or Google Drive.
So Nuxeo keeps increasing its technical power, meanwhile, getting venture investments from Goldman Sachs. How this will affect the platform evolution will see. And now we will proceed to workflows — the heart of every document management platform.
Workflows: Document Management Systems Comparison
SharePoint Workflows
There are two types of collaborative system: SharePoint Server on-premises and cloud-based standalone or included in Office 365. It has five in-built workflows:
Approval workflow (routs a document for approval or rejection).
Collect Feedback workflow (provides recorded feedback from all revisors).
Collect Signatures workflow (works for Word documents, Excel workbooks, and InfoPath forms only).
Publishing approval workflow (control publishing new and updated web pages on sites).
The Three-state workflow (tracks the status of a list item with a high volume of issues or items).
If you prefer greater flexibility, you can modify any built-in workflow with SharePoint Designer 2013 or even create your own. Also, you can extend the platform by add-ins guided by SharePoint development documentation.
Alfresco Workflows
Comparing SharePoint vs Alfresco, the latter supplies five simple predefined workflows too; however, it doesn't limit you to create custom more complex ones.
You can use an adhoc workflow to assign a task to someone in particular.
A group workflow provides a single group of users with a collaborative review and approval option.
Desiring to review and approve content in parallel with multiple collaborators you have the opportunity with Alfresco workflow to assign the task in this way.
Using a pooled review and approval workflow you can assign the task to multiple users with one taking ownership to manage the task. Then the task can be completed or sent to the pool for approval by another person engaged working on the task.
Here you can assign a task to be reviewed and approved by a single user.

In spite of their simplicity, workflows of Alfresco Content Services perform reviewing and approving document process automatically. It relieves users from superfluous actions with transferring documents via emails, losing final versions and blaming people for mistakes. Alfresco offers a number of inclusive tools you can use to design new workflows, execute, and monitor.

Learn what Alfresco development services you may need to get your ECM done.

Nuxeo Platform Workflows
The Nuxeo Platform is a bit poor in the variety of workflows. There are two default ones to demonstrate the workflow principles.
Serial document workflow allows users to work on the document one after another. It is done for one action at a time (review or approval).
Parallel document workflow is a collaborative way to work on the document when participants can make editorial corrections all together simultaneously without the approval of a previous contributor.
Similar to Alfresco and SharePoint Nuxeo provides a tool Nuxeo Studio for anyone wishing custom workflows. Any user has a range of options to manage tasks (submit, delegate, reassign) and the workflow he right way (implement, cancel). Notifications will help to alert about changes in the workflow and document. Also, permissions modified during the workflow or task save from all the hassle between participants.
Pricing
Licensing fees for SharePoint depend on capabilities, deployment, and hosting. SharePoint Online as an independent app is available for $5 and $10 user per month for small/mid-sized businesses and enterprises respectively or you can subscribe for Office 365 plan and get it included. Extra features with Office 365 applications will cost you $20 user per month under the annual commitment. If you are leaning towards SharePoint on-premises, you will be charged for each person/device accessing SharePoint Server under a CAL license model (Client Access License).
The matters are variable concerning prices for Alfresco. The development company doesn't let out service tariffs on the grounds that each business is unique and has its particular needs. Yes, they likely can allow it with 11 million active users on board. This relates specifically to Alfresco Enterprise Edition. The Alfresco enterprise pricing may vary depending on the number of users, power of rented hosting servers, addons, and availability of technical support by Alfresco staff. Nevertheless, it's up to you to opt for Community Edition free of charge. In a pair Alfresco vs SharePoint, the first one is more flexible in investments.
A visionary by Gartner, Nuxeo is a fully open source and is driven by contributors. The Nuxeo platform is distributed under the LGPL (Lesser General Public License). Its offering includes a 30-day trial to online services for free with a subsequent subscription fee. The cost will depend on the service package you get from Nuxeo. There is a customer support engagement, system requirements, access to Nuxeo Studio, marketplace, integration connectors, and Service Level Agreements (SLAs). If you are a developer or your company is staffed with Nuxeo developers, then it wouldn't be hard to set up and customize a free open-source community version which is available to download on the Nuxeo official website. Here, advanced support is the payable option only.
Which ECM package can help your company?
The enterprise document management system comparison sum ups the primary differences between systems. To clarify the matter which DMS software fits you best let's see pros and cons of three systems.
Main Pros and Cons of SharePoint
Pros
Collaboration. Its content management set is a part of creative environment for teamwork and task-solving which enables to manage all form of documents.
Sync and centralization. One repository syncs files through online/offline and local tools. Centralization of business tools combine all company apps (Internet, Intranet, Extranet).
Proven and well-known. Large companies have been trusting products of Microsoft for years.
Cons
License. A SharePoint price isn't limited to a subscription fee. You also should budget for maintenance, provisioning, upgrade costs, etc.
Complex setup. It's not enough to buy a system; you will need a developer familiar with the technologies to make right configurations.
Overfeatured. It is overloaded with capabilities and expensive for small-and-middle-sized businesses.
Key advantages and disadvantages of Alfresco
Pros
Open source. It means Alfresco is highly and easily customizable, open for unlimited integration with other platforms. Besides, if the question of how much does alfresco enterprise cost is decisive for you, you will be pleasantly surprised that License for Enterprise Edition is less comparing to other ECMS.
Two versions on Linux. Community Edition will find its application for small scale implementations. Enterprise Edition mostly replicates a feature set of CE enriched with some extra options. Both can be deployed on free Linux.
ECM + BPM. Content management processes are built with just-enough functionality which can be seamlessly extended with business process management features.
Cons
Support and documentation. Support is good only by community members. Documentation leaves much to be desired. Customers are left to rely on training programs of their software provider.
Interface. It concerns not only Alfresco ECM. The unfriendly and cumbersome UI is frequently happening in document management platforms.
Mobile capabilities. Alfresco DMS has limitations of mobility. Some tasks are not available to be carried out still.
Advantages and disadvantages of Nuxeo
Pros
Cutting-edge technologies. The company promotes to use the latest technologies in software development focusing on security fixes too. It surely expands opportunities for developers and users.
Microservices and plugin architecture. Each of the autonomous services is in charge of processing a single business operation. Plugin-based architecture lets add new capabilities easier.
Built-in workflow builder. Users can make their own workflows right after setting up the system without additional tools.
Cons
Limited features. Nuxeo suits better for small and medium business rather than for large enterprises feeling the urge to grow. Very primitive UI.
Training for pay. Training and consulting, as well as exclusive support, will cost you a fee, even though the platform is fully free.
Few OOTB integrations. Targeting on enterprises, Nuxeo has is a lack of integrations, though. If you prefer this platform, be ready for extra spendings.
And lastly, when we set out to explore the difference SharePoint vs Alfresco vs Nuxeo, we wanted to show how things are from the expert point of view. So it all adds up to this that Alfresco happens to be killing the game in the best DMS solutions. Yes, you read that right. For over ten years of document management with Alfresco we have some good reasons to suppose it will satisfy you.
If you want to argue or shed some light, we are available. In addition, if you want to learn more, we recommend reading the article on the best enterprise content management systems.
Frequently Asked Questions
What is the difference between Community Edition and Enterprise Edition?

Community Edition (CE) and Enterprise Edition (EE) differ in functionality, a bugfix and resolution guarantee, version upgrades, verified builds, and continuous support from the software vendor. Unlike, CE is a free version supported and developed mostly by the community enthusiasts when EE is offered for a one-time license fee yearly.
Which ECM to choose cloud-based or on-premise?

The type of software deployment, cloud-based or on-premise, influences ECM's maintenance cost, an opportunity for a quick scale-up or down, user requirements, and own hosting preferences, etc. With an on-premise model, a company hosts everything in-house, while a third-party hosting provider does it in a cloud environment.
What limitations do I get with Community Edition?

As usual, Community Edition is released on a limited open source stack. You can get a certain feature available in Enterprise Edition if it does not require specific commercial software. It has a user count limit and a lack of support for a broader deployment stack.
What is the difference between DMS and ECM?

Document management systems (DMS) and Enterprise content management systems (ECM) resemble each other. However, the differences are in document format (structured for DMS only), flow management of documents across the enterprise for ECM, and DMS concentrate chiefly on creating, managing, storing, and retrieving documents with a focus more on metadata management than ECM does.
How can DMS be integrated with third-party services?

There are three types of integrations: native, standard, and nonstandard. When native 3rd-parties, the programming language is the same as in the document management platform. So they have a native interaction "bridge". Standard integrations have open protocols (e.g., OpenCMIS, JCR, SOAP, CMIS), and nonstandard protocols have a nonstandard protocol to connect (e.g, REST-JSON, REST-XML).