Articles
27 January, 2023
SAP Hybris Development: Tips, Tricks and Developers Cost

Key takeaways
By leveraging the power of Hybris SAP integration, businesses can unlock a wide range of benefits. Know more about this software for B2B/B2C scenarios.
Discover why the platform is highly excepted by the ecommerce world and global leaders that choose it.
Explore a rich feature set, development capabilities, and advantages of the platform.
Learn the cost of developers and rough project estimation.
In December 2017, SAP Hybris Commerce announced its 6.6 release with an in-depth focus on General Data Protection (GDPR) compliance. With technological benefits for all tastes, the premier provider gained the trust of Volkswagen, Carlsberg, Henkel, Indesit, Firelli, Deutsche Post, and many other enterprise-level companies spurring Hybris market demand among businesses of smaller scale. Implementation of Hybris is usually going on both ways — from scratch and migrating from the e-Commerce platforms which was used at the time.
Today we're going to get a closer look at SAP Hybris features that magnetize retailers, at the advantages, it has over similar competing services, and gives some SAP development tips and tricks for proud owners of it. Also, we won't bypass the cost of the development of an SAP Hybris website.
What is Hybris?
Let's clear it up what is SAP Hybris?
Hybris software is an e-commerce platform developed by SAP, a multinational software corporation. It provides businesses with tools to manage online sales channels, customer data, and marketing campaigns. The platform allows companies to deliver personalized customer experiences across multiple channels, such as websites, mobile devices, and physical stores.
Keep in mind that SAP Hybris Ecommerce has undergone a rebranding to SAP Commerce Cloud. So you may come across an updated name when exploring the latest features and offerings. It is wrong to compare SAP Commerce Cloud vs Hybris because both terms belong to a single solution.
On top of that, for the third year in a row, Gartner, Magic Quadrant for Digital Commerce, has named SAP Commerce Cloud the market leader.
Why use Hybris?
So let's take a look at what SAP Hybris Commerce is all about. It's a powerful e-commerce platform that can benefit B2B/B2C businesses. SAP Hybris, now known as SAP Commerce Cloud, is a robust solution designed to expand online sales channels and enhance the customer experience.
Consistent and personalized customer journey
One of the key benefits of SAP Hybris Commerce is its ability to provide a consistent and personalized customer journey across multiple touchpoints. With this platform, you can engage with customers through websites, mobile devices, social media, call centers, and physical stores, ensuring your brand has a presence wherever your customers are.
Flexibility and customization
Flexibility and customization are also significant advantages of SAP Hybris Commerce. The platform offers a range of tools and APIs that allow you to adapt and extend its functionality to meet specific business needs. You can integrate it with other systems and make it fit seamlessly into your existing technology landscape.
Scalability and performance
Scalability and performance are critical factors in choosing an e-commerce platform, and SAP ecommerce Hybris software delivers. It is designed to handle high-traffic volumes and scale horizontally as your business grows. With performance optimization features, you can keep your stores running smoothly, even during peak traffic.
Comprehensive feature set
The complete feature set of SAP Commerce Cloud covers the full range of e-commerce operations. From catalog and product management to marketing and promotions, order management, customer service, and analytics, it has everything you need to manage all stages of the customer journey effectively.
Integration with the SAP ecosystem
Another advantage is its integration capabilities into the SAP ecosystem. SAP Commerce Cloud integrates seamlessly with SAP ERP, CRM, and marketing automation tools to leverage existing SAP investments, gain a unified view of customer data, and optimize business processes.
Additionally, if your business is B2B, SAP Commerce Cloud offers robust B2B capabilities. It is designed for complex B2B sales scenarios with features such as self-service portals, account-based pricing, and contract management, helping you ensure a seamless and efficient buying process for your B2B customers.
Which companies use SAP Hybris?
| Company name | Profile | Industry | Country | Company size |
| --- | --- | --- | --- | --- |
| Hewlett-Packard Enterprise | Global edge-to-cloud company | Information Technology and Services | United States | 10K – 50K |
| AGCO | Manufacturer and distributor of smart solutions for sustainable agriculture | Manufacturing | United States | 10K – 50K |
| Fresenius Kabi | Global healthcare company | Pharmaceuticals | Germany | 1K – 10K |
| Puma | Global sports apparel and footwear company | Sporting Goods Manufacturing | Germany | 10K – 50K |
| Levi's | Well-known American denim brand | Retail Apparel and Fashion | United States | 10K – 50K |
| Nikon | Multinational corporation specializing in optics and imaging products | Appliances, Electrical, and Electronics Manufacturing | Japan | 10K – 50K |
| Samsung | Leading technology company offering a wide range of consumer electronics | Computers and Electronics Manufacturing | South Korea | 10K – 50K |
| Lufthansa | One of the largest airlines in the world, providing passenger and cargo services | Airlines and Aviation | Germany | 10K – 50K |
Hybris features for e-Commerce
Hybris is a well-thought-out e-Commerce platform which unleashes the power of selling for B2B and B2C markets simultaneously. Let's discover the most gainful SAP Hybris features.
Both B2C and B2B platforms in one place
Business-to-consumer (B2C) approach is a process of selling goods or services directly to end customers for their later use.
Business-to-business (B2B) way of commercial activity is considered as trade between different businesses.
Hybris Architecture
Before going to integrations in SAP Hybris, we'd like to give you a rundown on the way what SAP Hybris Commerce architecture is.
The platform is designed to handle high customer traffic and significant order volumes, being scalable when you need new components quickly and flexibly to meet market needs. It is based on standard Hybris technology, so you do not need to spend extra money to upgrade and manage it.
Such a B2B2C e-Commerce system operates best with a Java EE Servlet Container as the execution environment. The platform uses the Spring environment, which is the best Java application framework for enterprise platforms to configure components easy. Apache Tomcat application server contains and processes all business information being the core of SAP Hybris Commerce platform.
The platform is rich for extensions. Some of them are offered out-of-the-box, some as a purchase in the SAP marketplace others can be created by developers as custom services to change business logic. The web application is based on Spring beans and run by the Spring IoC container. In this way, the extra services are added to power your business.
So we overviewed some key concepts on how to integrate new components to your Hybris platform in a few words. Let's go more in-depth with Hybris tools.
SAP HYBRIS INTEGRATION into your business
A while ago it was heaven for B2B companies to have and avail of features which were firing on all cylinders in B2C. Nowadays, Hybris converts B2B commerce into B2C. Wondering how exactly that happens? Responsiveness, omnichannel possibilities, individual price lists, and many more aspects which mark out Hybris and raise its market demand. That is when B2B client logs on the website then prices, discounts, order history, wish lists, and other perks relating specifically to him are displayed without superfluous data of a general nature. He doesn't need to call back asking for prices to be sent, wait for hours and then set out to order. With Hybris, a B2B consumer can make even bulk purchases on the go with a familiar check out process.
Over the past decade, it's fair to say that no other online retail solution for both markets has succeeded so much as Hybris did. Its advantage as primary functionality stems from the backend and a number of administrative tools to cover needs both B2B and B2C sites.

Get more why SAP Hybris is a leader in B2C commerce among other things.

Also, we won't bypass the cost for development of an SAP Hybris website. Officially, they comprise 12 tools and 20 for administering the Hybris modules. We have to aware that some modules enable functionality not covered by the individual license. At Aimprosoft we always emphasize our clients to this point before implementing preferred software. Cockpits, for example, are available out of the box, but some modules inside may require a subscription.
Now let's clear up what possibilities await you in administering Hybris.
HAC — Hybris Administration Console is a set of tools for logging, monitoring, ImpEx manipulations, performing flexible search queries and other admin actions. It is used by developers and maintainers of the e-store.
HMC — Hybris Management Console is a full set of administrative tools for all aspects of website management (WCMS, users, roles, products, facet search, prices, orders, etc.). The distressing disadvantage is its obsolescence with poor UI and non-user-friendly UX, no mobile responsiveness, and lots of pop-ups.
Backoffice (also referred to as Next Generation Cockpit Framework) is the same as HMC having same functions but with a fewer amount of glitches, with a present-day UI/UX design, ongoing support, and development. First, it has appeared in 5.0 version as an alternative for HMC. It is expected the Hybris Backoffice to replace HMC in 7.0 once and for all.
Product Cockpit is an advanced administration toolbar for in-store product display management, category management, stock and discount management, and others.
CMS Cockpit is an up-to-date administration toolbar for website management per se (web pages, layouts, components, etc.) and their settings.
Administration Cockpit is used to manage data validation constraints and instances of types.
It now remains only to design a store because the Hybris commerce suite offers only backend options. Nevertheless, it's for the best, because you can create your own unique look and feel for a storefront. Any user of this e-Commerce platform has a superb backend engine with ready-to-act features to exploit it and move beyond standard code accelerators, which are flexibly adjustable. And that it is important, one instance can run as many storefronts as you need. No additional development efforts with SAP Hybris are required.
SAP Hybris backend means not only a set of endpoints and administrative panels but also tools for developers (SDK), including code generators for successful suite integration. They build fully working software and allow creating websites from a template without writing thousands of lines of boilerplate code, e.g., B2B/B2C accelerator. In this article, we won't dwell on the types of accelerators, Hybris offers, just will give a short explanation. So, the Accelerator is a boilerplate storefront generated with Hybris SDK to avoid time-consuming module coding from scratch. In the 6.6 version, it is widened with User Consent Management, Account Closure Self-Service, and Interactive API Documentation to protect sensitive data.
SAP ECC Integration
Earlier, that was impossible to show prices for B2B clients in real-time on a website because all prices and business processes were operated in the enterprise resource planning software. One of the most recognized global ERPs today is SAP ERP. SAP abbreviation means Systems Applications and Products in Data Processing.
SAP Hybris Data Hub Integration
In 2013, SAP acquired Hybris to migrate all its clients from outdated WCEM to technologically progressive commerce software. Hybris was favored for its perfect match with ERP used by businesses far and wide and in Europe especially. They have developed a number of connectors for SAP ERP for the German market and beyond. With the acquisition, a fresh bout of evolution began between Hybris and SAP ECC, which triggered a strong Hybris market demand. The core product of Hybris integration with SAP enterprise planning tools is Data Hub which is a mediator for scalable data integration between multiple sources and SAP ECC. The most frequently occurring case, except accelerator customization, is a demand for Hybris development specialists able to adjust and customize Data Hub.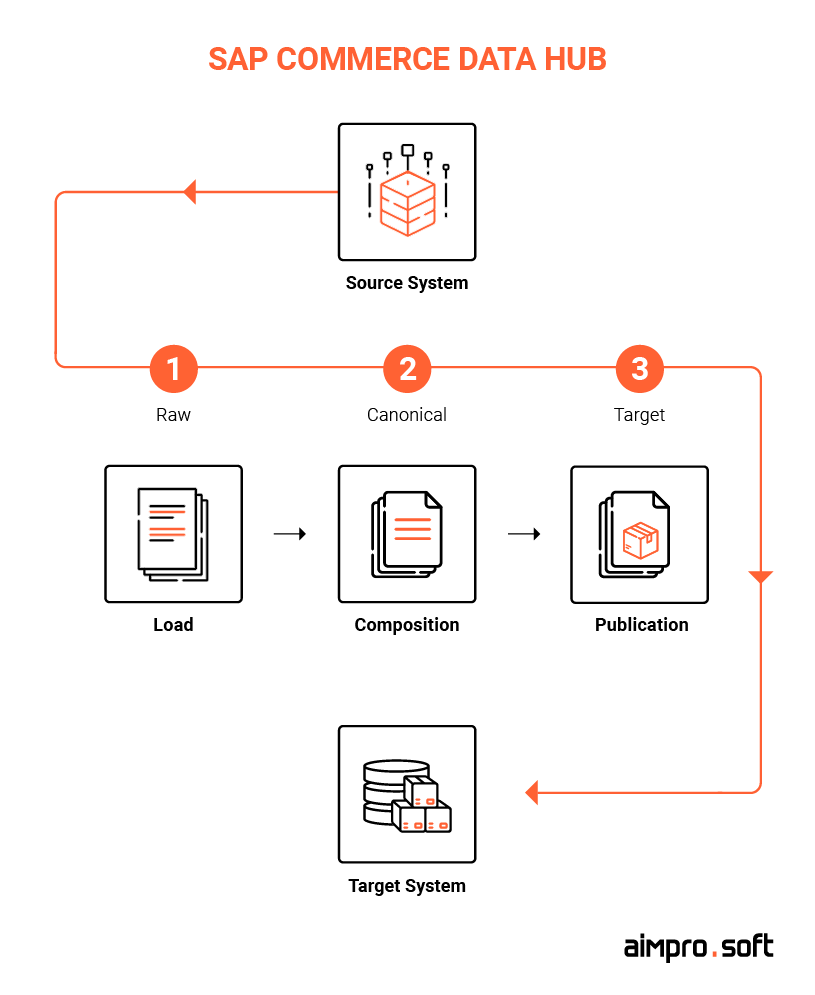 SAP Hybris Data Hub
If you exploit SAP ECC, then all control of your e-store (users, products, prices, orders, etc.) will be outsourced to SAP and synced with Hybris via an integrated Data Hub seamlessly. If you are not a lucky owner of it still, then you can manage the operation of the e-store with the standard administrative tools described above.
Multi-channel, vendor, catalogue, stock
There can be located several e-stores on one Hybris instance. On the other hand, one e-store may have multiple catalogs by types of users or geographical differences. For example, if you sell clothes to the US market and Germany with a different assortment but in one store. Hybris doesn't limit business owners to having:
1. One e-store and different catalogs;
2. Two e-stores and one catalog;
3. Multiple e-stores and multiple catalogs.
All these can exist in one instance integrated with one ERP. This is achieved due to the flexible stock and product management system in Hybris. First, it works in sync with SAP. Second, it manages the amount of goods in stock on its own. Third, you should bring into focus SAP Hybris specialists who can tie up technologies in development.
Third-party integrations
Three cornerstones of must-have integrations:
Payment provider;
Shipping provider;
Tax provider.
Any checkout process in Hybris is a four-step route: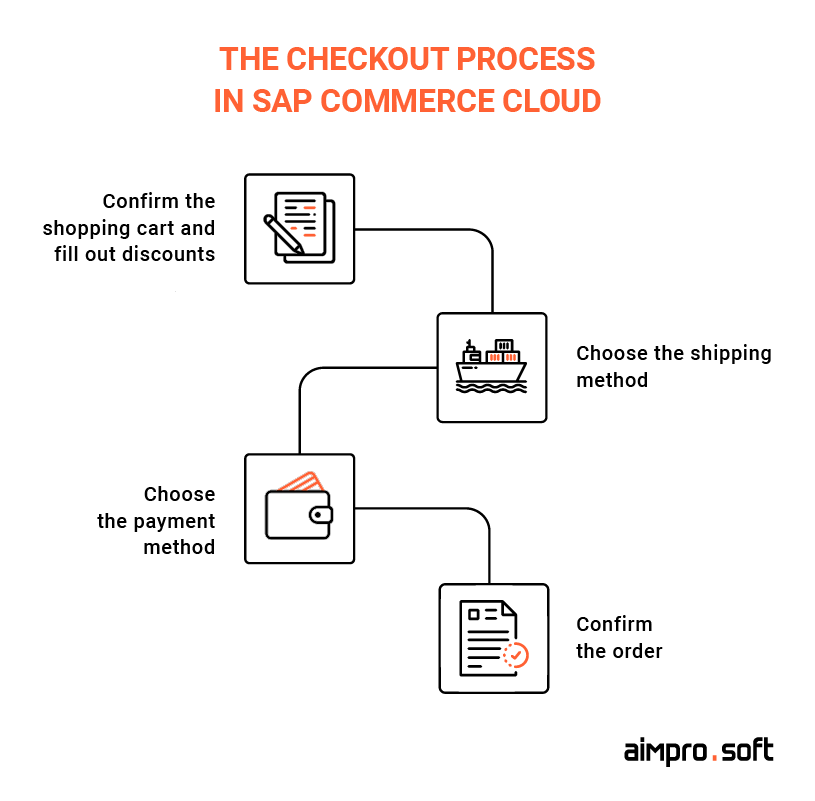 The checkout process in SAP Commerce Cloud
Each step is displayed on the new web page. A buyer may reconsider his decision and change the entered data or abandon the cart. Consequently, there are a lot of scenarios that prescribe something that could go wrong with integrations.
For example, the integration with a payment provider typically works in the following way. After encoding/encrypting, a message is sent to the payment provider; then it returns with a confirmation that the buyer is solvent and the payment is made. The automatic acknowledgment is sent by Hybris once the buyer wants to make a payment. Typically, it is charged on the order confirmation by request to withdraw funds from the user's account. A server accepts the payment and makes changes to the database. Payment is made. To learn more, we recommend reading the article on Hybris payment gateway integration.
To integrate any of mentioned integration, a qualified Senior Hybris Developer will take 1-2 weeks. Assuming that integrations are created from scratch, then all issues like those can be solved by developers internally. The implementation may double over time. Possible floating bugs can put obstacles in the way of charging users.
The same situation happens with shipping and tax systems. Hybris has add-ons for quick integrations of payment, shipping, and tax systems available for download in its marketplace. Using external integrations allows focusing on internal business processes rather than auxiliary software.

Find out about accelerating sales with custom addons for Hybris online stores.

Extreme security
SAP Hybris leadership is always moving ahead of time. One of their last improvements puts data security in the spotlight with GDPR. We have released a lot of projects abiding by the regulations of security standards. Strictly following SAP Hybris Technical Design Guide, we ensure reliability and data transfer security for Aimprosoft clients with proven solutions. Announced upgrades in SAP Hybris Commerce 6.6 cover consent management, reporting, and data management, along with security and encryption enhancements. Let's explore this in detail.
To care about capturing and processing the personal data of users in a more explicit way Consent Management system is offered. Personal Data Reporting is designed to generate private customer data reports based on Data Annotation Framework configured easily. With Customer Account, Closure customers can desist from having their website accounts without assistance. Retention/Erasure Framework ensures retention of customer personal data in time. And solution named Generic Audit engages in storing all changes made by customers.
Of course, we can't fail to mention that Hybris is in the OWASP top 10 vulnerabilities compliance range. Thus, the e-Commerce platform protects its technical core and customer personal data securely.
SAP Hybris e-Commerce development
1. Use maximum code generators (accelerators) to escape writing boilerplate code and unnecessary bugs. It's the right way to save development time and, consequently, time for detecting bugs.
2. Use recipes published on the official website, don't reinvent the wheel. It's better to take over Hybris' original problem-solving.
3. Try to keep your Hybris instances updated. In this case, new extras are available out of the box along with a security package. It requires much more time to upgrade when the difference in functionality between the two versions is huge.
4. While trying to modify the standard functionality of the Hybris Commerce platform, always create a module. It allows rolling back custom functionality easier if necessary.
5. Set up/launch daily backups beyond the rush hours to ensure continuous website running.
6. Use third-party solutions for tax calculation, order payments, and shipping systems. If any of these integrations are going to be built in-house from scratch, then it will take a great deal of time for development and support (in case of pre-arranged updates take effect or services alter in shipping companies). Besides, they decrease engaged people and, as a result, a human factor.
7. Deny access to the cockpits from outside, permit within intranet only. That will make matters for potential hackers a bit more complicated.
10 advantages of Hybris over other platforms
For sure, Hybris is worth complimenting for its diversity of features. We're going to touch upon only five of the most considerable pros instead of letting our thoughts flow over the tree. The rest advantages are listed in our previous article with a comparison of leading e-Commerce platforms.
Out-of-the-box diversity of opportunities
An out-of-the-box diversity of opportunities is offered to get valuable insights about consumers due to the omnichannel possibilities of Hybris. There are also connectors to transfer the data, native and custom ones, according to the distinct market demands. You get a mobile presence with Hybris Mobile App SDK to create brandable apps for B2B and B2C companies for both Android and iOS platforms.

Find out more in our article on eCommerce mobile app development.

Omnichannel capabilities
Hybris provides a seamless and consistent omni-channel experience by integrating multiple customer touchpoints. It enables companies to engage customers across websites, mobile devices, social media, call centers, and physical stores to ensure a consistent brand experience across all channels.
Flexibility and customization
SAP Commerce Cloud offers a high degree of flexibility and customization. It provides robust tools and APIs that enable companies to adapt and extend the platform to their specific needs. You can customize workflows, create new functionality, and integrate with other systems to tailor the platform to your unique business requirements.
Scalability and performance
SAP Commerce Cloud is designed to handle large traffic volumes and support large-scale e-commerce operations. It can scale horizontally to meet growing demands and delivers optimal performance, even during peak traffic times. The platform provides performance optimization features such as caching and load balancing to ensure fast response times and an improved user experience.
Comprehensive feature set
The platform offers a comprehensive feature set for managing e-commerce operations. It includes catalog management, product information management (PIM), content management, marketing and promotions, order management, customer service, and analytics. This comprehensive feature set helps businesses optimize operations and provide consumers with a rich and personalized shopping experience.
Integration capabilities
Seamless integration with other systems in the SAP ecosystem, such as SAP ERP, CRM, and marketing automation tools, stands out strikingly from other systems. This integration enables businesses to gain a unified view of customer data, streamline business processes and improve operational efficiencies by leveraging existing SAP investments.
B2B capabilities
Extensive B2B functionality makes it well-suited for B2B enterprises. It supports complex B2B sales scenarios, including self-service portals, account-based pricing, contract management, and customer-specific catalogs. These features enable companies to provide a personalized and efficient buying experience for their B2B customers.
Supporting business internationalization
SAP Commerce Cloud helps businesses expand their operations globally and cater to international customers with multi-Language support, multi-currency management, localization, and regionalization, global inventory and order management, international shipping and logistics integration, and compliance with local regulations.
Strong community and support
Hybris has an active community of developers, partners, and users who contribute to and support its development. There are many resources, documentation, and forums to help developers and companies use the platform effectively.
Niche developers
Niche developers are those who know their way around a large e-Commerce. They are not high and low to find, they suit best as Hybris-focused dedicated software development teams or staffed. An average SAP Hybris developer is hardly not up to large-scale projects.
Aimprosoft has a team of niche Hybris development specialists who are experts in Java development, QA engineering, UI/UX design, business analytics, and project management. They have a wealth of experience and are highly focused on the SAP Commerce Cloud stack and its specifics. By working with these tailored specialists, you can expect faster project involvement and time-to-value, enhanced collaboration and communication, which promotes effective communication, seamless coordination, a deeper understanding of project requirements, and more efficiency overall.
How much do SAP Hybris developers cost?
Hybris Developers: What You Should Know
Developing goes beyond delivering code on time and reaching an expected quality level. Qualified developers should have strong communicative skills to be coherent while speaking. Good analytical presentation skills, problem-solving skills, and a learning attitude complement the nature of developers. Below, we will describe what a great professional development on Hybris is.
Some important developers' skills
Over 3 years of experience in Java, J2EE, and Spring Infrastructure (Boot, Hibernate/JPA, Spring Security, etc.). Java is best for enterprise software because it has proper standards and JVM (Java Virtual Machine) to run and operate the system. As SAP Hybris is an enterprise e-Commerce platform, developers must be hands-on with the application server Java Enterprise Edition.
The availability of certified experts guarantees a deep understanding of the system and a minimum of 1 year of Hybris practical experience for developers. The matter is that anyone can pass the certification being a practicing developer over the year.
SAP is a perfect ERP platform for more than 437,000 customers
in more than 180 countries. Most likely if you use SAP products already, you will favor Hybris as your e-Commerce system; therefore, developers should be experts in integration and custom creation of extensions within the Hybris framework.
Over 2 years of Hybris experience gives rise to have the right specialist who can get to work quickly and be independent in solving software challenges. Developers on Hybris at Aimprosoft work with an SAP Commerce Cloud 2105 or greater version delivering projects for global clients.
Commercial experience over 2 years shows that the developer understands how business works. This developer has an advantage over less experienced candidates because he is more responsible for planning and meeting deadlines.
This list may grow dependent on the project and client's needs. But the mentioned above is the core to get the job done.
Java developers with SAP Hybris skills: costs and hourly rate
Despite the largest B2B companies in the world using Hybris in sales, developers are hard to find. Often it would be software developers with years of Java Enterprise experience. The good news is that for the past 10 years, Ukraine turned into the hub of developers skilled in Hybris. Being reasonable in price, Ukrainian developers are affordable for American or Europe companies starting from 35$ per hour. Guys from Kharkiv or Kyiv are second to none of their colleagues from New York, Berlin, or London with rates of 70$, 50€, and 60£ per hour relatively.
The main problem is the SAP Hybris license cost but not the price you have to pay for development. Given the cost of Hybris, it is not worth saving on developers. For example, proof of concept can be accomplished only within three working days. Hybris will hardly attract the interest of the small and, middle business. Moreover, the primary niche of Hybris to be applied is the B2B market.
Hence, allowing for the difficulty of solutions needed to form up business processes, the development period will take 2-3 months for 2-3 senior-level developers on Hybris. The image below shows in hours a minimum set of implementations.
Estimate for a basic Hybris feature set development
Feature
Hours
Setting up Hybris
8 hours
Generating B2B/B2C accelerator
16 hours
Customizing accelerator
24 hours
Filling with basic items (products, goods, etc.)
20 hours
Integrating payment provider
40 hours
Integrating shipping provider
32 hours
Integrating tax provider
32 hours
Data Hub configuration (optionally)
32 hours

Development testing and deployment

QA engagement

PM engagement

+ 25%

+ 30%

+ 10%

Total development time
308 hours
Well, the table reflects how much it will cost you to develop a simple SAP Hybris website in hours provided that it takes 4 weeks with a team of 2 Backend developers, 1 Frontend developer, 1 QA, 1 PM on part-time and 1 Team Lead on part-time. For example, with the average SAP Hybris developer rate, the project will cost you €18 500-24 500 in Germany, $24 500 – 37 000 in the US, £17 000 – 21 500 in the UK, and $9 000-10 000 at Aimprosoft. Otherwise, you may stop guessing and ask for a rough estimate at Aimprosoft right now and get a free consultation.
Frequently Asked Questions
What is the difference between SAP Hybris and SAP Commerce Cloud?


SAP Hybris is the former name for SAP Commerce. Version 6.5 is the last software package released under the name Hybris. Saying 'SAP Hybris' usually means an on-premise e-commerce system. In its turn, SAP Commerce Cloud's offering conforms to the company's strategy of shifting to cloud services in deployment and management issues.
Is Hybris open source?

Hybris is not open source. It can be effectively adaptable to business needs only after purchasing a license.
How can I set up Hybris?

If you want to run your e-commerce store on Hybris (SAP Commerce now), you have to address one of the SAP Partners for details. After the agreed e-commerce option, SAP Partner (a software development company) can develop an online store and deploy it to the staging server (private beta). Then, you can buy a license to get your store delivered to the production server.
When do I need the SAP Hybris platform?

SAP Hybris is an omnichannel e-commerce suite offered by SAP on the cloud. You may need Hybris as a platform for your online store to sell products on the B2B or B2C model. The platform is highly customizable as per your requirements.
What is the difference between Hybris and c4c?

SAP C4C is an SAP Cloud for Customer solution designed with a mobile-first approach to cover the needs of sales and service reps on the go. Hybris is an e-commerce platform for creating innovative online B2B/B2C stores with omnichannel capabilities and seamless integration with a line of SAP products. The latter has a B2B/B2C Accelerator that is a code generator for suite integration.
What is a Hybris developer in SAP?

The Hybris Developer at SAP (now known as the SAP Commerce Cloud Developer) is a professional who specializes in developing, customizing, and supporting e-commerce solutions using the SAP Commerce Cloud platform. Their role involves working with the SAP Commerce Cloud technology stack, including Java, Spring, and other relevant frameworks. Hybris developers extend the core functionality of the SAP Commerce Cloud platform through customizations, perform SAP ecommerce integration with other enterprise systems such as ERP, CRM, payment gateways, and logistics providers, optimize the performance of the e-commerce solution by identifying and resolving bottlenecks, implementing caching mechanisms, and fine-tuning the system configuration.