Articles
24 November, 2022
How to Hire an Offshore Angular Developer: a Comprehensive Guide for a CEO, CTO, and HR

Key takeaways
Top Fortune 500 firms are those that use Angular in their stack, not in vain. Read about the advantages for CEOs and CTOs from offshore partnerships.
Everything has pitfalls. Get acquainted with risks when you decide to hire an offshore Angular developer.
Sourcing and pre-screening may be better if you use these three tips while looking for front-end developers.
There are many bits of advice on hiring offshore frontend developers, but we suggest a proven way you can complete your team with relevant talents.
Cooperation with a vendor that retained 100% of client base matters. Know more about Aimprosoft.
Since it was released in 2016, Angular has captivated web developers.
First, developers choose Angular, and then you choose developers. The technology increasingly captures the community with its advantages, such as faster application development of single-page applications and server-side rendering. Big players start to implement it in their solutions, and developers are flying around like hotcakes to big companies that can afford to hire the best. Does everyone else have to bear the burden of riding on outdated technology? Or wait for the new generation to grow up and be on the back burner when the competition rushes forward mercilessly?
Despite being over 2.3 million Angular developers in the world, 83% of recruiters confess that finding such tech talent is the most challenging aspect of their jobs.
One needs a thorough knowledge of current demand, factors affecting Angular developer salaries, skills to look for, the destinations filled with similar tech talents, and much more to hire Angular developers offshore. Read our article to find out why and how offshore web application development can deal with those issues.
Benefits of hiring Angular developers offshore
Several of the top Fortune 500 firms, like Microsoft, Samsung, Deutsche Bank, Forbes, and Paypal, have come to choose the Angular web framework.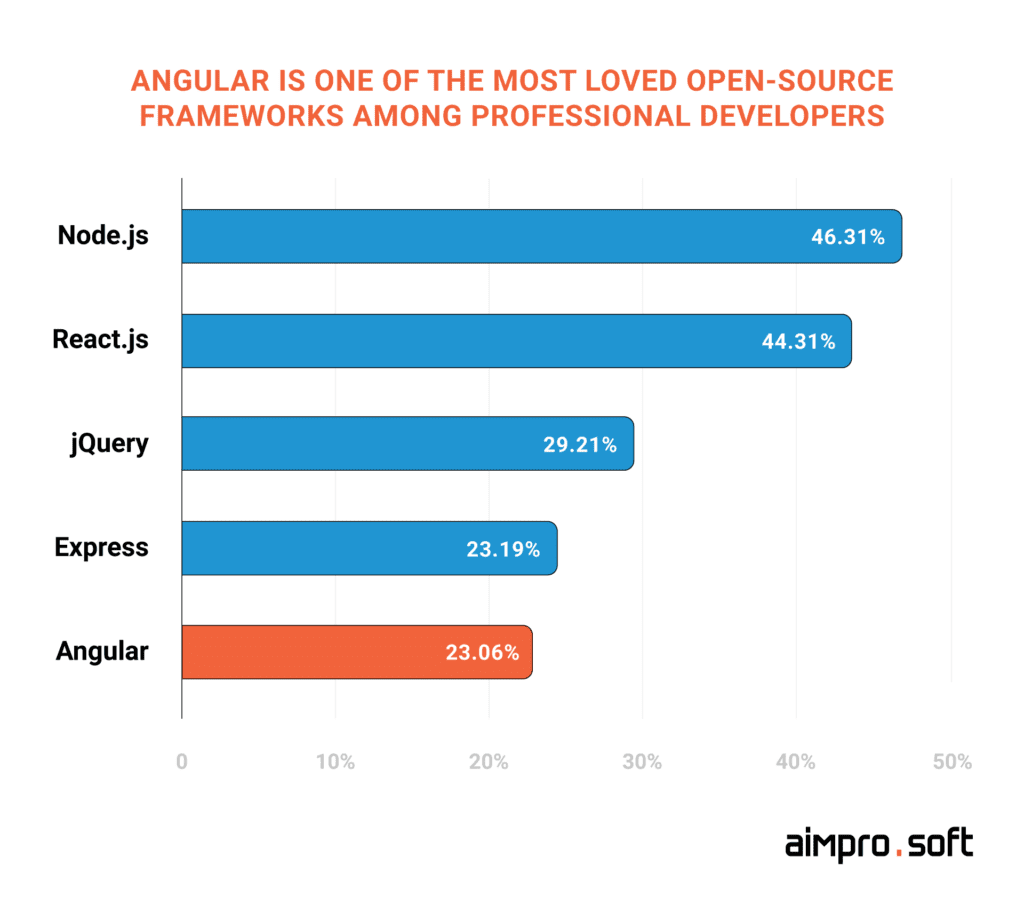 According to Stack Overflow's Annual Developer Survey, Angular is one of the most loved open-source frameworks among professional developers moving up to the 5th position in the rating of web frameworks and technologies with 23 percent of respondents. It has TypeScript as its primary language for Angular application development.
Why offshoring is the choice for CEOs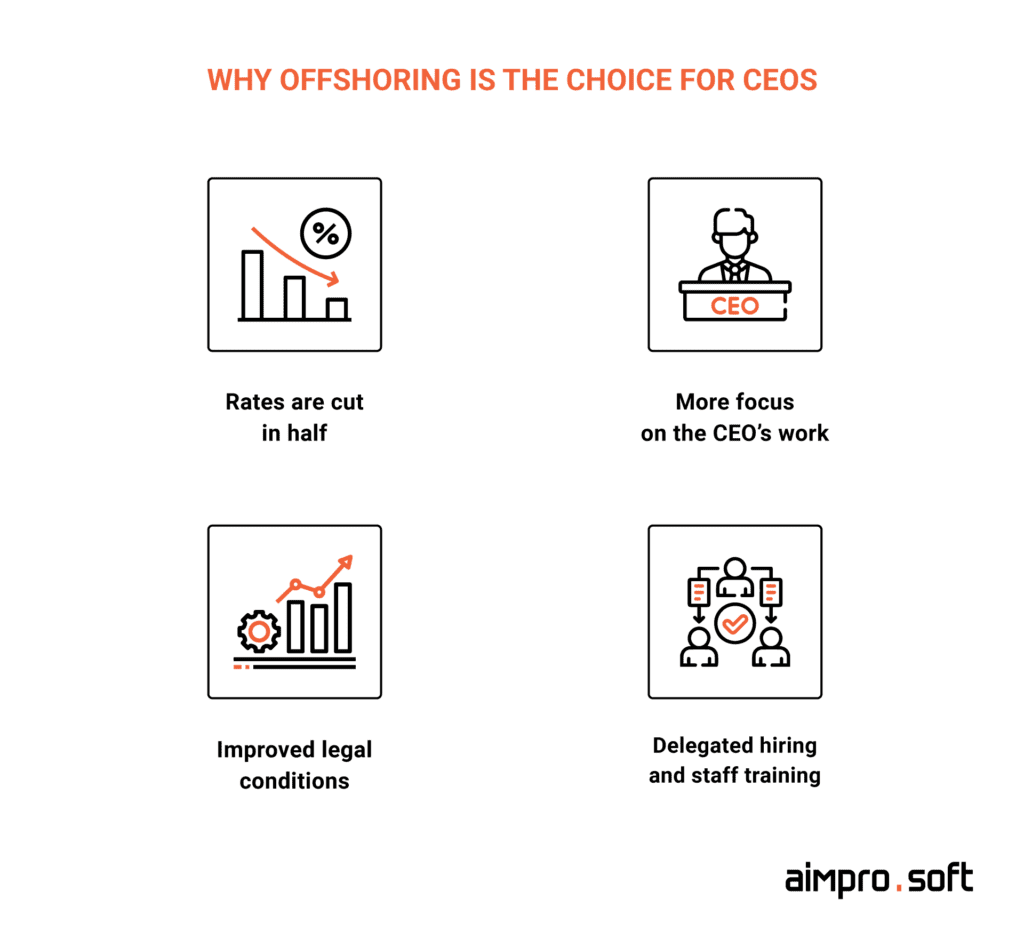 Rates are cut in half
Traditionally, offshore outsourcing Angular development is resorted to close tech gaps and save money. Due to its technological superiority, the US continues to be the leading outsourcer to Asia and Eastern Europe. The problem is that the global economy is still being impacted by a worker shortage. Since Angular is one of the most in-demand frameworks in the world of technology, offshoring helps cut the price of services by double.
Annual salaries of onshore Angular developers in countries of high demand for tech talents
Country /
Salary
USA
Canada
UK
Finland
Switzerland
Germany
Average
$90 000
$107 000
$67 000
$72 000
$105 000
$80 000
Maximum
$145 000
$140 000
$93 000
$90 000
$127 000
$100 000
Data are provided by Glassdoor, Talent, Indeed, PayScale.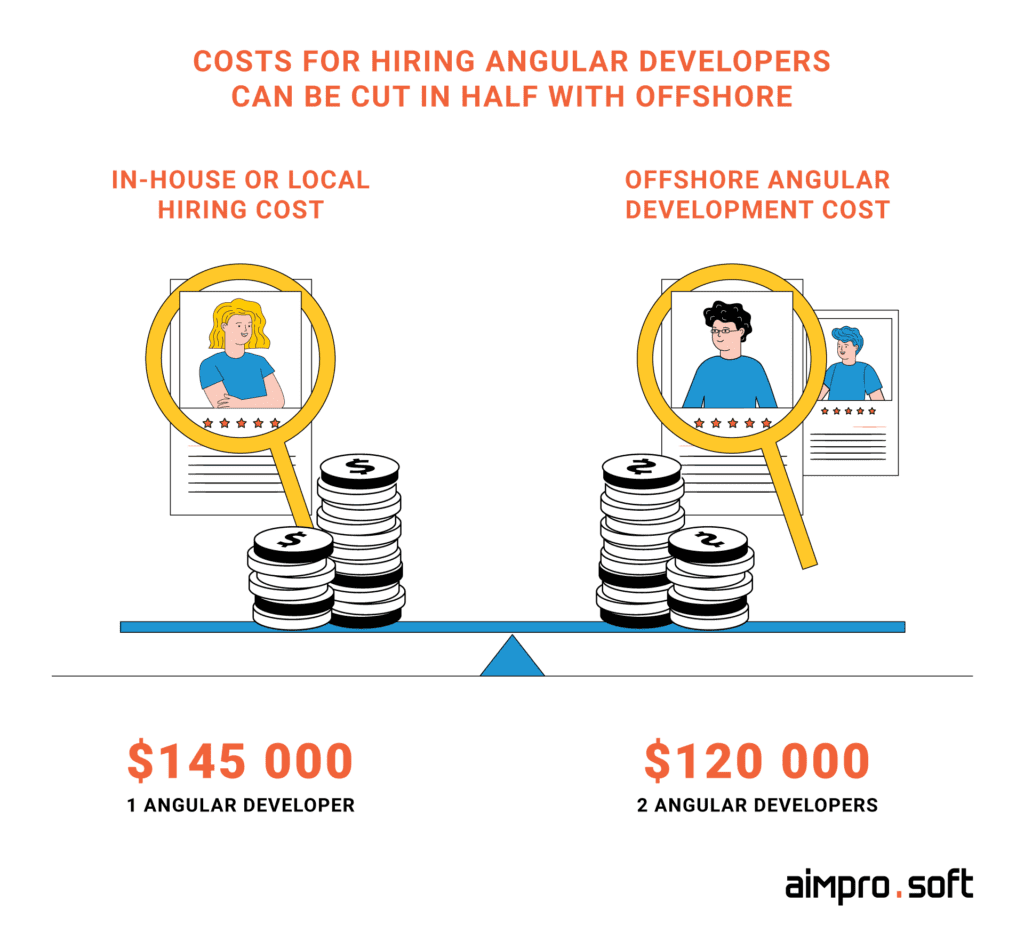 $145 000-90 000 per annum is the salary of an Angular developer in the US. Switzerland and Canada are not far behind, with annual rates surpassing $100 000.
While for example, in Ukraine, the salary of a senior front-end developer skilled in Angular ranges between $60 000-$70 000 per annum.
When you can hire two qualified developers for the price of one, the advantage is clear.
Together with cutting costs, you can get the following privileges:
as an employer, you pay no taxes per employee;
there is no payment on notice periods with offshore development;
you do not have to pay in case of constructive dismissal;
no utilities and workstation spending.
Do the CEO's work instead of scattering your focus
To take care of everything at once and have time to manage companies is not the best way for a CEO. Consequently, constant nervousness, lack of time, and burnout deprive you of the opportunity to fundamentally develop a strategy and see the market opportunities that have not yet been discovered. Removing some of the responsibility for technical development will allow you to focus on the vision of the future, strategy, and improving your leadership skills. You can hire an Angular offshore development company to take control of your technology part.
Improved legal conditions to meet tech demand
Large IT hubs attract companies who want to outsource software development and related services. The reason is more favorable legal conditions than local opportunities. for example, a major eastern European hub Ukraine has been a provider of front-end developers for over 25 years, which are not subject to EU regulations. Thus, US companies can hire an angular developer cheaper than onshore.
Hiring and staff training can be delegated painlessly
Now, you must be responsible for recruiting new employees to your development team and spend a third of your time on this. But you have a number of tasks besides hiring and training new personnel that requires your direct attention. Working with an offshore company allows you to put developer certification, skill development, and mentoring, in addition to overseeing their development activities under the responsibility of a partner. You are left to review the reports and the work results periodically. If you choose to manage the offshore team yourself, then at least under the contract terms, you can expect the partner to maintain the appropriate level of developers, which he will also support.
Want to achieve financial and technical benefits by outsourcing Vue.js development?
It's possible with Aimprosoft's front-end development services.
CONTACT US
Why offshoring is the choice for CTOs
The CTO is at the top of the chain in terms of engaging the right talents at the right time. Below are the main pros of offshoring for tech leaders.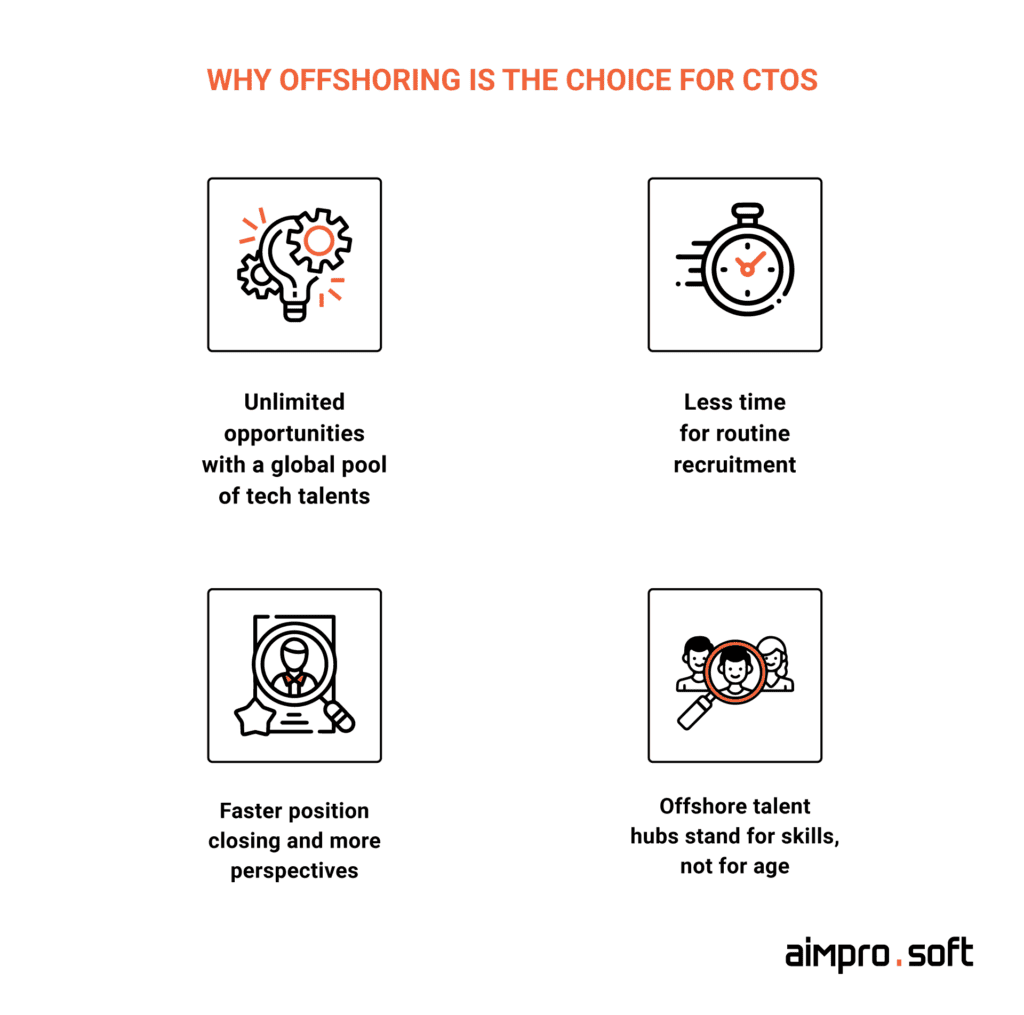 Unlimited opportunities with a global pool of tech talents
89% of surveyed CTOs intend to embrace outsourcing in the future (STX Next). Access to a vast pool of technical talent defines scalability strategies among technology leaders whose responsibilities include recruiting qualified talent, growth and product development, timely implementation of state-of-the-art technology, and proper security.
Near 12,000 Angular developers are available in the Ukrainian tech hub, according to LinkedIn. On top of that, the annual growth of specialists in the market promises 25-30%, which means that in 2023 there will be 16,000 frontend developers available to provide development of your product.
Less time for routine recruitment
Recruitment is not your priority task, right? So why should it take up a fifth of your work? It happens CTOs spend up to 50% of working hours on sourcing.
It's no great mystery that tech professionals are in demand. Even having your own recruiter on staff can't speed up the hiring process considerably. You can delegate initial sourcing and selection to the talent acquisitor; however, you can't avoid your total non-interference. Partnering with a software development company can help you make arrangements for the tech talent supply that specializes in finding Angular developers from the local tech pool to meet your needs.
Faster position closing and more perspectives
Typically, you ask a talent acquisition manager to find a tech specialist or, at worst, do it by yourself, wasting your precious time. Look at it this way: what if your recruiters were to recruit from an already well-known partner, providing the most relevant resumes of Angular developers at once? You connect at the interview stage with shortlisted developers instead of knocking on private messages to individuals on numerous talent search platforms. Thus, hiring offshore angular developers allows you to close the tech gap faster and continue product development. Besides, partnering with an outsourcing company is a future prospect; you get constant access to a source of multiple IT specialists that will already be on hand when scalable.
Close your Angular tech gap with Aimprosoft today.
Let's discuss your technical needs to find the best fit in our developer pool.
CONTACT US
Offshore talent hubs stand for skills, not for age
Not a secret that the software industry undergoes age discrimination in technologically advanced areas such as Bay Area, CA. Coders above 35 are often thrown out of the boat since the prerogative is given to younger colleagues considered to be more flexible, enthusiastic, and for some reason, more experienced. It leads to the earlier retirement of local skilled software engineers, tech shortage, and the growing demand for newcomers. On the contrary, the hi-tech tech market outside the US region is full of offshore Angular development potential without age restriction but still with the proper level of workability.
TypeScript lies in the core of Angular. Know about hiring TypeScript developers as well.
I'm Interested
Common risks of offshore Angular development and how to deal with them
Leaders have expressed many concerns about working with remote developers. Still, nevertheless, offshoring continues and brings profit in the form of savings to those who decide to cooperate with software companies. Let's take a closer look at the most painful points and ways to avoid them.
Data security and privacy standards may not work
One of the most common cannons is a security-related cannon. Let's be clear: you can never be 100% sure that there won't be a leak or that your project code will only disappear once and for all unless it's a vendor. This can happen with freelancers more likely than with a company. A proven partnership is measured by years on the market and honest customer feedback. Finding out about a shortlisted vendor will help you get an understanding of its reputation in the marketplace. For example, Aimprosoft has a 4.7 credit from its customers out of a possible 5 on the clutch.
Development cycles may slow down
Often, startup founders or business owners are afraid to hire remote employees, thinking that their development will slow down or that they, who are used to solving the lion's share of problems personally, will have to spend a lot of time communicating and solving these or those problems. You do not like micromanagement. We don't like it either. That is why for 17 years now, we have been building the development process at Aimprosoft so that the project manager, who works with the team on your project, eliminates the client's worries and unnecessary involvement as much as possible.
Moonlighting instead of complete dedication
The fear also applies to hiring remote Angular software developers, who will not be as dedicated as the guys sitting in the atmosphere of one office. Most often, this is feared by those businessmen who have used the services of freelancers, and this experience was negative. The point is that full-time employees may also want to have side hustles. In this case, software providers such as Aimprosoft, who value their reputation, will be more interested in fulfilling their obligations in accordance with documented agreements than individual programmers.
Non-clear communication that sticks
Since you and the offshore developers will have a time difference of several, there may be a situation where a vague question or vague answer can stall the development process. As corny as it sounds, pays special attention to how the candidates you are considering for joining your project team express themselves. A gap in the culture loop, plus poor English, can drive you insane, making you run away quickly. When conducting the online interview, test your candidates. At Aimprosoft, we pay attention to soft skills apart from tech background to avoid problems on projects due to miscommunication. And the mindset of Ukrainians has repeatedly proved the similarity between American and European styles for getting the job done in the right way.
They don't do what they have to do
You must have had this scenario running through your head: you have a remote developer, he did a great test job, fits your search parameters, has an excellent track record, you hire him, he shows up great, price-quality is fine with you, and one day he disappears somewhere. He doesn't check in and completely drops out of the network, which leads to blocking other people, which is what we're trying to avoid. It's impossible to be completely safe from that. But it is possible to minimize such a scenario by working with an outsourcing company that will do what it says it will do because of its reputation. For example, an indicator of reliability can be the example of Aimprosoft, when even the war did not prevent us from fulfilling our obligations to customers: we retained 100% of our customers in 2022.
Remote workers don't understand the product as it should be
You hire developers to do primarily technical work, emphasizing hard skills without expecting them to fully understand the product like you or your core team make. In other words, you wouldn't want the product to slow down due to a lack of awareness (and consequent bugs in the code) of the product by your developers. If that's the case, doing some additional training for your employees will help give your team a better understanding of the product. At Aimprosoft, in addition to hard skills, we select developers with the right mindset to achieve the best results in their work.
Difficult but possible. Look, if you hire an offshore Angular developer from an outsourcing company, you insure yourself against risks of poor quality because the company is legally responsible to the client for fulfilling its obligations, the company values its reputation more than a single developer, and can always provide more guarantees.
Want to avoid common risks with hiring remote Angular developers?
It is possible with Aimprosoft. Let's schedule a call to discuss your needs.
CONTACT US
Cooperation models for hiring Angular developers offshore: outstaffing vs. outsourcing
Due to the opinionated nature of Angular, any new team member can go back to code written by a previous one or a teammate years ago and know everything. Its design makes upkeep simple and makes it challenging to make a mess.
Angular projects typically begin with one web developer with relevant skills scaling into frontend teams as the project grows. If you already have a team of in-house developers, established development methods, a project manager, and a team leader, and you just need more help to scale, outsourcing will work for you. Having a back-end developer, you can already hire an offshore Angular app developer to augment your development potential.
Outstaffing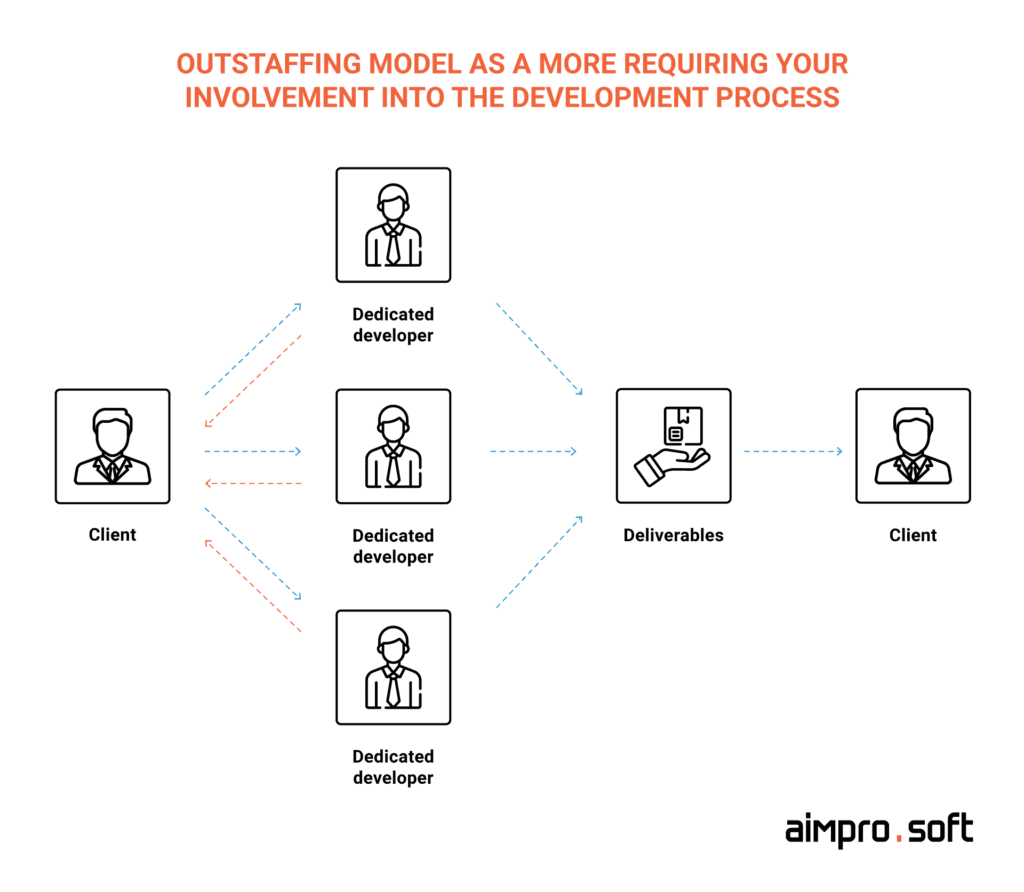 Granted, if you favor the outstaffing model, you'll spend less for the reason that you have to do all the management work. Some consider it ideal: less payment, greater power. That way, a third-party vendor will be the one from whom you are actually renting a person who has the required knowledge and years of experience. Your costs are only concerned with fluctuating employee salaries at local market rates in the country where you hire remote offshore Angular developers.
You can control the process and save a lot of time with offshore Angular developers for hire, which helps you handle important aspects of product development.
Outsourcing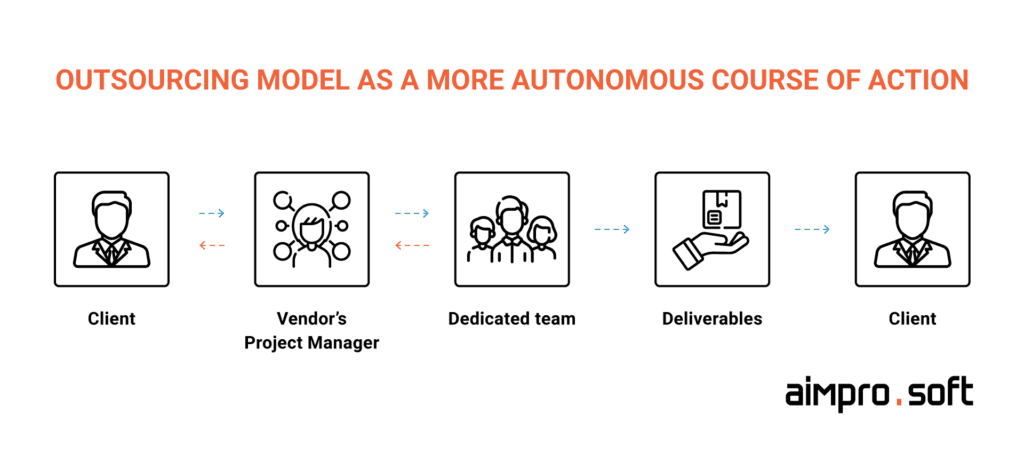 Offshoring (outsourcing abroad) will facilitate keeping the process organized from beginning to end, whether you're merely in the concept stage or have a specification but need to start the project fresh. In this scenario, you purchase a team with domain experience and the required technical skills, and you receive the finished product with the least amount of time spent on management at commensurately reasonable prices. Choosing a team from a recognized tech hub will also ensure that the development services meet the high standards you have come to expect in your area.
Outsourcing involves fees for project management, business analysis, process setup, and possibly UI/UX design, but it also frees up a lot of your time for everyday tasks. Nobody advises you to let events unfold naturally up until the final moment of release. Your Angular developers will still look up to you and see you as their thought leader and the primary beneficiary of the benefits they provide.
Business leaders are primarily guided by the organization's IT development needs when choosing the collaboration model. These needs are met by delegating tasks to an external vendor. In doing so, you have access to both the vendor's technical resources and related services, such as hiring, design, and management. You save on benefits and overhead costs.
Models are divided into two types: business and payment.
Payment and business models for hiring Angular developers
Time&Materials refers to payment when the price you pay for a developer's services is based on the time the developer or team will spend solving your problem during software development.
T&M is suitable for projects with precisely defined goals and distributed management risks with regular interaction between the client and the service provider when the exact cost of the finished product is knotty to determine.
Fixed price. The peculiarity of the model is the lack of flexibility in changing the budget because the price is based on the amount of work according to the estimate, is fixed before the start of work, and does not change in the course of development.
Fixed price is used for projects with strictly defined scope and requirements when there is a clear understanding of the result, ideal for short-term projects.
Both models are suitable for outsourcing and outstaffing. Still, more often, T&M is chosen for outsourcing because it involves long-term cooperation with projects with vague scopes and requirements, while renting developers for short-term tasks (up 6 months) may mean a determined scope and the price can be fixed.
Regarding business models, outsourcing (offshoring) means setting up remote dedicated teams or delegating a full cycle development in case of long-term projects over 6 months.
Outstaffing frequently goes with staff augmentation when there is a need to extend an existing team with missing expertise, for example, Angular stack.
Confused about the cooperation models?
Let's talk it through via a call.
CONTACT US
3 tips for HRs and recruiters to screen Angular developers to hire offshore
Hiring unsuitable technical candidates can cost a company quite a bit and slow down the productivity of the existing team. Zippia reported that 40% of an employee's base salary goes to onboarding a new employee with benefits. After all, the difficulty lies not only in assessing competencies but also in predicting the candidate's behavior in the future.
Check these three tips to vet Angular candidates before you send their resumes to your management.
Sourcing
Since the hiring market is very competitive, you may find yourself losing the battle for talent to the big corporations that do not have the resources to cover their perks—finding an outstaffing partner who closes the positions quickly and perfectly and has a comfortable flow with payment, management, and NDA.
Tip 1. At the sourcing stage, please pay attention to the domains and expertise of the company vendor, comparing them with the candidate's experience in the CV. Check their blog, case studies, and web portfolio before proceeding with the inquiry.
Pre-screening
So that the tech expert doesn't waste their time, then you have to do a good pre-screening. Check the relevant commercial experience directly from the CV of the suggested candidates heeding the length of experience on one project, industry, and tech stack. Also, specialists engaged in projects over 1 year show maximum loyalty and interest in the pre-screening: they are active and knowledgeable about current technologies. This proves that the employee does not jump from place to place, preferring to stay on the project for a long time.
Tip 2. Applying to an outsourcing company, you can avoid the situation when most of the CVs are not pre-screened, which is time-consuming. This way, you can half the hiring time and close positions quickly and precisely.
Tech interview
At the tech recruiting stage, knowing the current versions, methodologies, and frameworks would help you understand whether the candidate really knows the technology or is just blurring the eyes. You can close the gap with knowledge by asking your tech leaders, but as usual, they are swamped, so you have to rely on yourself. In cases when you are the only person responsible for HR and recruiting processes, handling quality recruitment takes work.
Tip 3. Outsourcing partner speaks the language of reputation. Since he is interested in hiring his own developers and does not want to be perceived as a scoundrel, the technical preparation of candidates will be better since, in this case, the candidate is no longer responsible for his abilities but is represented by a company with a name on the market. It makes sense to use this prerogative; then, it is possible to redirect some resources to personal and professional development.
Want to close Angular positions faster and more precisely?
Aimprosoft can provide you with skilled developers for your front-end needs.
CONTACT US
Secret success ingredients on how to hire offshore Angular developers to move your development process forward
Finding qualified short-term contractors or long-term employees in a highly competitive area might be challenging because Angular is a huge and distinctive framework. The ability to hire offshore Angular developers requires special knowledge.
We've provided a list of doable actions you may take to identify the ideal Angular web developer for your company.
Utilize each stage to locate, attract, and hire a potential employee who can create the interface you require.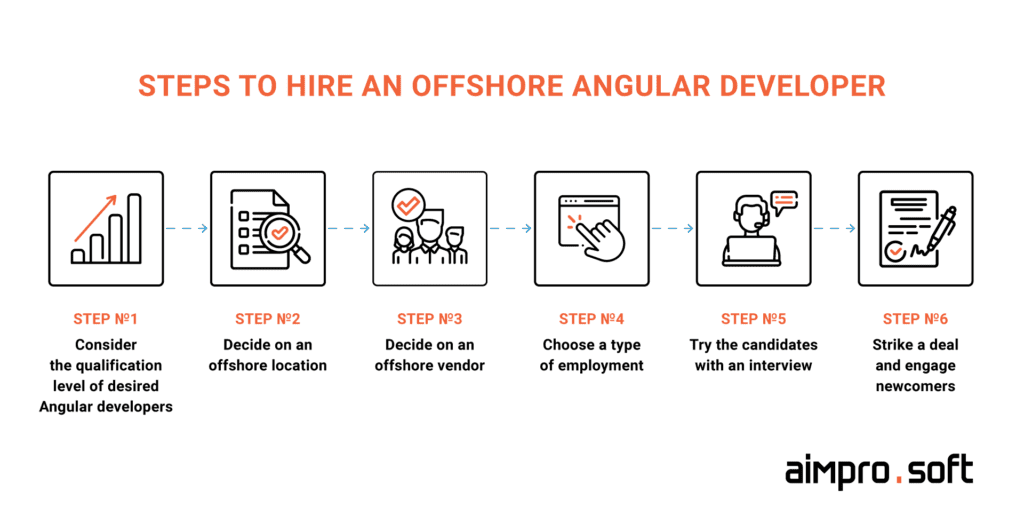 Step 1. Consider the qualification level of desired Angular developers

Of course, you understand what level and for how long you need an Angular developer. If not, a consultation with a technical expert from an outsourcing company will help you decide on this. Much depends on the complexity of the project and the time for its implementation. It does not mean that if one developer can do everything in 10 months, then 5 will do it in 2. Start off with the task you need to accomplish, your budget, and time constraints, if any.


Step 2. Decide on an offshore location 

The wrong choice of outsourcing location may bring lots of troubles: mismatch of work schedules due to too much time difference, poor quality of work of performers, problems with payments, lousy reputation with the region, additional taxes, etc. It is widespread to hire offshore Angular programmers from Eastern European or Latin America. For example, Ukraine, as one of the brightest representatives of the CEE region, has favorable tax conditions and comfortable proximity to EU businesses. In its turn, American customers prefer Ukrainians for their business mindset and deliverables of high quality.

Step 3. Decide on an offshore vendor

Hiring an offshore developer or a team looks similar to renting an operational department. The hiring procedure, communication channels, and toolset selections have all been taken care of. State your needs as accurately as you can and watch them work their job.

Step 4. Choose a type of employment

Looking for offshore Angular developers, be ready to be in charge of project management and monitoring. Outstaffing may not be the greatest option for businesses with zero employees capable enough to take the helm. If you can't use this feature, think about outsourcing instead. 

Step 5. Try the candidates with an interview

Outsourcing doesn't involve conducting an interview with candidates because you put it in the hands of specialists, controlling only the outcomes defined and documented before the development process starts. Otherwise, you can provide a shortlist of vetted professionals from the preferable talent pool (software provider) and interview them online. Test tasks, in this case, are not a common practice because the vendor shares responsibility for the quality of deliverables. Thus, you even shorten your hiring cycle.

Step 6. Strike a deal and engage newcomers

When transitioning from an in-house to an offshore process, introduce developers to the processes gradually. It would help if you understood that it could take up to 1 month to get into a project under normal circumstances. Working together can build on new developers' involvement in certain parts of the project. You'll end up with a cohesive team that understands the workflow and is moving toward your shared goals.
Why offshore Angular development with Aimprosoft is still in vogue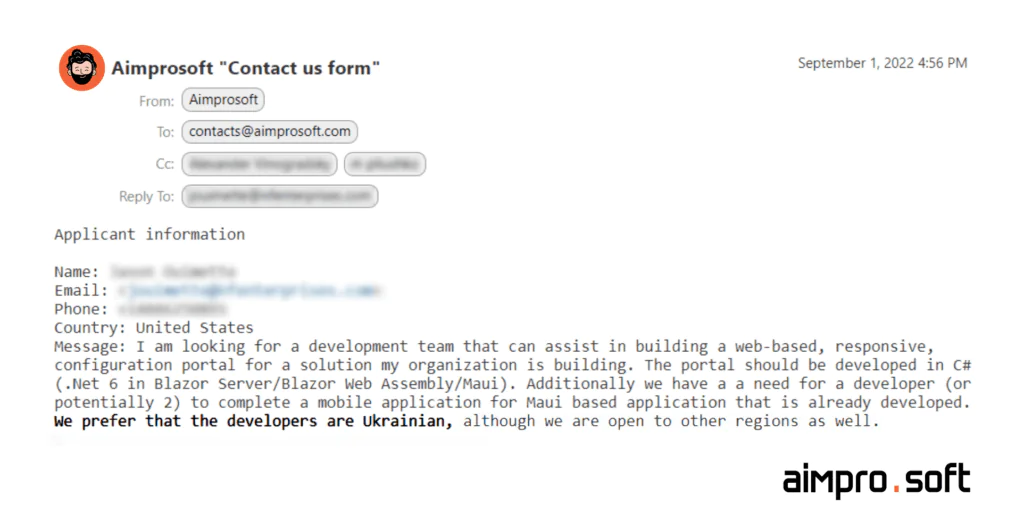 Resilient and reliable vendor for over 17 years in the market
Location: picturesque Ivano-Frankivsk (Western Ukraine);
Completed projects for startups and companies: 600+;
Clients from the U.S., Europe, Canada, and Asia: 100+;
Client retention in 2022: 100%;
Project start: within a week;
Post-launch support and maintenance: on demand;
Uninterrupted operation: renewed hiring a month after the invasion;
Choice of customers: U.S. and EU business people who appreciate the quality despite the temporary difficulties
Safe place and energy independence
Our business took care of the autonomy of employees' jobs in advance because we understood how crucial it is for us to be powered around the clock. The workplace of Aimprosoft in Ivano-Frankivsk (Western Ukraine) is equipped with everything required for continuous delivery, including Starlink internet sets and generators to sustain continued office operations.
We are working on projects that involve a continuous, uninterrupted workflow and cannot be interrupted for a minute, such as healthcare. At the moment, the technical equipment of the office allows us to work independently and uninterruptedly for one week, keeping a smooth workflow. Thus, neither power outages nor rocket attacks will prevent us from meeting our obligations to our customers.
Recognized software development partner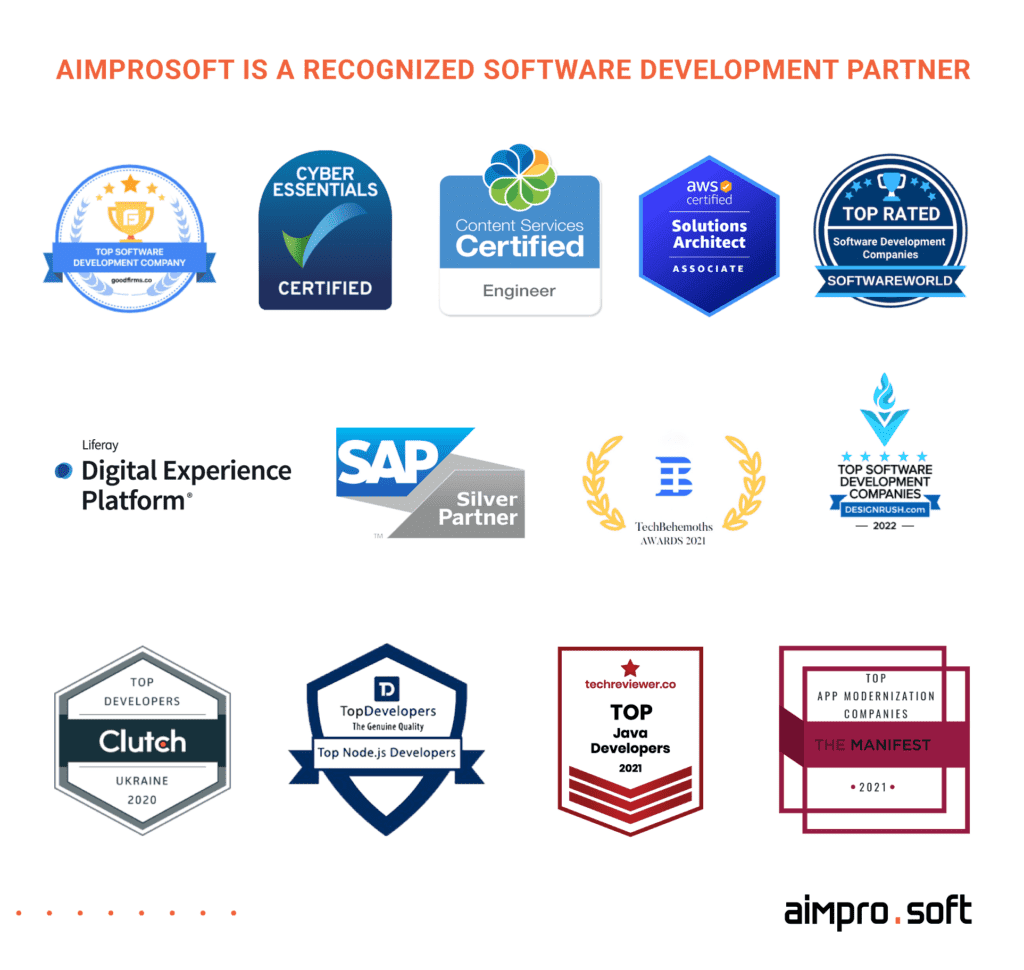 In 2022, Aimprosoft was recognized seven times as the leading software development provider in Ukraine, delivering web apps for global customers. The following list of our marked competencies reflects the primacy in custom development in Java, Node.js, Hybris, Liferay development, and mobile apps for B2B customers, covering IoT, e-Commerce, Education, Retail, and other domains.
Conclusion
There are many challenges you can face looking for an offshore Angular developer. You must have recognized yourself in some of the mentioned above. However, with the right software development partner ready for commitment, you can be flexible with hiring and scalable in your development. Contact us today to close your tech gap with a qualified Angular developer.
FAQ
Should I hire onshore or offshore Angular developers?

Onshore hiring may help you when you need to have a core team in-house (e.g., for some projects of national importance) or, for several reasons, local mindset only, or when the local market is full of required tech talents for reasonable prices. In other cases, offshore will suit you better to cut costs, close gaps with rare specialization, avoid bench, and become more flexible with software development.
Is it profitable to keep Angular developers on the bench?

Even if employees are "sitting on the bench," they still need to be paid. Although they do not contribute to the firms' revenue generating or profitability, maintaining a bench has overhead expenditures. As a result, there will likely be a considerable reduction in the company's cash flow without a matching increase in profit. Additionally, there are risks of employee disengagement and turnover, and cultural damage.
Are there any differences between freelancers and outstaffing Angular developers?

Outstaffing allows you to team up with a developer from another company without direct employment. A freelancer is a private individual who can work directly and secretly with multiple clients at once behind your back. Instead of hiring freelancers, you should choose offshore Angular developers for hire if you want to maintain the security and caliber of your software. Based on their expertise, outsourced developers can offer you a stable development process and qualified consulting.