Articles
11 October, 2017
How Can Custom Addons for Hybris Systems Accelerate Sales?

Hybris is an all-around system for omnichannel sales. It has a very powerful functionality for selling: embedded CRM, product management, account management, price management, discount management, and CMS features. Also, there is a number of addons — Hybris extensions which are designed to custom or extend existing functionality. That is the right secret ingredient to boost online sale for e-Commerce.
Looking ahead
We have been working with Hybris almost three years. We developed custom wanting functionality for the earlier versions which further versions are upgraded with. For example, versions till 6.0 don't have a responsive B2B accelerator and a 'Payment by Invoice' or 'Charge by Invoice' option.
As usual, purchasing a buyer pays off by cash or with a credit card after picking up goods. Charge by invoice is carried out by sending to buyer's email the invoice according to the assigned reference number, as a standard rule for businesses, when it comes about B2B sales. It allows paying at a later date under agreed credit terms without charging interest. It takes both sides a long time. Settling accounts online during the checkout allows accelerating sales up to 20 times.
Acceleration addons
Many B2B commercial websites often don't contain prices for goods. They are used commonly as catalogs to demonstrate assortment. If we get rid of the routine invoice emailing after the order to be confirmed by phone, then we simplify the marketing process and increase sales respectively. That opens a perspective to track easily and quickly stock, plan replenishment of goods. And on top of everything else, the responsive design allows doing it even from any smartphone or tablet.

Read Also: How Much Does It Cost to Create an e-Commerce B2B Website on Hybris?

An accelerator is a tool which generates an addon code automatically to display a web page (there can be a number of websites on one Hybris instance and separate accelerators for each website) avoiding a manual, time-consuming code writing. It is generated a single accelerator with out-of-the-box features for each website. It can be customised while changing source code. SAP Hybris Certified Specialists can cope with that as well as software development firms which have Hybris as a key technology in its portfolio.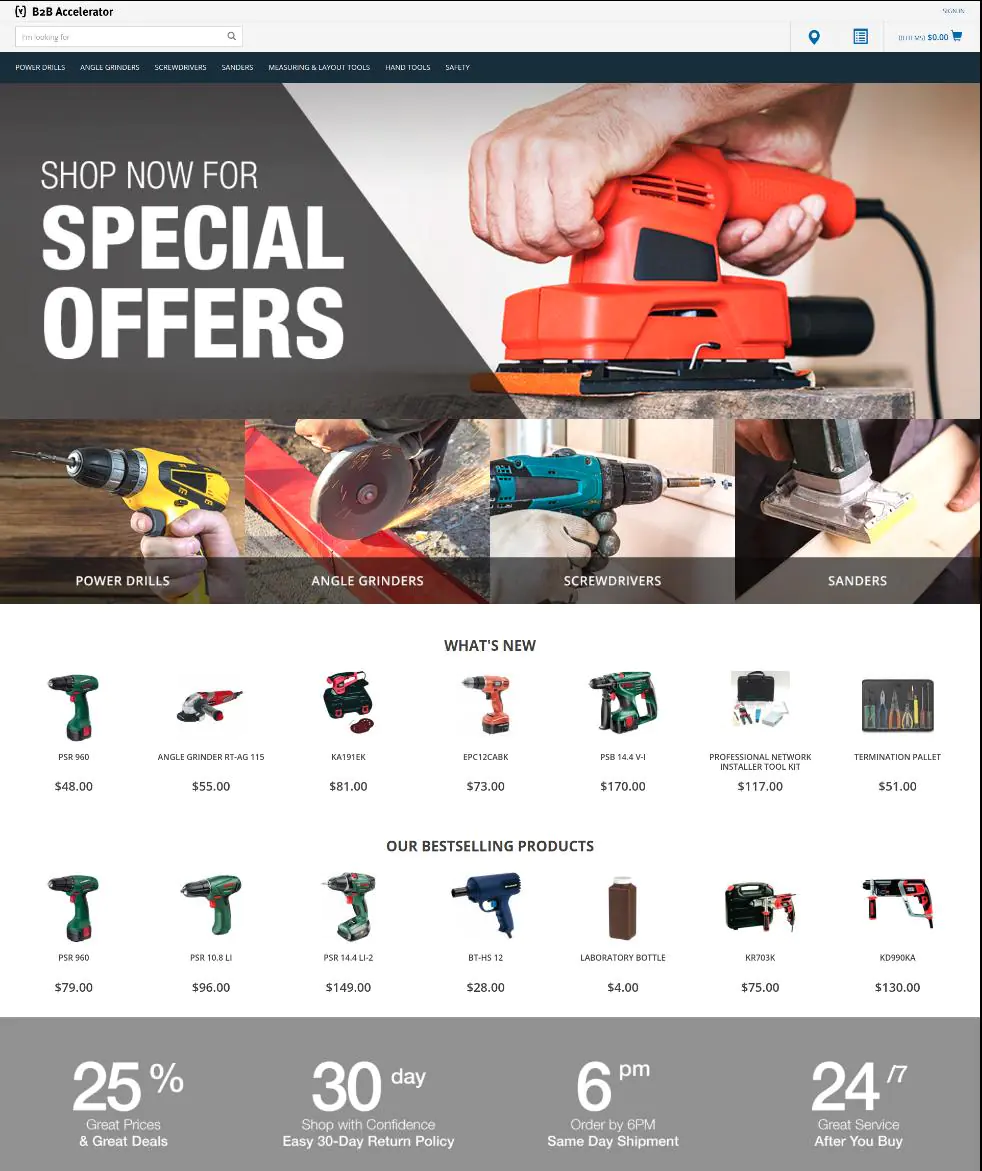 Image 1. Hybris B2B accelerator
Display addons
We know from our experience, changes, and customization of source code are inevitable. Since there are only six administrative tools (HAC — Hybris Administration Console, HMC — Hybris Management Console, Backoffice, Product Cockpit, CMS Cockpit, Admin Cockpit, and we are seasoned in tailoring all listed above) and it is necessary to create a special addon to display website interface. Usually, particular code generator tools are used to do that.
As reported by our customer care leads the private data generously provided by two of our large customers 95% of businesses prefer to pay off goods and services by invoices. An average check of the American B2B businesses is $5 000, and max goes up to $2 mln.
Cart addons
We don't create from scratch, but we enrich existing addons in 95% cases. Substantially clients ask to transform the addon for carts Quick Order Form, which became standard only in 6.1+ versions, though were in high demand much before this version.

Image 2. Quick order Hybris addon
Typically, customers want to add the possibility to enter vouchers, coupons, promotions, gift codes and similar, which also needs some customizations.
Checkout addons
The most meaningful changes always concern checkout process. In particular, clients require an automated shipping cost calculation module (FedEx, UPS, USPS, pick up in-store, dropshipping, flat/freight rates, etc.), integration with payment systems (PayPal, Paymetric, etc. and cryptocurrency solutions), tax systems for corporations (Avalara,
SAP ECC, Vertex , etc.).
CMS addons
The next large area on creating addons is customization of CMS components. Slider, accordion slideshow, audio/video players, galleries, charts, virtual fitting (virtual model), 360-degree view, etc. Also, this could include integrations with marketing instruments (Google Analytics, Marketo, Tealium, etc.), live chats (LiveChatInc), and User Generated Content solutions (TurnTo,
Bazaarvoice, etc.). It's already apparent integrations in question accelerate sales enormously.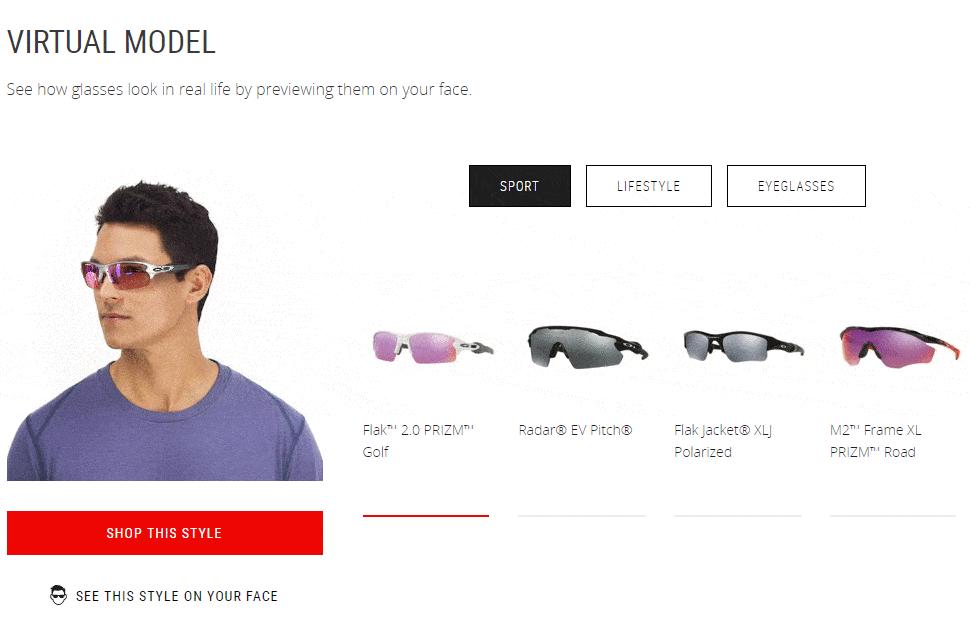 Image 3. Virtual model. Source Oakley
Live chats hide the untapped potential for business because 44% of online consumers expect to get help from a shop assistant while purchasing. Keeping customers engaged with 360-degree viewed images will definitely provoke them to buy and, logically, make brand advocates. An accordion slideshow is a perfect tool for the coordination of text-heavy content blocks in a compact and elegant style.
Summing up
Life goes on. Our goal as a software partner developing innovations is to ascertain the best practices which are valuable and effective for the business of our clients. Most recently we issued an article about e-Commerce trends of 2017 split into three parts. This time we tried to throw light upon nuances related to seemingly ordinary tools but at the same time so important secret ingredient capable of leading you to desirable improved sales numbers.
Frequently Asked Questions
What is the difference between extension and addon in Hybris?

An extension is used to create complicated modules with their own business logic. It doesn't need to be installed in your existing storefront template. An addon is a part of an extension used to modify storefront without intervention into the codebase, e.g., the Assisted Service Module (ASM).
How can I create an addon?

First, you should create an empty addon to develop a custom one on its base. After installing it, you can modify its logic to customize it for your needs. It allows adding frontend files (JSP, HTML, CSS, JS) and images, leaving storefront files untouched.
How do custom addons integrate to Hybris?

Creating your own addon based on a blank template, you should use the addoninstall tool to configure a custom addon for a storefront and add it to the extensioninfo.xml file. Following the parameters of the addoninstall tool, you will get it integrated into your Hybris project. It is a general task for Hybris developers. Asking some outsourcing companies to develop addons, you may expect to install it after the process is finished.
How much does it cost to create an addon?

It always highly depends on the complexity of the client's requirements. For example, delivery of the CBM Cloud Backup and Migration Module for SAP® Commerce
engaged a team of 2-3 developers for two months of developing each version. This extension allows automated backups on hot servers on Hybris B2B/B2C e-commerce projects.