#Alfresco
#Digital transformation
#Enterprise software
11 December, 2017
Alfresco development: solutions and benefits for business

The present-day level of intensity of business process changes in companies leaves only two directions to move forward and not to prevent chaos: to integrate efficient IT system of business process management (BPM) or micromanage company's processes with excessive control. That is the reason why BPM systems have a marked rise nowadays.
What is Alfresco?
Alfresco is a group of information and business process management software products with Java technologies in its core offering Digital Business Platform for enterprises for free and under license. If you are interested in digging deeper into details about Alfresco digital transformation in the company , you can read our previous article.
Before we delve deeper into advantages of Alfresco solutions, let's make sure everyone is on the same page with generally accepted terms of Alfresco editions.
Community Edition (CE) is a free open community platform supported by Alfresco supposed to be used for non-critical business process or content needs as it states officially. However, in our experience, it is feasible for enterprises of any level if they are enlisted the support of old hand outsourced Alfresco developers to join together in teams. It is a good base for researching new features and means of application for the company. You can invent something new and implement it successfully with challenge-driven tech enthusiasts.
Enterprise Edition (EE) is a subscription version of Alfresco platform for businesses sensitive to enterprise-grade features and ongoing updates, appreciated scalability and high performance, which prefer support from Alfresco or certified partners. It differs from the service and support range of the CE but has the same feature set. EE is more recommended for commercial deployment because of greater connectivity required. Available on-premise and in the cloud.
Finding a synergic partner who wants to make headway and will support your growth is a big deal. Aimprosoft Alfresco developers contribute to the Alfresco open source community platform on a regular basis apart from offering custom development services. That is because our mission is beyond just doing our job well. We strive to advance and move up forward.
Overview of Alfresco capabilities
If there is harmony in safe-keeping of documents, there will be order in the business. How we manage, the ways we store files, and how we work with them influences our productivity from year to year.
Next, we are going to recount you how to make amends for all that bulks of folders with post-meeting audio tracks, video conference call records, brainstorm session notes, classified documents and other critical information which are used to being stored in disorder on the intranet servers.
One of the exceptional features is digital document management system which we will pay particular attention. Other remarkable options are the workflow and collaboration where we dwell for a moment on these cases.
How can Business Process Management systems better your workflows?
To start, first of all, let's agree on what the term 'workflow' means. According to
Business Dictionary
,
workflow
is a progression of reliably repeatable steps (sequential or parallel) that make up a work process participated by several persons with a resulted value for the organization's activities.
Workflow is an underlying term related to Alfresco prime cause — automatization of daily business processes of the company. Hence, Business Process Management (BPM in short) is the instrument to arrange work efforts in proper sequence actions, information and document flow within the collaboration environment. BPMs complement embedded CRM systems, CMSs, accounting systems, paired with Alfresco EDM systems allowing to put in order information processing and exchange.
Workflows are not something mysterious that we can't comprehend. Everyone may launch and does move processes every day with email, communicating via smartphone (calls, messages, apps), and even by word of mouth. Yes, it happens in an Alfresco-free world. Let's shine a light on the dark side of the moon – tech side.
Each workflow is executed in own sandbox. It prevents spoiling the logic or functionality of other ongoing flows in Alfresco. This movement of work is visible to assignees and initiators only keeping the confidentiality of information in progress.
Technically the system is running on Activiti to connect any of Alfresco modules and components streamlining course of action. Business users can see it visually how to deal with knotty, as often happens, if-then-else decision trees. The used workflow engine can be integrated with 3rd-party applications, APIs, and libraries that extend the facility of workflow process management enormously. But it's not at all. The workflow designer (Activiti designer) allows users to create simple workflows without any line of code. In other cases, you should ask for help Alfresco developers to give your the most dared ideas a birth. Besides Alfresco storage, the content of yours can be stored in websites equipped with individual dashboards for each made up of dashlets. As the system customizable to both in core and Alfresco Share development and consulting services are in demand.

Branch of the if-then-else decision tree. Alfresco
Document Management
Long-established document management is full of shortcomings. Misplaced various files take uncountable time away from employees. A single employee is believed to be spending up to 5-6 hours a week to find the right document. Continuous overwriting and overprinting of new versions of documents disorder a version control. Cluttered space with docs turns the office into the store and reflects expenditures on paper.
Electronic document management system (EDMS) with Alfresco straightens out issues converting current documents coping, transferring, approving, and sending into a smart workflow transparently. Moreover, files of high importance whether they are legal, marketing, or engineering documentation can be found, shared and secured with little effort.
That being said, Alfresco solutions are not limited to EDM. A complimentary element is an integration of the intelligent files dissemination into the heart of business process. As a result, the information gets into the hands of the right person in time via available applications and devices used by people. Amazon-like search allows calling tagged files in advance by the on-what-they-are way. Nothing worth in records will be lost thanks to version control. Alfresco took care of saving all modifications in the middle of the document journey, so you don't have to dig into bulks of folders or in email chains in the hopes of finding the changed details you need.
Just let
Alfresco developers
stay on the case.
In short, ECM frees managers up to shift the focus and see the big picture rather than try on Sherlock Holmes deductive reasoning.
Enterprise Collaboration
As always, there'll be a demand for automation of any kinds of collaboration. Gaining a firm foothold in enterprise content management area Alfresco C-levels undertook an exciting business move towards the niche of teamwork which is what people long these days.
You must have been got already a thoroughly tested BPM system. Now you want to have things done with a collective contribution both internally and externally across the enterprise. Popular Alfresco development processes like uploading, sharing, modifying and approving documents must be safe and sound in the office and within reach of enterprise intranet. Alfresco Enterprise Collaboration BPM solution is designed exactly to connect teammates in digital space within one business unit. As a bonus, it is open to external participants of the shared document or workflow due to Alfresco's hybrid cloud configuration with sufficient security.
The process could be out of the box or custom. For example, a strategist on business development at the bank decides to open tender for acquiring services on developing online-banking. Alfresco Content Services will serve there as an excellent base for mutual access to the particular workflow of a group of interested. It would be a website with a familiar UI accessed by involvers from different points with personal login and password provided by a tender initiator. Permission management system allows providing flexible access for participants.
Related Article: Document Management System for Banks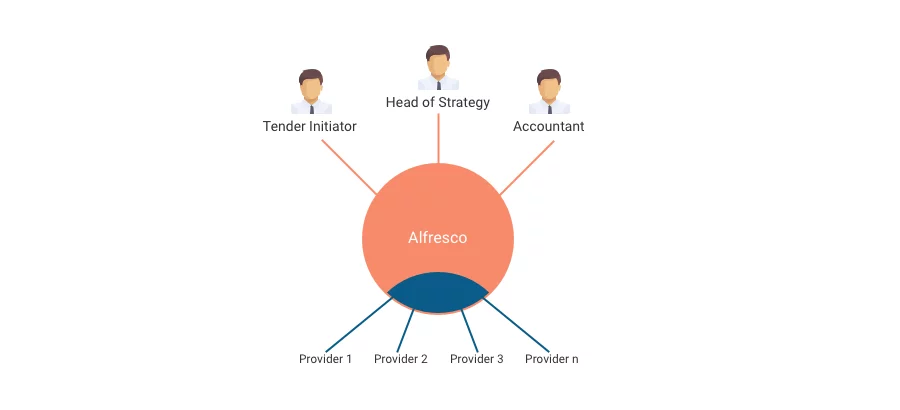 Alfresco collaboration system
Alfresco Activiti engine: process and document management
Alfresco Process Services and Alfresco Activiti are both products of Alfresco solutions which diverge in purpose. Activiti is a standalone server to perform business process management. It is capable of operating independently. It can be integrated with other systems where the business workflow is vital. When a company needs an automated business process, Alfresco Activity can be combined with any web system (Liferay content management and collaboration system, e-Commerce omnichannel websites, etc.) which doesn't include functionality for coordinating steps in a particular work process.
Let's see the case. An administrative supervisor has issued an updated company policy sheet and wants each employee to get to know it. He or she initiates a particular workflow process with a clause "everyone in the company has to acquaint himself with the document and inform about it." After launching the movement, employees get the link in their email box following through which everybody falls into Alfresco in the particular task and can accept or reject the improvements.
Alfresco allows for around five default primitive workflow types for an assignment activity with a modest feature set. Don't be afraid, it doesn't limit you: any original workflow can be created for diverse applications. Only tech addicts, who experience multifarious projects from different industries, are suited for this work perfectly.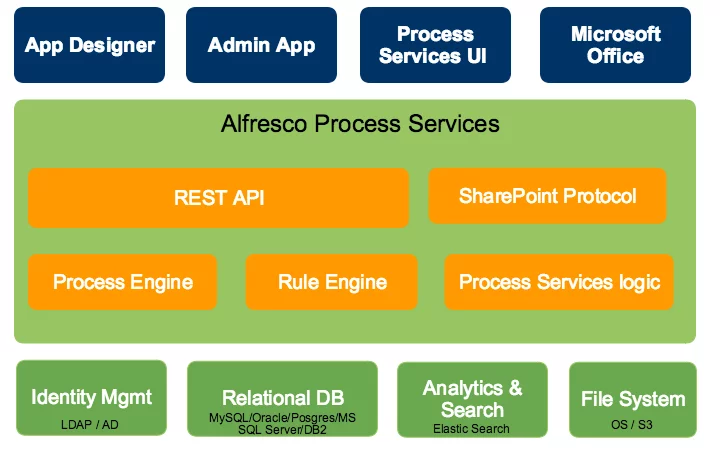 Image 3. Alfresco Activiti workflow engine. Source: Alfresco
Alfresco's leadership made it possible for the product to make great strides towards enterprises with JBoss jBPM. Since version 1.4 released, Alfresco repository content could be led through complex business processes. With 4.0 version it appeared Activiti with the Apache-licensed workflow engine. Then Alfresco 5.1 came with dropped jBPM. For those who are planning their first test of Alfresco perks, we'd like to advise Activiti for sure; the rest reflecting on the soon upgrade will leave jBPM which unwilled to change the jBPM license, in any case.
Mobile Content & Process Services
Adaption is imperative for businesses to flourish. It's about mobile adaption as well. Fascinations of the latest novelties in digital push enterprises to spice up their conventional business processes with mobile. Alfresco EE provides on-the-go content encryption for its subscribers to secure sensitive corporate data on mobile devices. There is a cipher — peculiar algorithm, which scrambles text making it unintelligible to deliberate criminals without the key.
From the technical aspect, you can wield three apps for content services, process services, and app development framework. First one is designed to let you share and edit the content of great value. Alfresco Process Services are run on the Java Virtual Machine (JVM) with Tomcat. It's a means for users of any hierarchical level to cope with tasks, initiate collaborations, upload files of any acceptable format (depending on implemented 3rd-party integrations). As for Application Development Framework, CE had no integration with ADF earlier, but now it is under development and testing and is totally compatible with public REST APIs. It is expected to have Activiti Community supported soon.
In Alfresco Mobile Services security and governance issues are thought out well. Native iOS and Android apps put in force your corporate policies concerning access to data by permanent encryption them. Demarcated management of personal and business files is done to respect for the sake of user convenience.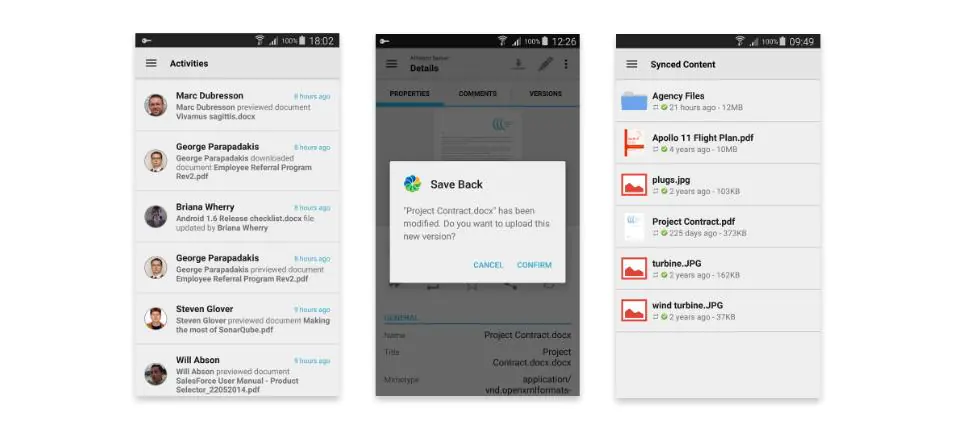 Alfresco Mobile Services. Source: Alfresco. Google Play
Alfresco Mobile App communicates with Alfresco Platform via IP. Before you can use Alfresco on mobile, you should already have your login and password to access the enterprise platform. After setting up the app on your smartphone, you'll be asked to choose which community to join. All you have to do now is to input IP number and access data.
Extra capabilities of Alfresco
Yes, Alfresco automation has been lauded for its content management solutions grappled with business processes. Let's have a look at the following features worth of using.
Document Scanning and Capture. Do you recognize yourself in the lines to follow, describing everyday manual actions that make your employees the men see red? When she takes a document of dozens of sheets, scans every single page which loses new-paper appearance, then comes time for recognizing the content and retyping everything by hand to digitize. It's very time-consuming, isn't it? Assistants can contribute more with automated scanning. Don't panic, this issue can be solved with Alfresco out-of-the-box features of integrated 3rd-party integration. We sorted out everything in the previous article.
Information Governance. The next big step is how to deal with all that content in a smart manner. No prizes for guessing if we're just here hanging out about innovative thinking, therefore information governance with Alfresco is subject to automation. The full information lifecycle 'capture – active usage – archive – final destruction' could be spruced up seamlessly out of reach of human eye.
GDPR Compliance Solutions. General Data Protection Regulation (GDPR) is expected to come into effect on May 25, 2018. As George Parapadakis stated in Alfresco blog post GDPR deals, inherently, with the issues of sensitive information protection involving if services like Digital Business Platform.
Benefits for business with Alfresco solutions
| Challenge | Solution | Benefit |
| --- | --- | --- |
| Exhaustive manual work | Business process automation | Higher productivity of employees |
| A number of separate applications | Alfresco platform with rich integration possibilities | Everything in one place and synced |
| Huge amount of ongoing user accounts, several accounts in different apps | LDAP integration | It got the user login process streamlined and administrative tasks automated |
| Business tasks, operation activities are being underperformed for a very long time | Business process automation | Increased speed of employee operation, decreased shutdown of order and routine tasks processing (emails, confirmations, approvals, deliveries, etc.) |
| An employee can't accomplish his part of a collaborative task through the document or process. | Strong role hierarchy | More authority for supervisors to stick with employees and cope with assigned tasks in time. |
| To display the information of high importance in one place. | Alfresco dashboard and extra dashlets | All critical information is showed in one place |
| There are a lot of uncategorized documents and files | Alfresco in-built toolset (metadata, tags, folders hierarchy, advanced search) | Centralized document storage: I can find what I need quickly |
| Many human errors | Business process automatization | Fewer mistakes caused by a human factor |
| Performance tracking of employees | Alfresco quick fix of hours to perform the task | C-levels can measure the level of achieving key business objectives (KPI) |
| Long document journey within the company | Automated document flow | Lessening time for work on the document |
| Data access obstacles | Mobile Content & Process Services Mobile app to access Alfresco enterprise system | Full-fledged access to the data stored in Alfresco without browser and smartphone |
| A big amount of files amassed for years to be trashed | Alfresco Governance Services | Automated tracking on the expired files, archiving, electronic record keeping for key business processes and applications |
| Complicated collaborative access and use of enterprise app | Enterprise Collaboration Solution when Alfresco is thought as a big database of docs | Everything is stored in one place |
| No automated transformation of hard copy into e-document | Document Scanning and Capture with Ephesoft integration | Automated transformation into any format (doc, excel, pdf) and recognition of scanned docs, no more bulk of manual work with text typing |
| Onerous document approval | E-sign with DocuSign | Confirmation of documents quickly and legally |
How to protect your files while traveling, e-signing, CMR system integration and other read our article about most popular 3rd-party integrations in Alfresco.
How much does Alfresco development cost?
There are two reliable types of Alfresco developers in the market: certified and outsourced. The difference between them is in cost only. For the past years, outsourced developers proved their strong qualification in this area due to their enthusiasm to contribute reinforced by the experience. Aimprosoft's portfolio illustrates the range of Alfresco development and consulting services.
Let's the figures take this case. Below, it is shown a rough estimation of deployment of the basic and advanced feature set of Alfresco EDM.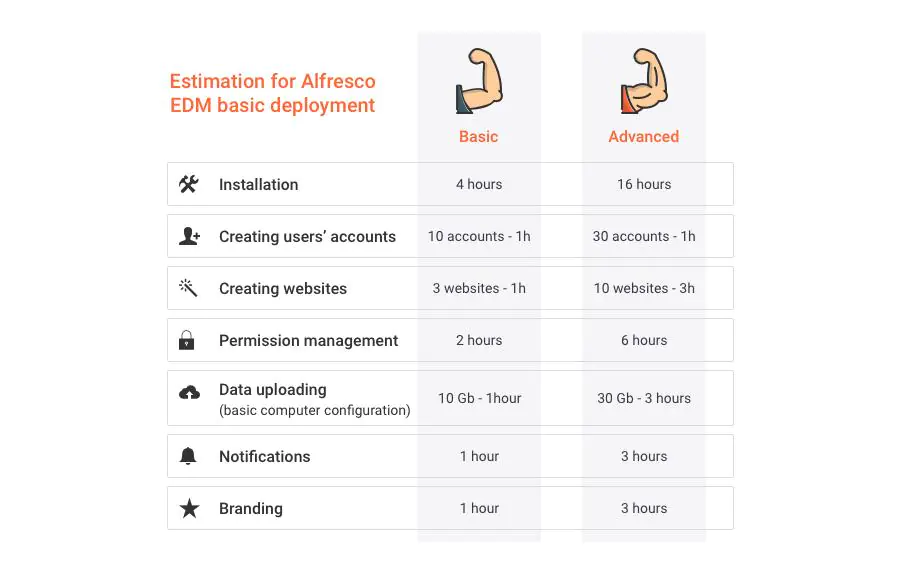 Based on our experience clients order not only basic setup but also some necessary customizations which usually take up to 1 week compared with three working days (24 hours) of basic ones. Enterprise clients will have a system done in half a year of the Alfresco development process to meet all their requirements concerning complex custom workflows and content management.
Being initial, document management is inextricably linked with business process management because the latter is launched on data. Default package of BPM solution can be available to use in 16-24 hours undertaken by one Senior Alfresco Developer. More complex business process automation systems are developed starting from 4-6 months.
The ultimate result
The BPM boom has indeed transformed the world business experience. Today it is an underlying term related to the Alfresco solutions prime cause. It makes Alfresco be a synonym with flow of business process and document flow. As you can see, Alfresco is a document storing system, automated workflow, and collaboration system in one. You might be seeking one solution to improve your business. And you have been casting around a proper software.
When you made up your mind to take the plunge and start to enjoy Alfresco Content Services having solved one issue you may resolve minimum two more complex correlated issues. Scanning, smart storing and archiving and much more will come as a pleasant bonus up to your wish. Our Alfresco flagship crew is ready to take a task on.