Articles
13 September, 2022
How to Outsource AWS: Business Guide on Benefits, Cost and Process

Key takeaways
AWS services are rapidly gaining popularity. Let's explore the reasons for this phenomenon together.
In what cases is it necessary to outsource AWS services? Let's examine some common examples.
Find out what benefits AWS outsourcing can bring to you and your business.
Get helpful tips on outsourcing AWS successfully and securing your intellectual property.
Interested in knowing the price of outsourcing AWS services? Take a look at their cost in different locations.
So, how to choose the most suitable AWS partner? Get our advice on this subject and find your perfect match.
Find out arguments that will convince you that Aimprosoft is the right IT vendor to outsource AWS specialists from.
Amazon Web Services (AWS), the world's most well-known and feature-rich cloud platform, offers more than 175 full-featured services for companies worldwide. Businesses use AWS to reduce costs, increase agility, and accelerate innovation, ranging from fast-growing startups to well-established large enterprises. If you are on the verge of outsourcing AWS development services, discover how to successfully go through this process, avoid possible challenges, and make the most of all the great features and advantages of this solution.
What makes a significant boost in the need of outsourcing of AWS services?
Outsourcing of AWS development services is gaining popularity these days. Around 18 billion dollars in revenue were earned by AWS in the first quarter of 2022 from cloud computing and hosting. As a result, there is a constant need for qualified AWS administrators and cloud architects all over the world for fair rates.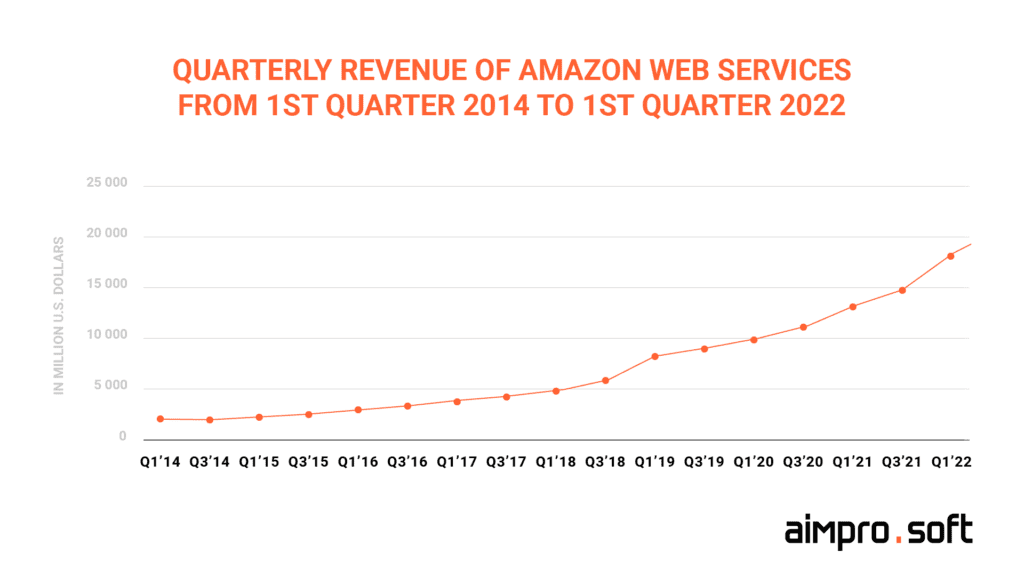 One of the reasons for AWS service's popularity is mainly related to the fact that it is simply convenient. Companies often turn to cloud services because their IT staff already has a lot on their plate, but with cloud services, they don't have to spend time upgrading and fixing physical servers. Cloud services also allow you to delegate hardware-related tasks to someone else.
Resources for your company can be saved by using cloud services like AWS. Both enterprises and startups prefer to save costs whenever possible. The advantage of cloud services is that you only pay for what you actually use. There is frequently no need to make an upfront payment for hardware and software licenses. Fees will be charged based on the consumption of services.
As a result, the abundance of offered services, convenience in their usage, large talent pool of specialists, and most importantly, rapidly growing popularity of cloud computing platforms helped AWS becоme one of the most trusted and reliable cloud platforms in the world.
When is the right time to adopt the cloud and hire AWS specialists?
Outsourcing certain AWS services can be a tempting thing to do. However, not always it's understandable, in which case you need to do so. Blind following popular trends and adopting top-notch technologies just for the technology's sake is not the right thing to do. Hence, let's discuss in which cases it's helpful to outsource AWS development services.
Your budget is tight
AWS services should be chosen if you want to optimize your expenses. One of the main reasons why businesses adopt cloud technologies or shift to them is to save costs since setting up and maintaining on-premises infrastructure involves significant expenditures. In turn, cloud-based solutions, such as AWS, can be the best cost-saving option in such a scenario that will help eliminate the need to hire in-house specialists for on-premises infrastructure maintenance, building software licenses, upgrading hardware, etc.
On top of that, amazon web service outsourcing gives additional cost-saving benefits since the hired provider of AWS services can manage qualified employees who can squeeze all its useful optimization capabilities out of the platform. Of course, one of the best benefits the AWS management service provider can offer your business is the guarantee that you only pay for what you actually need.
You need help with cloud migration
Large and medium-sized businesses frequently need to move to the cloud to increase their business scalability; cloud services will be the ideal option if it's necessary to process a lot of data. Of course, experts handling this challenging task are required if migration is meant to be successful. Your AWS provider can help you create a cloud migration strategy that works for your company's needs and implement it.
When your business is growing and you require scalability
Cloud allows businesses to scale and de-scale their infrastructures whenever such a necessity occurs, eventually giving smart leverage of resources. For instance, if you suddenly need to scale up your server space, it can be quite challenging to perform it with the on-premises infrastructure in the short term. On the contrary, the cloud allows businesses to eliminate space constraints and adjust changing needs more efficiently and rapidly.
So, we've talked about why you should outsource AWS services. Now, let's examine what benefits it can bring to your business.
Benefits of AWS outsourcing for your business
People outsource AWS management mainly because it saves money and time and gives you flexibility. Now, we'll discuss some additional advantages that outsourcing AWS management might offer your company.
Professional management of cloud processes
The cloud services manager maintains resource availability, enforces security measures, controls end-user activities relating to software, data, and services, and does much more. Outsourcing cloud management improves cloud maintenance and troubleshooting. Since outsourcing companies provide a developer or group of programmers with significant experience with AWS, this greatly speeds up the response to any system issues, eliminating the need for in-house specialists to complete these tasks.
Fill the gap in the lack of resources
AWS is a complicated system that is hard for a beginner to figure out. You can run the service and possibly conduct basic provisioning tasks, but professional maintenance is necessary to keep it working efficiently and cost-effectively. Thus, the benefits of hiring an AWS specialist from an outsourcing company, especially in comparison with the in-house hiring model, is an excellent option in case there is a lack of local talents or there are no professionals with a particular level of expertise in your company. This cloud platform can bring tangible profits to your business with competent AWS service management.
Flexibility of recruitment
Suppose you turn to an outsourcing company to hire an AWS manager and unexpectedly need to hire more specialists. In that case, you can expand it much faster than if you decide to hire in-house developers or seek them out on your own on freelance sites, thereby wasting time on numerous interviews. Outsourcing IT companies can provide flexible team scaling and de-scaling, allowing you to bring in additional resources when needed. The outsourcing provider can be dropped from a project when the situation demands it, allowing your business to remain flexible.
No distractions from core business goals
The primary benefit of outsourcing has always been that it frees you and your team of development-related tasks and allows you to concentrate on the business's core purpose. So with AWS outsourcing, you can leverage the scalability and flexibility of the AWS platform without having to hire full-time employees, and your team can focus on the business activities.
We have examined the primary advantages that AWS outsourcing can offer your company. Let's find out what you need to do to make your collaboration with the outsourcing vendor successful.
How to outsource AWS successfully?
What can be considered an unsuccessful outsourcing experience? Probably if you turned to an unreliable vendor and your views on the workflow turned out to be different, your data were not properly protected, the outsourced specialits' expertise didn't meet the claimed one, the requirements weren't properly met, etc. Let's find out how you can avoid such risks.
Find a vendor you speak the same language with
The key to successful outsourcing is, first and foremost, competent communication. The distance between in-house specialists and the outsourcing company can be great, and there may be some difficulties. To prevent this, you should choose a trustworthy vendor and communicate your company's long-term objectives. The risk of failure will likely be reduced to zero if the outsourcing team knows the company's goals. In more detail, we will explain how to choose a reliable provider in our article.
NDA
Be sure to take care of your intellectual property. Every outsourcing IT company is required to sign an NDA with each of its clients. The information that you, as the client, wish to keep private must be specified in this agreement, along with the implications of disclosing that information. The company must ensure that the transmitted data won't be made available to third parties following your standards.
Сloud security is the most important aspect
Cloud configuration has to be started by thinking about security. For example, it's good to have modules placed in different org structures (AWS Organizations) with their SCP (Service Control Policies). ACL, IAM, and security groups must be configured with minimal privileges. Cloud Trail must be enabled to collect logs into a separate organization with SCP, which prevents log removal and helps with incident analysis. In other words, every service must be configured with security in mind first and foremost. Hence, when outsourcing AWS services, validate the vendor's security strategy and approach to development.
So, now that you know how to avoid the hassle of AWS outsourcing let's find out how much this option may cost you.
How much does it cost to outsource Amazon Web Services?
When comparing the salaries of AWS managers in different countries, you want to find the most acceptable option in terms of value for money. If we compare the differences in incomes across various locations, a question might be asked right away. So, do salaries vary so much? Location really affects the AWS developer's rates more than any other factor. This is influenced by circumstances such as the standard of living, wages in the country as a whole, demand, and much more.
So you can safely choose the option that you feel is most profitable without worrying about the quality of the work performed. For example, IT outsourcing to Ukraine assumes good quality of work, high-skilled specialists, and cost-effectiveness.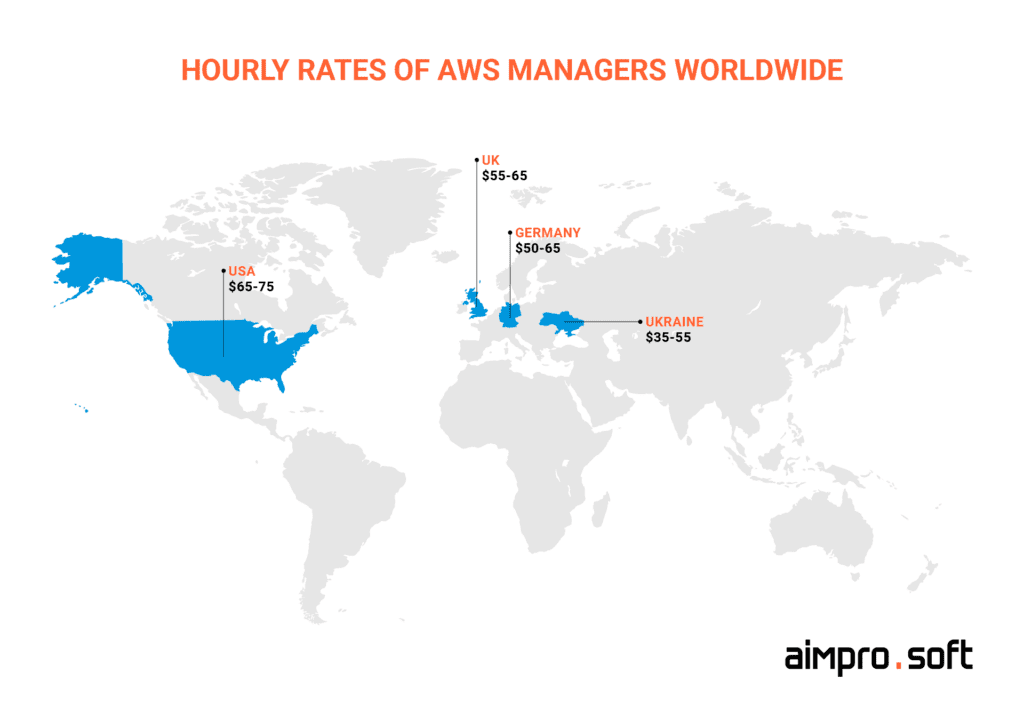 | Country | Hourly rate |
| --- | --- |
| USA | 65-75$ |
| UK | 55-65$ |
| Germany | 50-60$ |
| Ukraine | 35-50$ |
We sincerely hope that we were able to assist you in discovering more about the pricing system of the outsourced AWS services. In the next section, we will learn how to choose the most suitable AWS outsourcing partner for your business and make a perfect match.
Are you interested in Ukraine as a good destination for outsourcing? Please read our article on this topic and be convinced of that.
Take Me There
Tips on how to choose the right outsource AWS services provider?
The possibility of running into an unreliable partner may discourage some business owners from outsourcing more than anything else. And that's not surprising. There is still a chance of dealing with an untrustworthy organization with a negative reputation, which can overestimate its level of experience, can provide you with AWS developers who aren't competent, miss deadlines, etc. However, you can always play it safe. How? We've prepared useful tips in this section on finding a trustworthy vendor with whom you can have the perfect match.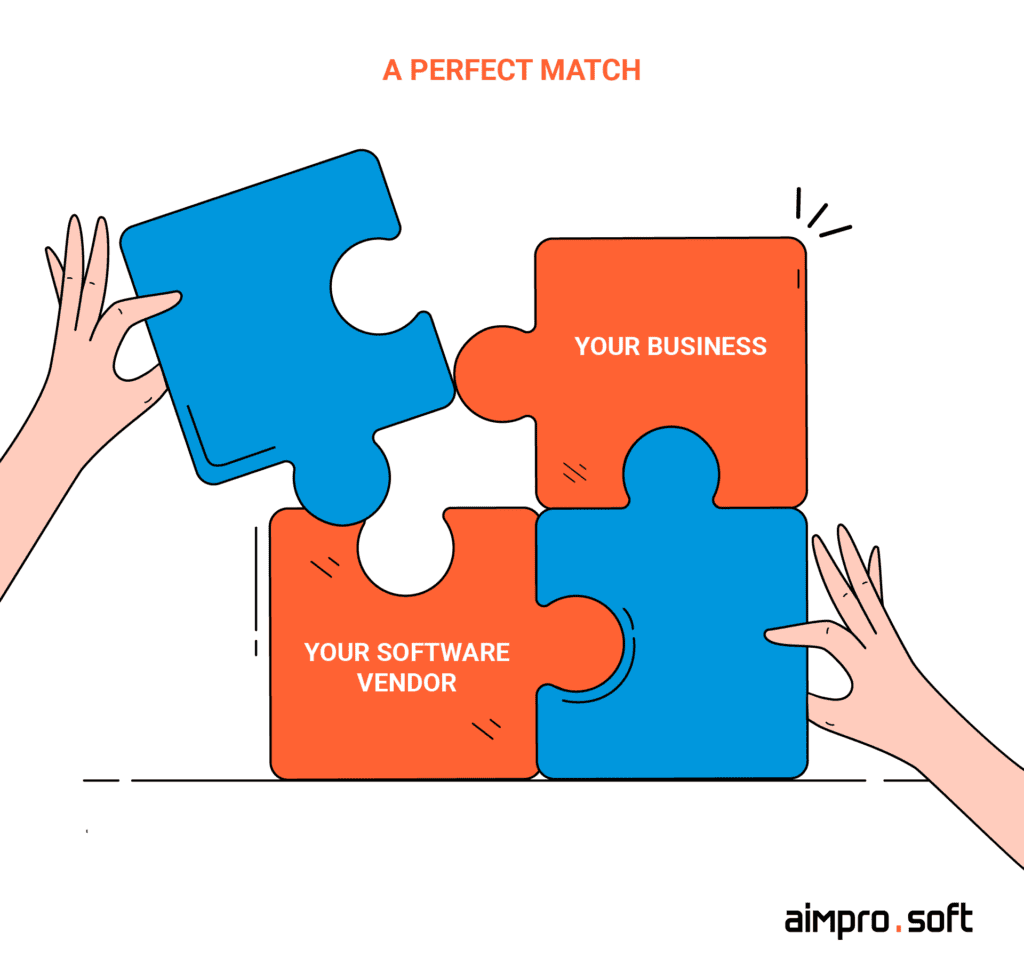 Places to look for a reliable vendor
There are various independent review platforms where you may find a truly reliable vendor. Such websites usually have company profiles with client reviews, allowing you to examine the rating and reputation of your provider. You can also learn how long this company has been in the IT market and how many successful products it has released. You can use independent review websites like TechBehemoths, Clutch, GoodFirms, etc.
Tips you need to consider visiting outsource company site
On the website of the possible provider, you can already determine whether the company is right for you. You can look through the portfolio and case studies to learn more about the company's level of competence. You can, for instance, view the number of AWS-powered projects that have been successfully released.
For example, Aimprosoft customers visit our "about us" page and company blog to learn more about our background, values, and expertise. They can also browse the sections describing the products and services we offer. If you follow this advice, you can determine if a vendor is right for you or not.
Essential questions to ask during the first 30 minutes of meeting
When you make the initial call to a potential software development partner, your conversation companions will be the sales team. At this initial stage, our clients try to find out the most painful questions, which will help them decide at once whether we will build further cooperation or not. Here are some samples of the questions most often asked at the initial calls.
Do you have developers with AWS experience?
Naturally, a question like this is asked to see whether the potential vendor has qualified specialists who are best suited for your project.
Tell me more about the rates of your AWS experts.
Probably the most critical question because right at the initial stage, you have to understand whether the pricing policy suits you. After all, why would you hire specialists offshore if, for example, rates can be even lower in your country?
What level of AWS project expertise do you have?
Experience always matters. The company's past track record will demonstrate how well it meets your needs. Also, bear in mind that a large number of years on the market does not always translate into higher-quality services. So pick companies that have more expertise in the fields that matter to your business.
As you can see, selecting the best outsourcing supplier is not always clear or straightforward, and thorough, efficient research requires a lot of work. So if you choose your vendor carefully and follow the advice we've given you, it will reduce the risk of selecting the wrong AWS partner.
Do you have any questions that are currently bothering you regarding AWS outsourcing?
Contact us so we can dispel all your concerns.
CONTACT US
Why choose Aimprosoft as your AWS outsourcing company?
If you're still facing the choice of who to outsource your AWS services management to, then our company may be the perfect solution for you. Let's make sure of that together. Below are a few compelling arguments that risk being decisive for you.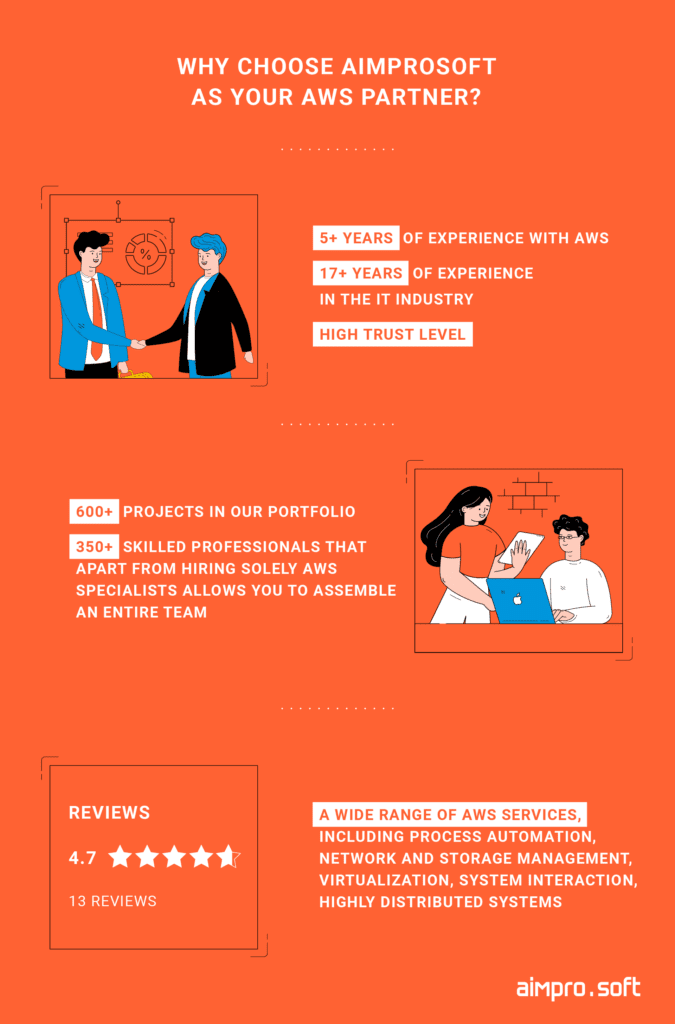 Architect and business analyst
Along with being able to provide you with AWS specialists, we also offer a service called a dedicated team, where your company will work with a team of diverse individuals who can take your project to the next level. We have excellent business analysts who help our clients prioritize business requirements, confirm the viability of their ideas, remove potential risks in product development, and guarantee the project's success.
You can also get the services of a software architect who will consider your project's crucial elements, including usability, performance, scalability, security, and technological constraints. Additionally, they ensure that technical employees and stakeholders are informed clearly about their insights and recommendations.
Experience with AWS
We have 5+ years of experience in providing AWS services. Our portfolio covers AWS services for various domains, including entertainment, healthcare, real estate, finance, and many others, both for enterprises and startups. Below, we offer to examine two examples of our cases; the first one was the project for a company, already established on the market, and the second one — a promising startup. Unfortunately, the names of the companies we can't disclose due to NDA.
For instance, for one of our clients that turned to us with an already-existing solution, we have successfully conducted the migration from their on-premises data center to EC2. During this migration, we have prepared a large number of Terraform IaC scripts that were created to spin up a new client's setup (which includes EC2, ALB, AutoScaling groups, VPC, security groups, ACL, ECS, ECR, S3, DynamoDB, RDS, Route53). It helped a lot when configuring disaster recovery for this client because these scripts can quickly spin up a clone of infrastructure in another AWS region.
Also, one of the cases in our AWS portfolio is a successful startup project on big data analysis. The main problem was finding a promising technology for working with big data arrays. We switched to the AWS Redshift service, which was suitable for the client. Of course, this project used many other AWS services mainly focused on development tasks, such as CodeCommit, CodeDeploy, CodePipeline, and CodeBuild. As a result, the efficient choice of the tech stack helped create a robust startup product and meet the initial client's requirements.
A high level of trust
We have a high rating based on all clients' reviews on the Clutch independent review platform, with a score 4.7 out of 5. Our customers, in most cases, come back to us for new projects and talk highly of our cooperation. For instance, ProCC owner Jeffrey van Uunen says the following about Aimprosoft "Since the beginning of our collaboration, we have taken the product to a new level of quality thanks to the qualifications of the team and transparent, almost limitless communication. Thanks to the best technical services we have acquired, we have become one of the best solutions in the greenhouse market worldwide."
NDA and security guarantees
We always sign a non-disclosure agreement (NDA) with our customers. We discuss with the customer what material is appropriate for publication and what we must never share. We promise that the information you transmitted to us won't be shared with outside parties, depending on your needs. Since we are located in Ukraine, many of our customers are worried about the safety of their data because in fact of the war.
We can assure you that right now, our office has been securely relocated and is far away from the hostilities. Furthermore, we take all necessary precautions, and all operations related to development are capable of operating effectively in a remote mode should the need arise; our complete IT infrastructure is cloud-based and situated in Germany.
With more than 17 years of rich experience in the IT sector, we have a very high degree of professionalism. We constantly strive to create the highest quality results because we cherish our reputation. If all the mentioned arguments were convincing enough and you're interested in working with Aimprosoft, don't hesitate to contact us.
Conclusion
The decision to use AWS services may be the best option for your business. Mainly because of its cost-effectiveness and the ability to provide your business with the necessary scale. But managing cloud services is not easy, so you can always outsource the burden to an outsourcing IT vendor. If you decide to outsource AWS is firm enough, you can always get in touch with us, and we will assist you in hiring the top professionals.
How do you manage an AWS outsourced team?

If you choose the outstaffing model, you control the process. This necessitates the involvement of a project manager or an experienced AWS specialist who can manage projects, integrate newly hired specialists into the existing team, etc. If we're talking about an outsourcing model, you completely delegate the AWS development to the company and hire the whole development team and the AWS specialists with them. The hired vendor can manage everything on its side so you can focus on the business tasks
Why is AWS at the top of the cloud platform rankings?

AWS is unique in that it offers more than 175 fully featured services globally from numerous data centers and is the most thoroughly defined and widely utilized cloud platform. The AWS platform provides dependable, adaptable, scalable, practical, and affordable cloud computing solutions.
What are the key factors in selecting an outsourcing vendor?

To find a reputable vendor, you should first research their level of expertise in the area you need. Your provider should always maintain the ability to handle unforeseen issues and challenges; this is only attainable with expertise. 

Reputation in the market is another essential aspect, be sure to check the reviews of previous customers before turning to any vendor. Feedback will show whether the vendor met the deadline, did not run over budget, and whether customers got the desired result. To avoid going over budget and determine whether the vendor's price suits you, you should also discuss the financial aspect in the early stages of cooperation.