Internet of Things in Smart Home: Your House of the Future

Key takeaways
Discover why the primary IoT smart home, such as control, monitoring, and regulation was estimated at $78.9 bln in 2020.

Know how a smart home and the IoT work together, their main components, and connections.

Read out the benefits and challenges of the IoT in a smart home to have a broader picture of the issue.

The most popular applications and IoT-based devices in smart home consumers appreciate and are readying to pay for.

Aimprosoft's new case: we share our experience building a full-fledged IoT system for smart home automation.
Intro
"Hello, Mr.Smith, your dinner has already been reheated, clothes got laundered up and dried, doggy Spike fed up, the temperature inside is 22 degrees. Welcome home. As usual, I'm your virtual home assistant Sheila, always at your service".
A smart home seems like a cage where residents can become hostages of artificial intelligence. Agree?
The matter is that smart home tech has become an inevitable part of our life for the last decade increasing, the number of smart homes to 258 mln units. Upon estimation, each home will be advanced with a voice assistant possessing the number of 555 mln devices by 2024. That means we will use IoT smart home devices twice more, as expected.
Some believe a smart home is good; others, in contrast, see it as evil. Let's explore how things are going in real life and why the worldwide revenue of the smart home market and related services reached $78.9 bln in 2020.
The real role of Artificial Intelligence on everyday life is way more impactful than you may assume.
Know more
What Is Smart Home and IoT?
Back in the 1980s, a group of students of Carnegie Melon University took care of themselves and invented the first IoT device to get reported on the availability of Coke in their campus vending machine. What ready-witted fellows!
Well, what is IoT and smart home technology?
That was a total long shot some 40 years ago; now, it is common: a clock, doorbell, thermostat, kettle, TV can obey you upon one touch from your smartphone. With the total adoption of the Internet for personal usage, there are interrelated devices that can communicate with each other, collect and transfer data via the network almost without human participation. It's the Internet of Things.
What drives the Internet of Things making it a technology of mass consumption?
Find out
The IoT is a linchpin of home automation that aims to free up the residents from the drudgery of domestic chores.
A smart home refers to a living environment where key elements such as lighting, radiators, home appliances are connected into one network and are controlled via smartphones as usual. Residents can heat the house to the desired temperature before the time they arrive, switch on the music in the living room while being in the bedroom, get notified from the fridge about products that have run out soon, or take command to the washing machine to ping you when it's over, and it's time to hang up the laundry.
Comparing a smart home vs Internet of Things, the IoT means a state when every single thing is connected to the Internet. Then a smart home is a space fitted out with IoT-based devices to bring convenience and ease for its inhabitants.
How Does the IoT in a Smart Home work?
By way of illustration of smart home automation (IoT), let's assume you want to automate something in your existing appliances. Your familiar devices like a teapot, iron, lighting, entertainment or security system, you name it, can be put on your smart home management system and take your voice commands remotely or from a mobile app or PC in real-time.
Behind the much-talked-of IoT is a chain of interconnected elements. The leading equipment is a central control executive device – "brain" connected within one home network with smart executive devices equipped with IoT sensors. The "brain" of any system has embedded software responsible for communication between executors (e.g., thermostats) and control devices (e.g., smartphones). Control devices receive signals from sensors and control the operation of the executive device. Data exchange takes place via a wireless network connection.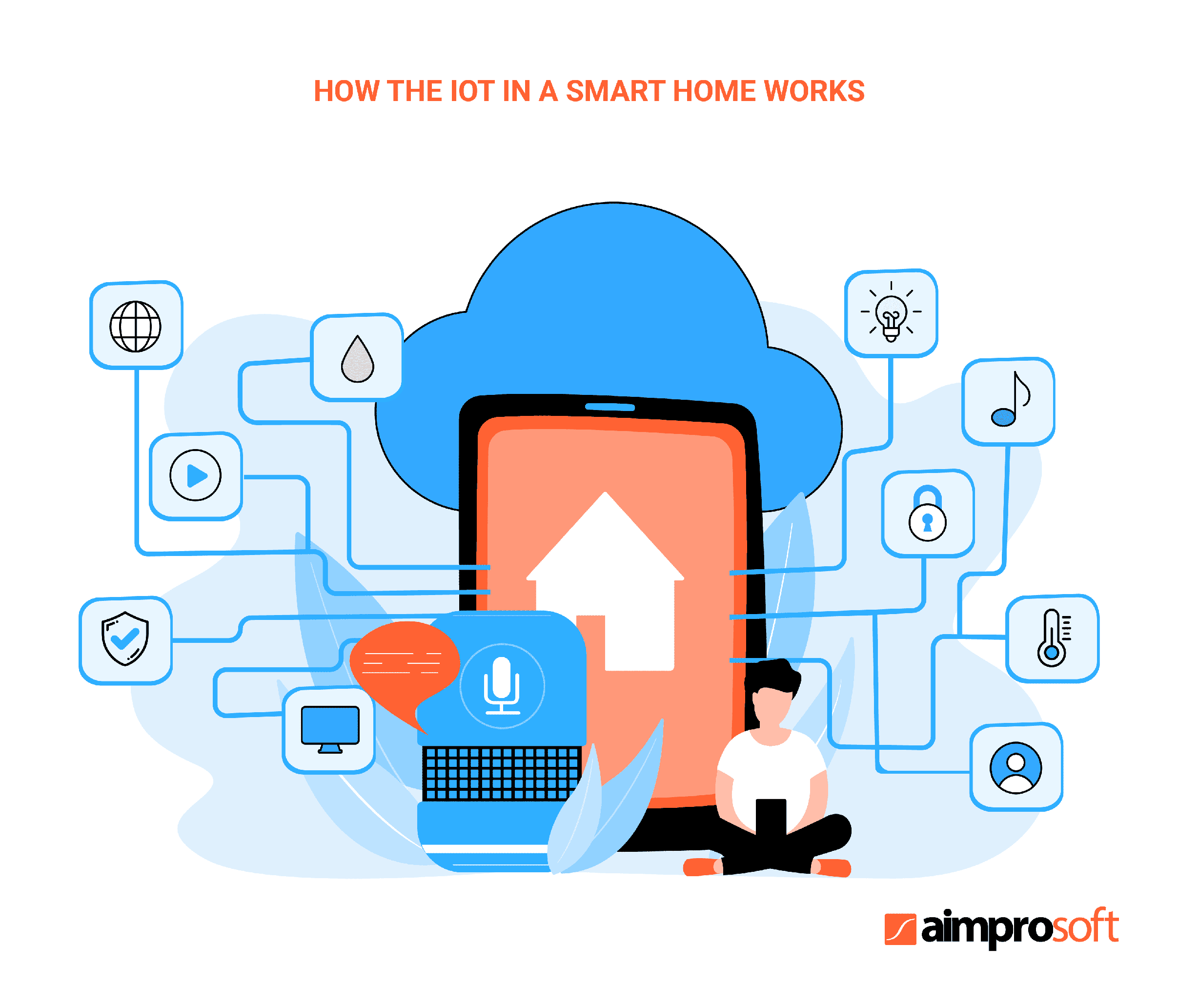 The Internet of Things is a network that connects the objects around people. Every man wants to experience a careless life, and the goal of business is to provide a dream come true while making back their margins. Consumer spending on smart homes, by the way, is expected to rise up to $157 bln by 2023. Just stating the obvious.
Musing over the development of an IoT app for the smart home?
Let's explore together your business opportunities.
CONTACT US
Benefits of Internet of Things in a Smart Home
Yes, definitely, there are advantages of the Internet of Things in smart home automation that attract consumers worldwide who are expected to shell out over $182 million by 2025 for comforts, by the way. The most valuable are:
Control and monitoring from one place. Smart home technology enables users to manage all devices they want to work autonomously from one interface. Convenience lies in control from the app, and enjoy spending time on more valuable things. In a fast-paced world, it is an excellent opportunity with a good margin back.

Remote control. Only when a resident frees up additional 2 hours of their daily routine will they understand the actual value of controlling the home from a distance. Remote heating (or even cooking, why not?!) of the dinner on the way home, vacuuming, heating or cooling the house, and many other actions can be performed without human intervention.

Delegation. Have you ever counted how much time we spend on guesswork? We may dither over 2,000 decisions per hour — way more than you'd like to think about, right? Smart devices cut down wandering to a minimum whether selecting TV channels or mood music for guest entertainment, reckon minutes upon receipt, or you name it.

Cost and energy efficiency. Despite the rise of smart device usage, power consumption, in theory, has to increase too. But it is the exact opposite. Connecting more devices, householders can schedule their operation mode and charging time, adjusting to the most advantageous tariff. Thus, you can save money and the planet.

Security and comfort. Security opportunities are vital. The employment of surveillance cameras, door locks, motion detectors makes a living less paranoiac. Being out of home, people can feel more comfortable and give themselves up to job duties or take a peaceful rest far from home, controlling automation systems from the app with alarms.
We listed the plainest pros for consumers that any entrepreneur can leverage to fight for a piece of cake that is forecasted to grow at a CAGR of 25% from 2020 to 2025.
Hence, apart from a conscious lifestyle, a lot of business opportunities are undiscovered in the niche. We venture a guess you have in mind a couple to keep for yourself.
However, there's always one bad apple. Keep on reading about the things that might go wrong.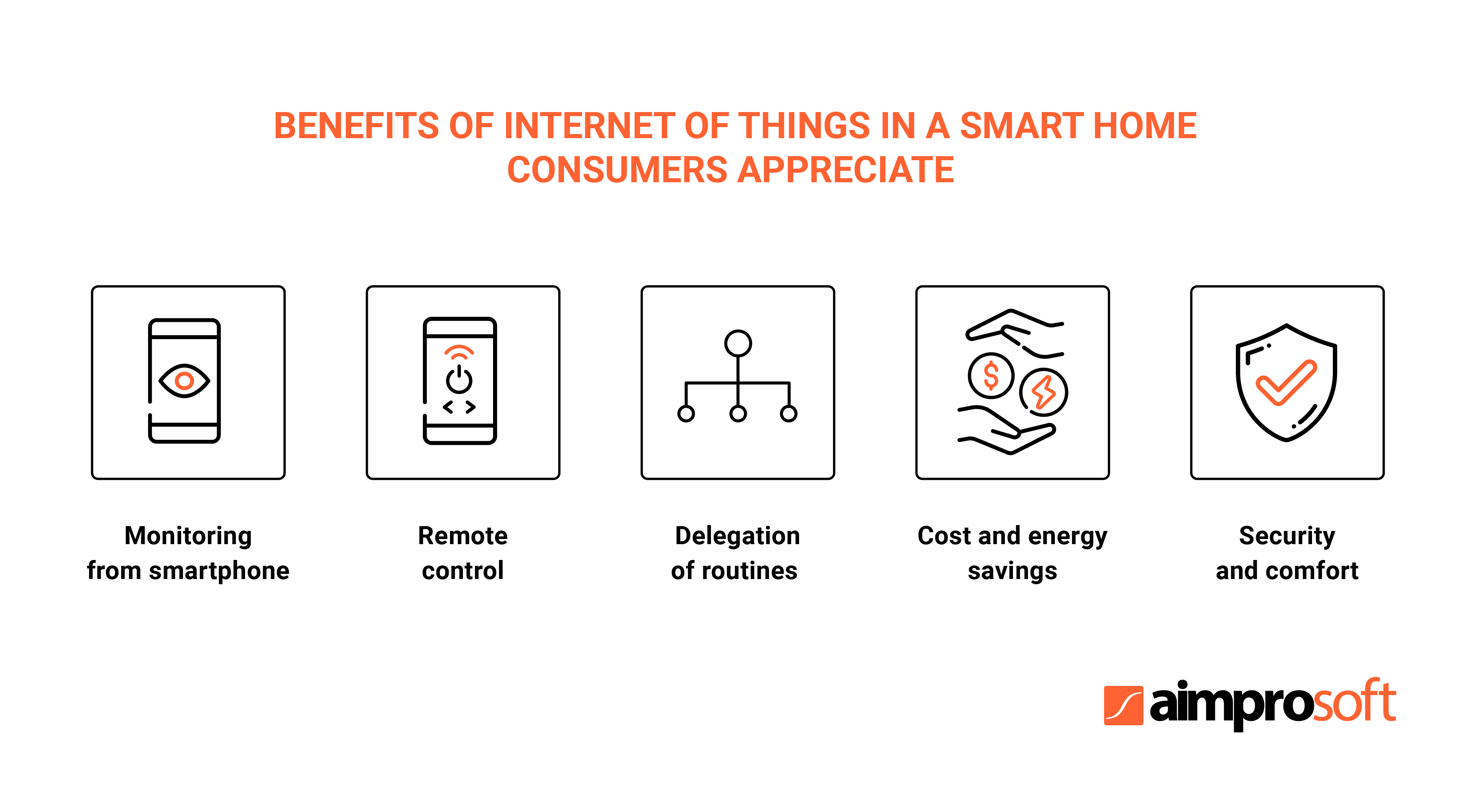 Challenges a Smart Home May Face in the IoT
A smart home in IoT faces challenges concerning both sides: consumers and suppliers. Prior to diving into the IoT business, check out the potential drawbacks. Forewarned is fore-armed.
Lack of awareness of the benefits. It frequently happens that adopters of progressive information technologies are unaware of its evident usability pros or have blocks ahead of applying IoT models into their use cases. Before starting, conduct a market research and business analysis to find your specific niche in the industry.

Cyber-attacks. Yes, the paradox is that devices aimed to make our lives more secure are exposed to malicious attacks because they are connected to the network. We all believe the era of 5G is expected to bring a kind of relief in this case; however, it doesn't preclude the efforts of IoT home solutions providers to care for security.

Privacy concerns. A recent requirement of Amazon and Google to IoT device providers bared a possible, probably not pleasant, scenario for consumers to report Alexa and Google Assistant a status of home network devices continuously, which means seeing a private lifestyle of consumers. It is vital for a business not to overstep the boundaries.

Connectivity. 5G has not reached everywhere yet. Devices deployed in IoT infrastructure are highly dependent on network connectivity or the embedded systems, which can stall their performance. The winner takes it all when the winner can support mostly autonomous operation or off-line mode.

Infrastructure update concerns. The average operating time of "not smart" household appliances sometimes reaches 15 years. Consumers are unlikely to buy a stove every 2-3 years because the system is outdated. Thus, the hardware and software need to be continuously updated according to the last versions in use.
To cut the story short, there are several obstacles in a smart home application in IoT; however, one is able to overcome them if manages it right.
Technology may be the solution.
Let's have a talk to discuss the opportunity.
CONTACT US
Internet of Things Applications in Smart Home
The Internet of Things in a smart home is embodied through different areas of home automation. Let's see below the growing list of noteworthy applications that automate living and running the place of the 21st-century ordinary man.
Voice assistants
Voice assistants are the universal apps that gained skyrocketing popularity among digital consumers. A watershed 2020 year ended with 4.2 mln of voice assistants in use worldwide, expecting to get doubled by 2024. Leaders such as Amazon Alexa, Google Assistant, Apple HomeKit perfectly blend with the digital environment of a modern man.
Security applications
Security applications offer remote control and surveillance for households. As a software component of a completed IoT system, the home security app allows viewing live streaming videos on the web or smartphone, recording videos from cameras, detecting motion, control door contact, etc. The bright reps in the industry are Vivint, Constellation, Nest, and Frontpoint.
Power control
Power control applications are related to the so-called "green apps" and take the top place among smart home solutions. The waste of U.S. commercial and residential energy is up to $130 bln yearly. People are worried about regulating gas and electricity consumption all day long, even being out. Apps like Honeywell, TED can deal with that.
Appliances
Controlled appliances are the most popular category. Programmed to do most people's work, for example, Amazon Alexa can activate smart home appliances and more by user's commands. Philips Hue apps is a single-task wi-fi-controlled smart lighting solution. The first can be compatible with electronics of other brands, and the latter can be subordinated to the home automation system.
Entertainment
Entertainment systems make life that bit more pleasure in the place you reside and host. Residents favor multitasking apps as usual to activate their speakers, sound systems, smart TVs, monitors, and projectors. They are the already mentioned Amazon Alexa, Google Assistant, and Apple HomeKit. Just think, people utilise smart speakers in a number of 320 million units globally. Looks like an opportunity to be a part of providers.
As you see, smart home apps are single-tasking (control only one IoT device, less frequent, Philips Hue) and multitasking (Alexa, HomeKit). Both types are intensively in-demand among consumers being tightly connected with devices they were designed for.
It is worth mentioning that IoT apps included in the entire infrastructure are of three types by their system role: embedded into devices, aggregated (servers), and end-user ones (for smartphones). Development of all has different roots and requires different approaches that master software vendors with field experience.
Developing IoT apps may seem tough at first glance. To disprove, we elaborated on the topic of how to build an IoT application to fill you in.
Learn more
Anticipating your curiosity regarding smart devices being activated by an apps control system, let's overview a few.
The Overview of Smart Home IoT Devices
By 2025, it is expected the number of connected IoT devices in use will exceed 75 bln.
The majority of urban consumers prefer to have an automated smart home based on the Internet of Things for personal planning and resource management. There is something to see also from a barely visible tracking device that locates your belongings to the interactive yoga mat.
Here is a short overview of the most prevalent devices.
The list of the most popular IoT smart devices
| Category | Names of devices | Branded products |
| --- | --- | --- |
| Security | Surveillance сamera, video doorbell, door lock, motion sensor, lantern | Netatmo Welcome, Kuna, NetGear Arlo Q |
| Appliances | Fridge, robotic vacuum, stove, oven, yoga mat, grill | Ecovacs Deebot, Char-Broil Digital Electric Smoker |
| Product management | Reporting and analytics | Searching and ordering history |
| Utilities | Thermostat, watering controller, air conditioner | ecobee Smart Thermostat, Emerson Sens, Aros Smart |
| Voice recognized devices | Voice assistant, voice pod | Amazon Echo, Google Nest Mini, Apple HomePod mini, Sonos One |
| Lighting | Bulb, switches | Philips Hue, Cree, TP-Link HS220 |
| Entertainment | Speaker, display, entertainment hub | Logitech Harmony Home, Samsung SmartThings, Google Nest |
Integrating different devices into one home automation system is possible. However, they'll need to be compatible with anything already included and with the hub system app.
Want to develop an IoT app for smart home automation?
Let's sign NDA and will see how we can help you.
CONTACT US
Our Experience in Using IoT in Smart Home
Since smart consumption is trending, we started to get inquiries for development solutions that help automate control over utilities and appliances.
Our client saw an opportunity in the application of IoT in a smart home in utilities.
It is a well-known concern of UK residents regarding energy consumption. Our client provides energy services for UK customers and is eager to do it in the best possible way. So they wanted to build up a quality integration and management system for IoT devices with smart meters. The goal is an energy consumption optimization in their households controlled by users via their smartphones and web interfaces.
We have designed system architecture and a Python-based backend for smart utility consumption and device control. React, Redux, and JavaScript covered our frontend tasks. The app collects data, shows resource consumption analytics, user accounts have a clear menu, super admin dashboard reflects insights of end-user behavior on the platform.
The killer feature of the platform is an automated schedule for activating a smart appliance. A user can set up the time for a charge of battery-powered devices, power banks, and activate a water heater to heat the boiler on the way home. It makes power consumption more affordable when users can buy energy at the most profitable tariffs and do it automatically without any extra effort.
Thus, our team partook in a mission of contributing to the environmental protection we live in.
Conclusion
There is no shortage of possibilities for IoT applications in places we live in. Home automation seems to be the wave of the future and a vital help for people to achieve independence when physical limitations are. Go for it and discuss with us your smart home app or IoT system. We can hold a win-win discussion.
FAQ
How is IoT used in healthcare?

IoT has various applications in healthcare with wireless tonometers, glucometers, asthma monitors, blood pressure and heart rate monitoring cuffs, and other wearables that have embedded sensors to transfer data about the patient's health status. Users can adjust settings up to the current needs for monitoring. We've already talked about IoT healthcare use cases here. Check it out.
What are the IoT system elements?

As usual, IoT infrastructure includes connected smart devices integrated into the entire system, central control hardware with access to data cloud, network, and user interface. Remember to secure internal devices connected to the third-party software components against possible vulnerabilities.
How can I create a smart home app?

First off, choose the type of home automation solution that will be a part of the IoT smart home system. Your app should respond with features to satisfy the possible user scenarios. Think over the devices that your app would control in a room or apartments (smart lock, smart thermostats, etc). Knowing that or not, you can always address the software development company with the relevant experience to get you covered.