General project description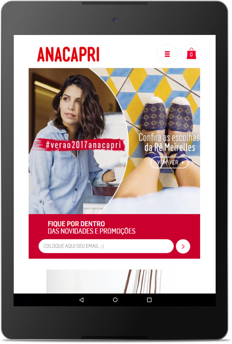 Anacapri a Brazilian footwear label produced shoes in a nude and sandy hue, comfortable, and of a casual style. The website is designed to sell the varied flat shoes of Anacapri: sneakers, creepers, espadrilles, as well as bags and accessories. It is oriented on the B2C segment.
It was important to translate a reserved and exquisite style of brand onto the website interface. The e-store was developed on Hybris using a limited functionality to operate in full force.
Thus, we started with the development of missing features to unleash an omnichannel potential of Anacapri. Simultaneously we fine-tuned current layouts and developed a new frontend. There was added a search by categories, filters by products, made tweaks in a slider, icons, and product display on the website. A mobile version was developed on MobifyJS.
A new user- and SEO-friendly e-store attracted new clients, tripled growth of sales during the first month after updates were released, and conquered hearts of Brazilian fashionable women.
Service:
Frontend Development.
Key Features
Adapted for mobile;
Sliders;
Filter of content;
Collapsible panels;
Redesigned with JS components;
Support mobile devices with Mobify.
Project resources
Team size:
2 Frontend Developers.
Implementation period:
January 2015 — February 2015.
Project technical description
Frontend:
MobifyJS;
Less - desktop;
Scss - mobile;
Dust;
jQuery;
JSP;
JS (ES5).