Business management
15 September, 2022
How to Hire Liferay Developers: Guide on Enterprises Benefits, Cost and Process

Key takeaways
The USA leads in the number of open positions for Liferay developer roles offering 136 000 jobs.
Growing demand for CMS, while a local short supply, forces us to hire a Liferay developer for team augmentation offshore. Find out more reasons and cases.
Development rates: read where to find an affordable price and why our clients prefer overseas Liferay developers.
Engagement models for Liferay development: define your collaboration model.
Steps to hire the right candidate. Check out not to miss a thing.
Cases from Aimprosoft's portfolio based on over 14 years of Liferay experience.
53,581 websites are based on Liferay, according to BuiltWith data. Among them are FC Barcelona, South African Airways, Yaskawa America Inc., Telefónica, U.S. Army Human Resources Command, and thousands of other companies from finance, healthcare, manufacturing, telecom, automotive, agriculture, etc. Liferay is suitable for any possible industry where a content management need is.
Liferay is the undisputed leader among content management systems due to the simple and familiar nature of self-service offers to users.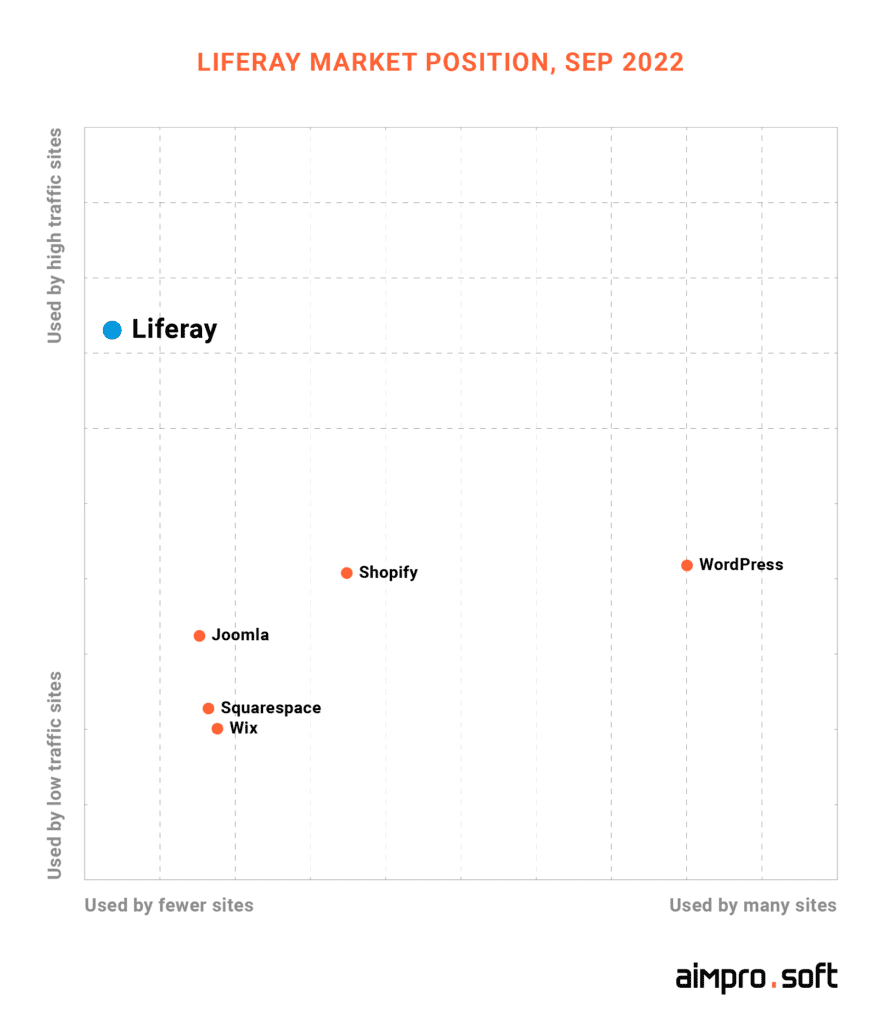 Dice reports over 36 152 open positions with a Liferay developer title worldwide, LinkedIn 136 653 openings only in the USA showing the platform's proliferation. Liferay DXP is the choice for companies with sales revenue from $100 000 and over $10 bln with low and high technology spending.
In this article, we are going to cover the ways how to hire Liferay developers for projects from scratch and scaling ones.
Reasons and cases for hiring Liferay developers for your next and current project
A Java developer is not a Liferay developer, but any Liferay developer is a Java developer. Anyway, based on your needs, a tech stack has similarities with Java development with nuances related to specific knowledge of Liferay app development. But still, the benefits of available Liferay developers for hire are solving business problems due to technical implementation.
Common reasons for hiring Liferay software engineers
You want to create a collaboration Liferay portal from scratch based on the latest version.
You already have a Liferay-based web portal on the older version (5.x-6.x) and need to migrate it to the higher one (7.1-7.4).
You already have an in-house team working on the portal web development but need to augment the team because of the project scaling.
You have a tech gap within your current team and would like to get the missing expertise.
Local rates in your region are too high, so you're looking for cost-quality balance variants in popular outsourcing tech hubs.
Lack of local expertise in your area forces you to search for Liferay developers abroad in your country.
Your project requires urgent consultation, so hiring a full-time consultant isn't reasonable and better give a preference to someone from outside for a part-time job.
Tech expectations from candidates when hiring Liferay developers
Looking for Liferay developers for hire, we bet you have a need and expect to have someone who:
is Liferay DXP savvy (6.x-7.x) apart from the Java EE development;
advanced knowledge of Liferay DXP Frameworks, including themes, service builder, portlets, and components;
able to provide Liferay DXP software application engineering, support and maintenance for the entire process of the software development lifecycle;
experienced in developing applications using various databases Oracle, MySql, SQL Server, Sybase;
is experienced in writing unit tests with tools (e.g., JUnit, Mockito, PowerMockito);
generates functional requirements and develops architectural design documentation;
deploys software to be secure, free of vulnerabilities, and componentized for ease of maintenance;
creates custom portlets;
follows an agile design methodology;
experienced with UI development tools, React, JQuery, HTML5, and Bootstrap (for full-stack positions).
It happens it is required to complete some tasks beyond augmenting solution development. Thus, you may hire a Liferay consultant, or offshore Liferay developers can perform the following duties within their job responsibilities as agreed:
provide analysis and innovative methods to enhance and extend the product services to customers;
develop technical artifacts to support proposals, architecture, and application code base;
provide knowledge sharing with your-inhouse team members.
Additional job responsibilities mainly for Liferay Architects may also include:
Architect and develop complex custom Liferay solutions.
Lead highly advanced analysis and implementation projects.
Lead complex system and process analysis efforts to provide original solutions to customers' complex problems;
Customize Liferay DXP to meet customer needs;
Migration from a lower to higher Liferay version from another platform to Liferay;
Perform integration with 3rd-party services.
Want to hire Liferay developers for your project?
Let's discuss your needs to find you the best fit.
CONTACT US
How much does it cost to hire a Liferay programmer
Taking your ideas and turning them into a seamless working product may cost you a thing. Or you can hire a Liferay development company and save your time and money thanks to recruiting within tighter time frames from the existing pool of engineers.
Below, we overview salaries in the market within different countries based on Glassdoor, Indeed, and Talent data.
Salaries of Liferay developers in countries of high demand for tech talents
Country/Salary
USA
Canada
UK
Germany
Average
$120 000
$75 000
$70 000
$79 000
Maximum
$321 000
$125 000
$132 000
$99 000
The highest compensation for a Liferay back-end job fixed by Talent is observed in the USA, with a potential to reach an unprecedented $321 000 per year. Also, according to Indeed, a Full Stack Liferay Developer role will cost an employer $125 000 – $150 000 per year in the same region.
It can be seen that in some countries, salaries are very high compared to salaries in popular technological hubs. For example, you can hire expert Liferay developers for a fewer price, $40-60 per hour, which is $80 000-120 000 per year. It is the way out for regions with a talent shortage and urgent demand. Of course, you can compete with local tech giants and raise the compensation, poach employees, or address to the Liferay development vendor to hire fast and whom you need.
Java is a core of Liferay. Probably Java development hourly rates may raise your interest. Read More
Java is a core of Liferay. Probably Java development hourly rates may raise your interest.
Read More
It is worth mentioning that over the past few years, finding qualified personnel to fill IT positions has become increasingly challenging. That undoubtedly affects the compensation increase for candidates because demand is growing faster than the market is filled with qualified personnel.
As we have experienced, our clients prefer overseas hiring to locals for the following reasons:
Local candidates who are enough qualified for the role are short-supplied.
Missing out on the best tech talents because of a long time to hire.
Counteroffers prevent you from getting whom you need in the current competitive market.
The recruitment process in your area is protracted.
It becomes more and more expensive to hunt tech talents.
Want to hire available Liferay developers at a reasonable price?
Let's schedule a call to see how Aimprosoft can help you.
CONTACT US
Engagement models for hiring our Liferay developers
Engaging Liferay developers may go in two ways: outsourcing and outstaffing hiring models.
Outsourcing relates commonly to Fortune 500 companies that delegate almost half their operations (as usual call centers and software development) to India, the Philippines, and Eastern Europe.
However, it doesn't limit to the big companies. Assigning tedious or out-of-the-expertise tasks to affordable talents is also inherent to small and middle-sized businesses for whom it is the way to beat the competition.
Liferay projects can be initiated with only one developer. For example, a solution architecture requires the involvement of a strong Solution Architect with over 8 years of experience. It is common for projects from scratch or entire system redesign. A Liferay development team engagement is reasonable for fast-scaling complex projects with coming custom implementations (themes and portlets), Liferay DXP software application engineering and maintenance for all phases of the software development lifecycle, providing the scalability for multiple web portals and business configuration according to any business unit requirements. etc.
Outstaffing model with Liferay developers
Assume you have an idea for a small project, and you're available enough for staff management by yourself. Thus, you can hire a Liferay programmer to launch development, then augment the team with additional Liferay developers.
Or you probably have a project and an established in-house team with a project manager and team lead and only need to extend it with someone to close the tech gap due to scaling. You still are ready to take on team management, so engaging extra heads with relevant tech and domain expertise is exactly what you're looking for.
An outstaffing strategy promises development cost reduction because you will be responsible for the entire management. Some consider it ideal: less payment, greater power. Is it worthwhile for you to become involved?
Favoring an outstaffing approach, a third-party vendor will be the one from whom you are actually renting a person who has the required expertise and experience. Your spending is limited to the employee's salary according to the developer rates common in the outsourcing area.
Outsourcing model with Liferay developers
Outsourcing works very well for cases of money-saving and absolving themselves of responsibility. What gives? Time savings, operational efficiencies, less micromanagement, and more time for strategic tasks. In other words, there is someone who does the whole work while you bear fruit.
Also, starting from the idea without any experts on board, starting the project from the very beginning looks rational by hiring Liferay developers from a third-party vendor.
Outsourcing overseas helps keep the process organized from beginning to end, whether you're merely in the concept stage or have a specification but need to start the project fresh. In this scenario, you hire a team with domain experience and the required technical skills, and you receive the finished product with the least amount of time spent on management at fairly reasonable prices. Choosing a team from a recognized tech hub will also ensure that the services meet the high standards you have come to expect in your area.
You can control the process enough and save a lot of time by outsourcing Liferay software development, which helps you handle important aspects of product development.
Outsourcing involves fees for project management, business analysis, process setup, and UI/UX design optionally. Nevertheless, it also frees up a lot of your time for daily operational tasks. There is no advice to let events unfold naturally up until the final moment of release. Accept the fact that your team of remote Liferay developers will still look to you as their ideological inspiration and primary beneficiary of the benefits they provide.
Cooperation models accurately represent an organization's needs for IT development that can be addressed by assigning tasks to a third-party provider. That means you can employ the vendor's technological resources while saving on costs and salary benefits. There are two categories of models: business and payment. Let's see which fits better for your Liferay development project.
Liferay developers can be a part of the dedicated development team. Know more about this model.
Take me there
Business models to hire Liferay developers at Aimprosoft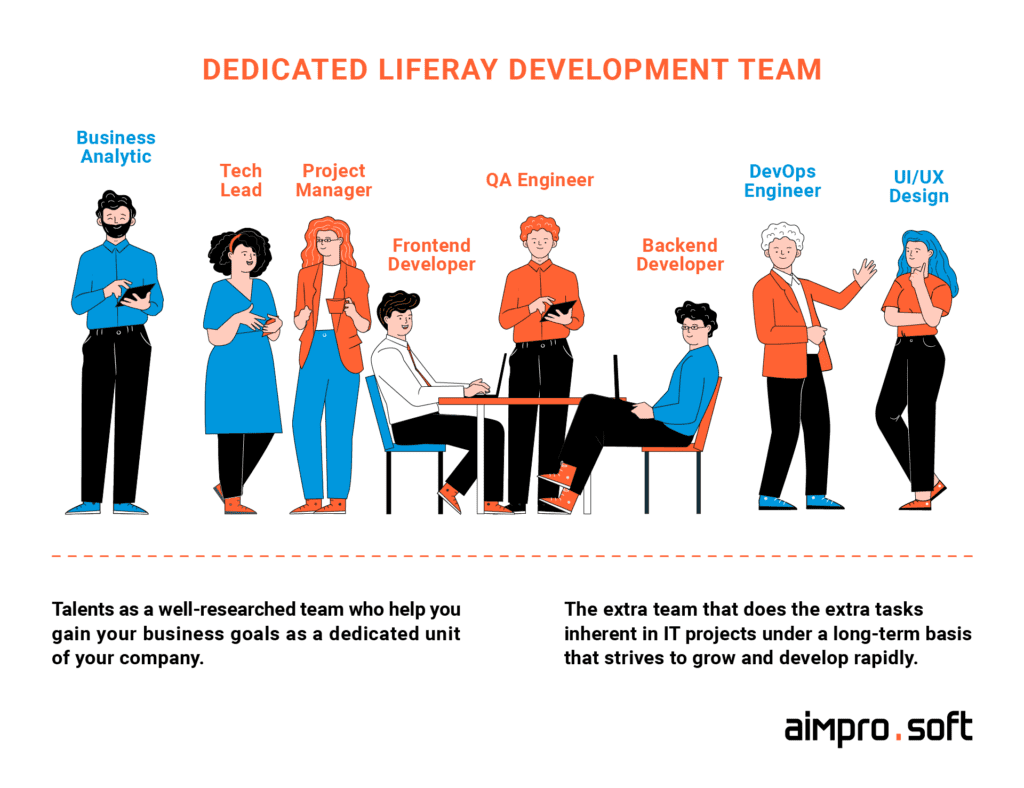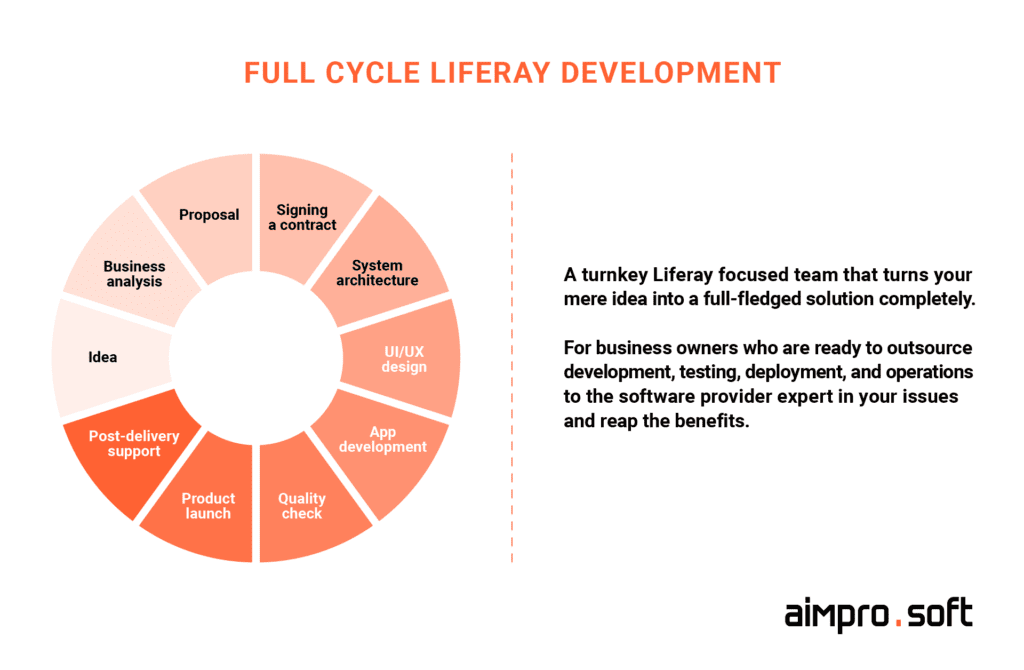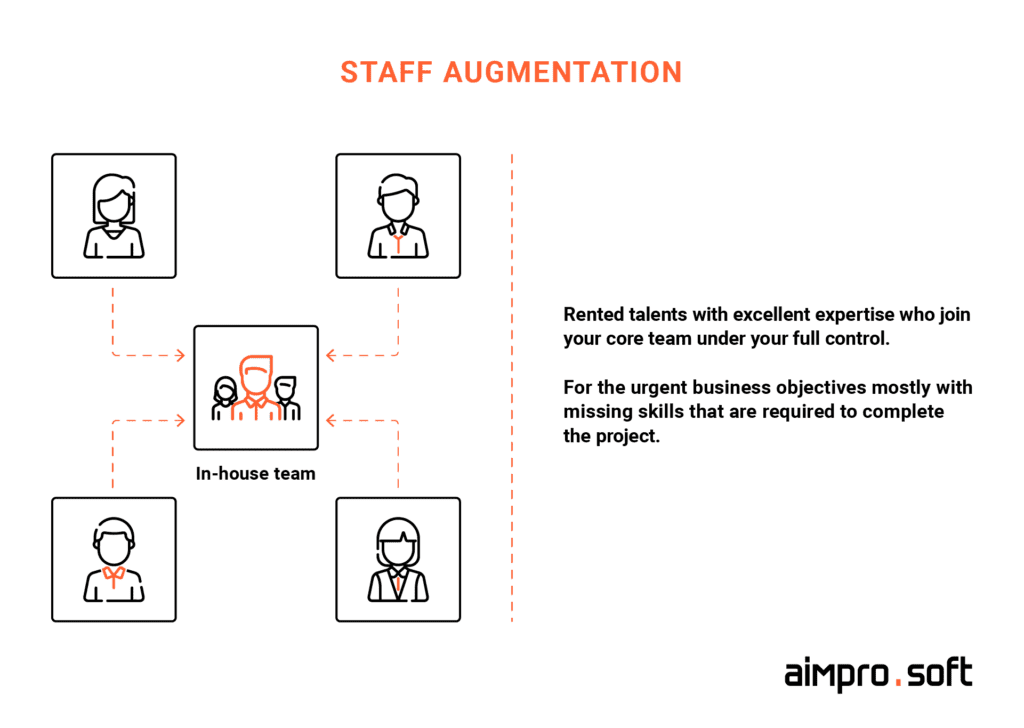 Payment models to hire Liferay developers at Aimprosoft
Fixed price
Time&Material
The project has a fixed budget independently of the duration or cost
Payment is formed from the time and materials spent by the dev team

For cases with a clear understanding of the result
Used with a strictly defined scope and requirements
The price is set for specific services of the company
Better suits for short-term projects

Perfect for regular client-vendor interaction with precisely set goals
Works under the distributed management risks
For cases when it is problematic to determine the exact cost of the finished product
Stuck with engagement models?
Let's talk to find the best fit for your specific requirements.
CONTACT US
Step-by-step guide to hiring a Liferay developer and saving time and costs
Only the most talented developers should be on your team if you're creating an app for your business or a core product that will serve as the foundation of your entire operation. The issue is that a great software developer cannot be defined in a single, all-encompassing manner. But can be found as the best fit following a step-by-step guide below.
Define your Liferay development tasks
Most likely, you have a tech lead or person in charge of product delivery, considering them a true asset in terms of their ability to define and set up priority of implementation. Address this person to make documented requirements that become a ground for a partner search because any negotiations on development start with business needs and project requirements. Or, in case of a lack of a go-forward plan or documentation, you can order business analysis services from Aimprosoft.
Choose Liferay outsourcing destination
The variety of outsourcing destinations, with their pros and cons, allows business owners a wider space for choice. Specific skills, proximity to the tech hub, time zone, rates, domain expertise, and communication language may be a starting point for decision-making. Start from your priorities, be it the proven quality track of a vendor, fast onboarding, a short period of team setup, or mindset compatibility.
Search for a Liferay development company
Like a tech hub, searching for a potential partner can be based on your business needs and priorities. However, there is a range of sources for a deeper vendor investigation. For example, you can find a Liferay developer by picking up information from reviews, portfolios, services, rates, and national and world ratings on B2B directories like Clutch, DesignRush, TheManifest, TechBehemoths, GoodFirms, etc. Also, you can turn to publications in media to evaluate the potential of a company through the C-level voices and expertise shared in companies' blogs.
Interview your shortlisted Liferay vendors
Good Liferay vendors are short-supplied, but having found the right one, your product development may succeed. Define up to three favorite companies and set up interviews with their management if you tend to the outsourcing model that implies turnkey development with 100% vendor's responsibility. If necessary, you can allocate time for interviewing each candidate. Find time to reflect on whether the people from the chosen company respond to your expectations of deliverables.
Start your Liferay development
A thorough selection has passed. Finally, you can proceed with signing an agreement to start your digital transformation. It is high time for hired Liferay developers to express themselves in practice when milestones, deliverables, and methodology are defined.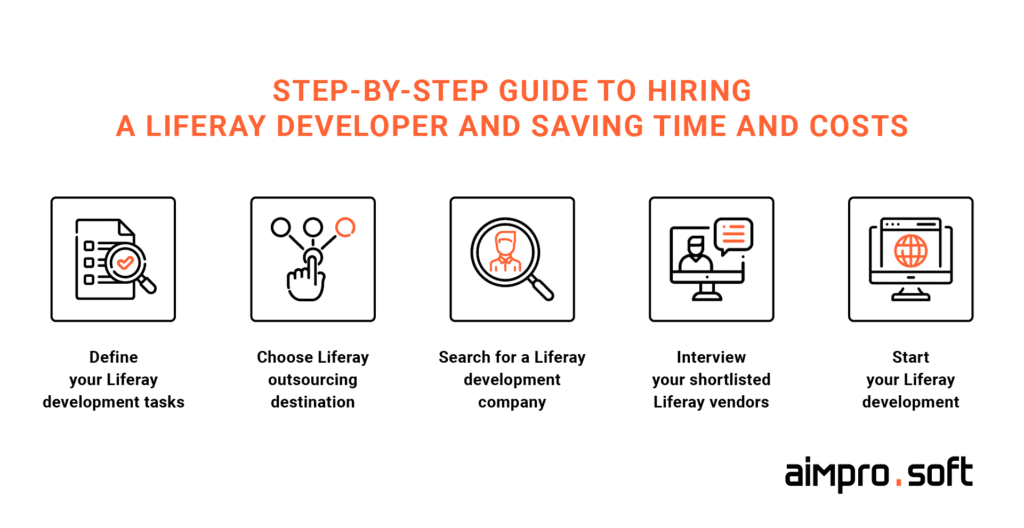 Why hire Liferay developers at Aimprosoft
We have relevant experience in developing Liferay DXP solutions for over 13 years.

Despite the times full of fight for freedom and victory in Ukraine, Aimprosoft contributed to the $3.1 billion in total revenue of the national IT sector since the beginning of 2022, a jump from $2.5 billion a year earlier.
Consultation and PoC
Liferay projects, whether it is development or migration, are often initiated following the consultation stage. It happens clients have some concerns or want to dive deeper into Liferay implementation feasibility for their projects. Proof of concept (PoC) is a way partners can look at each other closer before starting a big mutual shift.
Business analysis
Discussing business objectives that Liferay solutions have to meet is an integral part of many project launches. Development from scratch implies a thorough investigation of the idea's feasibility, prioritization of business requirements, and elimination of potential risks during product development to help prevent the project from failure. The service is optional but highly appreciated by customers.
Areas of Liferay application
Liferay projects in our portfolio have but are not limited to the following areas of application:
| | |
| --- | --- |
| Industry | Project details |
| Automotive | Motive Retail: Integration automation platform for the automotive industry, collaboration portal for car manufacturers and dealers |
| Telecom | Virtual1: A web portal for wholesaling telecommunication services for one of the leading UK providers |
| Healthcare | Healthcare portal: A collaboration doctor-patient portal with a special role-permission system |
| Marketing | Product Promotion: Technical support of a digital marketing campaign (collaboration platform) held by the Canne Lions finalist agency |
| Media and publishing | European Publisher: Expanding market presence with extensive CMS capabilities of Liferay |
| E-commerce | ePayment: Integration of Liferay-based portals with payment providers |
| Government | Infohub: United system for prolific cooperation between state institutions and citizens |
| Translation | Welounge: A single hub for the right workflow between numerous facilities worldwide |
| Agriculture | Staff hub: Collaboration portal for management dynamically changing personal information of personnel |
Liferay Certified Professionals
Clients appreciate hiring professionals with in-depth knowledge about Liferay solutions. Certification ensures that developers master the fundamentals and best practices of Liferay technologies being verified by Liferay creators. As a result, you get more resilient, maintainable, and affordable outcomes. You can hire certified Liferay developers from Aimprosoft to be sure the Liferay development standards are withstood fully.
Specialists of a senior and architect level
The responsibilities and skills of a senior Liferay developer may vary as well as a Solution Architect. Look, what pay attention in the Liferay developer's resumes for senior-level and architect positions.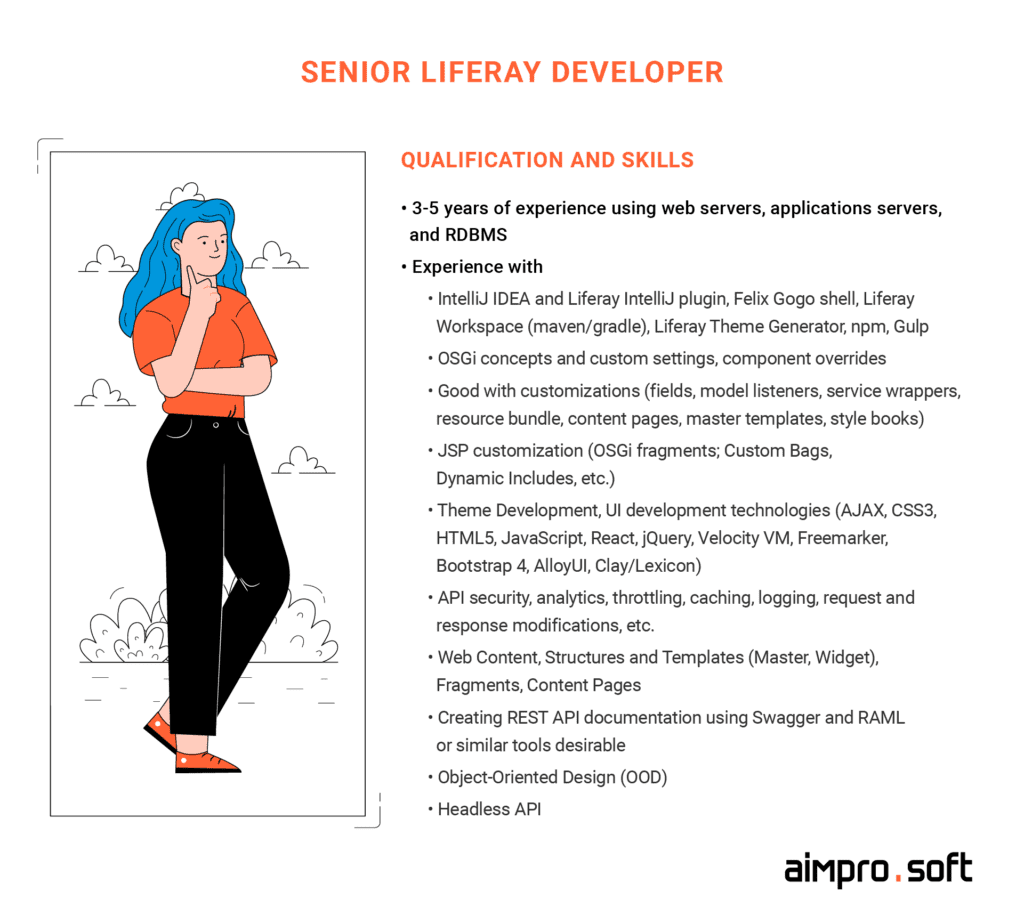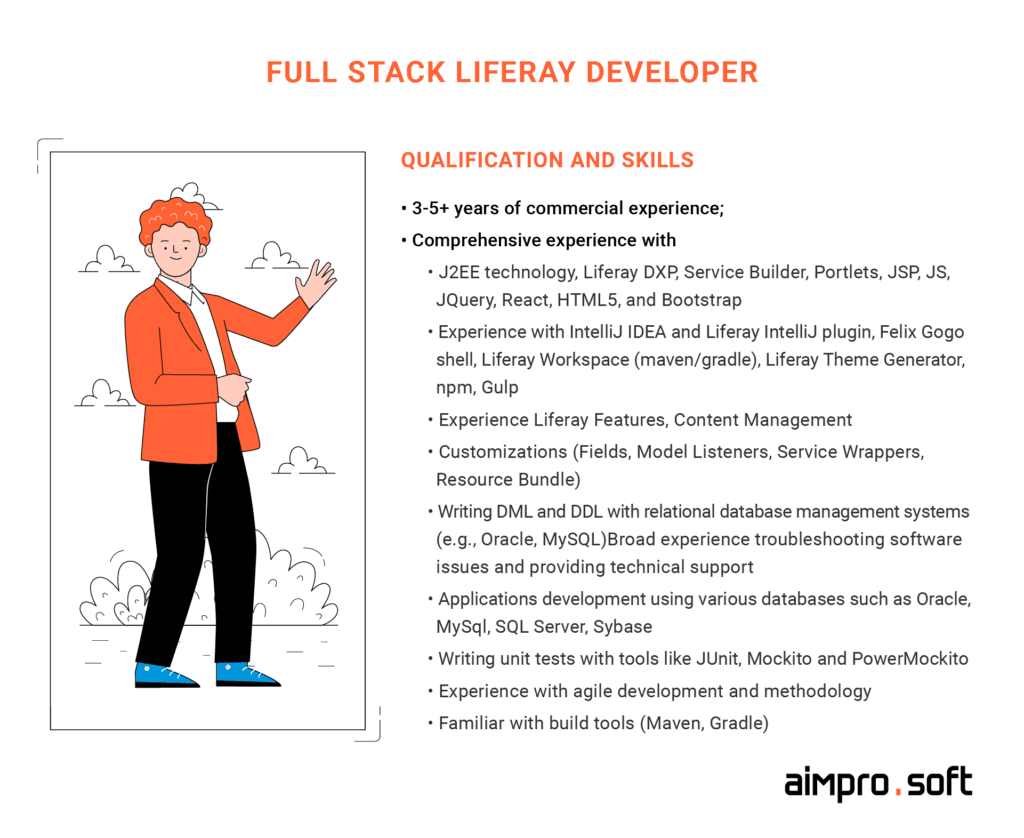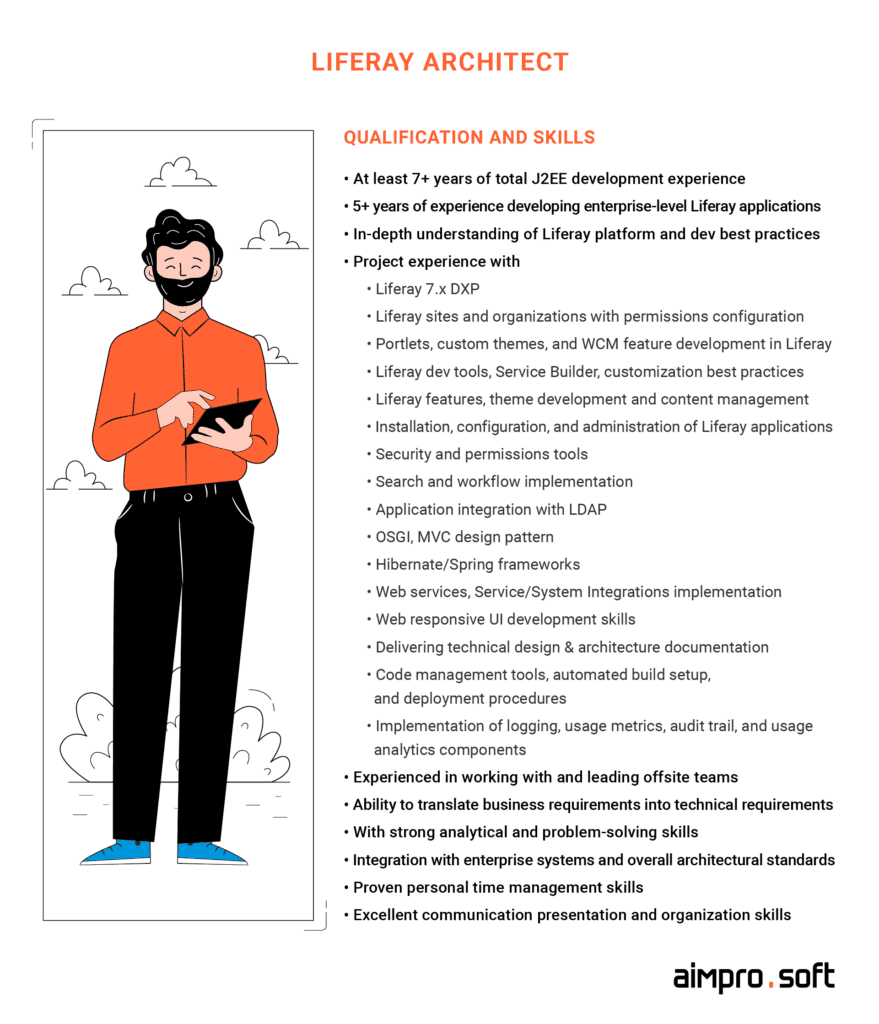 Flexible team augmentation
As usual Liferay projects scale. Yet in the planning stage can estimate peak milestones to be ready for team extension. It depends on the type of tasks (development or migration), implementation (out-of-the-box or customization), deliverables urgency, project scope, and more. Extending the dev team wisely helps plan the budget and relevant staff supply.
Hire Liferay developers from Aimprosoft.
Let's talk to discuss your business requirements.
CONTACT US
Does Liferay create a superior digital experience?

Great experiences create people based on great solutions. As the organization grows, its asset management requirements become more complex. Being focused on the enterprises, Liferay DXP copes with challenges inherent to large businesses. Superior digital experience in the 21st century means being agile and pivoting quickly. Well-done internal collaboration as well as external is able to accelerate the enterprise agility enormously.
How can I check if the Liferay matches my business needs?

The main signs that Liferay solutions will come in handy for your organization are a need for a single content hub with role-based access to the content, a hierarchy structure of content management, content distribution under personal credentials, an opportunity to scale websites flexibly, a single management admin panel, etc. Otherwise, you can address Aimprosoft to get a consultation with leading experts to find the best match for your business.
Is Liferay relevant for startups?

Liferay is focused on companies striving to evolve digital experiences. Depending on the requirements for internal or external content management within an organization of any size, Liferay solutions can be freely used to cope with the issue of helping startups, and companies create, launch, and optimize digital experiences for their customers, employees, suppliers, and sellers. You can hire a Liferay expert to set up a free Liferay DXP software to start smart content management.