Articles
03 December, 2022
How to Outsource Angular Development in 2023 for a Project of Different Stages

Kay takeaways
Find out what benefits Angular outsourcing services can bring exactly to your type of business.
How can you find the perfect location for outsourcing? Get our unique criteria.
Learn more about Angular outsourcing cost-saving strategies.
Get a step-by-step guide for non-technical founders on how to outsource Angular development.
Let's explore together why you should choose Aimprosoft as your reliable Angular vendor.
Every day, the number of innovations rapidly increases in the tech world. Some of the tech advancements and newly emerged technologies became popular and acquired the status of efficient ones, while others didn't pass the time check and competition. Angular was one of such technologies that proved its robustness and established a firm position in the IT market. Many well-known companies like Google, Amazon, and Udemy use Angular. The technology is gaining bigger popularity every day, attracting owners of small and large companies with its speed and ability to create easily scalable applications.

The demand for Angular developers is growing, and hiring them is becoming more challenging, especially in countries with a talent shortage, which can slow down the development process. This is why it is worth expanding your horizons and turning to a popular business practice known as outsourcing. You should choose outsourcing the development of your Angular solution if you want to speed up the development process, delegate major product creation-related activities, and save valuable time on meticulous project management. Thus, explore our guide that we've prepared to shed some light on the outsourcing process and help you go through it easily.
Advantages of Angular development outsourcing: find out what benefits it can bring to your business
Angular offers companies numerous benefits, one of which is that it allows speeding web and cross-platform application development. But today, we'll examine the advantages of outsourcing Angular-based product development and how various business types can profit from it.
Small and medium-sized businesses
Research, development, marketing, and distribution expenditures afford those types of businesses that can handle everything themselves in terms of time, expertise, and cost. Small and medium-sized businesses, unlike enterprises, can hardly afford and maintain all these activities. So, by outsourcing, you can increase the efficiency of your work by focusing on business activities and delegating Angular development to a third party. In this way, you take the burden off yourself and focus on promoting the business while your product is developed on the side.
Access to genuine experts in their field
Outsourcing business practice is especially beneficial for businesses from those locations with a significant shortage of highly skilled Angular specialists. Moreover, outsourcing agencies are likely to have a lot of experience with this framework, which they can apply in the course of your product development since possible. They have already dealt with similar cases or challenges and know the best practices to troubleshoot any problems.
Startups
Most startup owners outsource to cut costs. Startups must save because of their small initial budget or stay within the budget given by investors. The following statistics confirm this state of affairs: running out of funds and personal money is the second most common reason for startup failure in 29% of cases. Outsourcing undoubtedly results in significant cost savings, and sometimes it can lower up to 30% of overall development cost. But today, we'll talk about other significant benefits of outsourcing for startups apart from the cost-saving aspect.

Startups that outsource software development are better able to develop, test, launch, and scale a software product quickly. This business practice relieves them from investing significant time in recruiting and training staff members. Additionally, outsourcing Angular development to a third-party company is one option to speed up the whole process. These businesses have profound expertise in product delivery and use a tried-and-true strategy to launch your solution swiftly.
Outsourcing software development for start-ups is usually advised if you want to avoid risking your time, money, or resources due to the absence of relevant expertise. After all, outsourcing businesses are more likely to have a significant amount of market experience and highly qualified professionals among their staff, which can ensure success. All you have to do is select a reputable software development service provider.
Enterprises
Outsourcing is the ability to hire Angular developers from other countries with a completely different cultural codes and, therefore, a unique perspective. You can deploy an entire development office in another country, get employees with a unique outlook on your business and save money compared to hiring developers in your own location. No company would turn down professionals who can give you a different view of your business and broaden your horizons. After all, only innovative companies survive in today's world.
Software development might divert attention from the primary goal of the company. The fundamental business operations suffer when the workload rises, negatively impacting the organization and its growth. Enterprises grow by leaps and bounds, and outsourcing can help a business considerably by transferring some activities related to Angular software development to the external company so that they can focus on core functions. This is where third-party IT vendors play a crucial role by taking over the tasks.
Different businesses decide to outsource Angular development for a variety of reasons. But in any case, outsourcing Angular development to a software development company can help you get a feature-rich product at a lower cost and in a shorter time frame. Let's now find out how to choose the best direction to outsource.
Looking for a company with a profound experience in Angular product development?
We have 5+ years of experience with this framework. Contact us, and we'll apply it to breathe life into your project.
CONTACT US
How to choose a destination to outsource your Angular development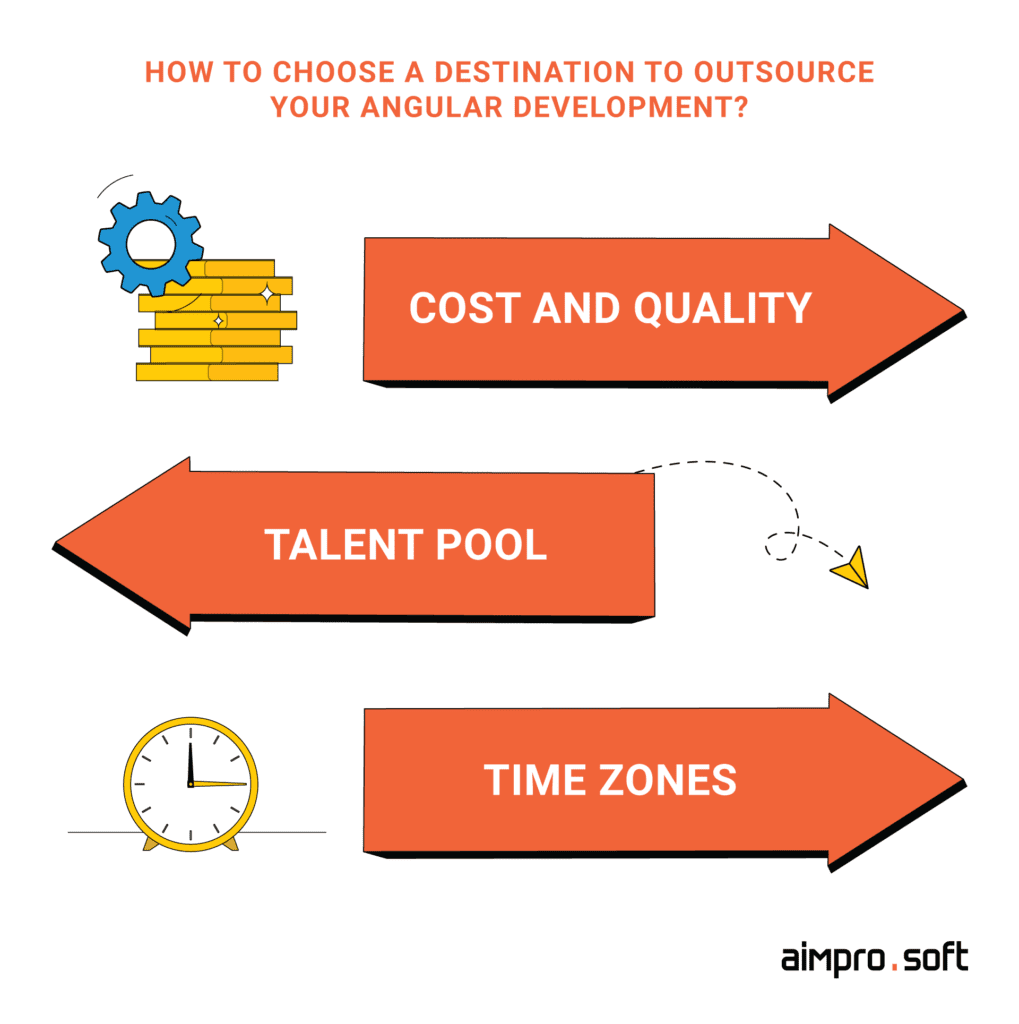 What does the perfect outsourcing location look like? How to evaluate a region correctly, and what factors should be considered? The place is one of the essential choices you should make while outsourcing. Numerous outsourcing destinations are popular in terms of software development, such as Ukraine, Germany, Poland, countries of Latin America, India, the Philippines, Singapore, and others, which makes it rather challenging to pick the right one. Thus, in this section, we'll outline the criteria you should consider when deciding where to outsource and the advantages your company will receive if you choose a place that meets these criteria.
Lower rates for a decent quality
Reducing development cost is the main reason companies outsource, but choosing a location solely based on low cost is wrong. It is valuable to take into account several aspects and select the place with the best price, but also to ensure that quality is not affected incorrectly. Angular development costs vary significantly from region to region. High-paying nations like Switzerland, Germany, the UK, and the US typically have more expensive tax systems when compared to lower-income nations like Eastern European countries, which are popular locations for software development in the neighboring abroad.
For instance, the average hourly rate for an Angular developer in the UK is $75-85. In contrast, the pricing is approximately $35-55 in Ukraine. In this case, Ukraine is an excellent example of value for money because the price is lower, and the quality of the provided services is on point.
Talent pool
Companies have access to a considerably wider talent pool when they outsource their development. A company's search for the outsourced angular team can be rather limited by expertise, experience, and region. Therefore, choosing an outsourcing destination with a large talent pool is wise.
For instance, Eastern Europe has a high number of IT companies. In Ukraine alone, there are more than 380 IT firms specializing in the development of Angular solutions, according to Clutch. Moreover, software outsourcing to the location where the IT market is flourishing is also beneficial since apart from Angular developers outsource, you can hire an offshore front-end development team and delegate the entire product development to a reliable software vendor. Thus, more than 285,000 IT specialists are currently working in Ukraine. Such a wide range of specialists can significantly speed up the hiring process and hence the development of your project.
Time zones
There will be comfortable time zones if you google the criteria when selecting a country to outsource to. Is it the appropriate criterion to choose from? Yes and no at the same time. Naturally, it's best to pick a place where the time difference between you and your provider will be a maximum of a few hours, but who has nothing ventured, nothing gained.
Even something as ostensibly bad as a significant time difference can be advantageous for your business. For instance, while your in-house development team is working on the project during the day, the outsource javascript developers are working on it overnight (in terms of your time zone) so that you can see the final piece in the morning and discuss the updates. In this case, different time zones play to your advantage since it turns the entire product development into a continuous process and makes it move faster.
Data security and privacy policies
Without proper IT security, your sensitive data, the source code, can be leaked. So you should never neglect the security factor when choosing where to outsource. First and foremost, your outsourcing vendor must follow all compliance guidelines based on the specifics of your project (e.g., HIPAA, GDPR, PCI DSS, etc.). Therefore, you should select countries that follow security laws and has a low degree of cases of security breaches or noncompliance with industry regulations. For instance, almost all European nations follow GDPR regulations, guaranteeing that your data is kept private.
So, we have explored what criteria should be considered when choosing a location for outsourcing. Now, let's move on to exploring what steps you need to take to ensure that collaboration with an Angular outsourcing company will be successful.
Tips on how to save cost when outsourcing Angular
Reducing costs is the main reason for outsourcing. Let's look at a few tips to help you enjoy this outsourcing privilege to the fullest.
Make sure to outsource to a location with inexpensive costs
One of the numerous benefits of outsourcing is its mutually advantageous nature, which enables you to reduce business expenses while boosting earnings and giving customers the best possible service. There are many outsourcing destinations that offer lower hourly wages to Angular developers. Let's take a look at how Angular developers' hourly rates vary by region in the table below.
| Country | Hourly rate of PHP developer |
| --- | --- |
| USA | $85-95 |
| UK | $80-90 |
| Germany | $65-70 |
| Ukraine | $35-55 |
More than any other factor, location significantly influences Angular developer rates and the entire development process. The cost of living, taxes, average national salaries, demand, and other factors all have an impact on this. As a result, you don't need to be concerned about the quality of work when selecting the option that seems most profitable to you. Outsourcing Angular development to countries such as Ukraine implies excellent quality of work, high qualification of specialists, and cost-effectiveness. Hence, you might save a sizable amount of money by choosing the ideal location.
Choose a reliable IT partner
Getting hooked by an unreliable software vendor is one of the most common failures in outsourcing. You may run the risk of missing development deadlines, receiving a low-quality product that needs to be rebuilt, and experiencing leakage of your sensitive data to third parties. All of these factors can result in financial loss. However, this issue can be resolved by making a thoughtful vendor selection. So how do you check the reliability of a vendor?
Here are some unique tips from us:
check reviews from previous customers on independent review platforms like Clutch or Techreviewer;
examine the vendor's portfolio, which should include examples of projects similar to yours;
determine what the company's experience with Angular is;
arrange a trial period with the vendor.
These are exactly the tips that our clients used when they chose our company. And as a result, their cooperation with Aimprosoft was more than successful.
Create a plan and list the objectives of your project
Make a list of the project's key characteristics to begin. Making a detailed estimate is one of the best approaches to reduce expenses during the software development process. In other words, you should cooperate with a business analyst to gather and deliver all the requirements. Your project will be described in terms of technological, financial, and operational viability with the assistance of a qualified expert. As a consequence, it will be scalable, usable, and secure. A detailed estimate and requirements of your angular outsourcing project are usually drawn up at the discovery stage. You can carry it out directly with the outsourcing company of your choice.
So, we've looked at the most valid ways of how you can reduce the price of development by outsourcing your project. Let's now examine how the outsourcing process takes place as a whole.
Want to know more about the discovery stage and how it can prevent your project from failure?
Take Me There
5 steps guide on how to outsource Angular development for non-technical founders
We've already examined the criteria for selecting countries worth outsourcing to. Let's now look at the steps you should take to select a reputable outsourcing firm and ensure that the collaboration will be secure, smooth, and hassle-free. Even if you are not technically proficient, we will guide you through the technological field. We've enumerated proven steps that will make your outsourcing journey successful.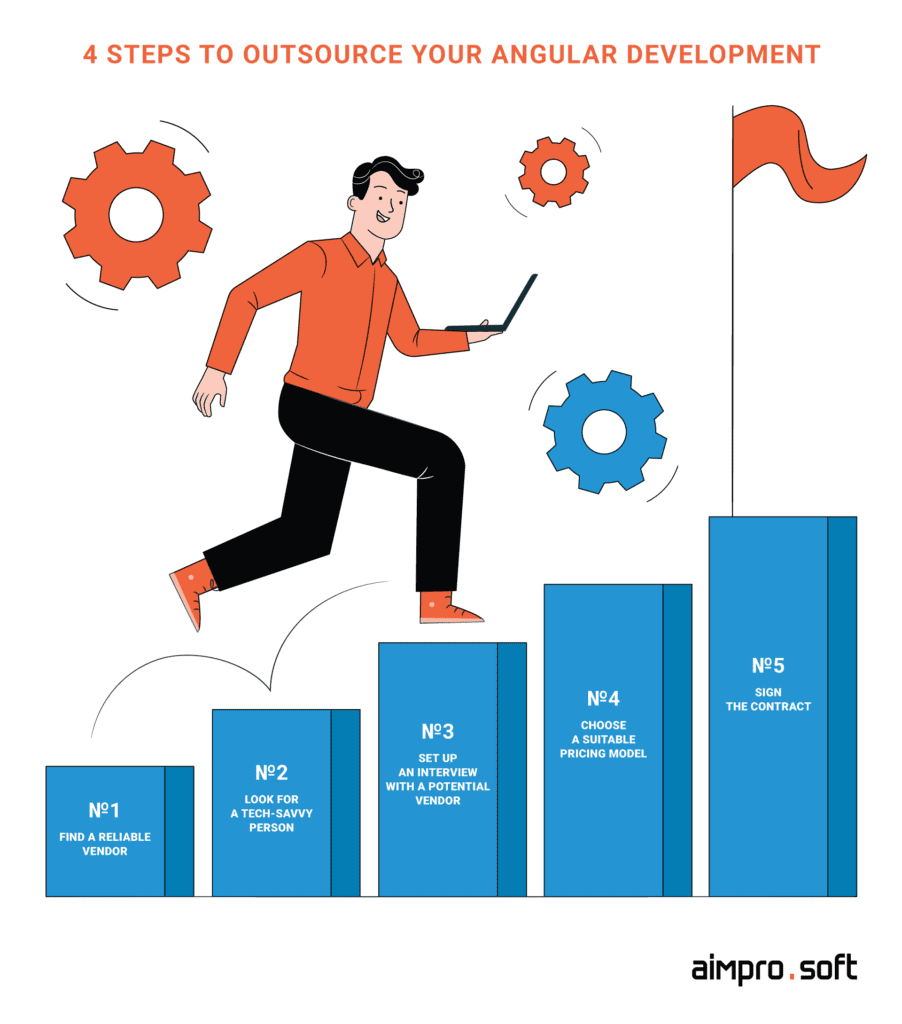 Step №1 Find a reliable vendor
The first and most crucial step is to find a truly reliable vendor. As we've already stated in the section above, you can always scan independent review platforms where you can read reviews about different outsourcing firms. The feedback from previous clients can help you review the reputation of the provider, the quality of the provided services, and many other helpful insights. Here are some examples of such platforms: TechBehemoths, Clutch, and GoodFirms.
Once you select the company worth your consideration, we suggest looking at their website. Careful scanning of the suggested vendor's website can help you find those red flags, which will make you understand that the company is not suitable for cooperation. For example, the absence of a portfolio describing Angular-based projects implemented successfully, bio and photos of the company founders and employees, and a blog where companies share their technical expertise.
How else to understand the level of expertise?
Make sure to check out the stacks that the company's experts use. The picture below illustrates the knowledge and technologies with which Angular developers ought to be familiar. These are precisely the skills that programmers from Aimprosoft have.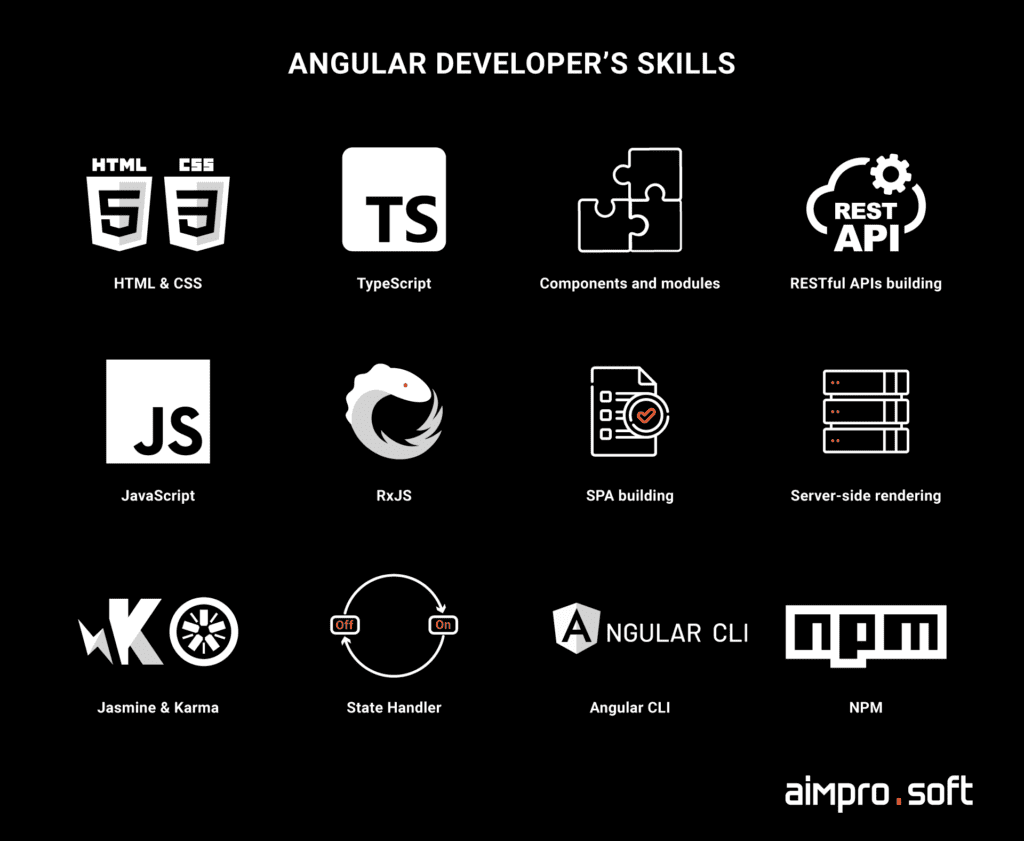 Step №2 Look for a tech-savvy person
If you are a non-tech-savvy specialist, you may need help while selecting a vendor. When you first call the potential vendor, you may not be able to validate properly the company's expertise, or you may ask the wrong questions. You can ask your acquaintances and colleagues with technical expertise, or you can hire an expert to help you in the selection and initial stages of cooperation with the outsourced software vendor. When you find one, ask for a brief technical description of your project and your needs. Such a person can make the description so that the other engineer understands it, which may make your first interaction with the vendor easier.
Step №3 Set up an interview with a potential vendor
The first call with a potential Angular provider is the most important, so you need to ask the right questions. Here are a few questions that Aimprosot clients usually ask us on the first call, which helps them decide whether to start our cooperation:
Do you have any projects on your portfolio that are similar to mine?
What prices do you impose for your services?
What would happen if my project's scope changed?
What steps does your regular outsourcing process involve?
How can I be confident that you understand my company's goals?
Step №4 Choose a suitable pricing model
A suitable pricing model can ensure the proper distribution of available resources, which is an essential element in determining a successful collaboration. There are several popular pricing models:
Fixed price is the best pricing model for small to medium-sized companies with exact specifications, set deadlines, strict financial restrictions, and one-off activities that don't demand continuous development. Also, this model is ideal if you wish to prevent unpredictably high additional costs and a lengthy product development process. But this pricing model also has several disadvantages, such as limited flexibility, little control over the development process, and a lot of time wasted on planning and accurate budget calculations.
The time and materials pricing model is based on the actual time spent by the service provider on the commissioned project. This model offers scalability and flexibility. Time and resources are the only factors that affect costs. Enterprises discover that the time and materials payment model is frequently less expensive than the fixed price model. This model is suitable for long-term projects and long-term cooperation or when the amount of work or its duration cannot be determined beforehand. The downside of this model is that the scope of the budget can be blurred, and the output may come out a little different than what you were counting on.
Step №5 Sign the contract
And so when all the pre-steps have been passed, the interview has been conducted, and the pricing model has been chosen, it is time to sign the contract. Ensure the contract has all the NDA conditions, expected results, failure-related consequences, pricing model, termination clauses, and other important details. Once this is completed, you can sign the contract and begin the development process.
Following this process and taking all the steps mentioned above will help you save money, lower the possibility of misunderstandings with the provider, and raise the chance that your product will succeed. Keep reading this article to see how collaborating with Aimprosoft can bring to life your Angular project.
Why should you choose Aimprosoft as your Angular outsourcing partner?
Throughout the article, we discussed tips on choosing the right location for outsourcing, saving money, and choosing a reliable angular outsourcing team. And it's time to show our company as an example of a trustworthy company that you can address without worrying about your angular project because everything will be done to the highest standard. Explore reasons to cooperate with us to dispel possible doubts.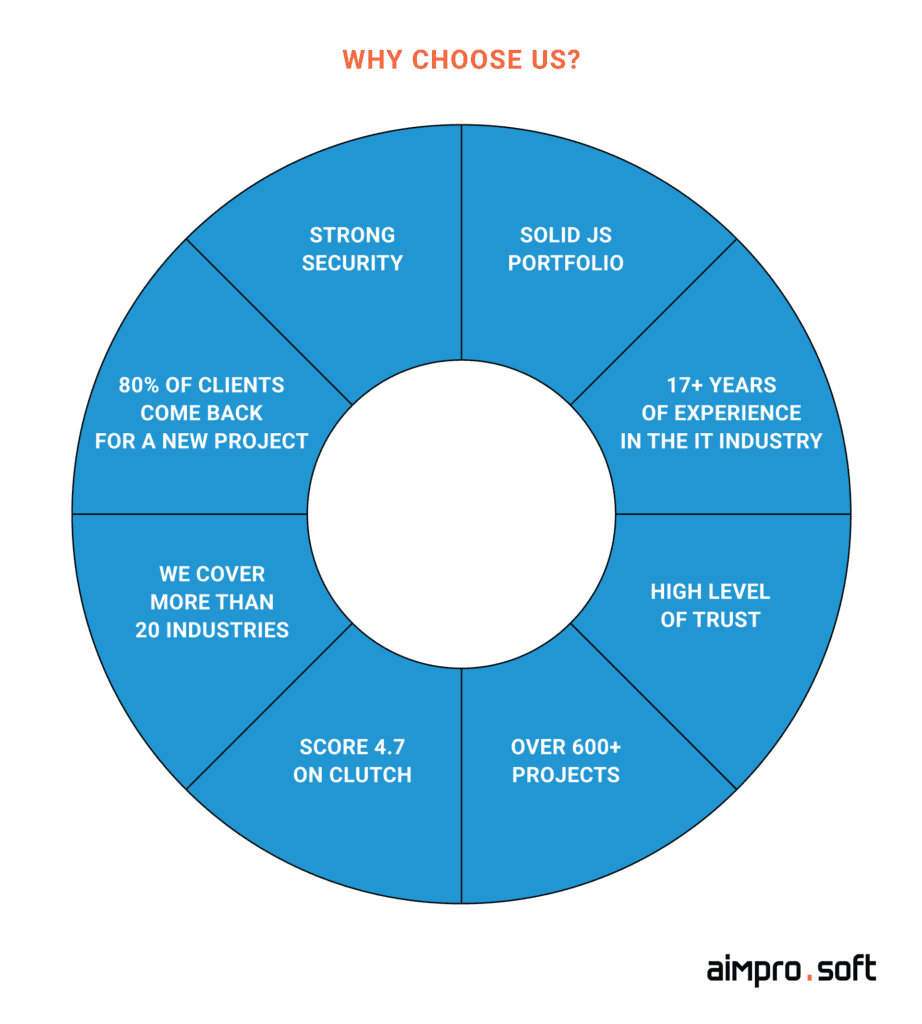 Our reliability
Over the period of the company's history, we have established a reputation as a reliable and knowledgeable software provider and have been successful in turning a large portion of our clients into loyal ones who have decided to continue working with us on an ongoing basis. We received a score of 4.7 out of 5 based on all client ratings on the review site Clutch. For a more in-depth look at our experience, visit our profiles on independent platforms like TechBehemoths and GoodFirms.
Engagement of Angular developers in different stages of product development
Of course, you might require an Angular developer at various stages of the development of your product, including product creation from scratch, the transformation of a legacy solution, migration to a modern tech stack from an outdated one, or you need a team expansion for the development of your existing product, etc. The advantage of cooperating with Amprosoft is that we can involve our specialists at any stage of your product development due to our experience. We work on several cooperation models and can raise your product from scratch (outsourcing) as well as expand your existing team (outstaffing).
Services we provide: knowledge and capabilities
We built a huge team of front-end developers with expertise in Angular, Vue.js, JS, TypeScript, React.js, and numerous more tools required to produce cutting-edge, competitive solutions. In addition, 33% of our TypeScript experts are full-stack programmers.

Below is a list of Angular-related services we provide:
Angular web development 一 Aimprosoft provides Angular development and web design services focusing on resolving business issues that impede the advancement of digital engagement and enhancing the usability of your websites and web applications.
Migration between frameworks 一 our team can upgrade your projects' versions and move them from outmoded JS tech stacks to popular open-source frameworks and libraries, including Angular, React.js, and Vue.js, to name a few.
Angular consulting 一 at Aimprosoft, you may get assistance with building the development team, obtain assessments and recommendations for smart Angular usage, and gain a thorough understanding of how to develop high-quality user interfaces from conception to completion, among other things.
Angular portal development 一 we work with various frameworks and JavaScript libraries acceptable for different platform-based solutions that solve specific business problems, such as collaboration portals, document management systems, or e-commerce products.
Our experience with Angular
At least 80% of the developers in our company are proficient with JavaScript. Our business has a big JS community and knowledge base as a result, and we provide a wide range of javascript development services. Since using it in its very early versions, we have been working with Angular for more than five years. Because of this, Angular has been used to build many successful projects, some of which are highlighted in the following case studies:
Case №1
Jira-like solution. The client came to us with a request to expand the functionality of the existing solution. We developed the application's client-side using Angular and the server-side using Next.js. The following features were implemented during the development process: video calls, the ability to create tickets, an expanded control panel, tools to create projects with descriptions, and many more.
At what stage were Aimprosoft Angular developers engaged into the product development: The client came to us with a finished MVP product. The concept and applicability of the product had already been evaluated, but more functionality was required to produce a full-featured solution.
Сase №2
Image measuring app. An application that measures the size of an entire object or a specific area by detecting a reference object in a smartphone photo was requested by a client. The frontend application that accesses the backend services wraps many machine learning models in this application. By automating the object measurement process, the developed application streamlines the process of transporting products.

At what stage were Aimprosoft Angular developers engaged into the product development: The client only provided us with a concept; the programmers started working on the project from the very first phases of development.
Case №3
pr.business. The client's task was to create a local search directory that could manage digital listings from well-known services and gather information about local SMBs. The following features were implemented by our team: the ability to gather reviews, receive status reports and updates from the search engine network in one location, tools to manage listing data, assistance for businesses in preventing changes to their information through the pr.business matching algorithm, etc. With over 8 million users, the platform has proven to be a successful product.

At what stage were Aimprosoft Angular developers engaged into the product development: The client only had an idea when contacted us. The specialists began to work from the very first stages of development.
Aimprosoft is always ready to help you with the development of the Angular-based project.
Call us, and we will discuss the needs of your future product
CONTACT US
Conclusion
As you can see, it's crucial to conduct the research regarding the outsourcing destination meticulously and examine carefully, potential service providers before you decide to outsource your product development there. This guide aims to provide you with a systematic strategy for evaluating a potential software development vendor and go through outsourcing in a risk-free way. And if, after our journey into the world of Agular outsourcing, you have decided to stop your ship near Aimprosoft, you can contact us anytime, and we will help you create a truly successful Angular-based product.
Should I be worried about a security flaw in Angular.js?

Like any other technology, AngularJS is permeable to attacks. Angular, however, provides built-in protection against significant security issues, including cross-site scripting and HTML injections. Angular does circular hiding for all strings and even offers XSRF protection for server communication. Other security protocols, including Content Security Policy (CSP), HTTPS (SSL/TLS), and server-side authentication and authorization, have been made compatible with Angular by default, which seriously hinders possible attacks, and we highly recommend their use.
What are the top 3 countries with the best Angular developers and wise money-value ratio?

The answer is unambiguous, the best destination with affordable prices and high quality of work is Eastern Europe, and Ukraine, Poland, the Czech Republic, and Romania are the most popular countries in this region. The average hourly rate for an Angular developer in these countries is $55, and they perform the work at the highest level. Also, these countries have international security rules like GDPR. 
What skills might a senior Angular developer have?

An deep understanding of Core JavaScript. 

Solid knowledge of the Angular framework. 

Knowledge of CI/CD, good understanding and usage of development methodology (KISS, DRY)

Сomprehensive understanding of web markup, particularly HTML and CSS. 

A degree of experience with RESTful API integration. RESTful API.