Articles
19 November, 2021
Machine Learning in eLearning: Does It Really Engage Learners and Improves Your Business?

Key takeaways
Machine learning and e-learning go hand in hand with the education transformation. We'll share all the ropes of its beneficial application for business and training.

Nothing is perfect and with ML too. We've covered the most crucial point to pay your attention digging into data collection and processing.

Learn more about how Aimprosoft can help you be on the edge of education leveraging the power of ML.
Machine learning is like humans. It evolves.
'Really?' you'll wonder. Look, to train a machine learning system, you should take a lot of training data (photos, trade stock data, voice records — whatever) and divide them as training and test sets. The training set 'trains' the system to identify the given data patterns correctly, and the test set shows by markers how well the training goes. By training, the machine is developing gradually becoming more useful for people.
Kind a pun: at the core of online training advancements can lay self-training algorithms capable of improving user experience and productivity and cutting costs for learning.
Keep on reading to know more about trends of machine learning for online learning that can really impact your business by engaging your learners with all those tricks with a higher return on investments.
Machine Learning in eLearning: D'you mean, we'll be taught by machines?
It's no surprise that people not involved in the finer details of the technical terms tend to confuse Artificial Intelligence, Machine Learning and eLearning. Two first are aimed at automating operations with the help of machines, but the first leads to the second. And both are widely adopted in education.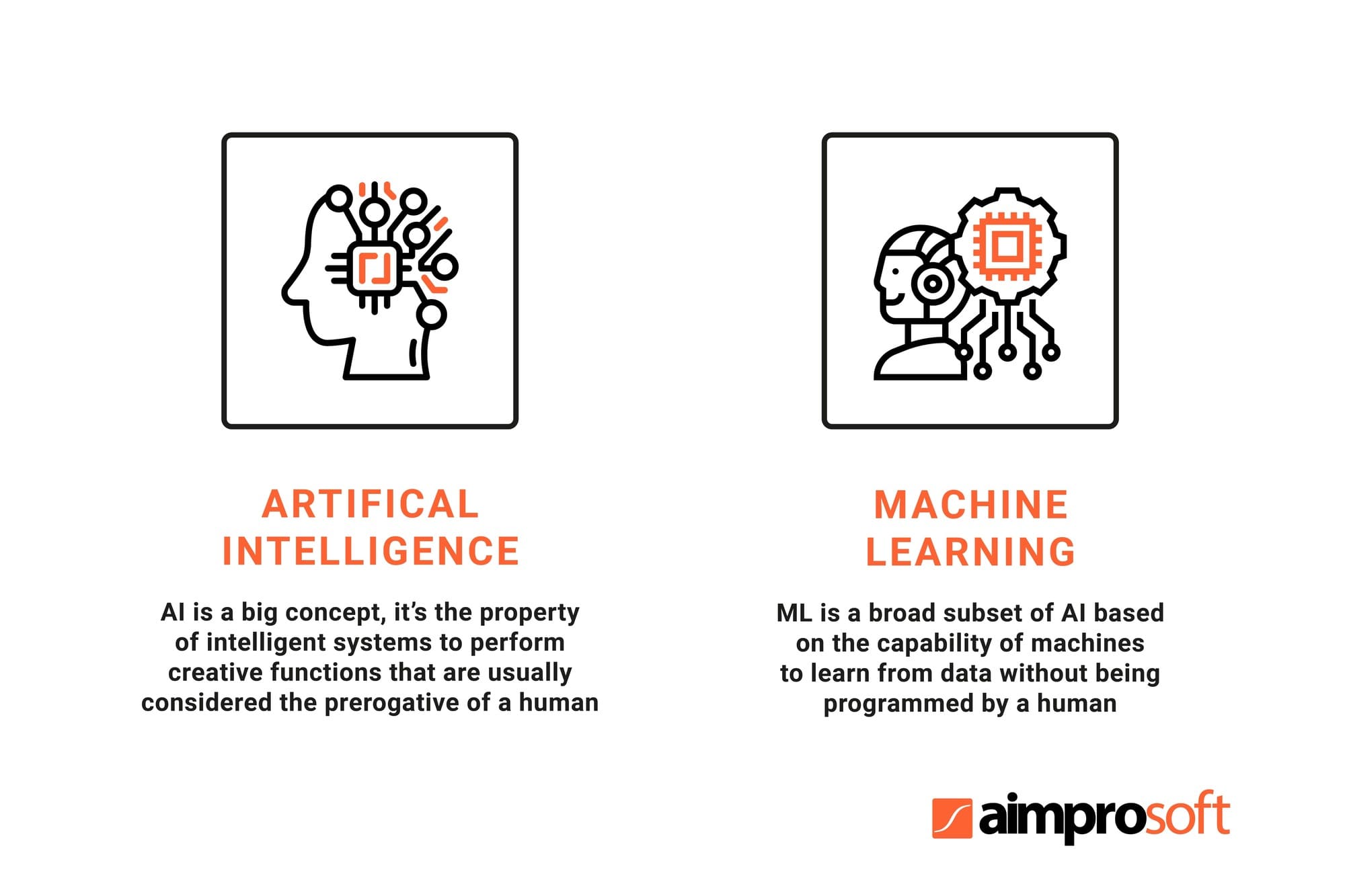 Machine Learning, or ML shortly, is rather more loud-loud but still remains exotic. Going deeper, machine learning is not exactly artificial intelligence but rather AI methods that teach the computer to independently find solutions to various problems. Computers do analytical work and determine patterns faster than humans using pre-loaded data and special algorithms. It's even better than setting up an automation system for iterative task performance.
At first sight, it may be vague how machine learning for eLearning can be applicable. Will machines learn us speaking our language? Yes and no. Let's see how it works in a business environment.
What a treasure Machine Learning for e-Learning and business holds
Teachers are hard to be ousted the learning process. One way or another, they remain the paramount element influencing student learning. Teachers have to master digital adoption to be a key factor in unlocking the potential of technologies to improve educational and methodological activities.
Working in teams, collaborating and communicating effectively, and developing analytical and digital skills are at the forefront of curricula and elearning trends. Isn't that what employer strives to get from employees going upskilling programs?
Perhaps, in an educational context, it is best to consider artificial intelligence as enhanced intelligence. As a subset of AI, the application of machine learning in e-learning allows all stakeholders of the learning process to get additional information and conclusions needed to make more informed decisions:
Learners need help identifying curriculum areas in which they need additional support, guidance, or focus.

Instructors need to assess the achievement of each of students on all defined indicators by tracking parameters in all of their essential diversity. The task becomes much more difficult with scaling the number of student groups, with one usually replacing the other.

LMS supervisors in charge of leading the educational process have to consider a wide range of factors and data: student data, program, infrastructure, and team members management, converting assessment to employee promotion, advisor on LMS/LXP functionality, etc.
Let's turn to machine learning and its applications in e-learning systems.
People expect special treatment through сontent personalization
Netflix is in the lead of content personalization. Inspired by its example, Austin Peay State University (APSU) introduced 'Degree Compass', a course-recommendation system that can be easily adapted in corporate eLearning: a matching ML model picks up courses for students based on their grades obtained during the learning to straighten their talents.
Predictive analytics models with ML algorithms use the grade and enrollment information of students. Courses are ranked with respect to factors defining the extent of course profitability for each particular student. They achieved 90% accuracy in the recommendations. Impressive, right?
Now imagine how this technology can improve the progress of employees in upskilling and reskilling with individualized feedback.
Or, ML in elearning may be in handy identifying tricky parts of the course learners face while passing training programs. The LMS can automatically adjust issue content so that learners will gain the range of knowledge and skills required to fill the gaps and fulfill their potential.
Machine learning in an e-Learning course improvement
ML algorithms are useful beyond providing relevant advice on choosing a subject or a course program. Very recently the University of North Carolina introduced a framework of multitask learning based on machine learning models that predict the probability of a student's correct answer according to their previous behavior in the learning process.
This is worthwhile in notifying course providers of corporate training when an employee undergoing a training program may need tips, additional tasks to improve their outcomes. And again, this tells us about creating software solutions adaptable to the learners' needs.
Moreover, ML-based applications open hitherto unknown opportunities for developing people's social and emotional skills necessary for learning. They allow teachers to create an instructional design and analyze qualitative and quantitative data to assess the level of proficiency in these skills, if necessary, help students master them. Companies can make their success even closer with performance metrics, fix shortcomings ahead of time rather than looking back and learning from past rules that may not apply in the future.
Chatbots: eLearning instructors of diligence
Throughout the age-old teaching tradition, it has been known that in the same group, each student has different learning needs and interests. Therefore, everyone can benefit from the help of a specialized tutor with an opportunity for a critical discussion of the studied content. Unfortunately, this type of service is unavailable even in the largest corporations in the world.
What is the most practical and affordable alternative to solving this problem?
Chatbots.
Сhatbots are urged to act as virtual consultants adapting to the students' learning pace in the process. Taking over the role of interactive eLearning instructors, they train better, providing learners with more accurate answers to specific subjects. They've maintained a neutral position in the assessment due to its non-emotional nature, unlike humans. At the same time, learners are not limited from addressing a human being for clarification.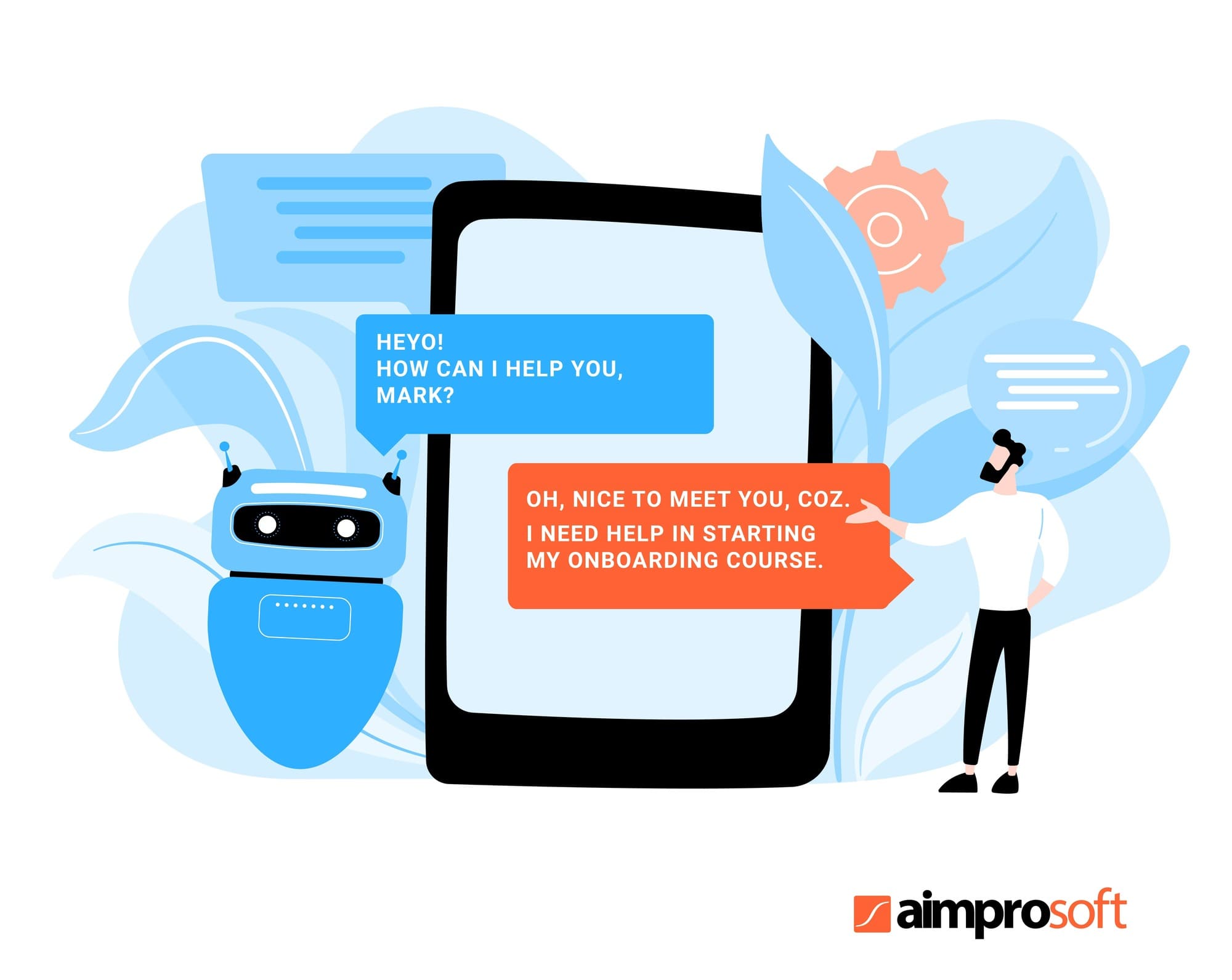 Bill Gates admitted in an interview that his learning method is to ask questions about a topic where he is not well-informed to people who know more about this topic. These are the prototypes of virtual experts – chatbots. Thus, this model can be scaled to create educational channels where chatbots can act as virtual experts and mentors of learners. Imagine how much time you can save answering new hires if one chatbot responds to several hires at once? Or will experienced engineers at your company be able to share their experiences once to program a virtual assistant that will train dozens of people?
From a technological point of view, chatbots are suitable for their ease of integration into various digital platforms without the need to download applications or additional programs. As soon as the chatbot detects the learner's intent, it can give a programmed response. It remains only to determine what the user wants and automate by means of artificial intelligence and machine learning algorithms.
ML improves business monetary results
In 2021 companies outsource all calculations to self-learning algorithms. Why? The algorithm processes large amounts of data and remembers all the successful and unsuccessful experiments the business paid with money. Based on this, it offers an optimal decision.
The implementation of any new tool requires costs that need to be taken into account. However, machine learning gives a competitive edge assuming routine and costly operations, e.g. time-consuming administrative tasks. It pays off rather quickly due to the reduction in the cost of operating activities.
The efficiency of machine learning helps track course performance and ROI in real-time, saving resources and reducing training costs. How?
Imagine, the profit from analytics automation is estimated within $9.5- $15.4 trillion annually, according to McKinsey. 40% ($3.5- $5.8 trillion) belong to AI. For example, predictive analytics is based on machine learning algorithms that detect anomalies or are capable of predicting the future using previous observations With their help, you can determine where students' progress has sagged and anticipated difficult moments in the training course to improve results—consequently, a faster return on investment in training advancements.
Let us look at this from another point of view.
82 million registered users in Coursera and 425 million enrollments in Udemy by 2021 reflect the learning density of MOOCs. Thousands of people enrolled across the world for the same class are exposed to drop out heavily. The reason is quite common for any learner: struggling with complex tasks.
With ML-based predictive analytics, students will receive personalized assistance, which leads to higher course completion rates and user satisfaction. Also, ML in e-learning allows online learning companies to take greater advantage by delivering more accurate online learning content, improving eLearning assessment quality, and increasing students engagement and retention.
Of course, this is hardly a complete list of e-learning and machine learning combinations. Having said about opportunities when you create an e-learning website, we can't help talking about challenges.
What may go wrong with Machine Learning in e-Learning?
In 2016 an AI chatbot roused up publicity by spouting nonpolite and negative comments on sensitive subjects. Microfost launched Tay (named of the chatbot) to have a word with millennials on Twitter. The youth engaged in dialogue sharing their thoughts. The conversation was kept up for 24 hours starting with "humans are super cool" and moving to strong views. Nobody expected that things turned out this way. In a day Tay was quit.
What does this tell us?
Machine learning models learn the word for word what they are taught be it good or bad things. The challenge ahead is to teach the system with very prudent intention. Let's get to the point.
Individual human influence
The data for training machine learning models should be as good as good results you expect to gain. For example, a machine learning model designed to forecast the risk of learners failing to complete a course program may categorize motivated employees as inert ones if it misconnects data in a wrong way based on past decisions by course curators who noted that the group lacking in the initiative referred to the age and gender category.
So the first challenge is affected by the strong human factor when selecting training data.
What you can do to deal with this:
Engage large teams of experts to collect data (bias is more likely to be blurred).
Analyze or call sociological companies to determine the most common functions people have in the online learning process.
You can use experts to collect training data.
Increasing the input size of the data will help balance potential bias by diluting bias-prone characteristics.
This way, your software vendor can build more accurate models.
Data types diversity
There are three types of data: structured, semi-structured, and unstructured. The unstructured data is divided into text, sound, and images. Data is usually split into two groups: numerical and categorical. Moreover, machine learning algorithms need data in a numeric form to make predictions. Each type of data can be influenced by a human, and the data can be corrupted. Preparing data for the desired format is not a trivial task and can take some time and effort. To build your first machine learning model, it is worth starting with one type of data, for example, text, as the simplest one.
ML models learn from past events only
During dynamic datasets, they can't give predictions about events unless they have been offered this experience in the past. Of course, you can think of it. But then, the basis of the model will depend on even more subjective views. For example, if an employee performed a career guidance assignment in bad faith, they may lie and write a response that satisfies the system in order to receive a promotion.
To get out of the situation, in this case, you can conduct training sessions among the curators and course creators to identify where employees can theoretically evade honest answers. Identifying truthful soft skills will help you make the right choice when recruiting.
The machine will cope with everything by itself
When you understand that automation is about to save you from the routine, you want to use the full power of technology quickly. You will start asking your developers to create a complex system so that the machine can take over everything to the maximum without involving a human. However, it is impossible to avoid bias based on past experience at the expense of the computer alone. Having been working with systems of various types for more than 16 years, we would advise you to do everything systematically, introducing simple models for your LMSs and gradually increasing their complexity, enriching them with new data sets.
Permanent supervision
Model monitoring is a continuous process. As in the accepted learning processes, a mentor and motivator are needed, so in ML systems, an overseer is required to monitor the evolution of models, add new data, and adjust them to the changing tasks of courses and students. If the model performance starts to degrade, your software vendor has to restructure its design. Retraining models requires additional resources and human training.
Wrapping up, there are five major challenges working with ML data: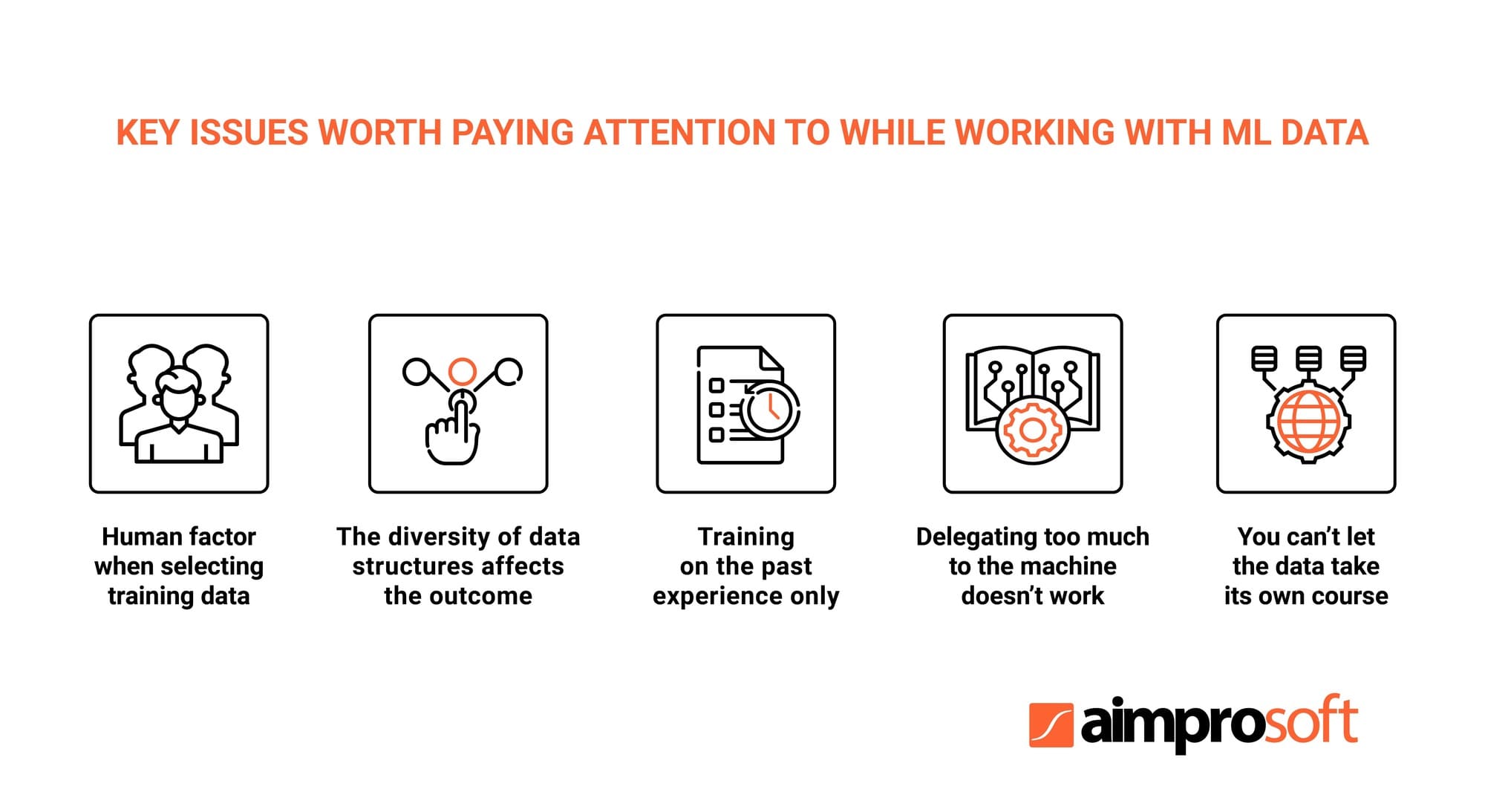 Taming ML data in eLearning with Aimprosoft
By harnessing the potential of ML, online learning companies or businesses developing their own corporate training systems can offer personalized learning at scale, save the efforts of instructors and learners on routine tasks shifting their concentration onto the more critical tasks. Due to the advantages of ML, we discussed earlier, people will be more engaged and motivated to go all the way. And business will get a return on invested capital faster with additional outcomes reflected in the productivity of employees.
Aimprosoft can help you heavily with the development of all that complex automation needed to implement facilitating solutions. As prediction algorithms based on data are the most required option among educational software projects, we can start with models to discover potentially predictive relationships for a course recommendation system, for example.
You can
share your idea
during the call and our ML specialists will take full credit on ourselves with technical realization.
FAQ
How can I use ML in my LMS?

Artificial intelligence enables to build of a suggestion engine functionality, content curation, admin task automation, personalization of programs based on ML algorithms. This is not a full list of capabilities for sure. Learning and Development teams can get much more value from it.
Do I need to collect data on my own?

Yes, you're right. Most projects need around 100,000 data samples for one set to perform well. These objects are related to your business specifics: course completion rate, best students, most demanded programs, etc. Purchasing or borrowing the data won't work because models building and system training have to be performed for your particular cases.
How much does it cost to implement machine learning in online education?

The cost depends on the nature of your data and the complexity of the models to be developed. A machine learning engineer rate per hour is $50 on average in the Eastern Europe region (and twice as expensive in the USA). To get a rough estimate for your project you can contact us.