Best Ecommerce Apps, Market Overview, Trends and Marketing Strategy
The success and rapid growth of e-commerce mobile apps attract more and more enthusiasts that are hoping to touch this new century gold vein. If you are also thinking about your own e-commerce product creation, then, as the gold diggers were examining the soil before mining gold, you should possess a vision of the current market situation and the best ecommerce apps examples explored in this article. When a complete picture is formed, we will move to the next question of e-commerce app development.
Mobile eCommerce market review
Dry statistics are convincing: at the time of 2019, 49% of websites traffic comes from mobile devices, and m-commerce sales have risen by almost 10% from 2018, reaching 44.7%. By 2021, experts expect the growth of m-commerce apps transaction value to 53.9%.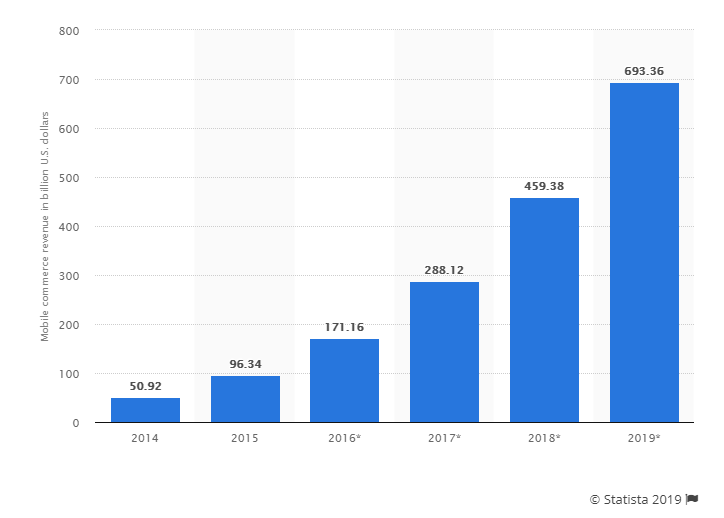 If we turn to retail e-commerce sales, the mobile retail sector is already ahead, showing 67.2% of the total percentage worldwide. This rapid growth will reach the level of 72.9% by 2021, which is explained by the expanding of the e-commerce market in regions with widespread mobile communications.
Retail is directly affected by the fact that every year consumers spend more time with mobile devices than with PCs. Keeping in mind that in 2019 the number of mobile Internet users has overtaken users of the desktop Internet, the incredible growth of m-commerce becomes obvious.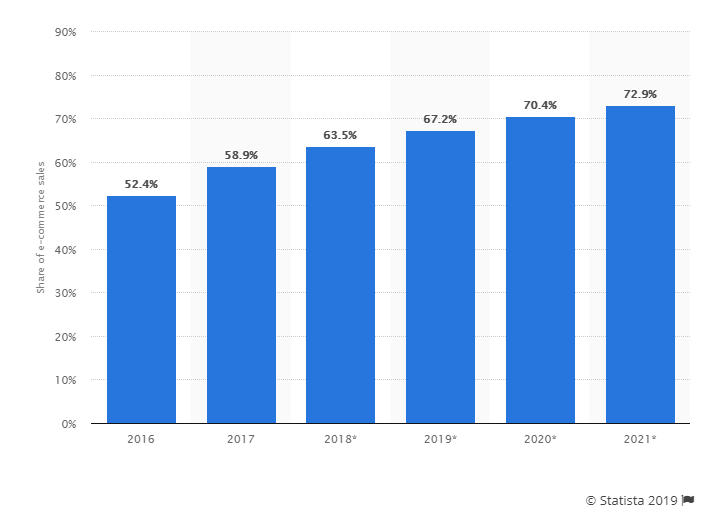 The most popular ecommerce mobile apps on the market
Amazon
Amazon shopping mobile app was first launched in 2009 in the UK for iOS, spreading from then on around the world. One-click purchase, advanced clients support, wishlist, and other features have won the hearts and minds of the audience. Using all the advantages of a mobile device in its work (voice and visual search, barcode scanning, order tracking), Amazon has provided a new level of user experience to customers and became one of the best apps for ecommerce, as shown in more than 100 million downloads on Google Play. The company does not complain about the lack of customers, having had more than 206 million visitors in a month and overtaken the nearest competitor Walmart by 75 million.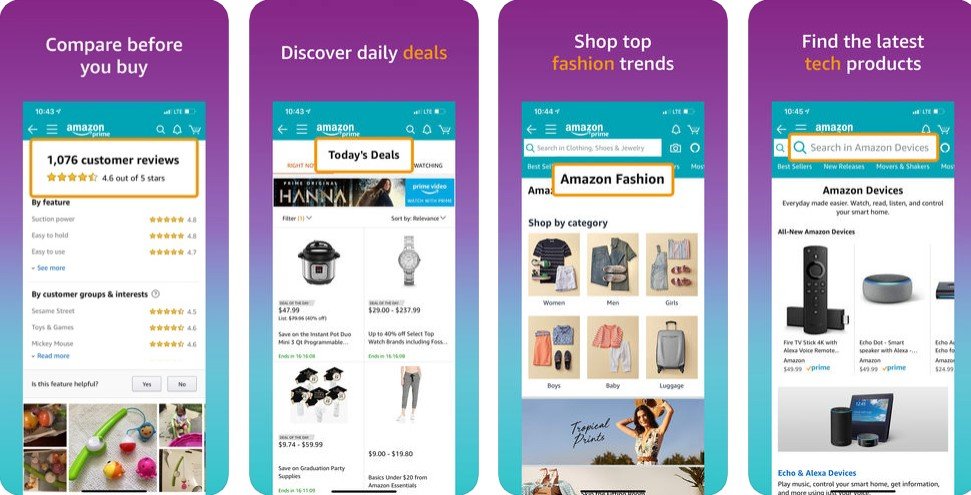 eBay
eBay, following Amazon, is also among the best apps for ecommerce business but with the different commercial model. When Amazon itself delivers products directly, eBay is B2C and C2C marketplace, which allows users to organize auction sales for any goods. eBay was not only the first e-commerce app but the first company to launch the app in AppStore in 2008. This application can boast the quick and easy buying process, an advanced system of selected products/shops, as well as a flexible search and price comparison mechanism using barcode scanning. The mobile app quality is indicated by a rating of 4.8 out of 5 in AppStore based on more than a million votes. For Q1 2019, eBay earned $2.6 billion with a total of 180 million buyers.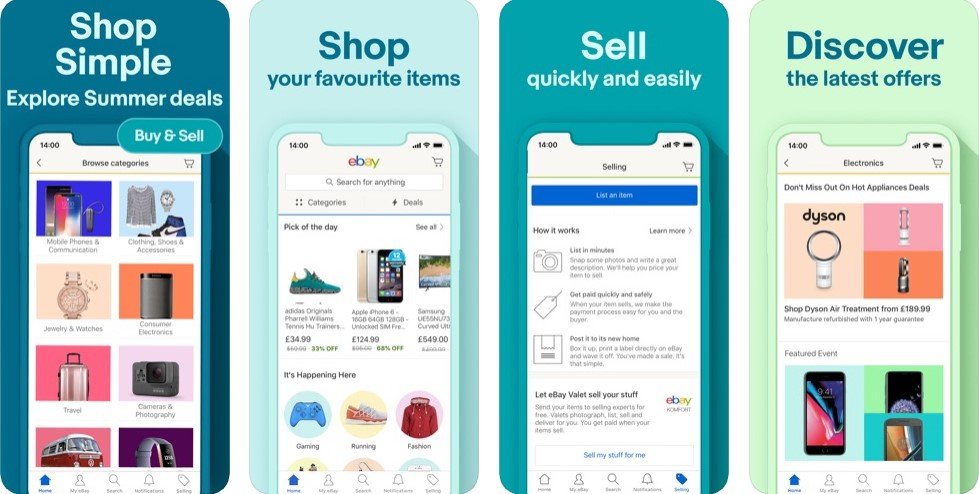 Groupon
Starting as a discount service, Groupon grew to a trading platform for local business. The application differs from the site in the fact that it allows users to collect even more discounts through the push-notification system, which reports about all the best offers and sends promo codes from the nearest places. Groupon's mobile client allows sharing discounts with friends and is also equipped with ApplePay for one-click purchases. At the time of June 2019, more than 75% of purchases in Groupon were made via smartphones or tablets, and the mobile application itself was downloaded more than 200 million times.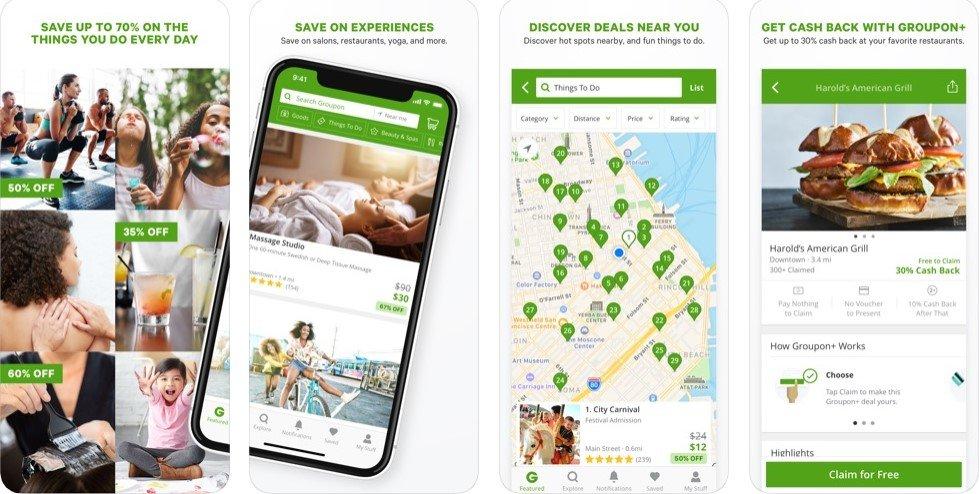 H&M
One of the most famous fashion retailers, Swedish H&M is popular among customers from all over the world, as well as its m-commerce app. As befits a fashion application, it is very attractive: the immaculate UI design allows displaying HD images and full-screen graphics when viewing products in the native lookbook style. Despite visual minimalism, H&M app is rich in all sorts of modern features, including visual search, barcode scanning, the ability to save favorite styles, rate and review products, and much more. Although the H&M app was launched in 2018, it has been downloaded by more than 10 million times to date. Now it is one of the best fashion ecommerce apps for Android and iOS.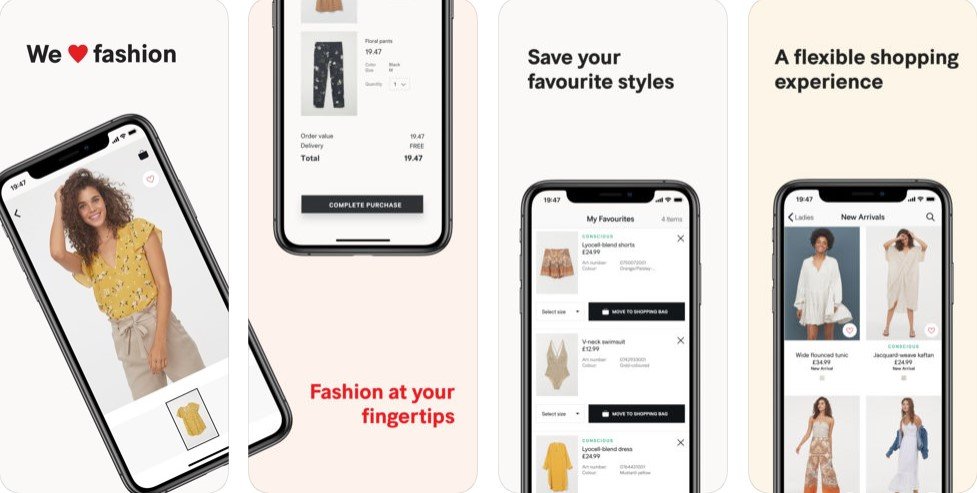 IKEA Place
Released in 2019, the new mobile app from the furniture leader IKEA demonstrates how applications can be a unique and non-alternative tool for e-commerce. Using ARKit technology as the basis, the app enables users to visualize furniture in the house before buying. Thus, online and in-store experience are combined, which is a step forward for the industry and is projected to push the conversion several times. The IKEA business model has changed following the new app, moving from large suburban stores to small outlets in cities, which allowed expanding its market share and become one of the best ecommerce apps for iPhone and Android devices.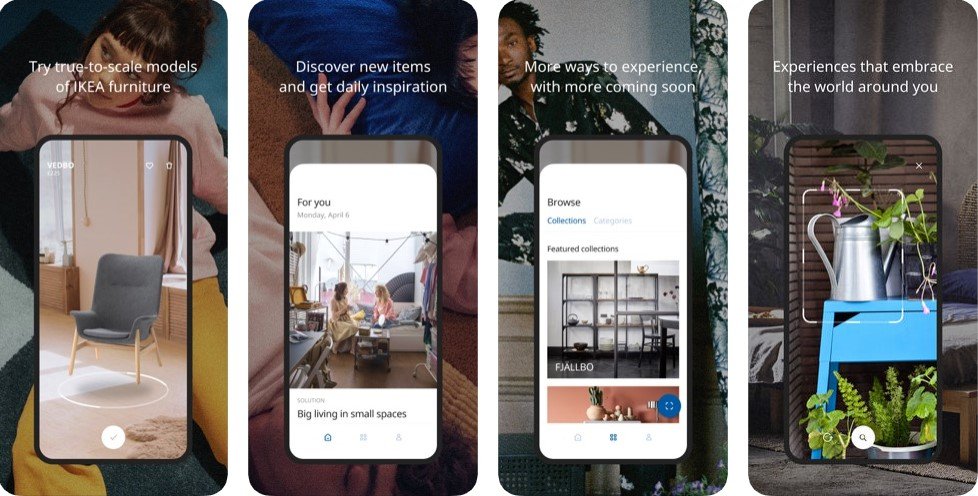 The Future of mobile eCommerce
The rapid growth of ecommerce apps foreshadows a great future for this field. Actually, it is already on the doorstep — companies such a Spotify, Lego, and IKEA exploit chatbots, voice search or augmented reality in business. Let's identify trends that will undoubtedly become a must-have for any m-commerce product over time.
Chatbots

The implementation of chatbots have been a mass phenomenon in recent years due to a number of advantages: in addition to 24/7 communication and support, chatbots make it easy for customers to purchase using scripts. With the help of AI and ML technologies, a chatbot can find information about a client in a fraction of a second, which significantly improves the customer care and personalized experience. When developing chatbots, the most common difficulties are:

architecture building;
NLU data debugging (Natural Language Understanding) — bot's behavior errors in lexical and syntactic similar utterances;
chatbot scope — an area of bot's actions;
intent naming — scheme of bot's intentions;
multilingual approach adaptation.

When implementing chatbots, it is recommended to start with the MVP and not equip it with too complicated AI, because the main thing is to set it up properly for stable and error-free work.

Image 8. Chatbot in H&M app

Visual search

The technology of visual search is developing by leaps and bounds in recent years. The image responds to the idea of ​​a search more than keywords, since it is a query in itself. Search engines also interact better with visual components, which leads to more accurate results. For businesses, visual search is useful in:

reducing the gap between search and purchase;
for marketing advantages (e.g., distribution photos of a successful purchase by clients);
for the ability to easily track the popularity of certain products among users.

Today, this technology allows searching based on the part of the image and use the camera for real-time search. 62% of millennials prefer visual search to any other, and these numbers are growing. Don't wait for mass distribution of this trend soon, but further improvement of the technology and the discovery of new usage ways for e-commerce will definitely take place.

Image 9. Visual search in Neiman Marcus app

One-click purchasing

Experts explain the benefits of one-click purchase for retail apps by the fact that mobile users take just a few seconds to buy: what falls into the shopping cart, according to Barilliance statistics, in 85.6% of cases remains there forever. Efficiency is the main criterion in the decision-making process for a successful purchase, which is facilitated by one-click buying and other simplified purchase methods such as registration via social networks.

Until 2017 a patent for this technology was owned only by Amazon, but now this technology is quite easy to implement in your app, using the REST API method to interact with the server, where the necessary data is set. However, its integration also carries certain risks: a customer may accidentally order unnecessary products, which will lead to a refund and inconvenience. To avoid this, you should provide mechanisms for self-cancellation of an order.

Image 10. One-click purchase in PayPal app

Augmented reality

The rapid development of AR technology offers not only an engaging experience for customers but also several practical advantages for e-commerce apps. A virtual showroom will allow you to 'try on' any clothing or accessory, be it glasses or sneakers, by merely pointing the camera at the desired part of the body. Such an easy to use mechanics assumes that the customer will even look at those products that he did not plan to buy, what significantly increases the conversion. AR applies not only to clothing but also to furniture, interior items, and cosmetics.

Integration of the AR occurs by selecting and installing a suitable SDK. Among the most popular are ARToolKit, Google ARCore, Vuforia, and Apple ARKit. Since it's a young technology, developers are faced with hardware (optimization, camera performance, GPS accuracy) and software (lack of high-quality toolkits, unstable infrastructure, and adaptation of frameworks to new devices) issues.

Image 11. Augmented Reality in Sephora Virtual Artist

Voice search

As well as visual, voice search is aimed at improving the customer experience and increasing sales. But this is achieved by other methods. Thanks to the speech-recognition technology, the search is carried out 1.5 times faster than the visual one, which makes shopping quicker, extremely simple, and convenient. Convenience is manifested in the fact that voice search does not require any concentration and can be done on the move.

In contrast, it deprives the opportunity to see the product, so the result of the voice search needs to be listened to, while with a visual one, you need only to look for a moment. This technology is suitable for certain products, but its presence is substantial for expanding the list of service tools and catering user needs.

Image 12. Voice search in HOUND

Machine Learning

Many call ML the future of e-commerce, and there are grounds for it. This technology, based on a self-improving AI, can offer your business:

A more advanced search ranking, where the accuracy and personification of the result will be achieved due to user relevance, not keywords comparisons. For giants with millions of products like Amazon, this will significantly improve search, allowing customers to see what they want.

Product recommendations that can be improved to an unprecedented level due to the capabilities of ML may surpass the results of a computer-based analog, which is responsible for 35% of Amazon sales. Shopping behavior algorithms can be used for this task. In the future, ML will be able to offer products depending on your plans, desires, and even the weather.

ML can analyze prices in the market, demand, time of day and season, as well as a specific category of a client to adjust the price with the greatest benefit for your business. Dynamic price adjustment will allow you to make sales that were previously considered impossible.

The peak of Machine Learning potential lies in prediction, which goes far beyond human capabilities: having access to a wide range of information, ML can make decisions leading to sales growth and high rates.

To implement ML in a mobile application, you should use an ML framework like Google TensorFlow Lite or Apple's Core ML. There are still many challenges in mastering ML that are yet to be solved, such complex ones like studying behavioral patterns to trivial ones like the lack of ML specialists.
Top 6 advantages of eCommerce app and why your business needs it
The advantages of m-commerce cannot be described in two words, but they are all united by the idea of taking the best approach to each client individually. This goal is achieved by the following:
Faster operation

Applications allow performing operations one and a half times quicker than mobile sites since they store information locally and use frameworks much faster than JavaScript on the part of sites. The best e-commerce apps allow users to view products and add to the shopping cart offline, which makes them handier than e-commerce websites and thus more attractive for buyers.

Availability of use

By enabling customers to access your application from any device, the business will receive a significant boost in conversion, as purchases will be made anywhere and anytime. Mobile features such as one-click buying, push-notifications, and easy payment squeeze the most out of every chance of a purchase.

Personalization

M-commerce can collect more personal data compared to sites, which increases the number of opportunities for providing personalized content. Using data about the client's location, age, and interests, you will improve the quality of the individual approach and CX growth. So, a client who was looking for red shirts in the next session will see an advertisement of exactly red shirts on the main page, which leads to more purchases, and accordingly rise of your profits.

Synergy with the device hardware

What the websites are deprived of — scanning the QR codes with a camera, searching for nearby stores by GPS, and making purchases with a microphone, — applications can do directly in the interests of business. Device hardware can be used for thousands of different purposes, while the site's abilities to interact with hardware is strictly limited.

High demand

According to Statista, the share of m-commerce in the USA will be more than 53% of e-commerce sales by 2021. Taking into account the fact that more than 60% of American customers use mobile phones while shopping, we can confidently state the higher demand for mobile apps than for websites.

Saving opportunities

Creating an e-commerce app allows you to significantly save on things that could not be saved in other cases. Depending on your business model, you may not spend money on a physical point for the store, but only have a warehouse with goods.

In other business models, you can have neither a physical point nor a warehouse, but cooperate with suppliers and distribute goods by a delivery service from their warehouses. The same thing happens in the case of a marketplace, where a digital platform is enough for doing business. Besides, the mobile application's scale is much smaller than the website's because of functional and technical characteristics, which will also affect the cost of development.

Together, these advantages let you contact customers directly and form a high interest through a personalized approach. But they alone do not guarantee success. You require a strategy.
Marketing strategy
No matter how well-designed the application is, it will never reach a wide audience without proper promotion. To start a marketing campaign, you don't have to wait for the app release. It will be much more profitable to promote the application during development, holding the public's interest and making it wait for the launch.
Depending on whether you want to create an online store or marketplace mobile app, determine your monetization model and target audience. Knowing that, you not only can personalize your advertising with sales offers but also build a full marketing concept for a specific archetype of users to form a consistent brand image.

When the development reaches the stage where you can share some details, it is recommended to create a landing page that appeals to action and is easy to understand with:

notable Google Play and AppStore stickers;

the possibility of subscribing to emails;

registration form to sign-up for a closed beta test;

Smart SEO engine and social networks integration to maximize ranking;

mobile optimization for higher search rankings.

Visibility is responsible for how quickly and often users will find you on the first pages of search. It consists of many useful options, which include:

Emailing. If you thought that email marketing is the past, then say hello to the past, because according to the statistics of Content Marketing Institute, 93% of B2B sellers distribute content via email, and 40% of them call this the main source of marketing success.

Social network promotion. Social networks are more alive than ever, and the distribution of your app should be the established practice:

Facebook is the best for retail and online stores;
YouTube channel covers the widest and most diverse audience;
Twitter is suitable for fueling discussions;
For achieving visibility, it is very convenient to create product catalogs on Pinterest;
Instagram will perfectly serve to form a positive brand influence through increased visibility options like posting photos, videos, and stories.

Read Also: How to Make a Social Media App and How to Create Your Own Social Network Like Facebook

Contact press/bloggers. To reach the target audience directly, you should choose specialized media and content makers. You can collaborate with them either on a paid basis with a full-fledged partner article/video or based on bonus offers when advertising scale down to hyperlink of your product. There is also another, more economical approach — guest blogging: you can publish articles on specialized sites or at least answer questions on Quora.

Advertising. The most suitable advertising models for promoting ecommerce apps are Pay-per-click (PPC) and Pre-roll ads. Google Adwords, Microsoft Advertising, and Quora are the most popular PPC advertising services. Pre-roll ads appear as videos during a load of others on platforms such as YouTube, Facebook, and Twitter.

Promotion websites. By downloading the app to special advertising services, such as Product Hunt and Launching Next, your application will receive additional attention from the relevant audience. Many of them are completely free.

Blog. If you do not have a website, then it will be beneficial to create a blog, in which developer diaries and news about the progress of work are published.

Alternative App Stores. For proper promotion, do not neglect other stores. Among the alternatives of Google Play: SlideME, Amazon Appstore, Opera Mobile Store, Mobile9. Among the alternatives of App Store: Cydia, TweakBox, AppValley, TutuApp.

App Stores Optimization. This is an analog of SEO optimization, but only for app stores. ASO is aimed at the best ranking of your product, helps optimize the keywords, descriptions, choose the optimal name, icon, screenshots, and categories.

To make users see your application in the first lines of relevant search, introduce a high-quality SEO optimization. Take notice it is affected by:

optimization for mobile devices;

compliance with mobile-first index;

Google AMP (Accelerated Mobile Pages) introduction;

structured data markup use.

Marketplaces have broader and more flexible settings for SEO optimization since each vendor account has tools for individual marketing promotion.

Starting with invite-only beta testing will not only create an aura of intrigue and interest but also help to catch more bugs. Testimonials from testers will help you understand whether you need to make any changes or if the app formula works. The invitation of popular and influential personalities for bigger promotion, such as bloggers, is widely practiced.

The best ecommerce apps are not only those that were well developed but also whose strategy has been successfully implemented. Now that you have an understanding of how to promote your product via the Internet, let's move to the central question: how to develop e-commerce app?
You may also want to read