Articles
20 October, 2021
How Much Does it Cost to Make an Educational App

Key takeaways
What is the cost to create an educational app? Read our overview to know market prospects with a $47 billion potential.

The development cost is not defined by the developer's rate solely. There are a number of factors preliminary depending on your objectives. Explore them below.

Learn your spendings on educational app development collaborating with Aimprosoft.
Back in 2012, learners rejoiced about an opportunity to study at Harvard and MIT on a distance. Universities initiated an opening of a non-profit online learning platform with free courses from their curriculums. In 2021 edX, with its assets, is close to being acquired for over $600 million by 2U, a SaaS platform for running online universities.
Almost passing a decade, online education platforms have become a point of evaluation of millions of dollars. A new education-in-a-pocket trend allays concerns about smartphones as a source of the distraction of learners. Figures prove the education apps market has the potential of $47 billion for the 2020-2024 period.
By the market evaluation of $47 bln, what educational app development cost is to bite a piece of the market pie? Read on to know investments, influencers, and tech aspects if you want to create an educational app.
How much does it cost to make an educational app in 2021?
The situation in the market is drifting to unstoppable learning, which incites to invent new ways of delivering the full diversity of knowledge. Which application will be in demand, and where to invest money? Which market is the most attractive for launch? What do people interested in more? How to create an educational app according to consumer demand?
Market overview

Over 31% of mobile learning expenditures come from the US. By the end of 2021, the mobile eLearning money flows are going to surpass $38 billion, which shows that more higher-eds offer online learning with on-the-go opportunities for learning audience who is familiar with the format.
With 3.8 billion smartphone users globally almost 50% of people in the world are connected. A lot of those people in isolated spring 2020 first entertained than learned.

Such a surge of downloads of educational apps forced a wave of e-learning software development to cover learning needs. Reflected a burning out from pandemic learning, both Asian and American as the most trend hyping markets are blooming with education app development.
A real explosion in demand felt educational apps to support stay-at-home learning of K-12 and in higher eds. Over 100 million hours were spent in education mobile apps during the week in the pandemic spring months by school kids.
Top 5 education apps: what do people want to learn?
Look at this list: it showcases the number of needs you can cover with an educational mobile app.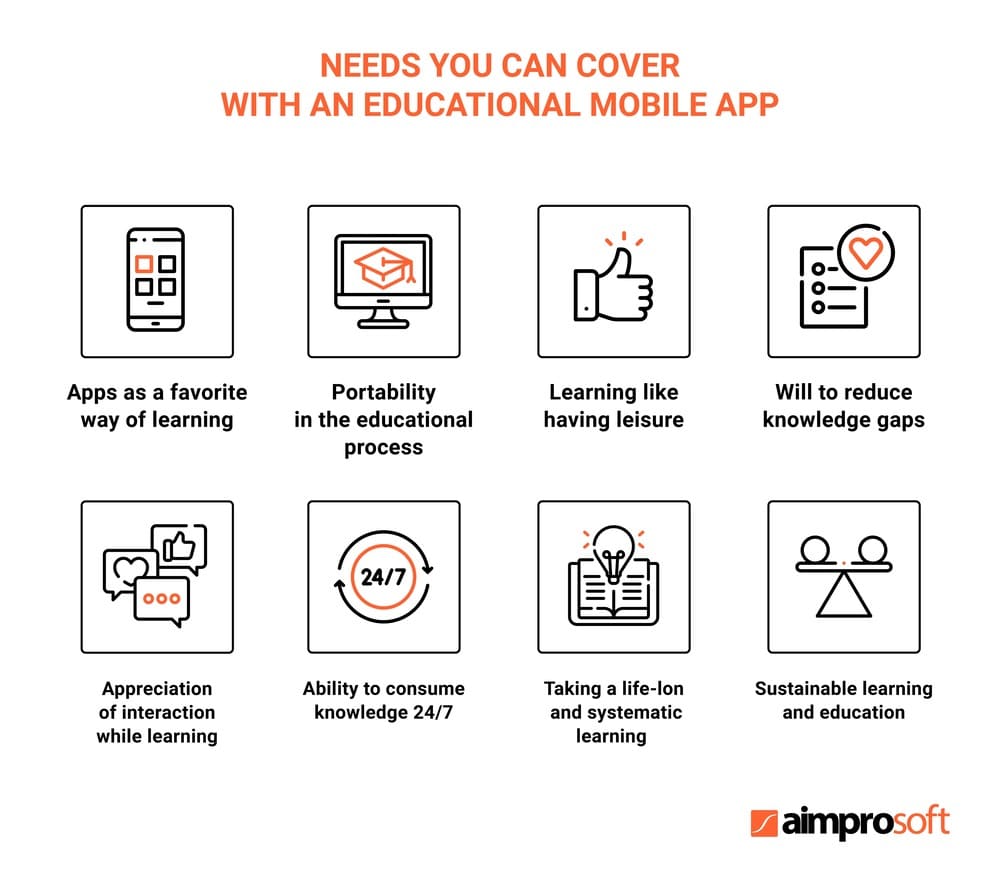 Based on Sensor Tower findings, the most downloaded Education category apps in 2020 were Google Classroom with over 28.2 million installs, showing an unprecedented 21x increase from April 2019. It is a blended learning platform offered by Google for free to streamline assignments in schools.
YouTube Kids follows next with 10.6 million installs showing an almost tripled increase comparatively to April 2019. An oriented towards children video app enables content selection, parents control, and filter vlogs under age grouping.
Willing to learn languages with Duolingo, solve the equations with Photomath, and become a piano player with Simply Piano because, without music, life would be a mistake!
Duolingo acquired 300 million users worldwide. We elaborated on their and similar apps' success path.
Take me there
For this reason, people are overwhelmed by studies and they are increasingly doing it online, where there is a teacher, a student, and educational content.
Top 7 factors affecting the cost of educational app development
The cost of developing education apps heavily depends on several factors. Even if you look up to some existing products of the same purpose, you may fail with the cost because two apps differ with almost the same functionality.
#1 Types of educational apps
Speaking about educational application development, one may consider applications of non-gaming nature, those that are enough to assist first of all in tutoring for schoolchildren and students unabling to enter classrooms physically or as a supplementary means in the educational process.
As usual, educational apps are commonly referred to as for students and teachers. Apps oriented on educators help with teacher-related tasks, Kahoot allows turning a boring lesson into a game, Google Classroom organizes a wide range of processes to hold classes productive, Remind makes it possible to arrange off-classroom meetings with parents and children online.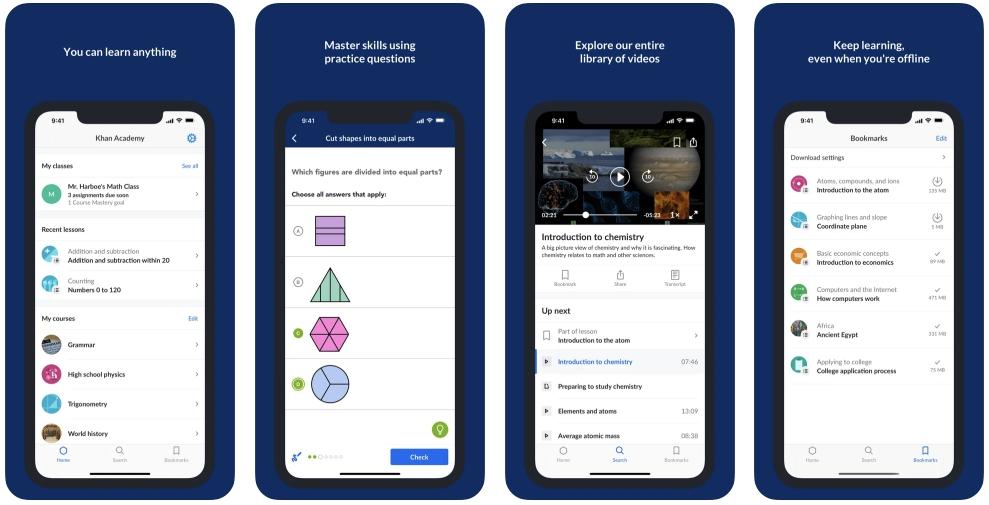 Student-focused apps have functionality for one-way training with no teacher support. The role of the teacher here is on the admin (owner of the product) responsible for content and courses creation, user management, and other related stuff. In that respect, technology plays the role of tutor. Syllabus and educational materials creation are behind the scene prepared by the faculty. Khan Academy and edX by means of video tutorials provide courses with professional certificates for students. Duolingo and Busuu are good for solo language learning.
edX, Udemy, and Coursera have a powerful web presence. We covered what's behind.
READ MORE
Student-teacher mobile apps contain three primary roles that affect the functionality: student, teacher, and admin. This type is less widespread however shows more appeal for learners. Here a direct student-teacher communication is possible via integrated chat tools unlike in the previous app type.
Are you ready to know the cost of developing an educational app? Let's take a look at the factors that influence app development price first to have a full picture of what you pay for.
#2 Features by user roles (teacher, student, admin)
Accordingly, if there is a division of the app use roles, then the features will also be created to meet the requirements of these user types. The number and complexity of functionality will determine the cost of the app.
For an application to be effective, you need to clearly understand its goals and objectives. Then it is easy to understand what features are needed to be implemented. However, educational applications have one thing in common: some of their functions are related and should be implemented in most cases.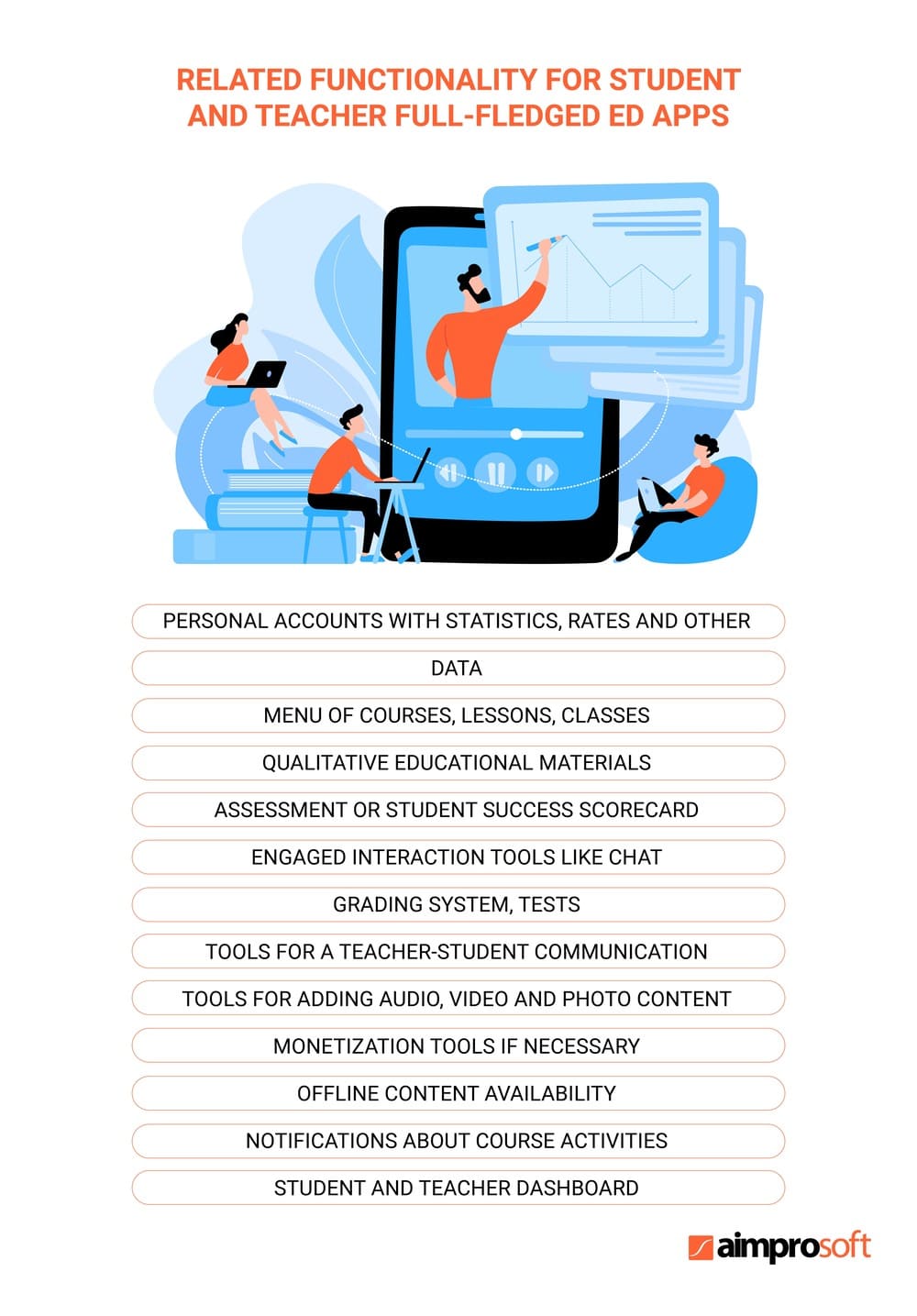 So then, having chosen app type, there will likely be two main roles: teacher and student. The feature list is generated based on these two categories to cover basic needs and satisfy advanced demands. As usual, we name a basic feature set that refers to an MVP. Advanced functionality is added to the broad user experience by thrilling them.
Admin role serves to manage teacher and student user groups and their capabilities.
The advanced functionality of the educational app

| Purpose | Feature |
| --- | --- |
| Live interactions | – Live tutorials – Interactive sessions – Online in-person feedback – Online regular tests – Q/A during live tutorials – In-session chats – Screen sharing |
| Asynchronous functionality | – Session recording – File sharing – Homework reminder |
| Entertaining elements | – Immersive elements (AR, VR, AI) – Gamification – Mock tests |
What matters more: timing, functionality, or cost? We suppose everything. Keep on reading to know how these three components correlate and influence estimating (we took the average market rates).
Consider an advanced feature as a pillar for your educational app?
Let's discuss how to succeed with it.
Contact us
#3 Software technology
The cost to build an educational app is affected by a tech stack. You will need to opt for native (iOS, Android) or hybrid (React Native, Flutter, Xamarin, Ionic, Cordova) launch platforms, a core programming language, networking libraries, and supplementary tools to implement signups, search, push notifications, and storage to develop an educational app. The underlying principle is to take performative, modern, and reliable technologies that would be reasonable in your specific case.
#4 Third-party integrations
Be it an extended option for a web platform within the existing digital ecosystem, or a single educational mobile app, both are not without third-party integrations. Animations, payment providers, chats, analytics, and many other vital advanced features affect cost development.
Approach the issue thoroughly: based on our experience, not all third-party services are necessary for a successful MVP launch. For instance, you can entirely neglect external payment providers like Braintree or PayPal, favoring Google Pay and Apple Pay for in-app peer-to-peer payments, which would be less time and cost-consuming.
#5 Cloud integration
After launching a minimal set of functionality or taking some features as a killer one for the first release, you may want to integrate your app with the cloud. Live streaming video lessons over the internet or enabling simplicity in sharing files between teachers and students are implemented by means of cloud capacity.
Despite that the cloud infrastructure has no upfront costs, such solutions are not from the cost-conscious category. Google Cloud, DropBox, Sync have packages fitted to different user needs. So you can opt for a plan that is affordable for you. Note that the integration process also requires efforts for implementation.
#6 Development partner expertise and location
It's obvious that a development partner with expertise in the education domain has a more clear understanding of how to bring your idea to life. It will take less time to estimate and consult you on the project realization. And you can get intelligible advice concerning the educational app implementation, which may largely save your time and money.
Average development rates in the regions from which we most often are addressed for software development services (based on Talent, Glassdoor, PayScale, Indeed findings):
| Developers / Region | The USA | Germany | UK | Nordic |
| --- | --- | --- | --- | --- |
| iOS | $65-85 / hour | $40-60 / hour | $50-70 / hour | $40-70 / hour |
| Android | $55-85 / hour | $40-60 / hour | $50-70 / hour | $40-70 / hour |
| React Native | $60-80 / hour | $45-65 / hour | $70-100 / hour | $45-75 / hour |
The location of the vendor defines the amounts you may spend or save. It's known that the software developer market is heterogeneous. North America and Silicon Valley areas always refer to the most expensive while the Eastern Europe technological hub does not concede to others by quality for the more affordable price. You may get the app done by paying a comfortable price if you choose the right expertise-location combo.
Have questions about the price?
Let's have a talk to clarify.
Contact us
#7 Gamification and immersive education
In 2021 it is difficult to imagine an app for learning without elements of gamification. Nevertheless, for many newbie apps, gamification is still on the nice-to-have list because turning into a game the educational process is quite an expensive thing. However, apps for kids are the most popular category of usage along with foreign language learning apps like Duolingo, with gamification at its core.
Following the game, immersive learning increasingly takes place among the must-have features, forming the basis of the immersive-based educational app. AI, AR, and VR get over from fabulous to normal functionality stealing an enormous chunk of the budget. Everything can be justified by your objectives and global strategy.
Cost of developing educational apps with Aimprosoft
Educational apps inspire us with their prime objective to make humankind smarter. Whether we undertake the app development to train math skills or build a language learning app, the cost to start an educational app is estimated based on the involved specialists performing diverse tasks and technologies.
Team: who you need to get your educational app done
To develop a mobile app for learning, you need not only iOS, Android, or React Native developers. To get a really top-grade product, the following specialists must work under the project:
Business Analyst;
Project Manager;
UI/UX designer;
Tech Lead;
iOS and Android developers (or React Native developer);
Frontend developer;
Backend developers;
QA engineer.
A project team can be smaller if you do not chase the deadlines or have a design with elaborated functionality. Please note that a full-featured product may require a larger number of developers to implement advanced functionality.
We are almost there. Let us take a wild guess you want to know a spectrum of technologies and related people before we proceed to figures.
Technologies by development task types
Developing an educational app doesn't seem you have to follow the same rules every time. The variety of technologies and their combinations in 2021 free you up to create diverse, fascinating applications. Below, you can see some of the most popular technologies related to different development activities:
| Development area | Technology |
| --- | --- |
| Backend | Java, Node.js, Python |
| Frontend | Vue.js, Angular, React |
| Mobile app language | iOS: Swift Android: Kotlin Hybrid: React Native (*Swift 4 / Kotlin for creating native modules when needed) |
| Database | MySQL, Oracle Database, PostgreSQL, Microsoft SQL Server |
| Storage | Amazon S3 |
| Cloud infrastructure | AWS, Microsoft Azure, Google Cloud |
| Frameworks | Express, Material UI, Amplify |
Development flow: we do it confidently and step by step
Working with Aimprosoft, you are prevented from going off the rails. A business analysis fixes real use cases defined by user needs and ensures against wrong functionality. Followed project estimation shows time with respect to the desired feature list across the entire development journey. UI/UX designers create intuitive user-oriented experiences based on the latest industry trends.
Now developers with a tech lead headed by a project manager come into play to produce your app. Iteration by iteration together with you, we move to the first release relying on Agile methodologies. The testing phase rounds up the app creation before the first adapters try it. So we arrived at the support and maintenance stage that is inevitable for the post-development period, whether you stay with us or assume it on your own.
A rough estimate based on an MVP feature set
As we said earlier, the platform affects the cost of the app – the app will be native (an iOS/Android pair) or hybrid on React Native/Cordova/Flutter. Based on our experience, we have made an approximate calculation for you for all options.
Respect only exact numbers?
Your prerogative. Let's discuss your project requirements for a more detailed estimate.
Contact us
MVP features
As a starting point, we took the following MVP feature set for student and teacher activities in the educational app:
| Student features | Teacher features |
| --- | --- |
| Signup login | Signup login |
| User profile | User profile |
| Menu with courses | Syllabus |
| Course dashboard | Course creation |
| Course to be learned | Tests creation |
| Push notifications | Push notifications |
| Search | Assessment, Progress Tracking, student statistics |
| In-app purchases | Students management: Comments, feedback |
| Student success scorecard | |
Developing UI for native platforms looks like 866 hours versus 576 hours for hybrid development on React Native (we took it as the most demanded cross-platform technology for the development of educational apps now). Favoring for native app development, you should expect to pay for feature development on two platforms, while with React Native choice, the product cost will be lower employing 'one-for-two concept. However, nothing compares to what you get with the native app development: the full access to the mobile device functionality due to the functions of an operating system at full pelt rather than cut capabilities with the hybrid one.
Total numbers for a minimal feature set are as follows:
| User role/Platform | Android, hours | iOS, hours | React Native, hours |
| --- | --- | --- | --- |
| Student features | 222 | 214 | 264 |
| Teacher features | 224 | 226 | 312 |
Besides platform development, there are additional development services that influence the cost.
See, there is such a nuance here:
Typically, the admin role is implemented as a website, which is perfect for user management tasks performed by the admin. In rarer cases, the admin functionality can be implemented on the mobile platform, if yes, so it could be iOS/Android or in the case of cross-platform mobile development React Native, for example. Frontend development will take over 140 hours.
The payment option can be integrated upon demand if you favor Google Pay, Apple Pay, PayPal, or any other payment provider.
Design
Design with an educational focus differs the main thing: it should not deflect attraction from learning. So creating a really intuitive and appealing UI/UX experience takes time. Be ready for investments in this area if you want to succeed with your venture. 302 hours for one native platform (iOS/Android) doubled and 351 hours for a React Native platform. 604 vs 351 hours are the time UI/UX designers need to design your educational app.
| User role/Platform | UI/UX design iOS, hours | UI/UX design Android, hours | UI/UX design React Native, hours |
| --- | --- | --- | --- |
| Student features | 98 | 98 | 115 |
| Teacher features | 100 | 100 | 119 |
| Admin features (web) | 104 | 104 | 117 |
| Total | 302 | 302 | 351 |
Making a design to lead your users the intuitive way experiencing a pleasing to the eye interface will take almost the same number of hours for every platform. Except for one little fact.

Business Analysis and Technical Specification
Business Analysis typically takes 70—80 hours, with 20—30 hours for Technical Specification included. Depending on the project complexity, this is the minimum needed to work out a business strategy and plan a set of features with UX drafts.
QA
'I build an MVP, so my users will test it' is a misconception. Startups call for Quality Assurance services to fix critical bugs before users try the software. The more bug-free even a simple product is, the better user feedback you will get on other business-critical issues. QA operations, as usual, are around 25% of the total development time (backend development and platform UI).
DevOps
DevOps engineers support speed and quality of software deployment at the proper level working collaboratively with developers throughout the product lifecycle. Integrating the development and operations into a single continuous process needs a minimum of 15% of the project's total development time.
Project Management
Many often misjudge project management seeing it as a waste of time. But the truth is that well-organized processes from the early beginning can save time and money for error correction. 20% is the minimum time set aside for PM services to ensure delivery of your educational app.
The final educational app development cost
| Feature | Backend, hours | Android, hours | iOS, hours | React Native, hours |
| --- | --- | --- | --- | --- |
| MVP features for students | 188 | 222 | 222 | 264 |
| MVP features for teachers | 154 | 144 | 148 | 136 |
| UI/UX design | – | 258 | 258 | 301 |
| Admin panel (Web) | 140 | – | – | – |
| QA | 25% | 25% | 25% | 25% |
| PM | 20% | 20% | 20% | 20% |
| DevOps | 15% | | | |
| Total | 772 | 905 | 914 | 1016 |
The educational application on iOS and Android platforms will take 914 and 905 hours respectively, and cross-platform on React Native around 1016 hours.
Please note, we take the $40-hour rate as a basic average rate in the Eastern Europe region, Ukraine.
| Platform | Time | Cost, USD |
| --- | --- | --- |
| Total sum for a complex iOS and Android app solution | 1819 hours | $72 760 |
| Total sum for a React Native-based app | 1016 hours | $40 640 |
Converting hours into money, you need $36 560 to run a native app on iOS and $36 200 on Android, and $40 640 if you choose a hybrid app for two platforms. Note that the final sum depends on the combinations of factors we've overviewed.
Want to get a detailed estimate for your particular case?
Contact us
Conclusion
Let's rewind and go through the key points of educational app development cost. The target market with all its perspectives and limitations defines your efforts and possible investments. Minimal viable features, technology, app capabilities, delivery team (staff and location), all that will affect the cost. It's your call of 2021 definitely. So hold to your strategy and objectives and glance over the online education trends in 2021-2022 before you contact us to kick things off.
FAQ
How to monetize an educational app?

A monetization model is a part of your marketing strategy. It can be: freemium (free of charge with paid premium features), subscription (often monthly fee to access the learning materials), ads (way to earn for mobile app leaving it free for users), initially paid apps.
How to launch an educational app?

First things first. Start with market research, discover your niche, get to business analysis to write up features to respond to your target audience's demands, find a software development partner, deliver an MVP, and proceed to post-development actions such as feedback collection, functionality enhancement, next marketing level.
What is the cost of educational app development for language learning?

A rough estimation of educational app development starts from approximately 1000 hours. Based on the Eastern Europe average rate, it would be $40 000. You can find the complete overview of the cost in our article on how to build a language learning app.