¡Hola España! DES2017 — Digital Business World Congress gathered masterminds of Blockchain, IoT and AI
Over 18,000 professionals from every corner of the globe and 450 speakers, almost 200 conferences lasting over 1,200 hours, and scores of private meetings on in digital transformation happened with a team of Aimprosoft during 23-25 May in Madrid.
The second edition of DES|Digital Business World Congress has passed for progressive digital savvies. Eagerly expected speeches on Internet of Things, Artificial Intelligence, Cloud, Blockchain, Cybersecurity, Big Data, analytics, and leadership were held there highlighting Gartner's Technology Predictions for 2017.
The keynote tech giants such as Accenture, IBM, Amazon Web Services, KPMG, Siemens, T-Systems, UST Global, Everis, and many others represented their groundworks and innovations stretching on over 80 booths. Germany, France, Italy, United Kingdom, Ukraine, United States, and Mexico is a short list of countries showed the international presence on DES2017.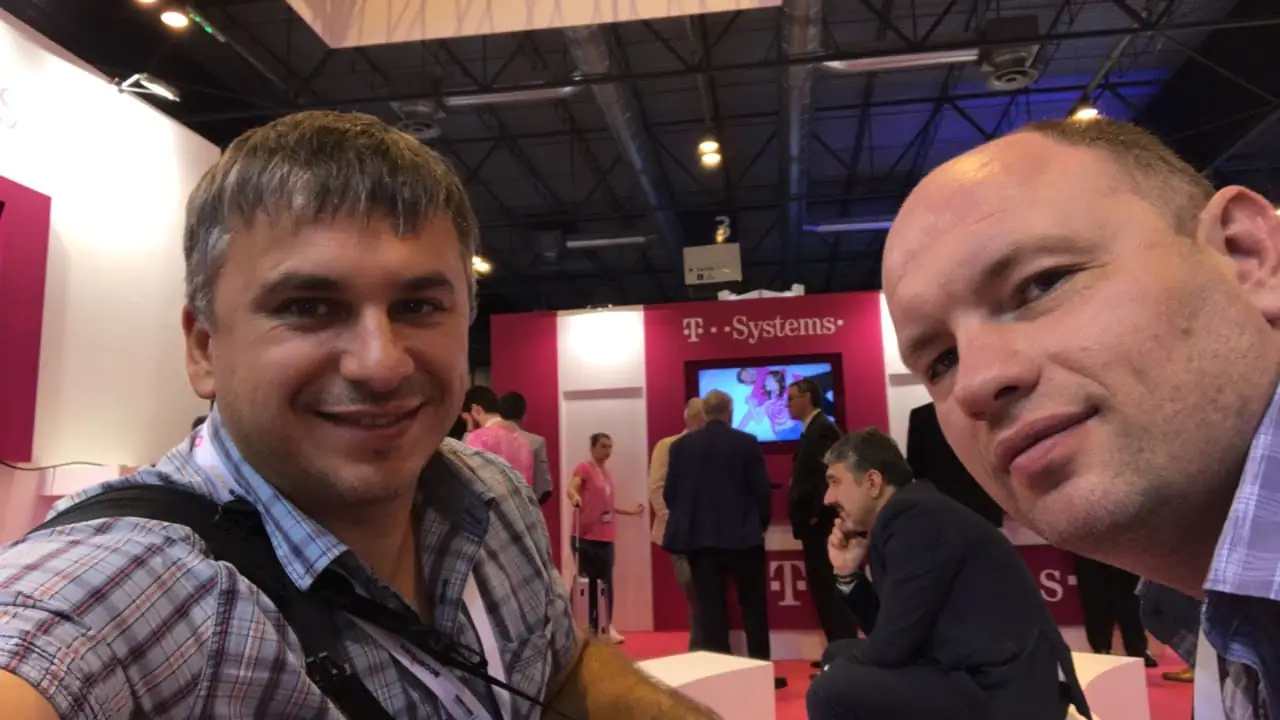 Maxim Ivanov, CEO, and Igor Zaporozhets, CTO, attending T-Systems booth with a friendly visit
Our team consisting of CEO, CTO, and Head of International Relations succeeded in meeting Aimprosoft current client Everis, came closer with Spanish Office of T-Systems in the person of Toni Navas Pacheco, CTO, IT Delivery (we've been partnering with T-Systems Germany for over 5 years), and laid the foundation for the future cooperation with UST Global with Juan Maria Rodriguez Anta, Responsible for Area SAP and Pablo Martinez Martin, Business Manager, SAP.
UST Global and Aimprosoft team after discussing the mutual cooperation
Walking along the demo alleys of DES, we felt the atmosphere was conducive to having amicable discussions with new business partners. We got inspired by speeches by Anders Indset on having for all of us "a one hour thinking time" and "digital prophet" David Shing on innovation and the future of brands.
David Shing, luminary of digital world and Natalia Silina, Head of International Relations at Aimprosoft
All exhibitors and visitors were open to dialogue about outsourcing. European business community favors for Ukrainian specialists in Java, .Net, native and hybrid mobile applications development jointly with enterprise solutions such as Liferay, SAP Hybris, Alfresco etc., which are widely presented in the portfolio of Aimprosoft.
Everis booth at DES2017
It was nice of our colleagues sharing the notion that Spanish companies advocate for outsourcing to Ukraine already having dedicated teams and R&D centers in Kharkiv, Kyiv, and other development hubs of the country. European enterprises stand for moving faster to overcome obstacles partnering with Ukrainian development companies when building tomorrow world.
Experiencing VR and cognitive mirror at DES2017
Summing up
The congress happened with a festive Spanish touch celebrating the diversity of innovations and international empathy as Andres Indset defined it "the most important tool in the leadership toolbox"(original source Dialogue Review)."
Maxim Ivanov, CEO of Aimprosoft, expressed himself about this participation optimistically: "DES2017 was organized on a very high level, we listened to impressive talks, dove into the atmosphere of today which builds tomorrow. I personally share the opinion of leading futurists about business acumen and relationship building as Martha Heller stood up for on the stage."
Igor Zaporozhets, CTO of Aimprosoft spoke about future plans: "Next time we may participate the congress exhibiting our solutions for enterprises. We have more than a twelve years development experience behind us realizing projects for e‑Commerce, Telecommunications, Financial sector, IoT, Healthcare, Media, Travel and others so we're going to extend our portfolio covering trendy directions."
About Aimprosoft
Aimprosoft is a Ukrainian software development company headquartered in Kharkiv, Ukraine. A history of the company goes back to 2005 a year when it was established. A customer-centric approach has grown us into a solid team of professionals which provides dedicated resources of the highest qualification.