How to Launch an EdTech Startup in 2023?
Key takeaways
Booming, promising, disruptive. It's all about the market you're going to enter. Find out how to start an EdTech startup in 2023 and what you can claim.

$7.3 trillion is a figure the global education market will reach by 2025. Explore the market trends to set out your niche.

The EdTech sector doesn't differ: ups and downs are everywhere. Know more about successful startups that reached the stars and the top failures you can avoid.

Take a look at the monetization models and growth factors that are feasible in the education sector.

Clear up how to get funded and build relations with investors.
There's something we can't keep back from you: you're the one who can disrupt the EdTech industry. You're on the way to starting something new to deliver the new-founded society in the digital epoch. In the epoch, when teachers with a digital teaching experience are becoming ranked higher than orthodox, who are data-driven decision-makers in their pedagogical approach.
You're at the point ready to go ahead.
Excitement is mixed with uncertainty about:
Where to set out from?

How do you plan steps when you want to start an education startup like

Byju's

, the biggest unicorn in India, or

Coursera

is in a sweet spot regarding

EdTech

flourishing?

What about money and how it be noticeable to investors?
We've got it. In this blog post, we'll take you through each of those steps in a bit more detail. We will finish by clearing up how you can get what you need in one place with Aimprosoft. Let's kick off things.
What is EdTech?
EdTech, short for Educational Technology, refers to using digital tools, platforms, and technologies to enhance learning and educational processes. It covers a wide range of applications, including online learning platforms, educational applications, virtual reality tools, gamified learning systems, and more. EdTech represents a significant business opportunity as it meets the growing demand for innovative and personalized learning solutions.
Later in the article, we assess the global EdTech market, which is proliferating due to the growing adoption of digital learning, the need for remote and flexible learning options, and the desire to improve learning outcomes.
Current vision about an EdTech concept
What is an EdTech company?
The roots of what we take as a core of elearning go back to computer-based training that emerged in the 1970s. EdTech is often synonymous with online education, but in fact, this very concept includes an entire set of digital tools aimed at improving the efficiency of the educational process.
If you have an entrepreneurial spirit and want to apply your gust to education, you will be named edupreneur, an EdTech entrepreneur.
In addition to online schools, interactive courses, and educational applications, there are vendors of electronic systems for educational institutions, training equipment, VR simulators, platforms for corporate training, and other products on the market.
Sorting out, EdTech refers to the usage of technological power to improve or manage the learning process while elearning is a way of internet-based learning as an alternative to a traditional classroom.
EdTech market is on a roll: why you should start an EdTech company in 2023
Education is one of the world's largest industries, accounting for over 6% of GDP. Holon IQ analysts predict the total volume of the global education market will reach $7.3 trillion by 2025.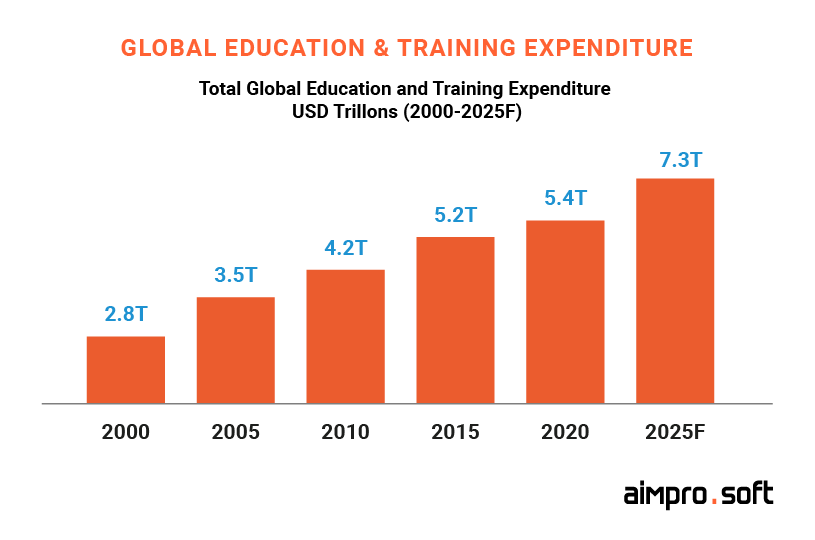 Getting used to the thought that education will be a $7 trillion industry in just three years, you are on the clock to start an educational technology company. Let's go through the chief movers and shakers that set the pattern for change in the sector.
Education throughout life
People want that learning to be not a tedious, necessary measure but an entertaining process. It is possible to make education this way and at the same time attractive to investors with the help of technologies that are available in their variety on the market.
Lifelong learning brings grown-ups:
Knowing a little bit about everything to be market adaptive
Spotting new opportunities to fill knowledge gaps
Widening career perspective with adjacent skills
Self-motivated acquisition of knowledge during life by interests or for the sake of a profession is what people want. For adults, the reasons can be deepening knowledge in the profession, gaining new experience in hobbies, experimentation, and an interest in discovering something new to be proud of their achievements. Children are interested in everything if this "everything" is playfully delivered and fascinating. One thing is clear, an agiotage around lifelong learning catalyzes EdTech startup ideas, and following one of them to create an elearning website is never a bad choice.
Picked academic demand for digital education
There were preconditions for the digitization of education long before schools closed their doors for in-person instruction and moved classes online in the spring of 2020.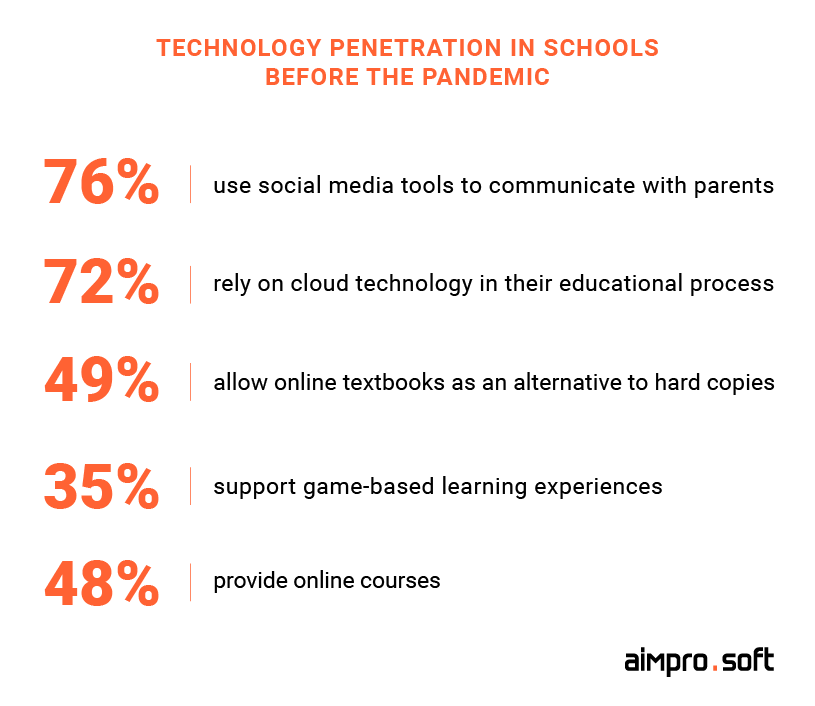 During COVID-19, K-12 and higher education sectors experienced the most extensive growth because people had to master new technology tools to continue the educational process:
Teachers had to instruct students with proper engagement on a computer from their living rooms in a way unfamiliar to the majority.

Students were not wholly prepared to fully switch to the remote mode suffering from a lack of motivation despite being native to technology.

Parents wished to get a piece of relief by delegating efforts to technology to take control of the learning process.

Schools started hunting for tools to have a go at distance learning.

Portable device adoption in education was growing demonstrably, mostly due to new opportunities from the internet connection.
Even though digital adoption snails comparatively to other sectors globally, it is forecasted that education spending for digitization will reach $404 billion by 2025. The new technological landscape in K-12 and higher eds raises an ocean of new opportunities for startups to meet the needs of all stakeholders beyond creating a language learning app.
Investors adore EdTech
$10.76 billion is a figure for record-breaking venture capital investments that took off at an unprecedented clip by 2022.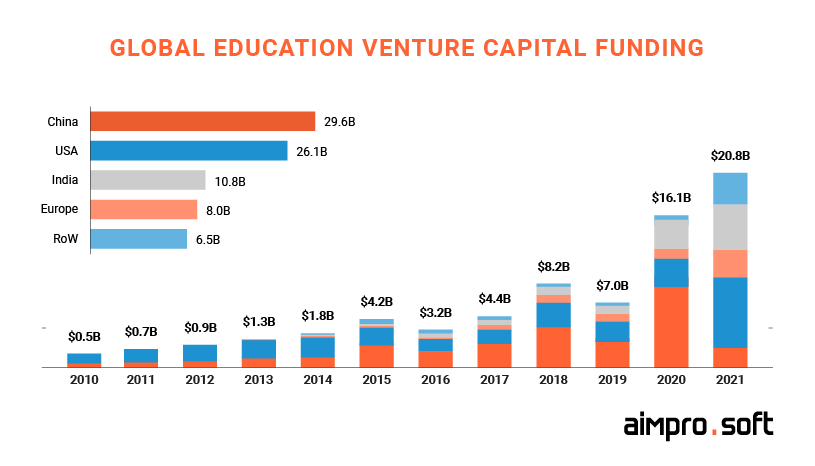 Yet on a pre-seed round, figures count $2.1 million to support Maqsad, a startup from Pakistan, aiming "to make education more accessible to 100 million Pakistani students." It is a good ground for R&D and growth activities, isn't it?
Leap, a two-year-old US-Indian startup focused on helping students with abroad education issues, raised $75 million in total in 2021 in Series B and C. Apart from intensive investors Sequoia Capital India and Jungle Ventures, Owl Ventures, and Harvard Management Company joined the forces to support the EdTech undertaking, finding it promising.
Another example, Panorama Education, serves 25% of American schools, having backed with $60 million in funding to provide an education software platform helping educational institutions to understand their K-12 students with surveys. In its turn, NoRedInk, a San Francisco-based startup, got a $50 million Series B support to help students get back on track with writing skills, which demonstrates the renewed interest of investors in the sector.
Zoomers are your trend-setters
"We should be the Zoomers" by the opinion of Megan Gerhardt, professor of leadership and management at the Farmer School of Business at Miami University. Named by Zoom and constrained by pandemic communication that was the most demand during forced home isolation in 2020, the Zoomers are ready to be educated in a native to their virtual life in a social network way where they are always on their chatting.
To back it up with supporting evidence, Screencast-O-Matic recognized that technology explosion happens with youth first bringing up field professionals in good time. With orientation on students' lifestyles, a company started a platform enabling both teachers and students to get interactive communication via video streaming with screen sharing in their classrooms.
A platform where educators can adapt their orthodox approach to delivering exciting, immersive content instead of dull lectures provided in a native Zoomers format is worth considering if you want to launch an EdTech company.
People hunger for accessible and affordable education
While the prices for college tuition and fees increased with a pretty hefty rate of 32% for the period 2011-2019, according to the US Bureau of Labour Statistics, housing and textbooks, for instance, may claim for a significant budget share of the families.
Deliberating launching an EdTech startup, you can do a favor for millions of families. Be it a MOOC or digital tutorial hub, you can provide a less expensive offering combined with greater accessibility than a traditional one if you create a website like Udemy, for example. By betting on digital, you can attract the target audience with a quick update, revision, and distribution of educational materials as well as affordable course taking.
30 EdTech unicorns worldwide
Unicorns are young startups that were able to reach a capitalization of $1 billion in a short time. The term itself was coined by the founder of the American fund Cowboy Ventures Aileen Lee to underscore the rarity of the phenomenon in 2013.
Note: while this overview was being composed, the world got richer for one more unicorn.
Among over 800 unicorn companies, 30 are from the EdTech sector with a collective valuation of $89.6 billion, which shows the big time for the undertaking. The latest members of "the nine zeros club" are Emeritus with certified education from top-tier universities, upGrad global online higher ed to accelerate career, and GoGuardian for schools' management.
Tutoring, language learning, corporate learning, test preparation, online post-secondary and curriculum, and career planning are impressive but far from the full list of clusters where you can find yourself hitting the unicorn list.
EdTech startups that took chances and succeeded
Outschool, Cambly, Labster, and other startup EdTech companies are growing as mushrooms after the rain. To stir you up, we've covered the three most inspirational startups from India, USA, and China.
Byju's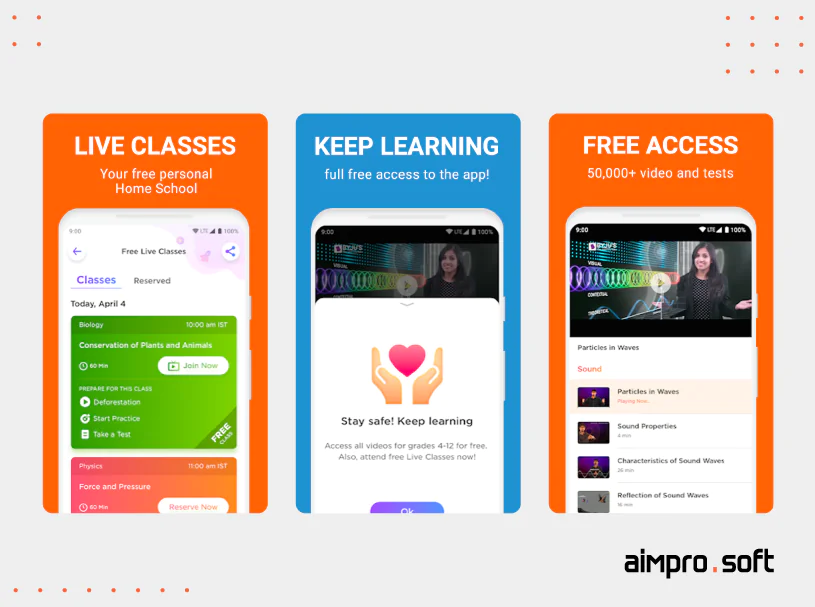 Their path is a splashy story. Founded in 2011 by a married couple Byju Raveendran and Divya Gokulnath, a Bangalore-based educational platform, Byju's provided learning programs for K-12 students. Its precise personalization and adaptation to the style and pace of every single student, paired with a strong leadership vision, allowed them to become a decacorn with a $16.7B valuation after the latest investment round with $150 million Series F in September 2021. Byju's revenue from operations reached 82% in FY2020. The company continues attracting investments meanwhile acquiring tech companies to extend its portfolio.
Yuanfudao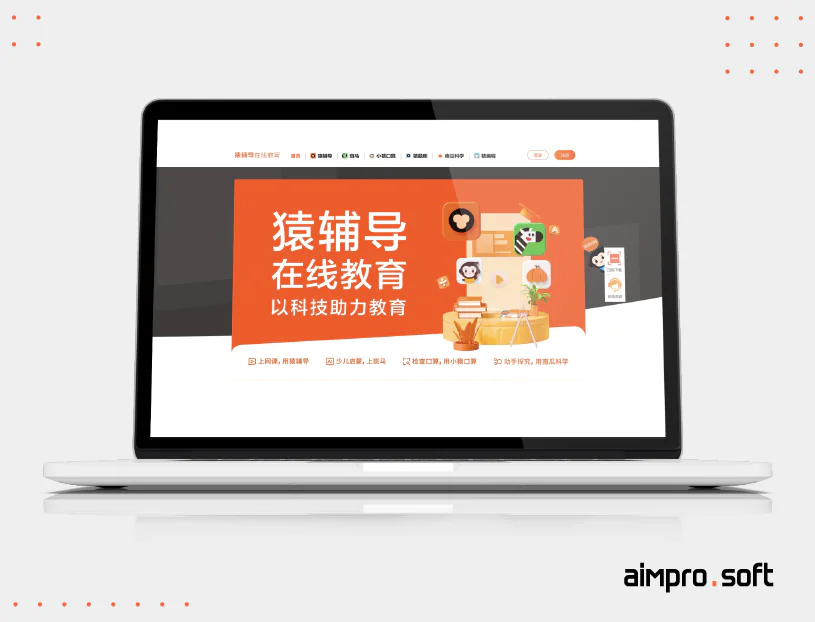 While 2020 was a disastrous year for most companies, Chinese startup Yuanfudao hasn't just grown and has become super successful. Its valuation reached $15.5 billion, experiencing a 200% year-over-year revenue increase, which made the project one of the most expensive in the world in online education. Starting with the idea of helping future civil servants prepare for exams, Fenbi (former name) has gradually grown into a multifunctional provider of preschool, adult, and K-12 online education services known throughout China and beyond. The last round brought them $300 million, and Yuanfudao announced sponsorship of the 2022 Beijing Winter Olympics. Selling live courses can be pretty profitable, right?
Articulate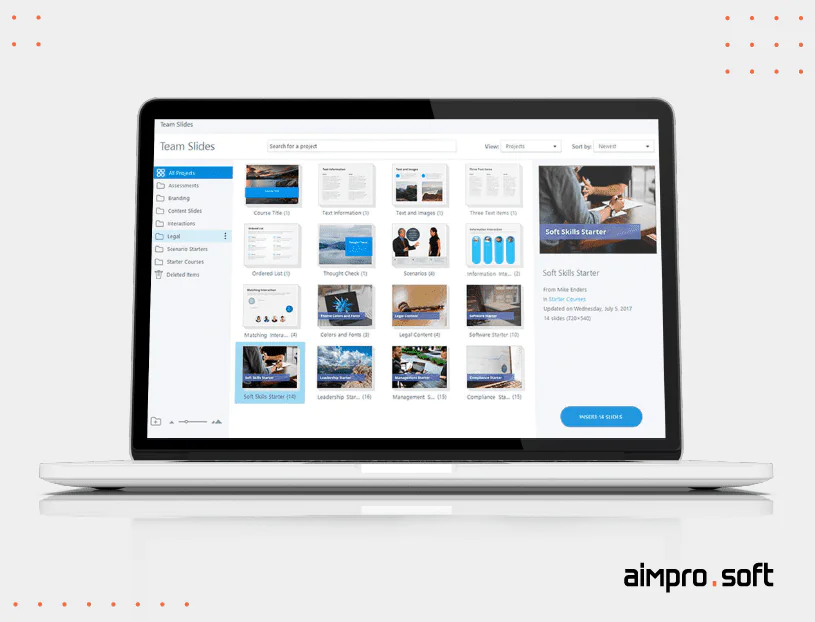 Articulate gave it another shot. Over 112,000 organizations, among which the Fortune 100 reps use the platform to create online courses for corporate training. The company initially took off with the life savings of CEO Adam Schwartz in 2002. The first outside investment came in July 2021 in a hefty amount of $1.5 billion, evaluating the company at $3.75 billion. A plug-in for PowerPoint turned into a software service with 119 million learners from 161 countries worldwide, proving any simple idea may have a big future. Articulate now dominates in course authoring apps building their business in the remote working model.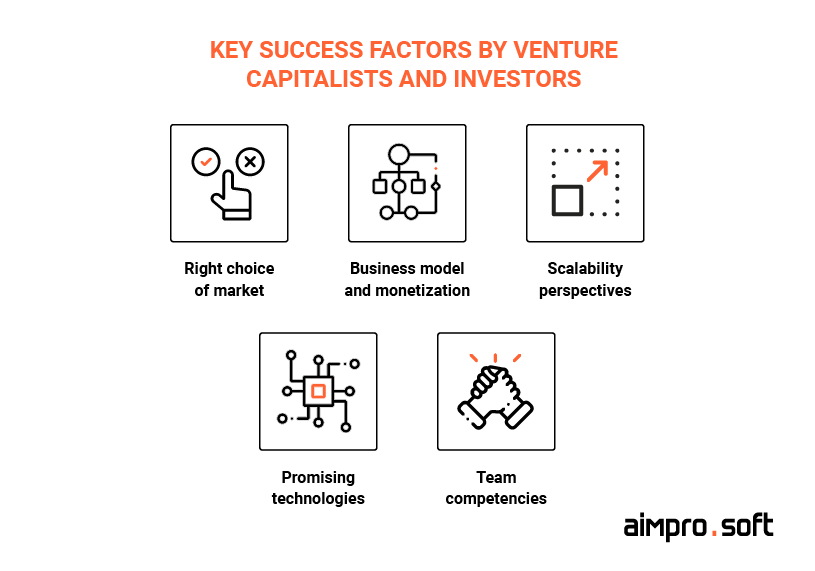 As you can see, the landscape of education startup ideas and their geo widespread are broad. There is a niche in any corner of the world for creating an educational technology company that can become a leader in its segment. Begs the question: how to launch an EdTech company and grow faster?
7 tips on how you may grow your startup faster (Infographic)
Getting into business throws down the gauntlet. You're in. A series of decisions and overcoming challenges is here to stay. On the race of "uppy-righty" charts in your pitches, follow these feasible tips.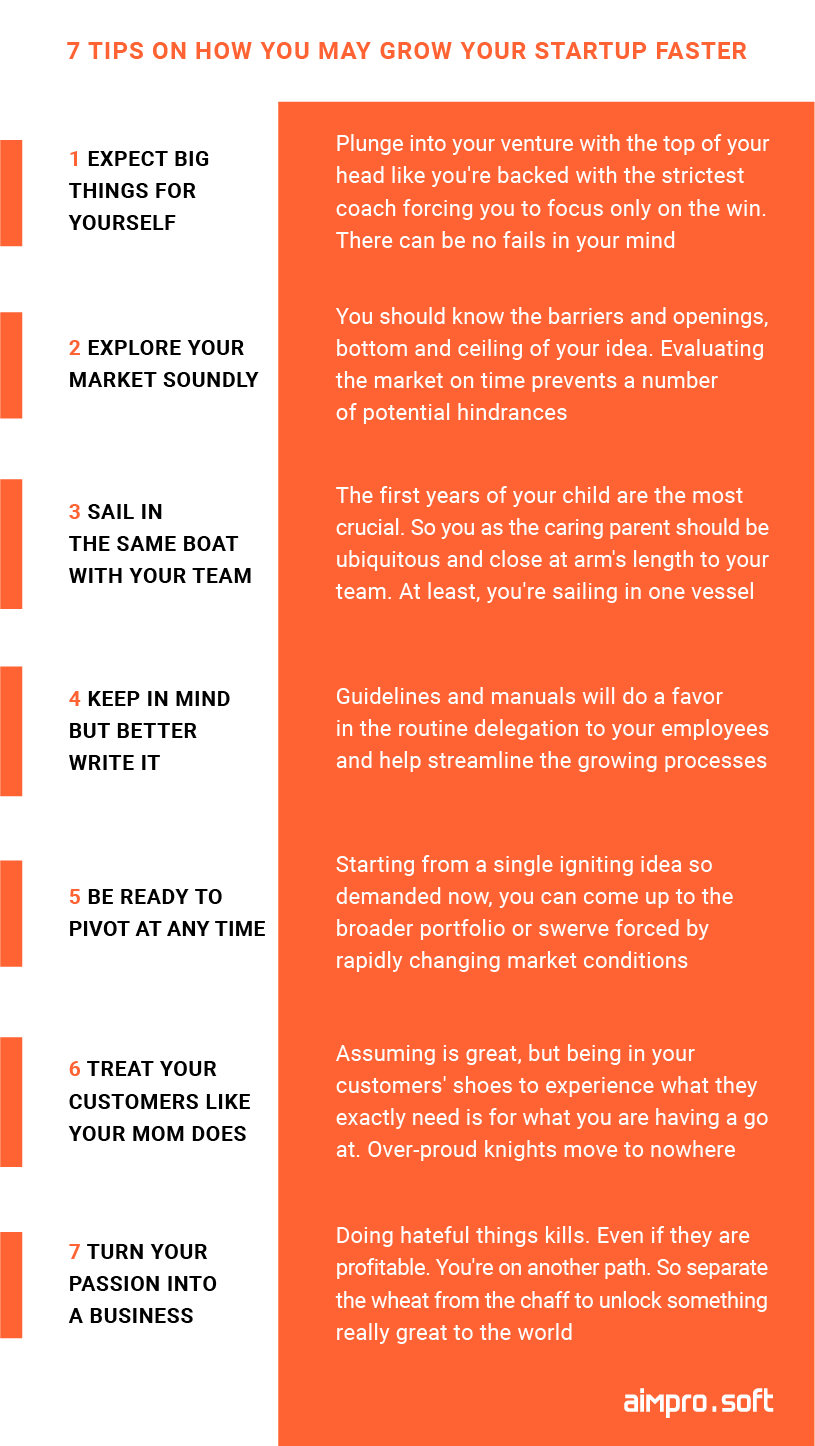 Expect big things for yourself
Plunge into your venture with the top of your head like you're backed by the strictest coach forcing you to focus only on the win. There can be no failure in your mind.
Explore your market soundly
You should know the barriers and openings, the bottom and ceiling of your idea. Evaluating the market on time prevents a number of potential hindrances.
Sail in the same boat with your team
The first years of your child are the most crucial. So you, as the caring parent, should be ubiquitous and close at arm's length to your team. At least you're sailing in one vessel.
Keep this in mind, but better write it
Guidelines and manuals will do a favor in the routine delegation to your employees and help streamline the growing processes.
Be ready to pivot at any time
Starting from a single igniting idea so demanded now, you can come up to the broader portfolio or swerve forced by rapidly changing market conditions.
Treat your customers like your mom does
Assuming is great, but being in your customers' shoes to experience what they exactly need is for what you are having a go at. Over-proud knights move to nowhere.
Turn your passion into a business
Doing hateful things kills. Even if they are profitable. You're on another path. So separate the wheat from the chaff to unlock something really great for the world.
How to monetize your EdTech app?
Business is about money, right? How adorable, full of passion, and sprinkled with a starlight duster your business idea is, it may cost nothing without monetization. So stick with us here to know how to make money with your startup.
Coursera demonstrated the freemium model with a paid advanced plan being given a taste by many.

The paid subscription works well paired with a free trial when users can evaluate the service before turning to it for a long time. Peergrade, Mystery Science chose it.

If you want to create an EdTech company, consider a marketplace approach of Udemy that takes a 50% share of the creator's revenue with a free course posting.

The product business model of Chegg allows making money by offering to rent digital and hard-copied textbooks.

Advertising is not new in a startup monetization, however, an ad-free subscription may bring an additional revenue stream.

The institutional approach focuses sales on school administrators if they are your target audience. Market reps are IntelliBoard and Schoolzilla.

The consumer approach of Scholastic uses schools as a lead generation channel allowing using an app for free in school and charging for home usage.

The partnership model demonstrated by GoNoodle allows getting financial assistance from sponsors promoting children's health.

The B2B/B2C sales model of A Cloud Guru s oriented toward engineers and engineers-in-training who want to deepen their online cloud computing skill set.
Within the startup space, there are many more wide variants than wherever. We just opened the door slightly to clear up the opportunities. Probably, while we're discussing the topic, some entrepreneur is inventing something significantly different right now. Be that one!
Where to take funding for your EdTech startup?
Angel investors
In post-pandemic investors activated in funding EdTech startups seeing it as a global catalyst of eLearning solutions. You can reach out to someone in the space directly or pitch on AngelList, Gust, Angel Investment Network, or U.S. Angels Investors.
Venture capitalists (VCs)
A global EdTech venture capital was $16.1 billion in 2020. VC investors and firms are interested in growing unicorns, so they invest large amounts in startups to get enormous returns back. Apart from money, investors can mentor you on business and introduce you to their network, which is also a valuable gesture. You will give them a share in your company and a voice of influence in key decisions. Owl Ventures, Rethink Education, GSV Capital, and Reach Capital are high-profile EdTech backers.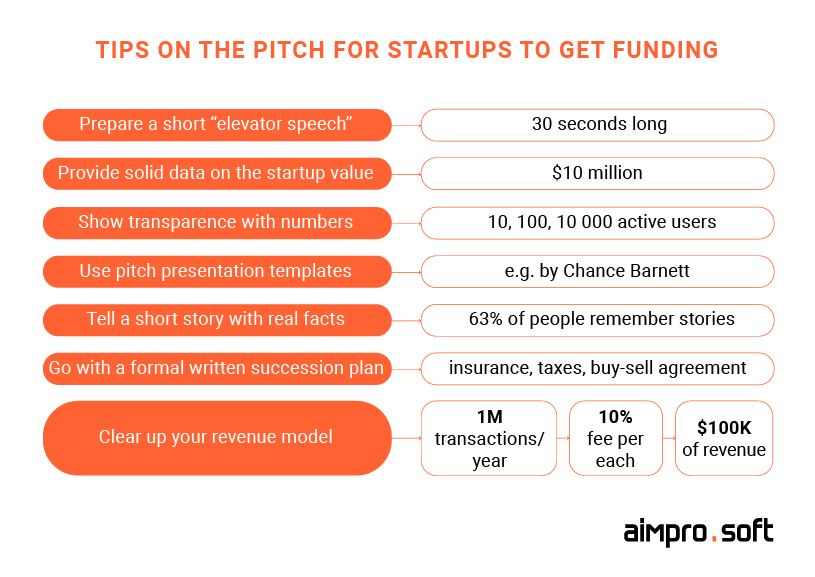 Crowdfunding
Crowdfunding is a popular way to get your first money to create an EdTech company. It refers to small contributions from different people who expect a feasible bonus from you once the product or service is live. Appealing that control over the business is completely on your side, unlike with investors. Indiegogo, Kickstarter, and SeedInvest Technology are platforms where you can count on donations from individuals.
Bootstrapping
If you have some money and want to use it as an initial source of venture capital to build an EdTech startup, it refers to bootstrapping. Remember above we narrated about Articulate, an EdTech unicorn that bootstrapped on its own? Yes, you can take total control over your business, decide on your own and be independent of someone's "making the rules." Self-made entrepreneurs are a rare breed — a few resort to the use of individual capital, relying more on venture funding in startup booming times.
Corporate and government grants
Besides the most-talked-about investors, governments and corporations put education at the forefront. You are free to apply for grant funding to high-profile funds and programs. GrantWatch, GetEdFunding, Candid are databases with listed corporate grant funds to develop ed-tech innovations. As a case in point, Central Square Foundation currently supports Khan Academy and Nalanda Project in developing innovative products aimed at students. We believe that everybody can find something to start. Where there is a will, there is a way.
Accelerators and incubators
LearnLaunch, BoomStartup, and NYU Steinhardt Edtech Accelerator have EdTech-focused mentorship programs with up to three months duration for mostly early-stage startups. You have chances for $50k-170K funding to get your startup EdTech up and running. Normally, they take a small percentage of equity in your new company. Mentor support and intensive coaching with industry experts will immerse you into a business development atmosphere to reach your business goals professionally and swiftly.
5 failed EdTech startups
Kno
Lifespan: 2009-2013
Failure: Competition, ignored digital trends
Kno was focused on delivering mobile learning hardware and double-paneled e-textbooks. Even pivoting to digital textbooks, Kno couldn't take the competition with the emerging iconic iPad anymore. The final straw was Apple's entrance into the educational sector with textbooks.
SchoolGennie
Lifespan: 2013-2014
Failure: Lack of market experience, and incorrect budget distribution
SchoolGennie introduced an ERP for Indian schools to help make better decisions on schools. But they didn't test their product-market fit. The lack of industry mentors led them to improper distribution of the budget and a number of failed pivots.
Tutorspree
Lifespan: 2010-2013
Failure: Incomplete marketing and revenue model, risks ignorance
Tutorspree was conceived as an algorithm-based platform for students seeking tutors in the area. A Y Combinator-backed alumnus, it had to wind down because of high competition, charging 50% of tutor fees, and seasonal demand.
Readmill
Lifespan: 2010-2014
Failure: Failed business model, no market demand
Readmill is a mobile app for reading that allows sharing highlighted extracts from ebooks and following books, users, and even authors. Pivoting from social reading to the book subscription model turned unviable for them.
Lernin Games
Lifespan: 2017-2019
Failure: Wrong monetization and growth strategy
Lernin Games introduced games for toddlers on a free basis shifting to a B2C subscription app with belated testing. It would have saved them to be leaner in office and team spending.
You see, there are as many as year-olds and five-year-olds experienced companies, funded well and fervid enough that closed at least, not managing to cope with challenges. Everybody does wrong things. We are all not perfect. But you can always lean on experienced partners like Aimprosoft.
Why EdTech startups fail
According to CB Insights, startups shut down mostly because of lack of capital for R&D, wrong market choice, red ocean of competitors, faulty business models, legal complexities. Sure, there the grey list of failures is much longer and so many challenges such as burnout, crashed pivot, discord among team members and investors can lie in the wait for startups as well.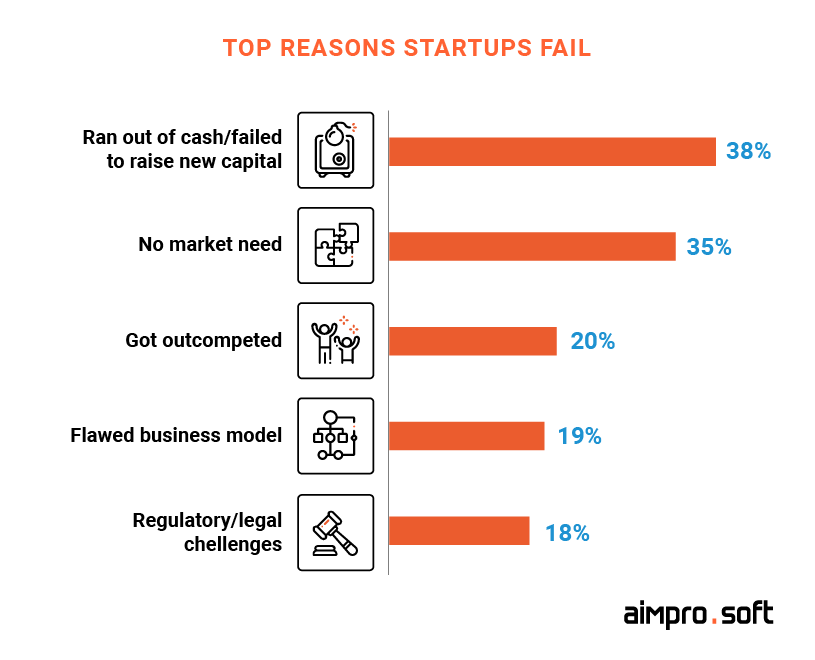 Forewarned is forearmed. Even if you have an awesome idea and see it pretty clear how to create an EdTech startup, you'd better check the following cases of failures of EdTech startups before kicking off.
Steps on how to start an EdTech startup
1. Explore the EdTech market: your niche might be the most problematic group of customers
First and foremost, study the market, big players, and main competitors in your niche. Consider diving into a blue ocean of opportunities to create your own market. Define your solution statement addressing one niche to solve one exact problem. AI-based algorithms, ML for swift decision-making, immersive learning, and multi-layer management tools, to name a few, are examples of lines you can go with, be it a tool for parent-teacher communication or a tuition solution for disabled kids.
Recently, an edutainment platform, MasterClass, pivoted with a focus on employers to appeal to the motivation of star employees, enabling chat with a celebrity coach. A niche can be hidden in the niche.
2.
Come with a time-relevant business strategy
Hyper-focus on building a profitable rather than fundable company. It's never excessive to recall Articulate, whose founders were centered around their idea and market demand in place of bragging about the money raised, and after 20 years, attracted over $1,5B. Business models and value propositions are two interconnected things that have to be defined once you get down to business strategy development.
Changing the way of monetization is considered normal when entrepreneurs pivot to respond to market changes. So a cadence of timely actions with a couple of backup plans up your sleeve is what you need to start an EdTech business.
3. Pay attention to marketing across all stages
Edtech startups should pay attention to marketing for several reasons.
Increase brand awareness;

Reach your target audience;

Differentiate yourself from your competitors;

Stimulate user engagement and adoption;

Establish thought leadership;

Fundraising and partnerships support.
As for when to focus on marketing, it is recommended for EdTech startups to include marketing in the early stages of development. For example:
At pre-launch, build anticipation and create hype before your product or EdTech platform officially launches.

A product launch needs a strong marketing push through targeted advertising, content marketing, influencer partnerships, and media outreach.

A product update or improvement is a great infomercial when marketing can grab the attention of existing users and new users who may have previously been hesitant.

Expansion into new markets or consumer segments also requires marketing efforts that can be focused on introducing your solution to these new audiences.

Remembering about yourself during seasonal or academic calendar events can help you increase visibility and attract attention.
4. Invaluable tech resources: find your development partner
There is nothing specific in EdTech at first sight. However, expertise in the domain of team members or your technology partner can extremely speed up involvement in the project, qualitative product delivery, and growth. Building an in-house team or outsourcing a piece of development scope to a vendor like Aimprosoft, qualified in the education domain, ensures that you are surrounded by like-minded, robust teammates. This mini checklist will help you define your vendor:
EdTech expertise — professionalism is evident from the first communication, even if a company can't disclose clients' names.

Seniority level of staff — at Aimprosoft, 90% of developers are of senior level.

Readiness to get to work — look for experts in the domain and related technologies; the right vendor has both categories.

Familiarity with a startup pace — essential to take the same lead.

Master of the modern tech stack — pay attention to the vendor's service offering and media presence, sharing an opinion on tech solutions.
5. Form a legal entity and register for taxes
Startups should create a legal entity as early in their business journey as possible once they have a clear vision, a viable business model, and the intention to operate as a separate legal entity.
Liability protection:

By operating as a separate legal entity (Limited Liability Company (LLC)), the business assumes its liabilities, reducing personal risk for the founders.

Investor requirements:

Investors generally prefer to invest in an established legal entity that provides a transparent ownership structure and protection for their investment.

Tax considerations:

Depending on the jurisdiction and the type of legal entity chosen, there may be advantages in tax planning, deductions, and exemptions available to the business.

Long-term growth and scalability:

Establishing a legal entity early on provides a solid foundation for hiring employees, contracts, partnerships, and other business activities.
6. Open a business bank account
Startups open bank accounts as soon as they are legally registered. Legal clearance includes registering the company, obtaining the necessary licenses and permits, and obtaining a tax identification number. With a dedicated bank account, you will be able to manage and track funds effectively. If you have received funding from investors or partners, having.
Consider factors such as account maintenance fees, transaction limits, online banking capabilities, customer support, and any specialized services that may be relevant to your business.
7. Think big, start small: progress over perfection with an MVP
Over a decade, the startup world has been worshiping a Lean Startup's concept introduced by Eric Ries. You can build a minimal viable product (MVP), launch it to measure the feedback from first adopters, and go to the entrepreneurial learning of product progress with customers. In the circumstances of utmost uncertainty, which launching a startup is, this approach ensures against a mountain of mistakes related to customer needs, positioning, strategy, etc. Multiple iterations with improvements are way better for trying your unique EdTech business ideas than nailing a product that nobody has wanted to use for years.
8. Analyze your results to gain valuable insights
Edtech startups must analyze the results of their efforts to gain valuable insights, evaluate their performance, and make data-driven decisions. Here's why and how EdTech startups should analyze results:
Measure performance by key performance indicators (KPIs) such as website traffic, user engagement, conversion rate, and cost of customer engagement; you can assess the impact of your marketing efforts.

Identifying areas for improvement will allow you to discover bottlenecks, gaps, or inefficiencies in your marketing processes and improve them.

Refine your target audience and messages, evaluating the effectiveness of different marketing channels, message options, or audience segments.

With an understanding of the return on investment (ROI) of various marketing activities, you can optimize your spending and focus resources on the strategies and channels that produce the best results.

Analyzing the results gives you the data and insight to make strategic decisions.
How Aimprosoft can help start a survival EdTech business in 2023
Our clients come to the conversation with plenty of ideas that ignite both sides. That is the thing we love startups and are happy to help set out on a journey.
To make the first move right with a confident assistant is key to the successful delivery. There is a matrix of rules and regulations for protecting user data privacy, which we take into account elaborating on the EdTech app development strategy. Following the 'language of education' tone helps us deliver more intuitive user-centric experiences to create an educational app during the design stage. Swaying your MRR and ARR also starts here.
Backed by a trusted edtech software development vendor is a halfway win. We can help EdTech companies opt for the right technology, implement it, and maintain to stand customer influx and scale up on time. By delivering LMS and educational solutions for students, we've witnessed the very eyes of how a small idea was growing into an investor adorable product.
In pursuit of growth, Aimprosoft is next to you, ensuring the integrity of the delivery-growth space.
Conclusion
Experts and analysts around the world agree that online education and other EdTech segments will continue to grow exponentially over the next five years. Global challenges are pushing the industry towards change, and the pandemic is not the only one. Thus, it is known that by 2050 there will be two billion more graduates of schools, universities and other educational institutions in the world than today. The educational system must cope with the growing workload from year to year meanwhile. Write to us to find together how you can help the world with education.
FAQ
Is it reasonable to go into a STEAM education developing startup?

STEAM (science, technology, engineering, the arts, and mathematics) forms the space of invention being one of the most demanded educational directions. Since they are quite complicated subjects, technology may help teach and learn in a more effective way.
What should I do if my startup idea fails someday?

There is a belief In Silicon Valley that a good entrepreneur is the one who failed more than once and got up off their knees to continue. There is always a chance for mergers and acquisitions if you decide to share the path and join your efforts in a partnership with other companies from the sector.
What are the best practices to build an EdTech company without taking risks?

Uncertainty is the most typical thing when a business takes its first steps. We'd be lying if we said that you could avoid any risks. Natural disasters, an unexpected pandemic, a sharp turn in market demand to name a few, all can affect your business. However, implementing a risk management plan, at least, may protect the future, preventing you from various potential risks or events before they occur.
How does EdTech make money?

EdTech companies use a variety of revenue models to generate profits and sustain their operations. Here are a few common ways: subscription or license fees, the Freemium model, partnerships with educational institutions (B2B), content sales, advertising, and sponsorships, providing professional development and training for educators, data and analytics services, grants and funding from government agencies, foundations, venture capitalists or angel investors.
How to start an edTech startup?

Creating an EdTech startup involves identifying a specific educational problem or need that your startup intends to solve, conducting thorough market research, developing a unique value proposition and creating a minimum viable product (MVP) to test and validate your idea, securing funding through investments, grants or bootstrapping, building a talented team with expertise in technology, education, and business.
Why do EdTech startups fail?

There are several reasons why EdTech startups can fail. Here are some common factors that contribute to their failure:

Lack of market fit;
Lack of differentiation;
Limited scalability;
Inadequate monetization strategies;
Ineffective user attraction and retention;
Lack of funding or financial inefficiency;
Regulatory and compliance issues;
Limited partnerships and collaborations;
Technological challenges;
Lack of long-term vision and ability to adapt.
Why starting an EdTech startup is profitable in 2023?

In just two years, education will be a $7 trillion industry. The global educational technology market is expected to grow from an estimated $74.2 billion in 2021 to $288.4 billion by 2031, representing a compound annual growth rate (CAGR) of 14.5%. So if you are planning to launch an ed-tech startup, now is a great time to do so.
How do I build a strong team for my EdTech company?

Start by identifying key roles and necessary skills such as technology, education, marketing, and business expertise. Look for people with a passion for education and a desire to impact the industry positively. Hire candidates with relevant EdTech industry experience or a deep understanding of education needs. Use B2B platforms with reviews like Clutch, GoodFirms, The Manifest, and others to pick a development team from one vendor in one place. Conduct thorough interviews with vendor candidates, assess their alignment with your company's values and vision, and make sure they have the proper knowledge and experience. Create a culture of collaboration and support to attract and retain top talent.
Where can I find funding for my EdTech startup?

You can start with your resources or bootstrapping. Consider crowdfunding platforms and pitch competitions to raise funds from the broader community. More traditional traditional traditional funding sources include venture capital firms, angel investors, and government grants. Explore EdTech-focused funding opportunities such as incubators, gas pedals, and industry funds.
What are some effective marketing strategies for promoting an EdTech company?

First and foremost, you should have a clear definition of your target market and an understanding of their needs and pain points. Create a compelling brand story that resonates with faculty, students, or administrators. Use social media, content marketing, and email campaigns to build awareness, engage audiences and drive conversions. Don't neglect to collaborate with influencers, establish strategic partnerships and attend industry events to expand your reach. Developing an effective marketing strategy for your education technology company, once efforts are made, monitor and analyze marketing efforts, optimize campaigns based on the data, and continually refine strategy for maximum impact and sustainable growth.