Know me or lose me: 4 points how to build a successful customer-centric omnichannel strategy
Seamless consumer shopping experience through all channels of sales increases the revenue of the company. Sales from hands to hands have been off the air already. When your growth is on the line, it is time to tackle omnichannel commerce.
The whole retail world has been befuddled with omnichannel intoxicating charm. It is that sort of thing we'd prefer to gain an understanding and clarify what it really means to be an omnichannel retailer. Let's leave doubts behind and have a look at the concept of omnichannel.
If a company made a choice to the omnichannel concept and it blends with common strategic business goals so you should start with portraying concrete goals and sequence of steps which have to lead the business to its major transformation. The following infrastructure is expected to be fitted in selected direction of evolution.
It is important to understand that making business omnichannel brings with it changes in the logic of key business processes. You may need to re-engineer or re-create an organizational and technical frame. It has to be a long-time process marked with checkpoints rather than a one-day promotion.
Have you ever frequented a neighbor fruit and vegetable store in the vicinity of your living where the owner knows the sort of salad you love, takes a sincere interest of how your family spent last holiday, and greets you warmly in your Birthday? That is a perfect customer experience you've got offline. That is omnichannel descends from.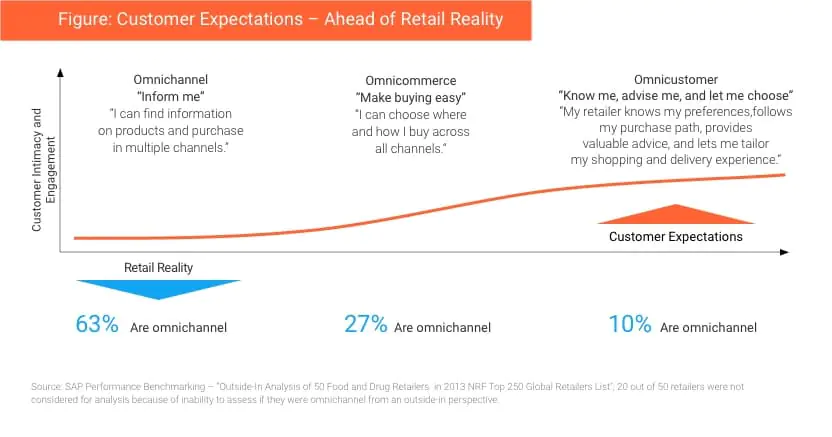 Credit: The CEO Perspective: Omnicustomer Retailing Catching Up With Customer Expectations
Omni-client expectations
Here they are 4 short points which reflect basic willings and behavior of a modern omni-client:
1. Know Me is a personalization of relationship. Customers have shifted from 'Help Me' expecting from brands a 'Know Me' attitude on their channel of choice. Brands could merely have profited with connected customer leaving competitors far behind thanks to embracing customers in an area of attention and accompanying their purchase path from arose 'need' to shared 'recommendation'.
The way a customer buys a coach differs from the way he does it with Ferrari.
Under the new strategy, it comes to the fore to recognize a client whenever he is and to understand his relationship with a brand. His current profile plays a key role when one takes into consideration, for example, transactions received from multiple channels.
SAP Hybris, for instance, has a powerful management system enabled to make machine analysis and count the perfect formula of customer interaction to serve him as never before.
2. Show Me You Know Me. Any human is pleased being guessed right with his wishes. Any human is your customer. Personalized specials, promo offers, discounts at the right time and at the right place and with the right quantity and kit of actions, subject to a purchase history, preferences of a single client completed through any of sales channel – that all give a greater awareness of the customer.
Brands should bring the message about the goods and benefits their clients can get speaking in a simple and clear way to them. It is reached with scrupulous mining and analyzing of collected customer profiles and activities.
3. Enable Me. It comes around creating essential, all-sufficient and easily assimilated channels for digital and offline shopping, interacting with customers based on their favorite means of communication and technologies.
Enable your client to contribute to the development of the brand being heard and recognized from millions by means of reviews, opinions, recommendations, influences. The overwhelming strategy is not thought without a quick response of the brand to the person that enhances the worthiness of every single customer.
Masterly adjusted Order Management system in SAP ERP allows swinging orders flexibly to grant clients with a natural space for shopping. For more power, it can be integrated with SAP ECC.
Going live with omni-strategy companies grant their clients with resources which let them state the value of all advantages of the choice clients had made. There are hints, hacks, recommendations and pithy guides narrating the features caused the interest of clients.
The today's reality proclaims: shop is wherever the consumer is.
4. Value Me says to let the client control the shopping process. If you are a B2B segment player willing to offer a B2C level of quality, you are unimaginable without SAP Hybris platform for omnichannel commerce which enables to fulfill complex sales processes.
Let the client discover your products and services on his own. Give him a spur for his loyalty, devotion to the brand and excite to buy again. A UGC (User Generated Content) platform comes in handy there to commutate via several channels simultaneously (social networks, Q/As, emails, etc.). Hybris fits independently with basics or can be integrated with particular services.
Building an omnichannel marketing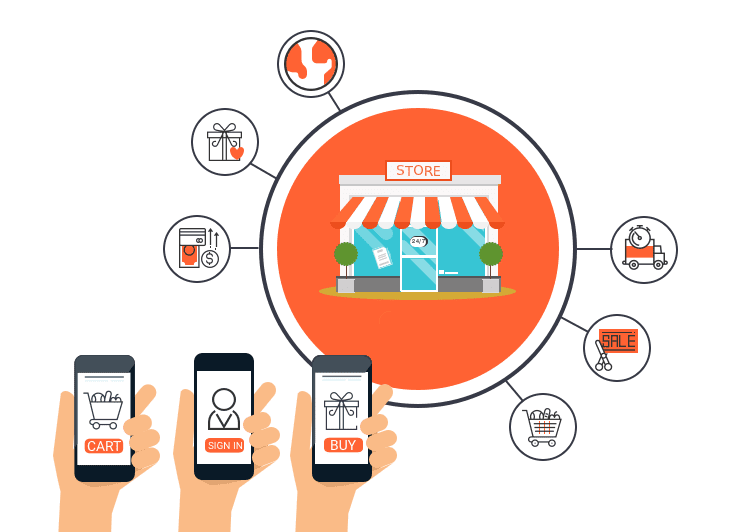 Exapmle of omnichannel marketing
Omnichannel marketing supposes minutely knowing expectations and preferences of clients as well as accumulating information about each of them. It caused a need for complex platform combined management facilities on all essential touch points in the way of customer interaction. SAP Hybris answers more than better to marketers requirements concerning trustworthy systems designed to perform a deep level of personalized service based on authentic data. It is not enough to implement some sort of system. Contrary to it a deep integration with re-thought architecture changes is the very thing one needs to provide an all points contact. Integrated systems like SAP Hybris give a good account of themselves enabling efficient omnichannel personalization and harvest of purchasing experience.
Finishing touch
Summing up, we'd like to emphasize some chief patterns. While building the customer-centric omnichannel strategy concentrate on creating the most consistent experience across all sales channels, encourage customers to join your database forming their customer profiles carefully, enable returning in-store wherever a purchase has been made online or offline. Stay tuned for innovations and use emerging IoT cases bravely.
And the last point. Omnichannel is about people. Having rich customers profiles captured across touch points will lift up enterprise data management to the next level.