Articles
22 January, 2023
How to Create a Social Media App in 2023?
Key takeaways
Find out how the significant rise of active social media users and increased demand for social networks made the social media market one of the most favorable sectors to enter.
Gain a competitive edge and attract more potential users by following the most popular social network application trends.
Explore top social media app features that are a must for a successful social media app.
Discover the modern technology stack required to make your own social media app for iOS and Android and tips on functionality implementation for both platforms.
Learn about the most important aspects to consider when

developing a social media app's backend

.
Successful deployment of your application isn't the final stage of your software journey: figure out the most vital KPIs and metrics to measure after the launch of your product.
In a world where more than one third of the global population are smartphone users, the abundance of mobile apps strikes. It may seem that such social media app giants as Instagram, Snapchat, Twitter, TikTok, and Facebook have taken over the market, leaving almost no room for startup entrepreneurs. However, such an assumption is misleading. Today's rapidly changing digital space highly encourages the desire to conquer a social media sector. So, if you still doubt whether "create or not to create," then let's take a look at these graphs: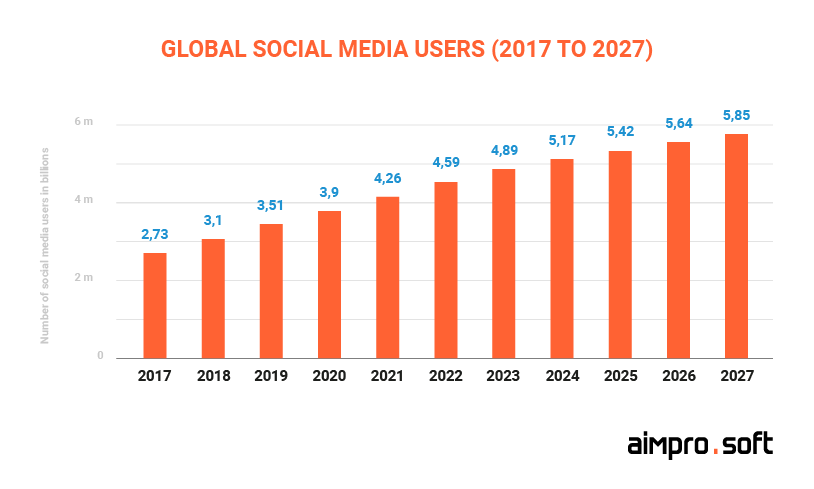 The exponential growth in the number of social media app users is a great sign for aspiring startup owners looking to build social media apps. It signifies a thriving market and a growing appetite for new platforms. With millions of users actively engaging in social apps, there is a clear demand for fresh, unique, and user-centric experiences. Thus, the question is: how to code a social media app from scratch that will pave your way to the top? To answer it, let's first consider the current state of a social media niche to evaluate its potential.
What is a social media network application?
A social media network application is a mobile app that enables individuals to connect and interact with other users all over the world. These applications provide a virtual environment where people can create profiles, share content, and engage in various forms of communication. Social media applications usually have features like news feeds that display updates from friends or accounts followed, tools for content creation and sharing, stories, commenting, leaving reactions, etc. These apps often facilitate the sharing of various types of content like photos, videos, and links.
Facts and statistics
The pandemic has significantly affected the social media market, having facilitated the emergence of new social media apps, the growth of active users, and an increase in daily time spent on such networks. According to the statistics, the there were more than 150 million new user identities over the 2022 delivering annual growth of 3.2 percent.
Growth forecast of social media applications
The research shows that social media adoption is currently in a rather favorable situation over the past 10 years, as it leaped from 0.97 billion users to 4.4 billion. Moreover, according to the TNW review, the number of new social media mobile users has increased by 10% since 2018. Such a huge leap proves, once again, that the market is rapidly expanding.
These impressive numbers may accordingly evoke the question: what existing market trends to follow in order to increase the number of loyal customers and make a social media app potentially successful?
Social network application trends
To answer the question of how to develop a social media app that will thrive, you have to find ways to distinguish it from competitors. For that, we highly recommend keeping up with the latest social network applications trends that most likely will boost your mobile app capacity:
AI and Machine Learning
Artificial Intelligence (AI) and Machine Learning (ML) can take your business to the next level of convenience and profitability by their main optimizing features:
AI algorithms that improve recommended content according to user's preferences;
LVP (lifetime value prediction) — an AI technology that can analyze the user's behavior and predict the amount of money a user may spend on the platform;
ML mechanism aiming to improve marketing for targeted users;
better data automatization and processing that goes beyond human capabilities.
Augmented Reality
Such AR variations as promoting brands Shoppable AR, entertaining Instagram Stories AR filters, creating a gamification effect Snapchat Snappables increase the potential advertising revenue of businesses that have integrated these features.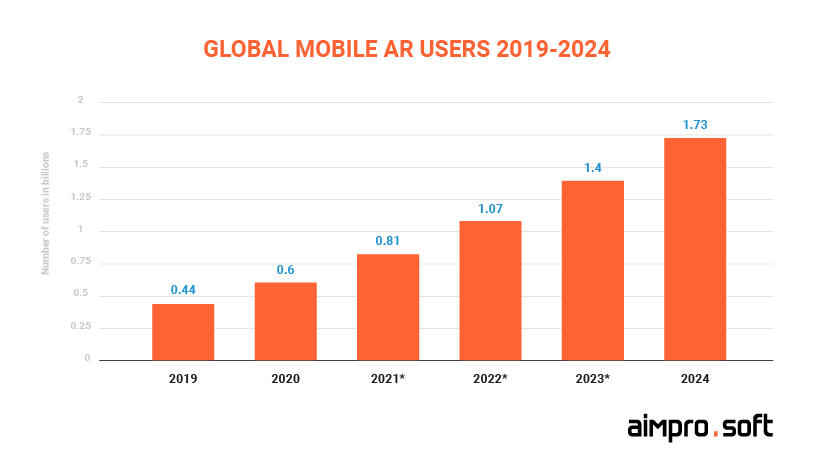 Visual over textual
Appealing visual content is rapidly substituting a textual component of social media apps. The majority of the users are more eager to devote their spare time to enjoying video content rather than consuming a text-heavy one. For instance, views of branded content on Facebook soared by 258% since 2016, proving higher visual adoption by the audience.
Ephemeral content
The phenomenon of not lasting content, i.e., 24-hour short videos, stories, snaps, etc., has been gaining momentum since 2013 when Snapchat added this update to their app. The striking popularity of this trend, especially among the most influential groups, namely, Millennials and Generation Z representatives, is explained by its easiness, high engagement, and authenticity that helps the audience distract from over-polished ads.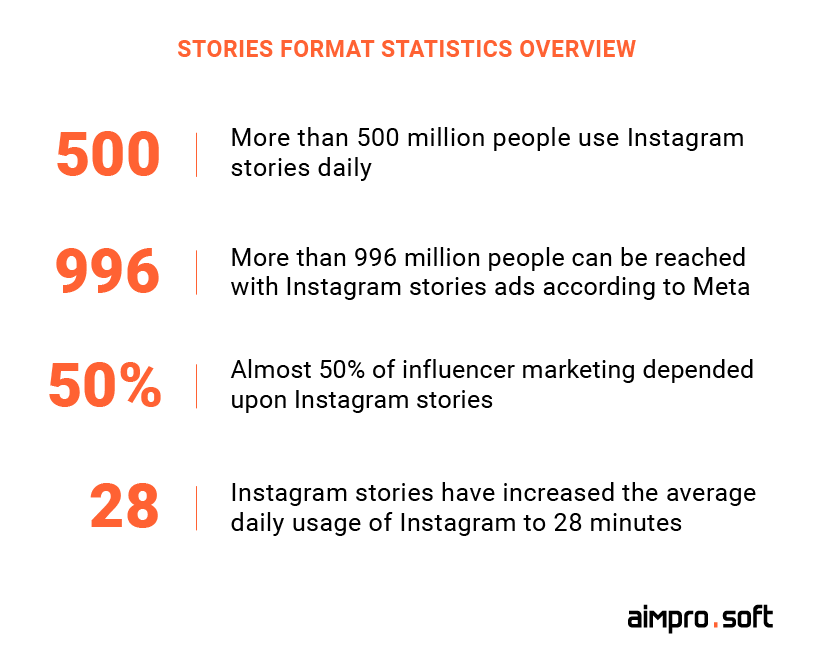 Buy button invasion
One of the greatest marketing combos is the creation of in-app purchases that allow users to shop online via one`s favorite social media platform. First launched by Pinterest, buyable pins enabled its users to purchase any item easily without leaving the network. This trend was eagerly accepted and integrated by other social media giants to ensure a bigger ROI.
Having learned what direction to choose to create a successful social media app, let's consider the segmentation of social media networks we selected by their prevalence and most striking features.
Types of existing social media apps
When defining the target audience of your future app, comprehension of a growing variety of social networks and their inherent feature set may be a rather helpful tip. Hence, let's take a look at those widespread types of social media apps and their most prominent representatives by highlighting characteristics that led to their success:
General social networks
Essence: Such social media mobile apps are considered one of the most popular ones due to the diversity of user types they target and their general nature. They allow individuals to connect and interact with each other within an engaging space using convenient tools for sharing content, engaging in discussions, finding like-minded people, etc.
Key features:
Detailed analytics of your page;

Creating & editing events;

Embedded content;

Scheduled posts.
Popular examples: Facebook
Networks for content sharing
Essence: Social media mobile apps for content sharing focuses on providing users with functionality to create, share, and discover various types of media content (photos, videos, GIFs, etc.). The main goal of such apps is to facilitate the exchange of content and enable users to express themselves creatively.
Key features:
Live videos (live streaming);

Engagement metrics;

Recommendations based on user activity;

Personalized feed (archived posts, saved post collections, etc.).
Popular examples: Instagram, TikTok, Flickr, Vimeo, Youtube, Imgur
Dating social media apps
Essence: Such apps focus on connecting people who're aiming to find potential romantic partners, fun dates, friends, etc. Dating apps provide individuals with opportunities to discover, connect, and engage with others who share similar interests and relationship goals. Dating apps are usually divided into niche ones that focus on specific demographics or interests and general dating apps that cater to a wide range of users. Needless to say, convenience of usage, expanded dating pool, and safety of environment are the key reasons why the number of dating app users is rapidly growing. According to the statistics, 441 million active users are projected by the end of 2023.
Key features:
Gamification of the user's experience;

Advanced search filters;

Matching algorithm;

Swiping and matching;

Location-based search.
Popular examples: Tinder, Badoo
Consumer reviews networks
Essence: Сonsumer reviews social media mobile apps are extremely popular among users since they allow them to share and access reviews and opinions about products, services, and businesses. Such apps enable people to make informed decisions based on real user experiences and, at the same time, help brands gather valuable feedback to understand their customers' experiences and perceptions of their products or service and identify areas that need improvements.
Key features:
Special algorithms to eliminate fake reviews;

Smart search system;

Ratings and rankings;

Review sharing.
Popular examples: TripAdvisor, Yelp
Discussion forums
Essence: The essence of such social media apps lies in providing a platform for users to engage in online discussions and exchange information on various topics. These apps are highly popular since they offer people a sense of community and usually serve as a great source of knowledge and first-hand information that users may not have been able to find.
Key features:
Draft saving;

Question-oriented (main focus is on the subject matter);

Threaded conversations;

Reputation system;

Such networks are designed for knowledge sharing and opinion expression.
Popular examples: Quora, Digg, Reddit
Blogging and microblogging platforms
Essence: These types of social networks provide users with convenient tools to express themselves, share content, and engage with others in a concise (microblogs) and long-form way. Such types of networks unite large communities and people with niche interests, giving vast opportunities to spread awareness regarding important topics, share breaking news and opinions, etc.
Key features:
Thumbnail presentation (short summary that enables a user to understand the content of the publication);

Variety of content creation and editing tools;

Archives and categories;

Readability (high-quality UI & UX).
Popular examples: Medium, Twitter, Tumblr
Hobby and interest-based networks
Essence: These social media mobile apps are designed to help connect individuals who share similar hobbies, interests, or passions. They serve as platforms to explore, share, and engage with content and discussions related to their specific hobbies or interests.
Key features:
Get introduced button (user gets the chance to be introduced to sb. / introduce people to each other);

User's portfolio editing;

Gamification elements;

Discover and recommendations;

Hide your connections button.
Popular examples: Letterboxd, Goodreads, UNBLND
Bookmarking and content curation networks
Essence: The essence of such social media mobile apps lie in allowing users to save, organize, and share online content of interest. These apps serve as virtual libraries where users can bookmark articles, videos, images, and web pages to revisit them later or share them with others.
Key features:
Content organization;

Social interactions;

Bookmarking and saving;

Recommendations and discovery algorithms.
Popular examples: Pinterest
Professional social networks
Essence: Professional apps are niche social media networks for professional development and career advancement. They aim to connect professionals from various industries, facilitate knowledge sharing, and create opportunities for career growth.
Key features:
Job opportunities and recruitment;

Networking tools;

Industry groups and communities;

Profile and resume creation;

Professional events and webinars.
Popular examples: LinkedIn
Now, when you have a clear vision of the most popular social media apps, it is crucial to dispel any possible doubts about what feature set to choose for your future app.
Top features of a social media app
Before starting a social networking programming process, it's necessary to identify the desired feature set first. We highlight rather vital features for all social media apps. However, their list is not limited, and additional unique ones will only give you an advantage over your competitors.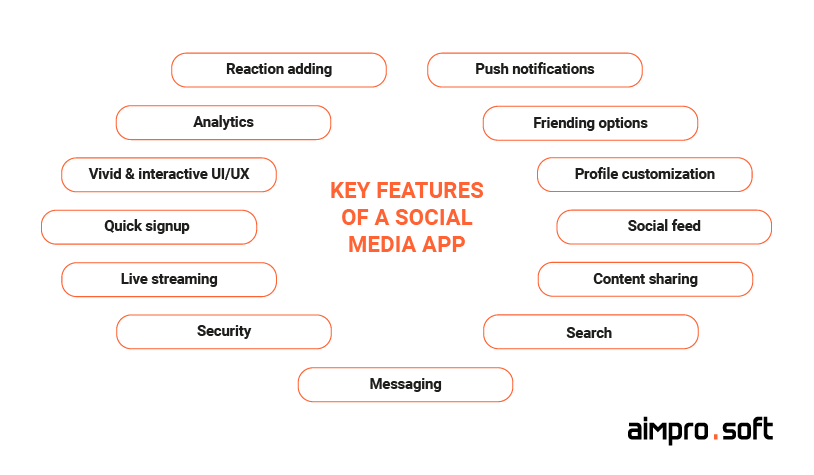 News feed
When implementing the ability to view other users' audio, statuses, images, check-ins, text posts, and other types of recently uploaded content, don't forget to personalize it in accordance with each user's individual preferences. The more relevant the content is, the less customer churn will be. This can be achieved by using special ML (Machine Learning) recency and relevance algorithms that process users' engagement data and form news feed, respectively.
Messaging
The fact that more than 20 billion messages are sent via Facebook every month suggests that it is vital to provide users with a place for private communication. By integrating this feature when coding a social media app, we recommend adding some unique features like the ability to sort messages by relevance or a tool that will enable users to create lists of people whose messages will pop up first.
Users Profiles
It is desirable to make this feature multidimensional enough to convert users into loyal ones by adding a variety of filters, editing tools, and thoughtful optionality. In this way, you let people customize their personal data (e.g., nicknames, bio, birthday date, etc.) in any possible way they want. Facebook, for instance, integrated a custom gender option that includes 71 different variants, hence, choosing a mindful approach towards its users' needs.
Post Like/Share
By integrating such options into your app, you automatically create a motivation for the users to post their content, cross-post it to other social media networks, share it (gif files, images, video, etc.), and interact with each other via such seemingly easy but powerful ways.
Geolocation
Reasons why users enjoy a location-based feature may vary: the desire to provide others an update of one's location, searching for like-minded people, or intention to find other users` recommendations in accordance with one's interests. Likewise, it's a great chance for businesses to boost revenue by promoting brands or pinning ads.
Content Publishing
The feature that explains social media existence is the ability to create, share, and comment on one`s shared content. Users opt for the platform, which enables them to create a publication by using a diverse set of tools for self-expression that are constantly being modified. For instance, Medium integrated such a unique feature that enabled users to highlight a favorite chunk of someone`s text, boost, and comment on it.
Search
Any social media app won't be complete without a proper search feature. Users are always looking for something; thus, we suggest providing them with special filters in terms of people, locations, news, jobs, etc. Such options can narrow down users' searches in accordance with the chosen type of app.
Push Notifications
Undoubtedly, users need to be notified regarding everything that happens in relation to their profile. However, there is a fine line between irritating the user and informing them. It's necessary to include a push notification settings panel that will enable mute, disable, decline, and do other crucial actions with notifications.
Friending option
A key component of any social media app, this feature allows users to connect and establish friendships with others. Its implementation is crucial because it fosters user engagement and enhances the overall user experience. By enabling users to make connections, you can encourage them to spend more time on the app, increase user retention, and facilitate the creation of content.
Analytics
By implementing this feature, you can provide users with a tool to get valuable data and insights about their own activity and performance on your social media app. By offering analytics to users, they can track metrics such as post engagement, follower growth, audience demographics, and content reach. Such data can help users understand their impact and effectiveness on the platform, and optimize their strategy for better results.
Reaction adding
This tool allows users to express their emotions or opinions using various reactions (such as likes, comments, thumbs up, emojis, etc.). By developing this feature, you allow content creators to enhance user engagement, gather valuable feedback, and gain insights into the preferences of their audience.
Live streaming
The live streaming feature enables real-time content delivery by users. It helps users engage with their audience in an authentic way, hosting live events, product launches, webinars, Q&A sessions, and much more.
Admin access
Any social media app has to have an admin panel with a vast functionality for administrators to manage user accounts and their content, monitor user activity, enforce policies, and maintain the overall functionality and security of the app in a convenient way. Developing an admin panel is essential since it empowers businesses to maintain control, uphold community standards, and provide a safe and engaging user experience.
Moderation tools
Moderation tools are an extremely helpful feature in managing user-generated content, enforcing community guidelines, preventing spam or inappropriate content, and handling user reports efficiently. It allows businesses to maintain a well-moderated platform, build user trust, and protect their brand reputation.
Explore our mobile app development services and approach to functionality implementation.
The features mentioned above are the key ones that can be found almost in any popular social media app. However, you may require additional features that would be relevant for your target audience, such as Instagram-like face filters, analytics tools, bookmarking, embedded shopping, etc.
How to make a social media app

?

Having reviewed the key features of such a product, it's time to proceed to those crucial steps required to start a social media app development.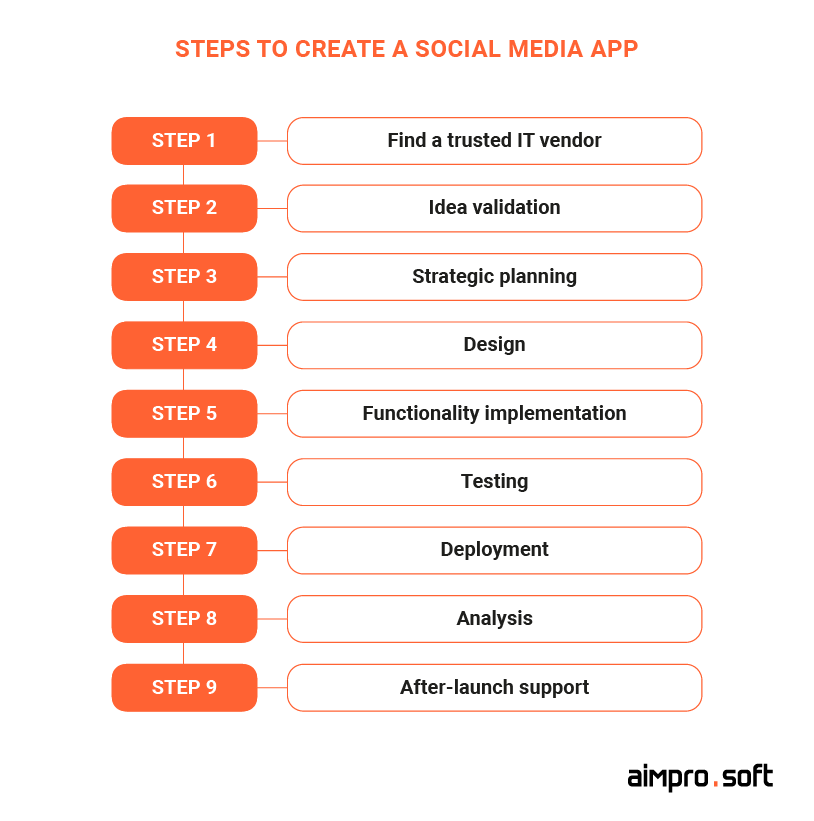 Find a trusted IT vendor
When you plan to develop a social networking application, it is quite challenging to find a professional team of developers that will meet your requirements in terms of time, professionalism, and cost. Effort and time spent on hiring software engineers to establish a development team, testing their professional tech skills, delegating project tasks among them — are the key obstacles that you may face.
We suggest hiring a trusted IT vendor, which provides full-cycle development and team augmentation services and will take on team establishment, project management, and all organizational processes for you. Certain challenges are inevitable when you aim to create a social network app from scratch, but they can always be reduced with the help of smooth-running cooperation within the framework of a full-cycle development company.
Learn more about software development outsourcing: benefits, challenges, and aspects to consider.
Idea validation
When you are about to build a social media app, the first logical thing to do is to create a clear concept for your future network. Normally there are two scenarios to start your product development.
The first one is when you have consulted with a business analyst, conducted a competitive field and target audience research, then come to a software development company with a formed app idea and documentation. At Aimprosoft, we eagerly examine the already existing draft of your future app, analyze the idea viability, and proceed with a rough and detailed estimation to start the development process.
The second scenario is offered when there is only a mere concept. In this case, your software vendor should be able to offer full-cycle development that starts with thoughtful case analysis, proceeds to the development, complete maintenance, and support of the project even after its launch.
Need assistance with the feasibility assessment of your future social media app?
Contact us, and our specialists will help you with the validation of your concept and further strategic planning.
Strategic Planning
The strategy planning stage aims to cover such major aspects as marketing and sales (from defining your TA to the choice of marketing distribution channels) and the technical part (defining tech stack and tools for the app implementation).
Software vendor assistance comes into play for the creation of a strategy for the technical part and its implementation. Based on the received data regarding the client's vision of the app, the roadmap is developed. It is a well-planned graphic overview of technical components and milestones of a future social media app that may be modified over time.
A thoroughly planned strategy and roadmap help to eliminate certain risks at the beginning of app creation before its actual development and launch. Without them, the realization of a market-ready product is simply impossible.
Design
The first aspects which the users of your app see and test are catching user interface (UI) and understandable navigation (UX). Here are a few best practices to consider in UI & UX social network design development stages.
Aspects to keep in mind when approaching UX.
Simplicity. A user-friendly approach is rather vital when you deal with social media app development for iOS and Android. Focus on your users and not solely on the app design. Make sure that every feature requires a minimal number of steps in order to be found and used.
Convenience. Apart from ensuring convenient navigation, don't forget to enable single-hand manipulation. It may be achieved by determining a special "safe zone" in which moving the thumb around to reach a certain button is easy and convenient when using mobile devices.
Don't forget about prototypes. Don't neglect to prototype since it can help you plan an easy and understandable way of interacting with your app is the best way to identify weak points related to the user's experience, let a group of users test the interface of your app, and based on the gathered feedback make amendments.
Aspects to keep in mind when approaching UI.
Sketches, wireframes, and mockups. All these design tools should be used to develop the user interface of your product thoroughly. Thus, don't neglect to invest in them during the UI design process.
Consistency. Opt for a homogeneous approach and consistent design language by creating a unified visual concept for all structural blocks, features, fonts, buttons, and other visual elements within the app.
Once you have all the necessary materials, including an accurately defined portrait of the target audience, functional specification, mind map, design of the app's screens, and others, it's time to develop a social network app.
Developing a client-side of a social media app for Android
The performance, security, and smooth functioning of your future mobile app are highly dependent on the choice of the technologies. Below we included mobile technology stack that is peculiar for native Android app development:
Category
Tech stack
Programming languages
Kotlin, Java
IDE
Android Studio
SDK
Android SDK
Architecture pattern
MVVM (model–view–viewmodel) architecture
Library
Android JetPack components (Room database, Workmanager, Hilt), Kotlin Coroutines, Kotlin Flow
Technologies for UI layer
RecyclerView (for displaying scrollable content, such as news feed), Android JetPack Navigation (ensures seamless in-app navigation)
Technologies for network layer
Retrofit 2 for network requests

GSON for JSON parsing

Glide/Picasso for loading images and caching

Tools for testing
JUnit, Mockito, Robolectric, Espresso
When you are about to develop an app for Android, pay attention to the enforcement of users' data security. Android's initial security vulnerability and inefficient permission-based mechanism may often pave the way to different hazards. To avoid possible threats, our Android software developers can apply additional security measures:
complex data encryption;
integration with authorized API;
usage of high-level cryptography tools and technologies;
usage of the Android Keystore system to enable higher security of users' data, which may be time and cost-consuming.
When you aim to create a social network Android app, mind the enhancement of the app's performance. To achieve a performance upgrade, our developers apply the following best practices:
improve slow rendering with Profile GPU Rendering or Visual Output of GPU Profiler, and optimize the hierarchy of UI elements via Hierarchy Viewer;
distribute the load evenly among UI and background threads.
Behind the Android software development stands the following technology stack, which not only enables the app's running but helps to make it efficient and cost-effective.
Developing a Client-side of a Social Media App for iOS
The usage of the following most commonly used technology stack guarantees robustness and high performance while creating social media native app on iOS:
Category
Tech stack
Programming languages
Swift
IDE
Xcode
SDK
Cocoa Touch
Architecture pattern
VIPER
Library
RxSwift, Alamofire, SocketRocket, Firebase, RealmSwift, ReachabilitySwift
Technologies for UI layer
UIKit (UITableView to show the list of followers/likes/feeds, UICollectionView to display scrollable content, etc.)
Technologies for network layer
Alamofire/NSURLSession for network requests

Codable for JSON parsing

AlamofireImage for loading and caching images

Tools for testing
XCTest for unit tests
Opposite to Android security vulnerability issues, iOS is all about restricting undesirable intrusion to anything related to its native operating system. That is why app developers have a lower risk of developing a security breach.
Weak cryptography, insecure data storage, or jailbreaking of one's device — are those possible threats that may cause damage to the app on iOS despite its strong security. In this case, when you create a social network app for iPhone, our developers implement the following things:
implement long-lasting cryptographic standards and algorithms like ATS;
avoid storing cryptographic keys locally or in the code;
use authorized API;
enhance possible authentication methods.
Technical implementation of social media app features for iOS and Android
We have reviewed two technology stacks that are commonly used for iOS and Android native app development. However, let's examine more closely what tools should be used to implement core social media app features.
Feature
iOS
Android
Social login
To enable social login, we use Facebook SDK, Twitter SDK, Google Sign-in.
To enable social login, we use Facebook SDK, Google Sign-in, TwitterCore for log in.
Newsfeed
UITableView, RxSwift, RxCocoa, RxDataSources, Alamofire/NSURLSession
RecyclerView, Kotlin Coroutines, Kotlin Flow, Retrofit 2
Post creation
Alamofire/NSURLSession, Codable + self-written solution
Network layer: Kotlin Coroutines, Kotlin Flow, Retrofit 2 +
self-written solution
Post like
UI layer: UILabel is used to enable a like counter.

UITableView is used to display the list of likers.

Network layer: Alamofire/NSURLSession, Codable

UI layer: TextView is used to enable a like counter.

RecyclerView is used to display the list of likers.

Network layer: Kotlin Coroutines, Kotlin Flow, Retrofit 2

User profile
UI layer: UIImageView is used for the avatar, UIButton to interact with user's profile (subscribe/unsubscribe), UITableView to see all the info about the user.

Network layer: Alamofire/NSURLSession, Codable

RecyclerView is used to display user's info (ImageView for profile pictures displaying, TextView for user's info display in a text format).

Network layer: Kotlin Coroutines, Kotlin Flow, Retrofit 2

Chat
UI layer: UITableView

Network layer:
Alamofire is used to perform networking tasks, SocketRocket is used for real-time communication with the server.

CoreData/Real framework is used for offline & online chat data storage.

UI layer: RecyclerView

Network layer: WebSocket is used for instant (real-time) messaging, Retrofit 2 is used for network requests.

Geolocation
MapKit/ Google Maps
Google Maps, Location API
Bookmarking
Alamofire/NSURLSession + self-written solution
Network layer: Kotlin Coroutines, Kotlin Flow, Retrofit 2 + self-written solution
Push notifications
Push Notification
Service/Firebase Cloud
Messaging
Firebase Cloud Messaging
Search
UI layer: UITableView, UISearchBar
is used to enter a search query and submit a request.

Network layer:
Alamofire/NSURLSession, Codable

Additional: RxSwift

UI layer: SearchView is used to enter a search query and submit a request.

RecyclerView is used to display search results.

Network layer: Kotlin Coroutines, Kotlin Flow, Retrofit 2
Having analyzed certain aspects that you may deal with during your product development, we suggest taking a look at other essential stages, which are a must if you want to create a social media app for Android and iOS and thrive.
Developing a server-side of a social media app
Boosted performance of your network, minimized risks of data leakage, and optimization of data storage is not possible without proper back-end development. While proceeding to this stage, keep in mind the following vital aspects:
Horizontal scalability
To maintain the growth of users and the expansion of the exchanged data, it is necessary to support horizontal scalability. The load balancers provide their proper functioning via one of the following solutions:
Hardware load balancing. Distribute web traffic across a cluster of application servers. However, such a solution has a limited function when it comes to the usage of specific balancing rules or traffic control functions. In this case, it's better to opt for a software option;
Software load balancing. An alternative to hardware load balancing, which has more settings options but requires higher maintenance and provides less performance. The most efficient software load balancers are Load Balancers as a Service (LBaaS), such as NGINX and HAProxy;
DNS load balancing. Applied when there is no need to control bandwidth consumption. Such technology is also rarely used on its own and may be implemented together with any load balancer;
Mixed load balancing. Though you may choose any of the above-mentioned solutions, a mixture of all of them is usually exploited for high-load systems, like large-scale social networks. Hence, if you opt for a particular solution, be ready to integrate an additional one in case of your app's rapid expansion.
Device communication protocol
The choice of technology for its implementation affects the immediate response of a mobile app to everything that happens on the server-side: bandwidth consumption, server or mobile app load, etc. You may apply:
Push notifications, which is a standard technology for informing your users. However, there is no possibility to control them on the server;
WebSocket enables open connections between the client and the web server. It eliminates the need to constantly send the request checking whether the data is available or not;
Long-polling technology assists in obtaining data processes if the speed of the response to a user's action is not the priority. This option is a less-effective alternative to the web-sockets and requires more resources to enable its functioning;
REST API is mandatory for a social media app as it provides the obtaining of all necessary data from the server.
When you create a social media app, you may apply both WebSocket and push notifications in case you need to add dynamics to obtain the notifications.
Back-end architecture
As your social media product and challenges connected with application enhancements directly depend on the back-end architecture, you should define from the very beginning what model of development to choose:
Monolith manages and unifies all the functions in one place. The weakness here is that whenever developers update, fix or add a new service, the whole system is affected and needs an upgrade;
Microservices flexibility allows writing the project in different programming languages simultaneously, which provides scalability. Plus, there is no need to access the whole system as with monolith when updating or bug fixing, which speeds up the deployment process in turn. In case you opt for cloud computing, ready-made microservices management systems, such as AWS-Lambda, will ease the development process.If you haven't chosen a cloud solution, docker technology is an alternative to AWS-Lambda. It is a containerization tool that manages microservices and helps to implement them.
The choice of the programming language
The back-end components of social media networks can be developed in any programming language, such as Java, JS, Ruby on Rails, or Node.js. However, Java is a universal one due to its: JVM, high popularity, high scalability, and cross-platform usage.
Developing a social media website
It is almost impossible to find a popular social media app that doesn't have its web-based equivalent. A web version allows you to extend the capabilities of your mobile product, offer users additional features, give an opportunity to those users who prefer websites to use your product as well, and much more.
Front-end constituent.
To implement the front-end part of the social media app, it's better to use either JavaScript or TypeScript programming language. The most efficient framework, in this case, would be either Angular, React.js, or Vue.js.
Looking for a social media website developer? Read our guide on Angular developers for hire.
Back-end constituent.
There are different options when it comes to the selection of best-suited technologies for the implementation of the back-end constituent of the social media app. Let's consider one of the possible options:
Programming languages: Java
Frameworks & libraries: Spring Framework stack
Search engines: Elasticsearch
Application server: Tomcat in AWS ECS Docker container
Caching: Redis or Memcached
Hosting: AWS
Deployment automation tools: AWS CodeBuild, AWS CodeDeploy
Databases: MySQL
API documentations: Swagger
Analytics and monitoring: Amazon CloudWatch, vRealize Log Insight
Source code storage: GitHub or AWS CodeCommit
Load balancer: AWS Application Load balancer
Learn more tips on how to make a social media app from scratch in our in-depth guide to such product development.
Having examined the tech stack used for website development, let's dive deeper into its features and their implementation.
Feature
Front-end
Back-end
Log in & Sign up
AWS Cognito can be used as an efficient ready-made service that enables a secure log-in via third-party social identity providers (idP), such as Facebook, Google, etc.
The back-end constituent of the website receives the signal from AWS Cognito regarding the user's request to sign up or log in.

Having received such a request, it saves the data in the database and registers the event in Amazon CloudWatch

Newsfeed
To display any type of media (images, videos, etc.), we can use different technologies. Our developers can use React Activity Feed library and WebSocket protocol.
All posts in the news feed that users can see are based either on their subscriptions or the liked posts of other users they are subscribed to (such as in Linkedin-like websites).

By using Elasticsearch, we can implement relevant content displaying in the newsfeed.

Post creation
Self-written solution
By using RESTful API, we send the data to the server to save it further in the database and ensure its indexing in Elasticsearch.
Post like
Self-written solution
To implement like counters, our developers can use Redi to persist this data without interaction with the main application database (MySQL).
Chat
Our developers can use Pusher Beams for real-time message delivery and WebSocket protocol.
We can use Redis as a message broker.
Social notifications
Our software engineers can use JavaScript Notification API to display messages to users outside the web page, Pusher Beams for real-time notification delivery, and WebSocket protocol.
By using WebSocket, we send notifications to the service workers.
Search
Our developers can use the ElasticSearch UI framework to implement this feature.
When we receive a search event, we build a query and transmit it to ElasticSearch.
Admin panel
React-admin library, AdminBro
We can implement CRUD API to manage all kinds of entities, ElasticSearch indexes, Redis storage.
Wondering what tech stack and approach towards functionality implementation is relevant for your project?
Contact us, and we will analyze your functional requirements and consult you about the best-suited technology for your social media app.
Quality Assurance
The quality assurance process should be integrated from the project beginning in order to eliminate possible bugs and crashes and applied to all vital stages of development to monitor the quality of the product.
QA engineers implement various types of functional and non-functional testing and perform them either in automation and/or manual ways. The choice depends on the project complexity, its size, and the software vendor's expertise. Based on your requirements, our Aimprosoft Quality Assurance department analyzes the complexity of your social media app and chooses a corresponding testing approach.
Deployment
The major aspects of this phase are related to the backend part and differences in app stores' approval approaches.
Once you have chosen either on-premises or cloud computing, we suggest paying attention to certain specifics related to them. The on-premise model of software deployment requires constant both hardware and software maintenance. By opting for cloud one, you obtain more flexibility for running your data storage and spend fewer resources on its support. This process should be conducted by DevOps engineers who ensure proper cloud functioning and data encryption at rest during the deployment stage.
The deployment to either Google Play or the Apple store has its specifics. Generally, Google Play accepts newcomers faster than the Apple Store due to less strict app submission rules.
Monetization strategy: how to make the decision?
Social network apps are one of the most fruitful types of applications that enable high ROI in case of an effective monetization strategy. Thus, let's consider several dominant approaches to effectively generate revenue that have proved to be effective for social media networks:
In-app advertising
This monetization strategy allows you to gain revenue from the brands which will promote their services to a particular target audience without spreading irrelevant ads within the whole platform.
However, this type of monetization presupposes a certain toolkit in your app for those who will integrate their ads. It should enable the brands to monitor their customers' behavior and engagement, for instance, with the help of analytics, a pageview tracking system, or a conversion rate controller.
In-app purchases
Such an approach is relevant when you want to offer your users both free standard and premium feature sets (including consumable and non-consumable in-app purchases) for an extra payment.
For example, if you opt to create a dating app like Tinder, it will be desirable to integrate such premium features, which will enable your users to monitor their page visitors and reduce the number of irrelevant profiles. To attract your audience even more, you may guide them towards this in-app purchase by offering a short-term free trial and then monitor their engagement.
Paid version
The easiest way to gain revenue from the very beginning of your social app's deployment on the market is to make it paid. To put such a strategy to work, it is desirable to be sure that you have a well-designed app social media marketing plan which will help you to promote your app and attract potential users.
For example, you can launch a free trial for a certain period of time to gain more users who will be willing to pay for the app's continuous usage.
The optimal choice of monetization strategy is directly related to the specifics of your app and the needs of your target audience. We at Aimprosoft can help you analyze your requirements and find the most suitable for the concept of your social network approach
Analyze and measure in order to thrive
It will sound too utopian if we say that once your social media app is deployed to the market, there is nothing much to be done with it except for periodic updates and fixes. On the contrary, tracking quantitative metrics and reviewing the most important KPIs are those vital actions that should be continuously performed after your product launch. However, what are the benefits of such practices?
Generation of data-driven insights.
Identification of gaps and weaknesses.
Increased customer retention.
Improved quality of the product.
Increased revenue.
Having reviewed all those advantages that you can obtain from the app analytics, let's look at vital parameters that should be actually measured. We singled out the most crucial indicators from two main groups: user engagement and revenue-focused metrics and KPIs.
Revenue-focused KPIs and metrics
CPI (Cost Per Install). CPI helps you measure your advertising budget by dividing ad-related costs by the number of users who installed your social media app after seeing such a paid advertisement. As a result, you can analyze the viability of such ads.
CAC (Customer Acquisition Cost). CAC is a key business metric for counting the overall cost of acquiring a new customer, including money spent on ads, marketing, and other expenses over a certain period. It can help analyze the efficiency of the existing business model, improve marketing return in investment, and optimize the payback period
Burn rate. Burn rate indicates how fast and how much money the company spends monthly on various areas, such as staff, marketing and sales, operational costs, etc. Such a metric is especially helpful for social media startups to track monthly expenditures and plan further fundraising and potential revenue growth.
Average Revenue Per User (ARPU). ARPU is the metric that shows the average amount of revenue you obtain from the user's interactions with your social media app. By measuring ARPU, you can analyze more accurately your business's revenue generation capability and understand the value of your product as a whole.
User engagement KPIs and metrics
Installs & uninstalls. Install tracking allows you to identify the number of users that actually went through the entire app setup process. In turn, the monitoring of uninstalls will help you spot whether they occurred after specific updates or changes in your product or because of weak points in your app and, as a result, optimize your application accordingly.
User activation. User activation rate shows the point where your users obtained the value of your product and converted from trial users into the ones who can start bringing revenue. The events that can be a sign of user activation are different for each type of social media app and may include interaction with your key features, making the first post, or sending the first message.
User retention and churn rate. User retention shows the number of people who returned to your app after their first visit over a certain period of time and have continued using it since then. By measuring this metric, you can better understand your customer base, quantify your traction, and evaluate your product's success. In turn, the churn rate indicates the number of users who stopped using your social media app. By measuring your churn rate, you can identify what is working for your product and what isn't, and evaluate your app's performance and quality.
Session length. Session length shows the amount of time the users spend on your app per session. Such a metric can help you measure user engagement and gain valuable insights regarding user experience.
The indicators mentioned above can be considered as one of the most vital ones to be tracked in terms of social networking apps. However, the list is not limited only to them since there are dozens of various types of metrics and KPIs that you may use to analyze your product. With all this in mind, let's proceed to the development cost of a social media app.
How much does it cost to create a social media app?
The cost to build a social media app is directly related to the desired functionality that you aim to implement into your app.
It is highly desirable to build a basic version of your future full-fledged app first, namely, MVP (minimum viable product). It allows for assessing the project for feasibility and, as a result, saves a certain amount of resources necessary for the refinements of the future full product.
We suggest you include this list of basic features in MVP for social media app to calculate your product's potential:
Sign up;
Sign in;
Search;
Subscription;
Newsfeed;
Likes;
Content publishing;
Comments.
In order to implement the chosen feature set for the first app version, you will require the following specialists:
1 Project Manager;
1 UI/UX engineer;
1 Backend developer;
1 iOS developer;
1 Android developer;
1 QA engineer.
The basic functionality included in the development of a full product doesn't differ much from the one needed for MVP. However, a full-fledged version of your social media app may require more complicated features:
Admin panel;
Messaging;
End-to-end encryption;
Linking with other social media platforms;
Push notification module;
Geolocation;
Analytics;
Customization of user's profile.
The list above is just an example of possible options which may occur in top-rated social media apps nowadays. However, it's not limited to them. The development of such features and their monitoring normally requires at minimum the following team of software engineers:
1 Project Manager;
1 UI/UX engineer;
1 Backend developers;
1 iOS developer;
1 Android developer;
1-2 QA engineer(s).
To provide you with a full picture, we calculated how long it would take to create your own social media app for iPhone and Android. The estimation includes the time required both for MVP and full product based on one of the most essential mobile social networking app development stages.
Stages
MVP hours
(for 2 platforms)
~1760—2060

Full product hours
(for 2 platforms)
~3280—3800

Business analysis + UX strategy
50—80
120—140
Technical specification
20—30
40—60
UI/UX
70—100 for each platform
110—150 for each platform
iOS/Android development
500—550 for each platform
800—850 for each platform
Backend
200—250
600—800
QA
175—200 for each platform
350—400 for each platform
The above-mentioned data is just an approximate required time for social media network development for 2 platforms in total. If you decide to deploy your app on one particular market at first, Google Play, for instance, the development will take approximately 1,015 hours. QA usually takes 25-30% of the time spent on mobile development and backend. Numerous factors normally influence the estimate, such as the complexity of the app's functionality, the project's requirements, the launch deadline, etc.
The cost to make a social media app, in turn, depends on the region of the chosen software vendor. In the comparative table below, you may see the price difference of software services among the following geographic areas:
Country
Average hourly rate
MVP
(for 2 platforms)
~1760—2060
Full product
(for 2 platforms)
~3280—3800
USA
$80
$140 800—164 800
$262 400—304 000
Western Europe (Germany)
$65
$114 400—133 900
$213 200—247 000
UK
$70
$123 200—144 200
$229 600—266 000
Eastern Europe (Ukraine)
$35
$61 600—72 100
$114 800—133 000
Market indicators show that the average rate for social media app development in the US exceeds the one in the countries of Eastern Europe (Ukraine, for example) by 2 times. However, the quality of software services and developers' expertise doesn't concede to those countries where the offered rate is higher.
Conclusion
The market of social media apps never stands still. With its unfulfilled potential, it's constantly expanding to accept new upcoming networks. Modern tendencies continue forming the model of new types of social media applications that aims to satisfy the growing needs of their potential users. Hence, if you already have a concept that only needs the right software vendor to implement it, don't hesitate to contact us, and we will help you with social networking app development.
FAQ
What are the best modern trends to follow when developing a social media app?

The dominance of video content over textual, integration of augmented reality, expansion of social commerce, targeted advertising, and personalized content are currently highly popular social media trends. It's predicted that their adoption will only grow within the market of social media apps. However, we suggest following only those trends that are relevant to the target audience of your app and suit the overall concept.
Why are social networks important?

Social networks give an opportunity to people to connect and communicate with others globally. Secondly, they enable the convenient sharing of information, ideas, expertise, and knowledge. Moreover, social networks have become an integral part of business and marketing strategies, allowing companies to reach and engage with their target audience. Lastly, social networks play a significant role in shaping public opinion, driving social movements, and promoting social change.
What is the purpose of social networking?

he purpose of social networking is to facilitate connections and interactions between individuals, allowing them to establish and maintain relationships, share information, and engage in various forms of communication. These apps enable users to share updates, photos, videos, and other content, exchange messages, join communities, and participate in discussions.
How do social media apps work?

Although each type of social media app functions in a different way, there are certain core features they all share. Social media apps function by providing users with tools to create accounts, connect with others, and share content. Users register by creating a profile with personal information and can connect with friends, family, and others through various means. They can then create and share content in the form of text, photos, videos, or links.
How can I make money with social media apps?

There are various ways to monetize your product when building a social media app. One popular way is advertising, in which app owners show tailored adverts to users and make money from ad placements. In-app purchases allow users to purchase virtual products or access premium services, making direct money. Influencer marketing enables individuals with a huge following to work with brands to promote their products or services in exchange for a fee. Some social networking apps use a subscription model, charging a monthly fee for access to unique content or ad-free experiences.
How can I create a social media app?

Creating a social media app involves several steps. First, define the app's purpose, target audience, and unique features. Conduct market research to understand user needs and preferences. Then, create the design of your product, ensuring an intuitive and engaging experience for users. Next, hire a team of developers to build the app's backend and frontend sides, ensuring scalability and security. Test the app thoroughly to identify and fix any bugs or issues. Finally, launch the app on relevant app stores and promote it through marketing and advertising channels to attract users. Regularly gather user feedback on the app to improve its functionality and user experience.
How much does it cost to create a social media app?

The cost of building a social media mobile app is defined by various factors such as the complexity of functionality, the location of hired tech experts, the scale of the project, the chosen technology stack, and the level of customization needed. Development and design elements play an important role in determining the overall cost. For instance, if you're planning to build an MVP first, it will cost you approximately $61,600—72,100 in case you outsource to one of the popular outsourcing destinations in Eastern Europe, like Ukraine. The full-fledged version of the product may cost $114,800—133,000.
What are the most popular social media apps in the world?

Some of the most popular social media apps globally are Facebook, YouTube, Instagram, WhatsApp, Twitter, Snapchat, and TikTok. However, it's important to note that the popularity of social media apps can evolve rapidly, with new platforms emerging and gaining traction in the dynamic landscape of these type of apps.
How to approach the selection of the necessary features?

We advise not to overwhelm your app with excessive functionality. Examine your target audience, identify their needs and pains, and offer them the corresponding solutions. Moreover, since usability is a key element to provide the best user experience, the choice of the feature set should be approached rather thoroughly. The perfect formula is to implement the standard for any social media features (for example, user profile, push notifications, content sharing, advanced search, news feed) and adjust additional functionality to fit the purpose of the app.
What technology stack is required to create a social media app?

The choice mainly depends on whether you opt for native app development or hybrid. Native development for the Android platform will need the leverage of Java or Kotlin, while apps for the iOS platform are written in Objective-C or Swift programming languages. The back-end constituent of your social media app may be developed with the help of Node.js that is widely used for the back-end development of dynamic apps. The range of databases that can be chosen is quite large: from MySQL (such as PostgreSQL, SQLite) to NoSQL databases (such as MongoDB).

In turn, the stack for hybrid development may also vary. Currently, React Native, Ionic, and Flutter are rather popular technologies for this type of software development. However, mind that all mentioned technologies are just popular examples that may be used to make a social network app, and the stack may vary depending on the desired functionality, budget, developers' expertise, and type of development. The Tech Lead or Software Architect will choose an efficient technology stack that will meet all your requirements.