Articles
20 December, 2021
Internet of Things in Education Industry: Applications, Benefits & Challenges
Key takeaways
The market for IoT in education is estimated to be worth USD 19.57 billion by 2027. Learn more about the Internet of Things relevance in education, market growth factors, and the reasons to enter this niche.

Discover top areas of IoT application in the education domain.

IoT in education is real! Explore popular IoT in education examples and the benefit they bring to schools.

Learn more about major challenges that educational institutions may face when adopting IoT and check out recommendations from Aimprosoft IoT specialists that can help overcome them.

Aimprosoft has been developing IoT-powered solutions for over a decade. Learn how our company can assist you in creating your IoT project for education.
The educational system has many imperfections, ranging from children being bored during classes to security concerns on school grounds. According to the survey, 70% of pupils are constantly bored at school while 75% of students have only negative feelings about studying. According to the bullying statistics, 20.2% percent of pupils admit to being bullied at school. Do we have a single panacea for all these misfortunes? Of course, we have IoT. Continue reading this article and figure out what happens when education and the Internet of Things meet.
IoT in the education industry: a brief overview
Increasing adoption of IoT in numerous industries strikes. Solutions for fleet management, ingestible sensors for patient diagnostics, tools for remote equipment monitoring, you name it. It seems that IoT devices are everywhere, "smartening" all areas of our existence. Nevertheless, IoT applications in education are still an emerging phenomenon that is approached with carefulness.
However, a great number of educational institutions have already started eagerly adopting various IoET solutions, such as smart boards, wireless door locks, emergency indicators, etc., transforming their internal processes with smart technology. IoT is slowly but steadily making its way into the world of e-learning, as can be seen from the growth of IoET market. Thus, according to the statistics, the IoET market is estimated to be worth $19.5 billion by 2027, with a CAGR of 17.74 percent from 2020 to 2027.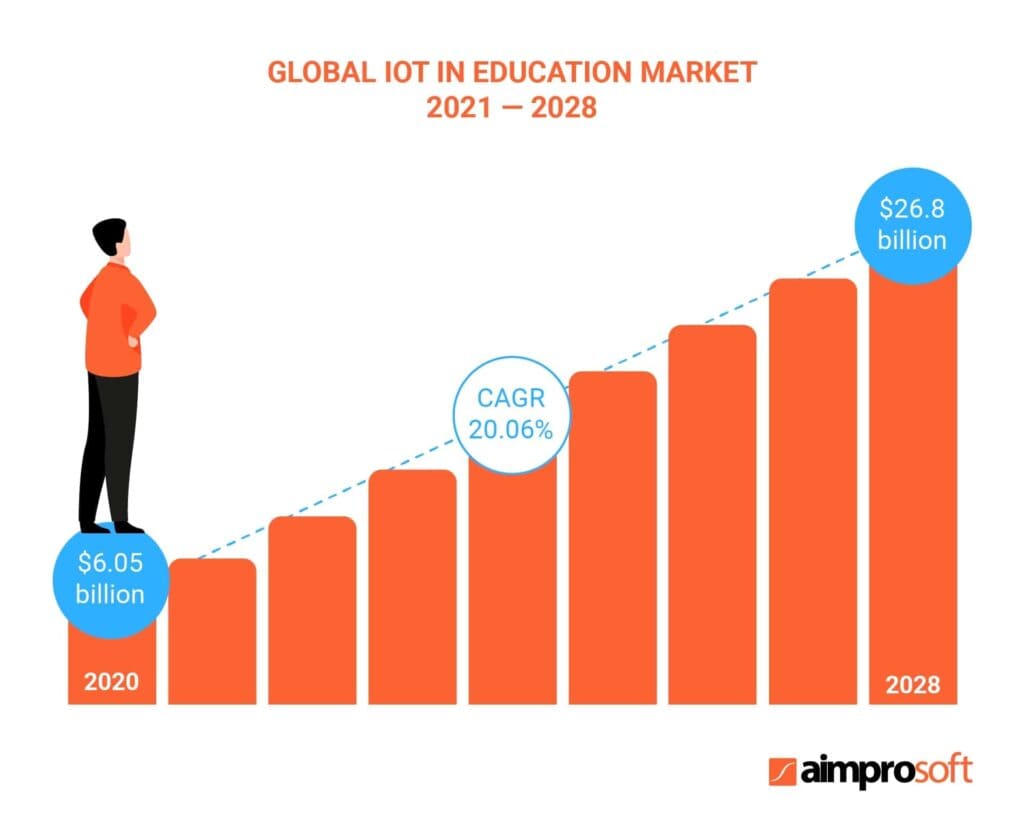 The growing role of the Internet of Things in educational sector development that is shown above can be explained by the following factors: increasing adoption of connected devices, fast development of eLearning, changes in the learning behavior of students, and their growing need for advanced technology.
Active adoption of IoT devices is just one of many other changes that are occurring in the education sector now. Learn more about what technology and content trends to expect in 2022.
Read now
Another
survey
that supports the statement regarding the importance of IoT devices for education is provided by
My Tech Decisions
. In the course of the survey, more than 300 K-12 decision-makers, IT professionals, and administrators expressed their opinion about merging education and the Internet of Things. Let's review some of the key points:
55% of schools state that integration of IoT devices has enhanced school safety;
65% of K-12 professionals believe that smart education IoT solutions can save schools significant money;
81% of professionals state that the overall benefit of smart devices outweighs possible risks.
Thus, the market analysis helps us conclude that:
the domain of IoET is blooming, and the educational institutions are more than ready to adopt such technology, which makes it a rather favorable niche for edtech companies and startups who are aiming to create an IoT app;
despite the growing role of IoT devices for the education sector, the market is not overheated yet and not overwhelmed with the competitors, which is a great sign as well.
With all this in mind, let's dive deeper into the IoET universe and look at some examples of Internet of Things applications in education to start with.
Applications of IoT in the education sector
There are numerous use cases of IoT technology in education; however, we will focus on the most common examples of IoT applications in education.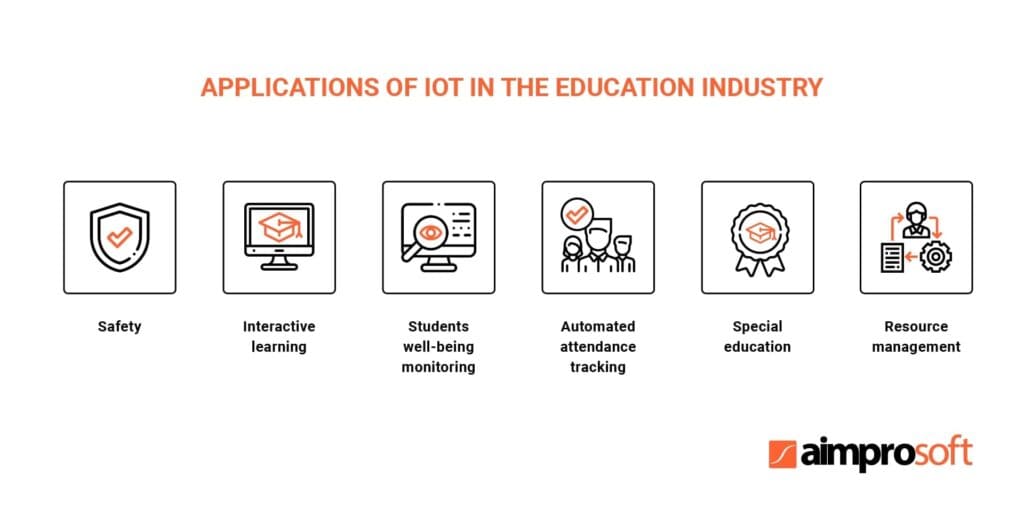 School security is on guard
The top priority of every educational institution is to provide a secure academic environment for students and teaching staff. But even in the era of digital transformation in education, the majority of schools are not equipped with technology that can identify life-threatening situations and trigger alerts and still leverage outdated security measures instead. Thus, IoT devices are of great help when it's necessary to achieve the desired level of security.
Smart cards, surveillance cameras, gunshot detection systems, smart door locks, bus tracking technology, etc., can help overcome major security threats, including the detection of trespassers, theft, bullying cases, and others. For example, Magicard produces smart cards that are used by students and personnel as personal keys to access classrooms, science labs, and campuses, helping prevent the intrusion of undesired individuals into the educational institution's territory.
Interactive learning
It's hard to engage today's learners with traditional learning methods and tools since they prefer to use smart devices instead. Touchpads built into teaching boards and student desks, electronic diaries, interactive boards, and other similar devices can significantly improve the engagement and performance of students.
For instance, the company Promethean produces an IoT-based solution called ActivPanel, which is an interactive display with features such as unified menu experience, palm detection, proximity sensors, etc., that allows teachers and students to work together at the same time in an engaging way. School districts across the United States reported that thanks to such a device, students' school achievement rose by 60%, annual spendings on printing materials reduced by 54%, and 66% of schools saw improved teacher satisfaction.
Physical and mental state monitoring of students
Children's well-being is now receiving the attention it deserves and not without the help of smart devices. A growing number of progressive schools have started leveraging the capabilities of various IoT devices, such as smartwatches for early signs of depression detection, blood oxygen measurement, wearable devices for tracking the basic health indicators, and other solutions that help monitor children's health in real-time, spot changes, in their condition, and notify school administrators and parents.
Interested in developing an IoT product for students' well-being monitoring? Then you might be eager to know how we approached the creation of a healthcare IoT-based solution.
Find out
Transforming disabilities into abilities
Every day, children with disabilities face numerous hurdles because of the learning environment of educational institutions, which is not adapted for them. Smart education IoT solutions can serve as a rescue for such students by improving on-campus conditions and enabling them to receive the best education. IoT devices can help communicate with classmates and teachers seamlessly and also move around the school easily.
For example, deaf children can use devices that can transform their sign language into verbal speech. Also, such devices as smart doors can make it easier for children in wheelchairs to move around the school premises. IoT devices can help children with special needs break down barriers and make their lives and learning more fulfilling.
Resource management
Managing all school processes is an impossible burden without an efficient digital solution. Fortunately, IoT devices can help with the management of many internal processes of educational institutions. IoT devices are frequently used for resource management, including the monitoring of electricity and water consumption. For instance, IoT sensors can be installed in lights and water taps. Sensors will be able to switch off lights in rooms where no one is there to save energy, and the same will be valid for saving water. As a result, schools can save significant amounts of money by implementing such devices.
The development of IoT-powered solutions for resource management is something we're skilled in. Check out how our team implemented a product for smart consumption.
Learn more
Benefits of Internet of Things applications in education
Since IoT technologies have a wide range of applications, they can benefit different groups of people at once. Thus, let's explore who can get these benefits and what devices can do so.
Who can benefit from IoET
The actual advantages
Examples of devices that can bring such benefits
Learners
Improved educational experience
IoT connected tablets, smart translators, voice-to-text technology
Higher engagement in the learning process
Scanmarkers, smart microphones, electronic diaries, interactive panels, smart boards, virtual reality headsets
Optimized remote learning
Document cameras, Bluetooth scanners
Educators
Better attendance tracking
Occupancy sensors, ID cards, electronic bracelets
Interactive teaching
Document cameras, interactive displays, scanmarkers
The ability to experiment with the curriculum
Interactive whiteboards, dynamic desktops
Administrators
Simplified resource management
Smart meters, smart lighting, smart water taps
High-level safety
Smart cards, smart locks, emergency indicators, RFID tags, surveillance cameras, sensor-embedded badges
Parents
Real-time monitoring of the child's well-being
Smart wristbands, smartwatches, wearable biosensors
Accurate location tracking during bus rides
Smart buses, GPS-enabled sensors
As you can see, such devices can make life easier for many people at once, which proves the Internet of Things relevance in education. The entire learning process can become more enjoyable for students and teachers, while management of educational organizations' processes become more efficient.
Top examples of IoT in education
We can talk about hypothetical IoT in education examples for a long time, but let's examine popular solutions that are already transforming educational institutions.
Kajeet SmartBus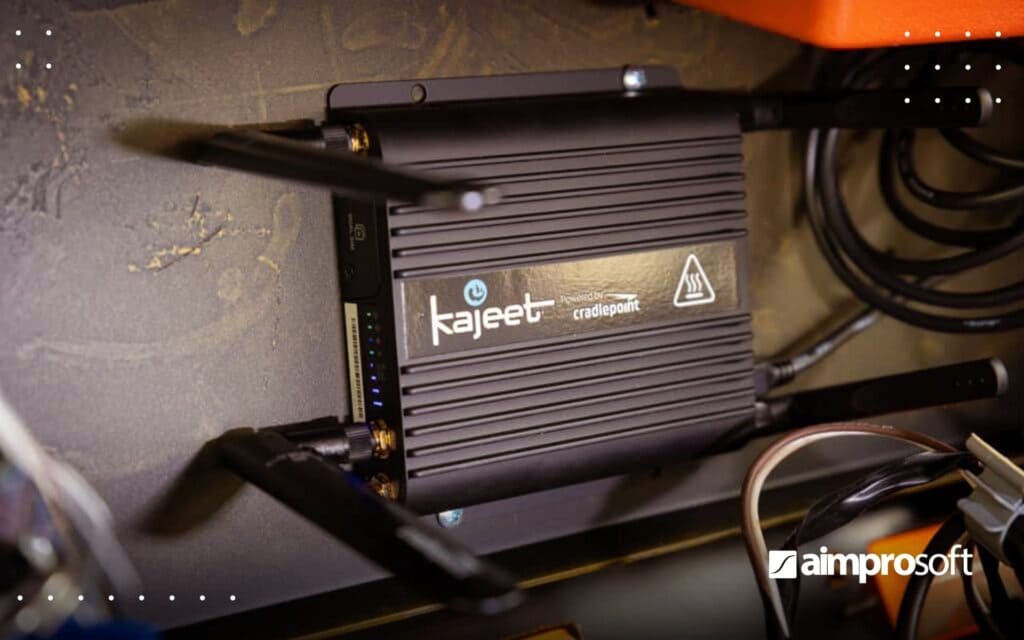 The American company Kajeet has created a SmartBus solution whose primary function is to decrease student distractions, increase safety, and provide a seamless internet connection during bus rides. Apart from the router that shares Wi-Fi and 5G and allows children to connect to the Internet and complete their homework using only secure educational websites, the solution also consists of Kajeet's Sentinel cloud platform. It helps administrators manage devices, obtain key insights into the device performance, monitor the real-time location of the bus, check information about the posted speed limit and reported speed, create reports with speed limit violations, etc.
Benefits. Kajeet SmartBus solution can help decrease student behavior incidents, offer students the ability to complete their assignments online during their rides, and give the opportunity to improve driver focus by decreasing distractions. Also, since such a bright example of the Internet of Things for school students has the CIPA-compliant filters, it can block inappropriate sites, social media, and streaming sites, ensuring children can concentrate on their homework.
C-PEN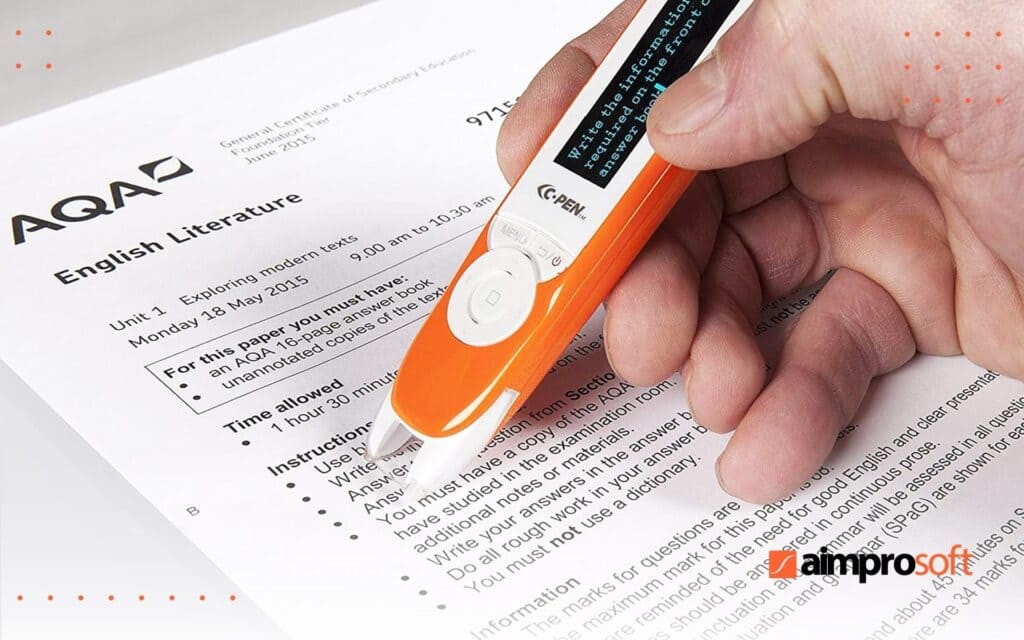 Pen scanners are small-scale connected devices that are pretty popular nowadays because of their ability to simplify the learning process greatly. C-Pen produces various types of wireless pen scanners that are designed to scan text with a single click and send it via Bluetooth to a smartphone or a desktop application where students can work with the scanned text. Pupils can use this instrument to gain knowledge independently without the teacher's assistance by scanning a text, translating it, transforming text into its audio version.
Benefits. This vivid example of the Internet of Things for school students helps children become more independent when they are studying subjects instead of asking their teachers and parents for help. Powered by end-user applications, C-Pen improves the processing of printed information, making it easier to read and comprehend learning materials, learn new languages, and much more.
IPEVO VZ-X WIRELESS DOCUMENT CAMERA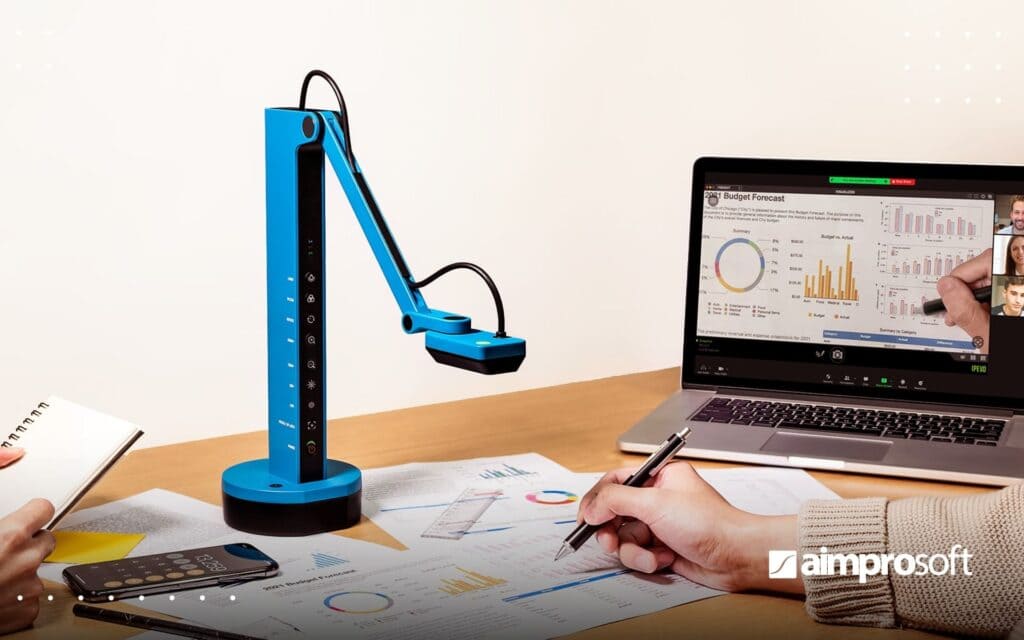 IPEVO has found a solution that can optimize remote learning and help overcome major problems caused by the pandemic. The company has developed a wireless document camera VZ-X to help teachers stream lessons and lectures remotely, capture and visualize learning materials, connect the camera to various devices, and modify the camera's video feed. Teachers may link the camera to their computers, tablets, and even smartphones via a wireless connection.
Apart from the device, the solution has Visualizer software that helps control document cameras. Using Visualizer software, educators can control features like zooming, stop motion, video filters, and much more. The camera is also compatible with other products, such as Seesaw, Camtasia, and OBS.
Benefits. Thanks to the IPEVO document camera, teachers can abandon old-fashioned teaching methods and switch to new modern technologies, which are more relevant to today's students.
Want to develop an IoET solution?
Let's see how Aimprosoft IoT specialists can help you.
Contact us
Challenges of IoT in education: what aspects to consider
Since we've looked at the Internet of Things in education examples and their benefits, let's now examine the challenges that such devices can provoke. But we won't leave you with these issues; instead, we'll provide the best practices for reducing the risks.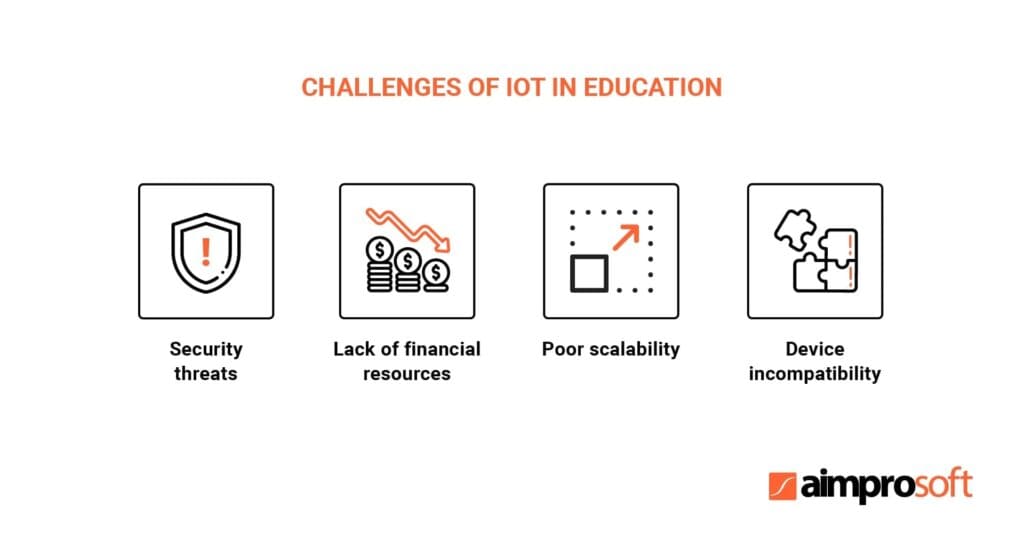 Security
Ironically, IoT-powered solutions can both be the tool that can be used to enable enhanced security for educational organizations and at the same time be the source of the various vulnerabilities. For instance, it was mentioned in Verizon's 2017 Data Breach Digest that an unnamed university's network was attacked by 5,000 connected devices on campus (including connected vending machines and smart light bulbs) that "were making hundreds of DNS lookups every 15 minutes," causing the university's network connectivity being slow and inaccessible.
Ransomware, smurfing, rogue devices, hardware attacks, device hijacking are just a few examples of possible security threats that can jeopardize the safety of the sensitive student, parent, and organization's personal data.
So, what can be done to overcome this challenge? Unfortunately, there is no such one silver bullet that would ensure high security and won't expose your devices to malicious attacks. However, the application of a strategic security approach is what can be of great help. Thus, explore the list of recommendations that Aimprosoft IoT specialists share:
The creation of a well-defined action plan that is a must when you aim to integrate IoT devices into the educational environment. The security strategy should outline roles & permissions, initiatives who will be responsible for IoT devices maintenance, data protection regulations, etc.
Apply network segmentation security method. By dividing the network into multiple segments or subnets, you are creating separate network domains for different types of IoT devices, restricting their access to each other. Such practice can help enhance overall security and also boost performance by reducing network congestion.
Make sure that the communication between different layers of the IoT device is encrypted, including the end-user layer, IoT platforms, database, etc.
It's crucial to conduct IoT security awareness training among teaching staff, administrators, and students.
We recommend conducting regular maintenance checks, backups, and updates. This can be done by either your internal IT department or device manufacturer if it's presupposed by the contract.
Authentication and authorization (both device-based and user-based) should be ensured at all stages of interaction with the IoT solution to enable protection against hacking attempts.
Financial aspect
Any school that decides to deploy IoT solutions for educational purposes should be prepared for the expenses related to their integration, such as regular maintenance, staff training, dependable Wi-Fi connection, etc. Creating a specialized platform or device will need a competent team of developers unless the device manufacturer provides it in a bundle. All these aspects require significant investments. Unfortunately, not all schools have the financial means to cover all expenses.
So, what can be done to overcome this challenge?
Before adopting such a technology, we advise conducting an in-depth analysis of the potential expenses. Always consider the long-term cost of system upgrades, maintenance, and security checks.
If you don't have enough resources, we recommend searching for special technology funding programs that provide financing for educational institutions, such as the CARES Act, Emergency Connectivity Fund, ARP: American Rescue Plan (HEERF III), etc.
We recommend opting for those companies that sell special bundles that are often quite cost-saving. For instance, the Kajeet company that was previously examined in this article offers schools a Kajeet Unlimited Education bundle that can be purchased together with SmartBus devices and help schools avoid unpredictable expenses that may come when the data limit is exceeded. Such bundles may encompass device integration and maintenance, support, software that will be compatible with other platforms, etc.
Device incompatibility
As we discovered in the earlier sections of our article, the number of IoT devices is just off the charts at the moment. Such a variety of IoT solutions for education is certainly an adventure, but different devices may not be compatible with each other, certain operating systems, and software solutions.
So, what can be done to overcome this challenge?
Recommendation for IoT providers. During the development, providers of such solutions should take care of device compatibility. It's essential for your IoT device to easily integrate with various operating systems and popular digital solutions that can be used together with your product without adding complication or discomfort to the user's experience.
Recommendation for educational institutions. Before you acquire IoT devices from a particular

education software development company

, you must clarify all the main points related to the compatibility of devices. Is the new device compatible with the ones you already have? Will it be compatible with the operating system that you have? And so on. You should also clarify all the compatibility-related key points when signing the contract with the provider to legally protect yourself.
Scalability
Scalability is one of the most common problems when dealing with IoT infrastructure. Such a problem frequently arises because all potential risks were not taken into account during the development stage, such as the growth in the number of users, features, or appliances. Poor scalability can lead to serious consequences, like longer maintenance durations, latency concerns, and unexpected high spendings.
So, what can be done to overcome this challenge?
Recommendation for IoT providers. It's highly desirable to design an expandable system. The system should be able to expand easily when new devices are added to it and handle the workload under the growth of users. It's vital to ensure scalability at all layers of the solution, such as architecture, software, and hardware.
Recommendation for educational institutions. You need to think ahead. Before deciding to combine the Internet of Things and education, you need to consider the load's future growth, increase in users, and other unpredictable circumstances. It is preferable to calculate all potential risks ahead of time rather than correcting errors after the system is installed, which can be more expensive.
The development of an IoT-powered solution is not a piece of cake. But don't worry, we've got you covered. Check our in-depth guide into IoT development and learn more about challenges and tips to overcome them.
Read more
How Aimprosoft can help implement an IoET solution
For more than 10 years, we have been developing IoT-enabled products, helping organizations embrace the potential of smart technologies. We can help educational institutions with IoT-based solutions development for student health monitoring, IoT aggregators that will provide an educational organization with single access to all available smart devices, platforms for real-time condition monitoring of equipment, and others depending on your requirements.
To ensure that we are the right company to help you develop a smart education system using IoT, take a closer look at those IoT development services that we provide:
development of an end-user application, either web-based, desktop, or mobile that can help organizations configure and manage their IoT devices remotely, perform asset monitoring, generate reports based on the obtained data, etc.;
creation of a microservices' architecture that would provide more flexibility, accelerate software development time, and simplify upgrades and scaling of the application;
implementation of IoT gateway solutions that are designed to enable secure data capture and transmission from the devices to the cloud;
enhancement of IoT solutions with ML capabilities. Our data scientists can ensure that the developed products help with the generation of data-driven insights from the processed data sets, detect anomalies accurately, improve equipment maintenance and predict its failure, etc.
refactoring of legacy software and functionality expansion. Our specialists help identify the state of the solution's architectural decay and weak points that require fixes, implement new robust features not causing already-existing functionality failure, and rewrite code using capabilities of the modern technology stack.
Conclusion
IoET technologies have the potential to revolutionize education by changing how schools and colleges collect data, educate students, and manage internal processes. If you have an idea to develop your own IoT-powered app, please feel free to contact us, and our experienced team will assist you with any IoT solution development questions you may have.
FAQ
What is the progress of the IoET market?

The IoET market has been quickly expanding in recent years, and now is an excellent opportunity to break into this niche. For instance, by the end of 2027, the IoET market is expected to be worth $19.57 billion, with a CAGR of 17.74 percent. The domain is rapidly growing, which can be explained by the following factors: active adoption of connected devices, the popularity of eLearning, changes in the technology demands and learning behavior of students, and the need of educational institutions in advanced technology.
What are the major challenges of integrating IoT in an educational environment?

Despite many advantages, educational institutions can face several major challenges when adopting IoT solutions. The most acute problems include incompatibility of devices, absence of financial resources, scalability issues, and multiple security threats, such as ransomware, smurfing, rogue devices, hardware attacks, etc., that can cause unpredictable spendings, data loss, and reputational damage.
How much does it cost to develop an end-user solution for IoT devices?

It isn't easy to give a precise figure because many factors may affect the price estimation. The cost of the development of a smart education system using IoT may vary depending on the complexity of the features, the choice of the tech stack, desired deadline, budget, whether it's an MVP or a full-fledged product, and many others. Also, the location of the software vendor may affect the cost of such a solution as well.

For instance, the average hourly rate of the developers from the United States is $80 per hour, the specialists from the countries of Western Europe, like Germany, will cost you approximately $65 per hour, while the software specialists from Eastern Europe, for example from Ukraine, will cost only $35 per hour.