Scala Engineers Salaries and Rates: CTO Guide to Hire and Save Budget
Key takeaways
Scala offers significant benefits not only to developers but also to businesses. Learn why companies such as Coursera, Airbnb, Walmart, Netflix, and other giants use Scala in their tack stack.
Location, expertise, the skillset — is there anything else that affects a Scala developer salary? Check out the overview of the full list of factors that influence it.
Figure out popular outsourcing destinations and beneficial hourly rates of Scala developers there.
Not sure whether there are ways to hire Scala developers and save costs? Of course, they exist. Offshore Scala development, seniority level balance, the choice of the correct engagement model, continue reading and learn all the cost-saving tips.
Aimprosoft Scala development services: why is it worthwhile hiring our Scala software engineers?
As a robust programming language, Scala has been in the spotlight for quite some time. Linkedin, Twitter, Tumblr, and Coursera have already applied the advantages of this technology to their products. Hence, if you need to accelerate your time to market, build a scalable and stable product, and gain a competitive advantage, hiring Scala developers is the right choice to fulfill all these desires. Well, no time to lose, since while you are wondering whether Scala developers are worth hiring for their cost or not, someone has already hired skilled Scala developers for a fair rate and started creating a top-notch Scala-based solution. Hence, let's get started.
Scala programming language overview
If you are examining Scala developers' salaries and hourly rates, it's not hard to assume that you have firmly decided to use this technology in the tech stack behind your product. However, are you sure you know about all the advantages of this tool and its areas of application? Let's check them out together.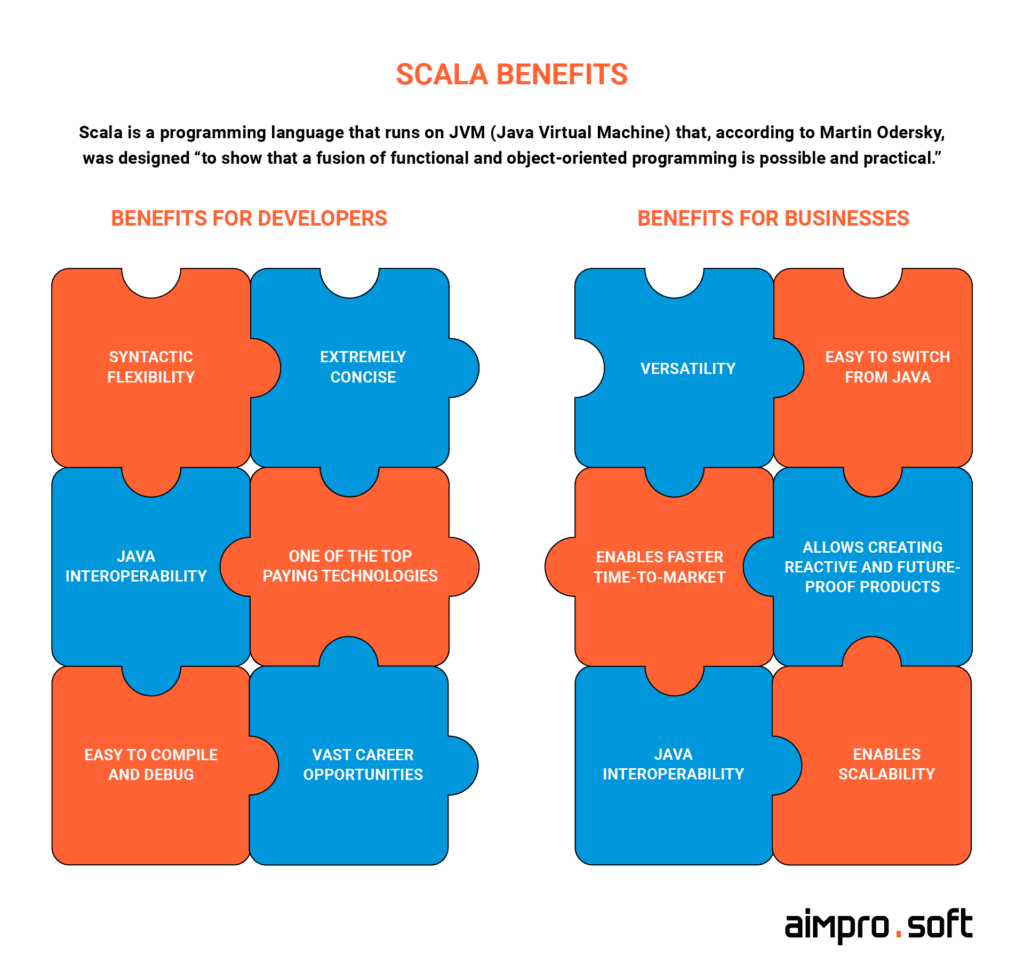 As you can see, the benefits that Scala offers are quite significant both for companies and developers. Additionally, the use cases of this technology vary impressively as well. Let's review some of the most common uses of Scala:
Big data applications
Scalable web-based products
Data pipelines
Real-time data processing
Parallel batch processing
Highly concurrent products
ML-based applications
Data analytics tools
Scala usage is quite extensive, which makes it a perfect technology for various purposes, especially when it comes to the creation of applications that are cost-efficient to maintain and easy to scale.
What businesses say about Scala
From the image above, you may see that Scala offers a variety of benefits; hence, each business owner has their own reason why create a Scala-based project. Let's investigate those reasons that made well-known companies opt for this technology.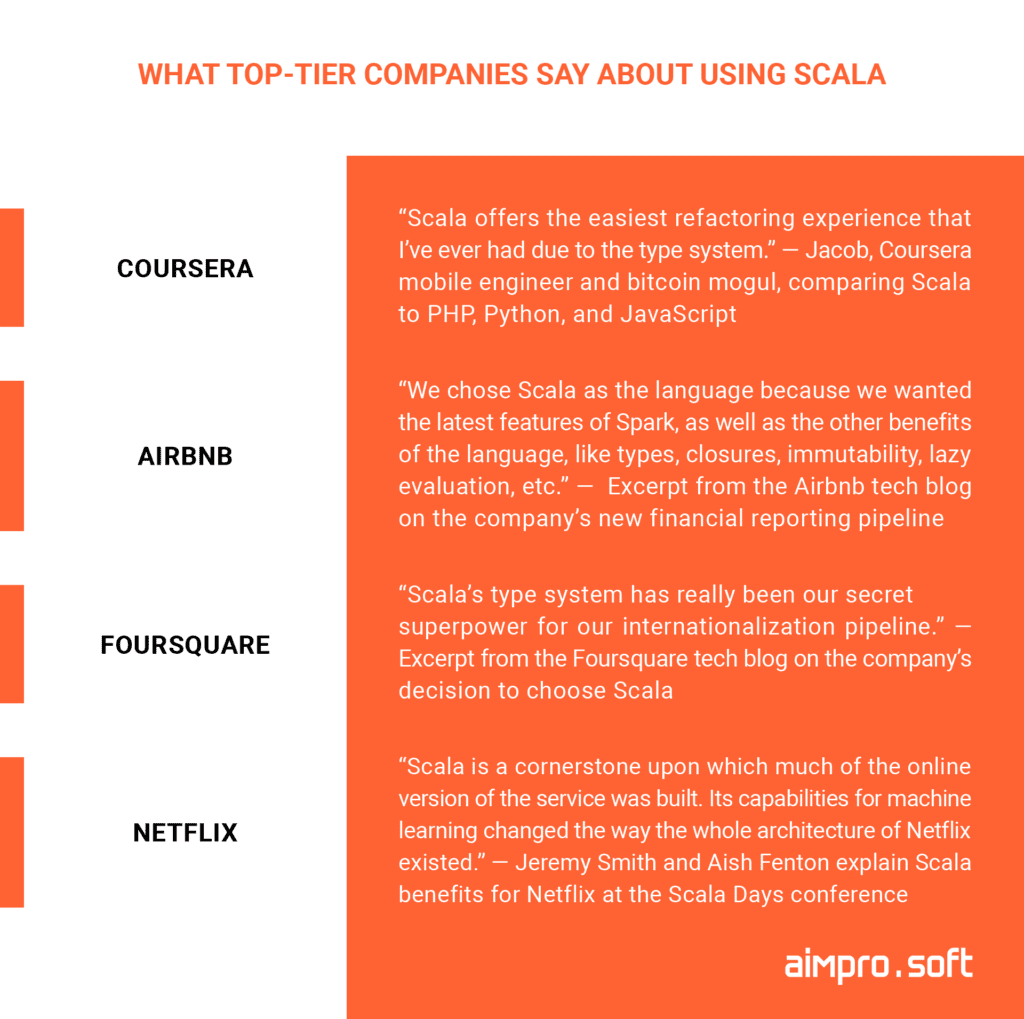 These are just a few examples of the top companies' reasoning for choosing Scala and their reviews on this technology. The most common advantages businesses highlight regarding Scala are flexibility, versatility, its type system, and fast data processing. Well, now that you have a clear image of Scala, its benefits, and areas of application, time to dive into the multi-faceted universe of Scala developers' salaries to determine the destination where you can hire top specialists that will match your requirements.
Scala developer salary trends 2022 and forecast
Before we explore major factors that affect Scala developers' salaries, we offer to examine those tech salary trends that have been gaining momentum recently. An understanding of the IT salary market is crucial since it will allow you to comprehend candidates' expectations and help you keep up with the current changes to be ready to adapt to them smoothly.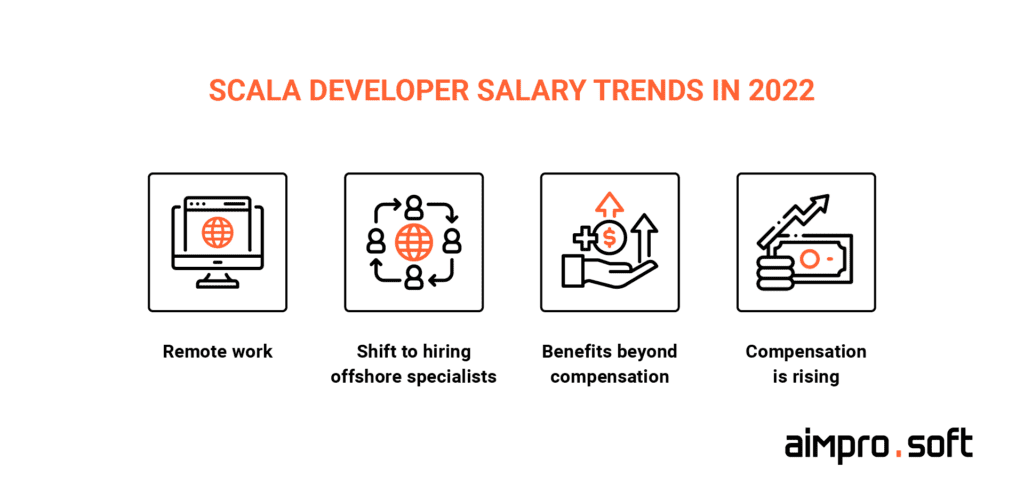 Remote work
The shift towards remote work is the trend that has been holding its firm position for the past few years and has been only growing in terms of popularity. The pandemic has especially strengthened it and made numerous organizations adjust not only their workflows to the new reality but also employment approaches. However, what is the correlation between remote work and salaries?
In a recent article published on the Computerworld platform, it's stated that since remote work has shown that employees are not only more productive and satisfied with such a flexible workplace opportunity, businesses can hire employees from various locations for the salaries peculiar to the chosen destination. Such a trend offers significant flexibility to businesses that can not only save on salaries but also on expenditures related to the maintenance of in-house employees.
Shift to hiring offshore specialists
The growth of remote work has widened the horizons of employment and offered more profitable opportunities to businesses. Offshore outsourcing and outstaffing have become one of the most popular business practices for companies who are searching for cost-efficient yet experienced specialists. The research shows that the IT outsourcing market was valued at $526.6 billion in 2021, and it is expected to reach $682.3 billion by 2027.
By choosing to hire developers from one of the most popular outsourcing destinations, such as Ukraine, the Philippines, Poland, Brazil, Argentine, etc., businesses can not only hire Scala developers for fair rates but also focus on their business activities, accelerate product launch, optimize usage of internal resources, and much more.
Redefinition of compensation
The 2022 tech salary guide shows that for the past year, salaries increased by 9.5% on average across major tech hubs for experienced hires and with a 357% increase in remote IT jobs. According to the same research, one of the key reasons that can explain the rapid growth of compensation rate is a significant increase in specialists' market value.
On top of the salary rate rise, IT specialists are opting for employers who can offer sign-on bonuses, clearly defined career plans, and benefits (health insurance, tuition reimbursement, paid parental leave, flexible working schedule, etc.) in addition to competitive compensation. Hence, if you want to attract and retain top talent, these are salary trends that we highly advise following.
Salary of a Scala engineer based on experience level
One of the key factors that can affect the Scala engineer salary is the level of qualification. You should carefully consider what category of developer you need for your project since their salaries vary drastically depending on the experience level. To ease your pain, we have prepared a detailed overview of three major categories of Scala developers and explored the cost to hire Scala programmer so that you can find the developer that fits your request.
Junior (beginner or entry-level)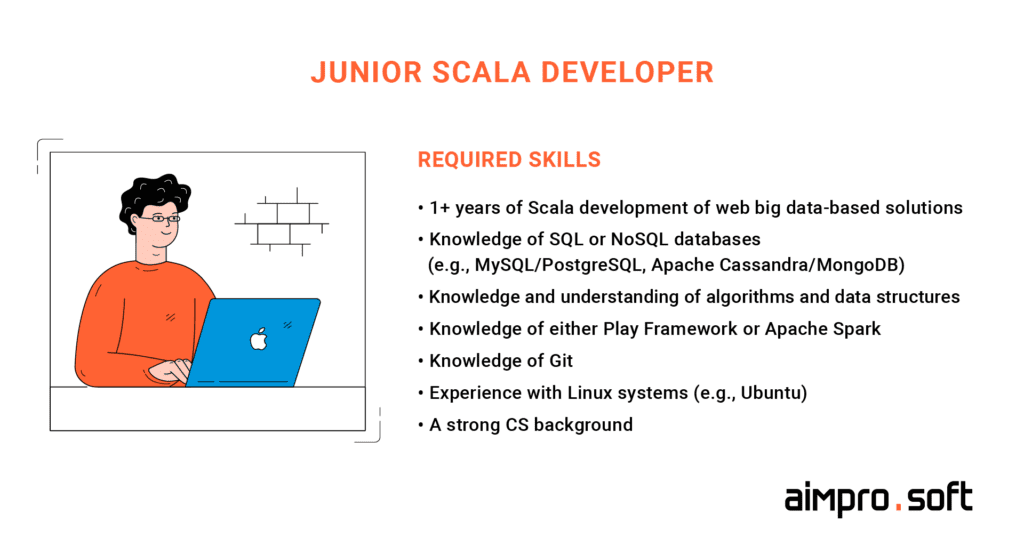 Years of experience: 1—1,5
Responsibilities: participate in the development of reactive Scala-based applications, participate in the development of ETL pipelines using Apache Spark as the main framework, help estimate projects taking into account initial information
Must-have knowledge: knowledge of SQL or NoSQL databases (e.g., MySQL/PostgreSQL, Apache Cassandra/MongoDB), knowledge and understanding of algorithms and data structures, Play Framework or Apache Spark, Git, experience working with Linux systems (e.g., Ubuntu), a strong CS background
Level of English proficiency: intermediate and higher
Middle (mid-level)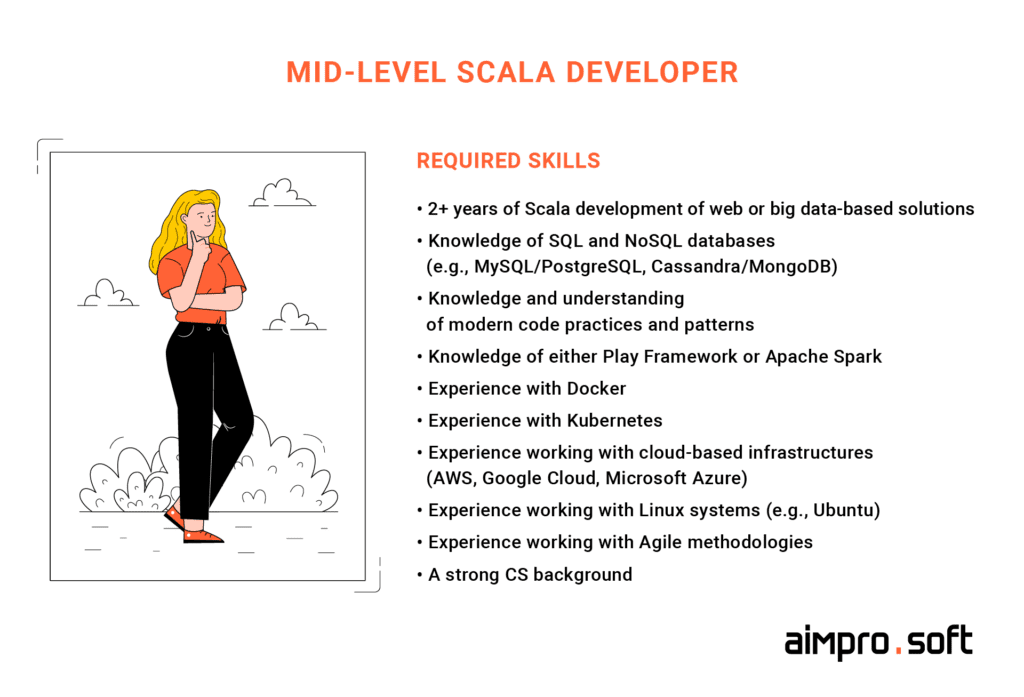 Years of experience: 2+
Responsibilities: participate in the development of reactive Scala-based applications, participate in the development of ETL pipelines using Apache Spark as the main framework, estimate projects according to customer preferences and requirements, perform code review, communicate with a customer to deliver the best possible product, take responsibility for features that are committed to be developed
Must-have knowledge: knowledge of SQL and NoSQL databases (e.g., MySQL/PostgreSQL, Cassandra/MongoDB), knowledge and understanding of modern code practices and patterns, Play Framework or Apache Spark, Docker, Kubernetes, experience working with cloud-based infrastructures (AWS, Google Cloud, Microsoft Azure), experience working with Linux systems (e.g., Ubuntu), experience working with Agile methodologies, strong CS background
Level of English proficiency: intermediate and higher
Senior level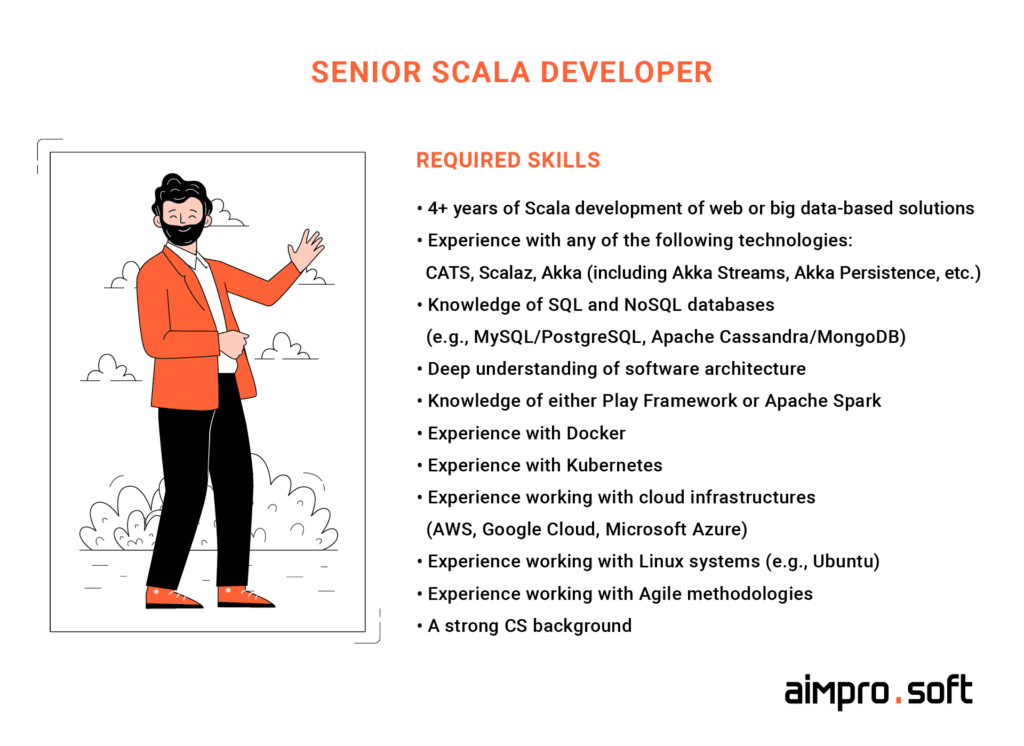 Years of experience: 4+
Responsibilities: Participate in the development of reactive Scala-based applications, participate in the development of ETL pipelines using Apache Spark as the main framework, estimate projects according to customer preferences and requirements, perform code review, communicate with a customer to deliver the best possible product, take responsibility for features that are committed to be developed, Be ready to take the lead on projects, help educate and control new employees
Must-have knowledge: experience with any of the following technologies: CATS, Scalaz, Akka (including Akka Streams, Akka Persistence, etc.), knowledge of SQL and NoSQL databases (e.g., MySQL/PostgreSQL, Apache Cassandra/MongoDB), deep understanding of software architecture, Play Framework or Apache Spark, experience working with Docker, Kubernetes, cloud infrastructures (AWS, Google Cloud, Microsoft Azure), Linux systems (e.g., Ubuntu), Agile methodologies, strong CS background
Level of English proficiency: advanced
From the data above, you can notice that the range of Scala developers' salaries varies significantly based on their qualification level. We'll talk more about the seniority level balance in the other section so that you can find Scala developers and assemble the team that will meet your requirements and budget.
Average Scala developer salary based on location
So, we have figured out that qualification level is the first major factor that influences Scala software engineer salary. The second key factor that can affect it significantly as well is the location.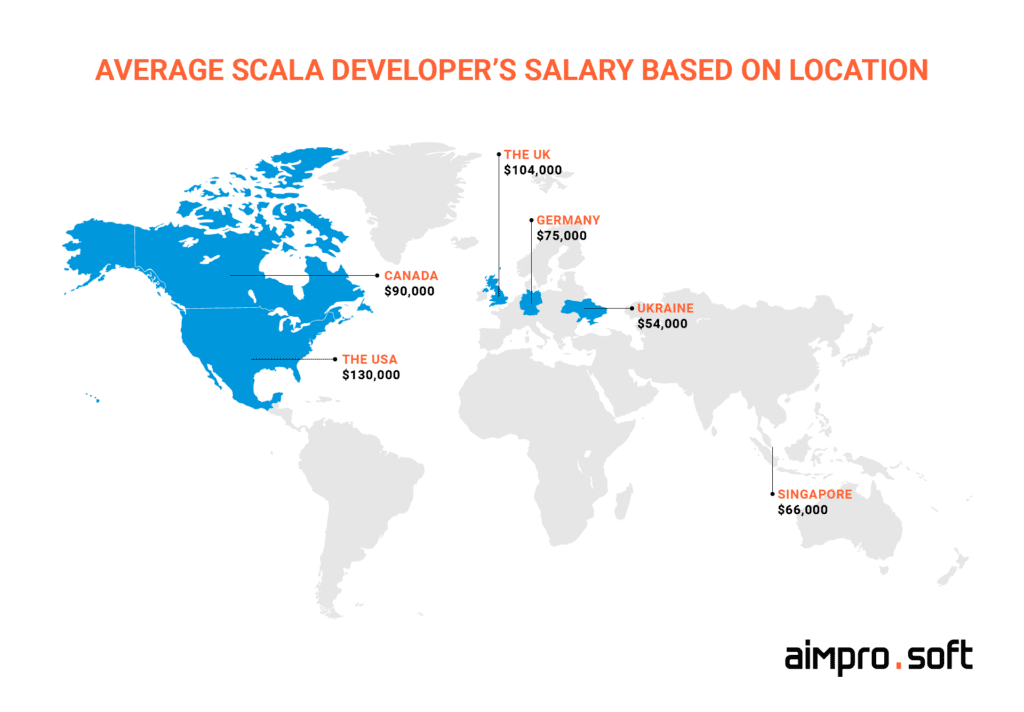 Just like you have observed the change in Scala developers' salaries depending on the qualification level, the same rule is applied to the location factor. The location significantly affects the salaries and hourly rates of the developers. For instance, the Scala developer average pay in the US will be $130,000, while the coder from Ukraine will earn $54,000 for the very same qualification level. Moreover, the range of salaries can differ significantly even within the country. For example, based on the statistics from the Talent.com platform, a Scala developer who resides in New York earns annually around $146,250, while one from North Carolina $117,029.
The reasons why the location-based factor affects salaries so much are the cost of living index, income tax rates, market rates, and the demand for certain tech specialists in the local market. Hence, if certain factors make you opt for hiring a Scala developer nearshore or offshore instead of your local market, we recommend considering the following aspects to make the right choice of the destination: English language proficiency, cultural compatibility, time zone difference, the size of the talent pool on the market, reputation of the country's IT sector.
Scala programmer hourly rates based on engagement models
The third factor that affects the developer's rate is the employment model. So, if you are not planning to hire an in-house Scala developer, we offer two explore other ways to hire the necessary specialists and choose the one that meets your requirements most.
Freelancer
Pros: Freelance specialists can offer a number of benefits that make more businesses hire them, including flexibility, a large talent pool on freelance platforms, and a vast range of rates that can meet any budget.
Cons: However, the disadvantages you may get when hiring a freelancer are security risks, the mismatch between the claimed and real experience and skillset, poor code quality, absence of deep immersion into your project, and high chances of miscommunication.
Outsourcing or outstaffing
Pros: As we have already stated before, outsourcing and outstaffing have been gaining significant popularity recently, and not without reason. The benefits that allure companies so much are better quality of the delivered product, project management that can be conducted on the vendor's side, opportunities to extend the team either with Scala developers or with other specialists conveniently, and higher chances of better domain knowledge.
Cons: Undoubtedly, such a business model is not flawless. Hence, consider the following disadvantages that you may face: the rates of Scala developers hired from IT vendors can be high, you may have less control over the project if you go with outsourcing, and there are chances of choosing an unreliable software development company if you don't validate its credibility property.
So, which one to choose? The main aspect to rely on when deciding which type of developer you need is the scale of your project. Freelancers are usually great for short-time projects and the completion of one-time tasks. In turn, businesses choose to either outsource their Scala-based projects or extend their in-house teams when their projects are large-scale, long-term, and may possibly have vague requirements and unclear scope of work.
In turn, the range of hourly rates of Scala developers who are hired from software development companies is vast. Not only the location affects them but also the decision of each particular vendor to set its own price range.
What additional factors can affect the Scala developer cost?
We have already observed three core factors that affect Scala developers' salaries: engagement model, location, and qualification level. However, is there anything else that influences their cost? Let's see.
Special certifications, training, acknowledgments. Apart from the obtained degree, the developer may have gone through qualification upgrading training, completed courses to gain additional skills, and obtained certification in Scala-related fields. All these aspects can boost the developer's competitive advantage and allow gaining higher salaries compared to other developers who have the same number of years of experience.
Skillset. The developer's knowledge and the range of technologies in which they have expertise can significantly affect the earned salary. However, the set of hard skills relevant to a particular qualification level is not the only type of skills that can affect the Scala developer rate. Soft skills such as roles the developer can take while working as a part of the team (e.g., software architect, team leader, teach leader), problem-solving approach, level of curiosity, etc., can affect the salary rate as well.
Type of IT vendor. If you decide to hire a Scala developer from an outsourcing software development company, mind that certain factors may influence the rate of the developers from it. Such factors include the size of the company since the level of bureaucracy, the number of processes, and the people engaged in selecting the best-fit developers for your project can be higher than in smaller companies; hence, it affects the rates to cover the expenditures on such activities. Also, position in the market, rewards, and achievements also affect the developer's rates.
So, we've explored Scala developers' salaries and the factors that affect them. However, you may now be wondering whether there are cost-efficient ways to engage Scala programmers in your project. Luckily, there are, and we offer to check them out.
How to hire Scala developers and save costs?
There are always ways to save costs if the right methods are chosen. Check out several working tips that can be useful in such an endeavor.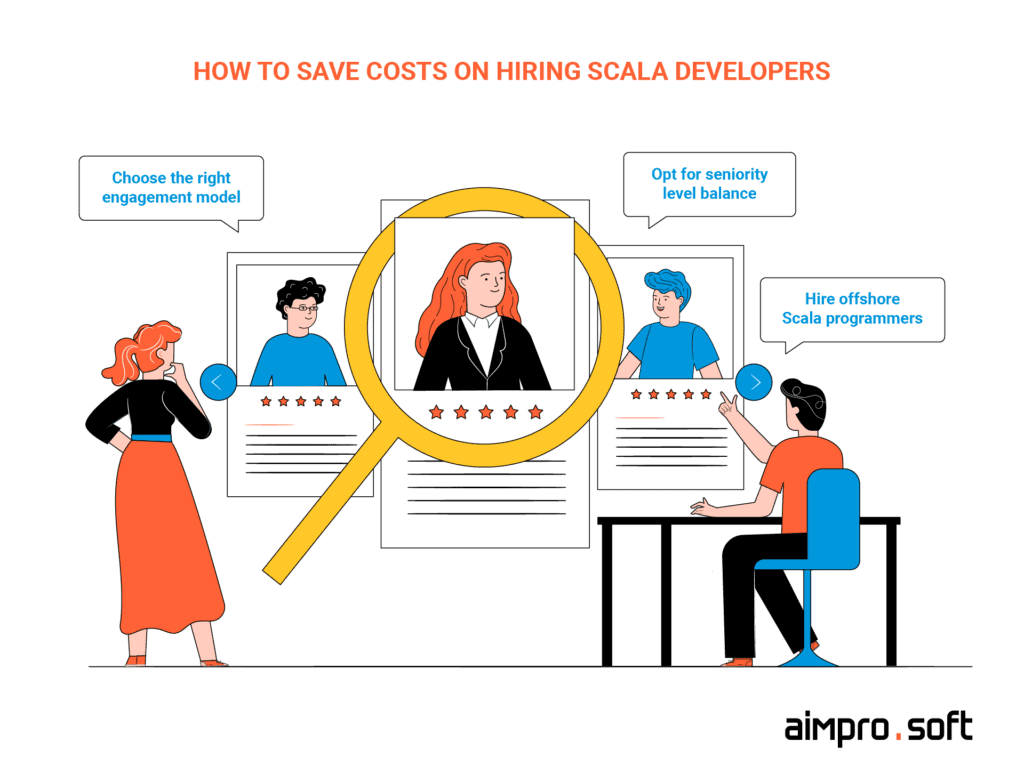 Seniority level balance
One of the possible ways to save on hiring Scala developers, in case you need to assemble the entire team, is to maintain the seniority balance of all members. It means that by knowing which category (junior/middle/senior) can complete the set tasks, you will be able to hire the right ones and save on hiring solely senior developers. Hopefully, the section above can help you obtain a clear image of the skillsets and responsibilities of each category.
Offshoring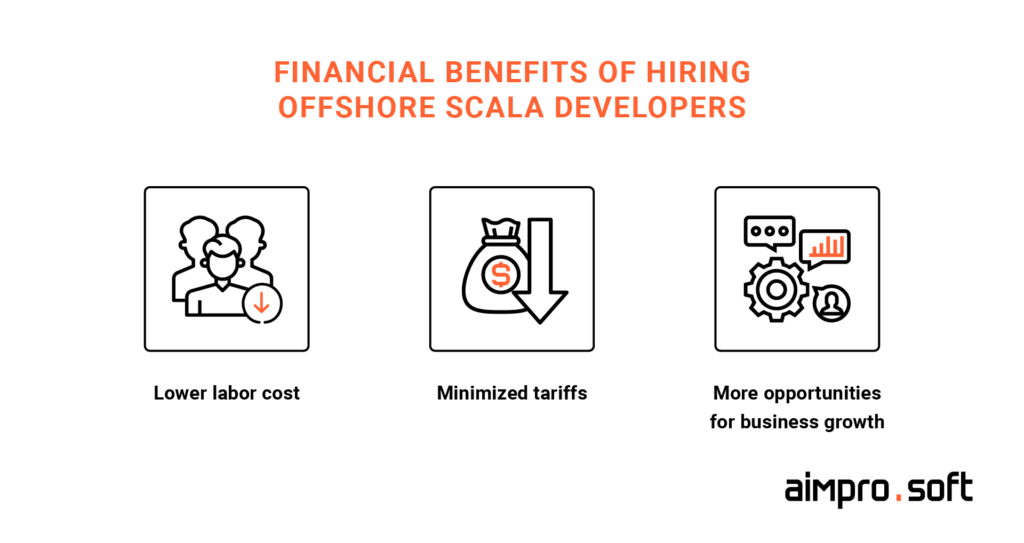 Hiring developers from offshore companies has become one of the most popular practices with the growth of outsourcing. Offshoring business practice offers a number of impressive benefits that makes the growing number of businesses opt for it, such as access to skilled specialists since there may be a lack in the local market, the ability to reduce operational costs, a cheaper labor force, and better use of internal resources.
What is the actual profit from Scala developers offshoring?
Let's imagine that you are a startup owner from New York that is wondering whether you should hire an in-house Scala developer onshore or risk it all and choose an offshore vendor. The salary of an onshore developer is approximately $146,250. However, in addition to the salary, you will need to take care of the expenditures related to the equipment, taxes, benefits that go beyond the compensation, recruitment process, employee retention, etc. You may also outsource your product development to a local onshore company, paying approximately $100-150 for one hour of Scala developer's work.
Now, let's imagine that you decide to hire a developer with the very same expertise and skillset from an offshore company located in Ukraine. The average Scala developer hourly rate will be $35-55, and it's the only type of expenditure that will have in case you choose the time and materials pricing model. The vendor takes care of taxes, equipment, employee recruitment and maintenance, and other costly activities. As a result, you pay 2-3 times less for the very same quality of work, gaining the opportunities to concentrate on business activities. Sounds cost-saving, doesn't it?
Even though hiring offshore developers may have certain disadvantages (difficulties in managing remote teams, language barrier, cultural incompatibility, security issues), with the right software vendor, you can easily avoid them and significantly save your budget if hiring in-house specialists isn't an option or necessity for your project.
Choosing the correct pricing model
One of the core factors that can either guarantee your project's success or doom it to failure is the choice of pricing mode. All projects are different in terms of their scale, initial requirements, allocated budget, and desired time-to-market. Hence, the pricing model that is efficient for one type of project can't suit the other. Let's take a look at them to help you identify the one that will be the best fit for you:
If you choose the fixed price model, you have to pay a defined flat fee upfront. Such a model is perfect for startups that have budget limitations that are not flexible and need predictability in resource allocation. It's also great for projects with clear project scope, requirements, and strict deadlines.
In turn, this pricing model will require ongoing payment for the number of hours spent on the completion of tasks that is multiplied by the Scala developers' hourly rates. The benefits of such a model are flexibility and a clear vision of budget allocation. It's great for long-term and large-scale projects with vague requirements and scope, and a relatively flexible budget.
What extra values will you gain with Scala developers from Aimprosoft?
If you decide to hire Scala developers from an IT vendor, there is a list of factors that you should pay attention to in order not to choose an unreliable company and fail. Make sure you check:
the company's portfolio that must contain relevant to your project cases and a solid number of successfully completed projects;
reviews on the company left by previous clients. Independent review platforms like Clutch, GoodFirms, and Techreviewer will help you gain a clear image of the way the vendor provides services and collaborates with customers and check the company's credibility;
the company's security strategy and approach to software development.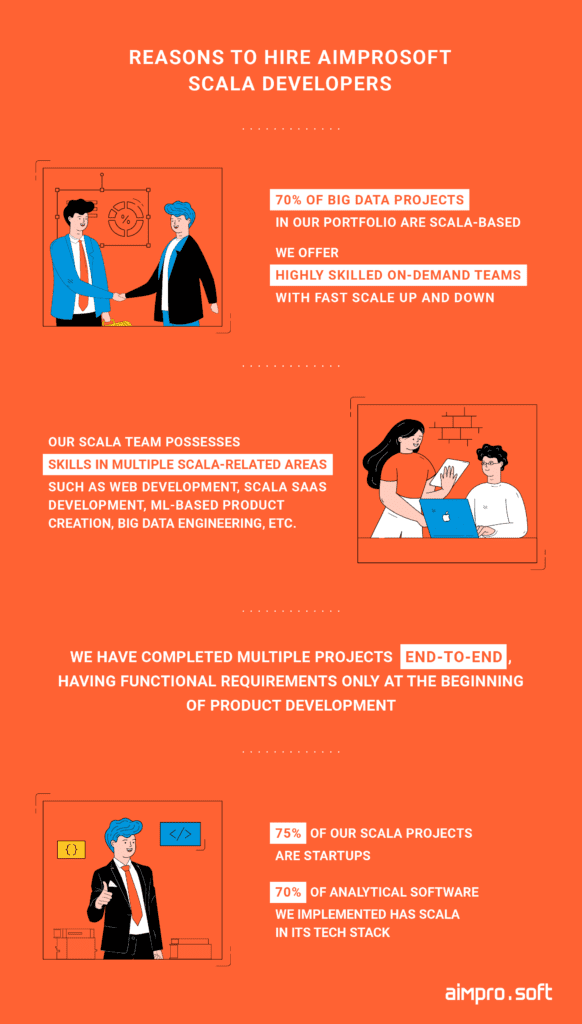 Apart from those benefits that you can see above, these are additional reasons to hire Scala developers from Aimprosoft:
Our engineers started their careers as Scala engineers; thus, their minds are not polluted by principles common in other languages that are hostile to the functional approach and Scala in general.
Our team possesses skills in multiple Scala-related domains, such as web development and big data engineering. We can not only develop an ETL solution but also create an application exposing the processed data outside and deploy it to a required environment using popular containerization and orchestration tools.
We have completed multiple projects end-to-end where we started with functional requirements only. Thus, we have received huge architectural expertise allowing us to tackle even the most complex cases with ease.
Our engineers need no help during the development process: they can refine tasks, develop an application, test it and finally deploy it to the desired location.
Conclusion
As you can see, a Scala programmer salary is formed based on numerous factors, such as location, qualification level, skillset, engagement model, etc. Even though a wide Scala engineer cost range may be confusing, tips in this article are provided to show you that it's possible to hire Scala specialists that can meet your needs both in terms of expertise, quality of work, and rate. Hence, if you are not only looking for qualified specialists but also want to go through their recruitment without fuss, contact us, and we will select the right Scala developers for your project.
FAQ
Why are Scala developers so well-paid?

There are several reasons that make Scala developers so well-paid. Firstly, the demand for Scala developers is high. Secondly, Scala is applied in a number of the most demanded areas (i.e., big data), the type of projects that require Scala are usually complex and high-value tasks, and there are fewer Scala developers in the market, which makes employees pay more to hire the developer.
Will Scala developers salaries go down in 2022—2023?

Scala is currently considered one of the most popular and well-paid technologies. According to various reports, such as the ones made by Devjobsscanner, Cord, Dice, and others, the demand for Scala is only gaining momentum, and the developers' salaries continue growing. Hence, no need to worry that the Scala developer cost will decrease in 2022—2023.
Are the entry-level Scala developers suitable to take off the new project?

Unfortunately, junior Scala engineers are not the best choice for developing most applications from scratch because of their lack of experience. Most Scala patterns and approaches used in development are quite hard to comprehend for an inexperienced Scala engineer. As a result, they need a lot of guidance and control in order to mature and deliver something well-written.

Fortunately, junior Scala engineers can be leveraged to develop some application layers that don't demand huge architectural expertise: a database access later or controller endpoints for a web application. They can also participate in refactoring and writing unit tests where they can obtain enough knowledge about a project and its implementation in general.
What is the most gainful engagement model for Scala developers for a startup?

Since startups usually have limitations in terms of budget and inflexible deadline, we advise opting for a fixed-price engagement model. According to it, you will have to pay s predefined flat rate for the development; hence, it will give you a clear understanding of all expenditures and your budget allocation upfront. The benefits you gain by choosing this model are predictability and the ability to develop the product while staying within the frames of the allocated budget.
Can be Java and Scala compared as two relevant technologies for the project?

Yes, these technologies can be compared; they rely on the same environment. If you have a choice where you need to choose between Scala and Java, we recommend selecting Scala because of compatibility issues. Due to the fact that Java and Scala are both based on JVM, they can be used interchangeably with some limitations:

It's possible to use Scala instead of Java because the Scala compiler supports and understands all the Java features.

It's not completely possible to use Java instead of Scala because Scala relies on complex features that are supported by the Scala compiler only (e.g. Java compiler will not understand them without some voodoo magic).

As a result, if you go with Scala, you can work using both technologies, but if you go with Java, you will have to stick to it until you decide to switch.