Articles
20 September, 2022
How to Outsource .NET Development Profitably: ASP.NET Outsourcing Guide
Key takeaways
Large community, ultimate versatility, and simple maintenance. Is there anything else hidden behind the .NET technology? Check out our article to learn more about the advantages you can gain from using the .net framework in your stack.
The outsourcing software development trend has been gaining extreme popularity for the past years, and there are valid reasons for this. Explore the article to learn more about both the financial and non-financial benefits you obtain from IT outsourcing.
By sticking to certain procedures during .NET outsourcing, you can avoid major challenges that businesses have to deal with. Figure out what obstacles may be on your way and tips on how to overcome them.
Are you concerned that the path to finding the ideal .NET software vendor is long and thorny? Check out compelling arguments why Aimprosoft is the right IT partner for you that can make the development of your software smooth and hassle-free.
Back in 2002, the world was introduced to a new technology called .NET. Although the first beta version of this open-source software development framework was released in the late 2000s, its first-fledged full version .NET 1.0, was released in 2002 by Microsoft with the goal of empowering web-based and desktop solutions. A truly flexible and versatile technology, .NET quite rapidly gained popularity both among businesses and developers.

So, if your objective is to build a .NET-based competitive product in a time, cost-efficient, and challenge-free way, this article on .net development outsourcing will guide you in the right direction. Don't worry if you don't need to outsource the entire development and need to extend your team with a few skilled .NET specialists. We have shared tips on outstaffing in this article as well. So, let's get started.
.NET technology: a brief overview
Unfortunately, the choice of technology made by businesses is often not a result of in-depth research of the company's objectives, needs, and capabilities. In certain cases, it may be the blind following of trending technologies that convinced them that the value of a certain tool is a perfect match for their products. Hence, check out this brief overview to get a clear image of all benefits that you can gain using this technology and the most common use cases of .NET framework to ensure that this technology is the right fit for your project.
From the image above, you can see the solid number of pros the technology can offer, making it so favored by companies and developers. For instance, according to the research, there are about 7-8 million .NET developers around the world. Moreover, from the survey conducted in 2021, results of which are shown below, you can see that .NET Core is one of the most loved non-web frameworks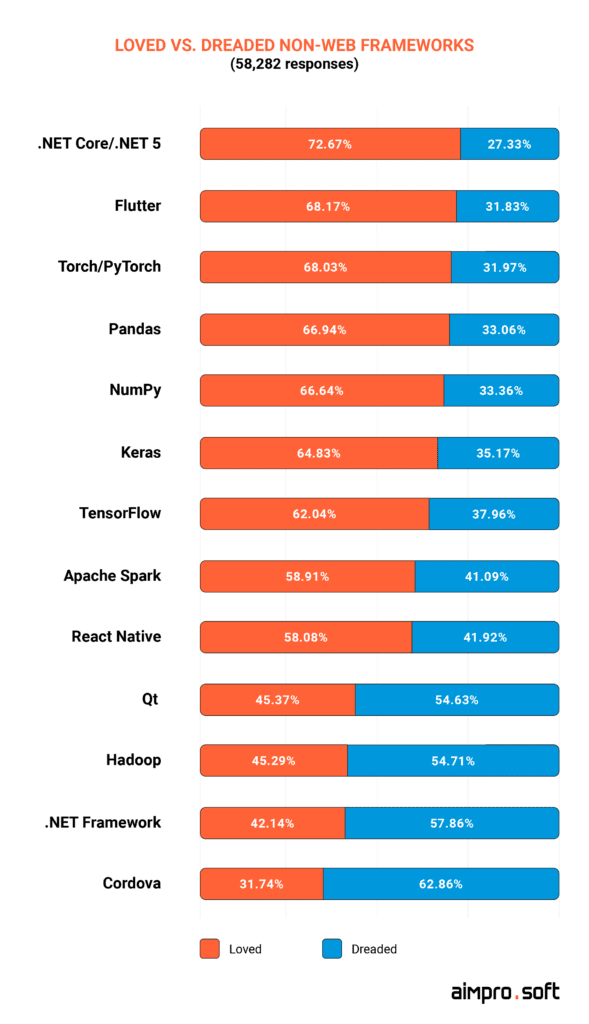 In turn, the platform Builtwith states that more than 43 million websites use this technology behind their tech stack. The most popular companies that leverage the advantages of .NET are Microsoft (obviously), Outlook, Xero, StackOverflow, GoDaddy, Dell, and many others.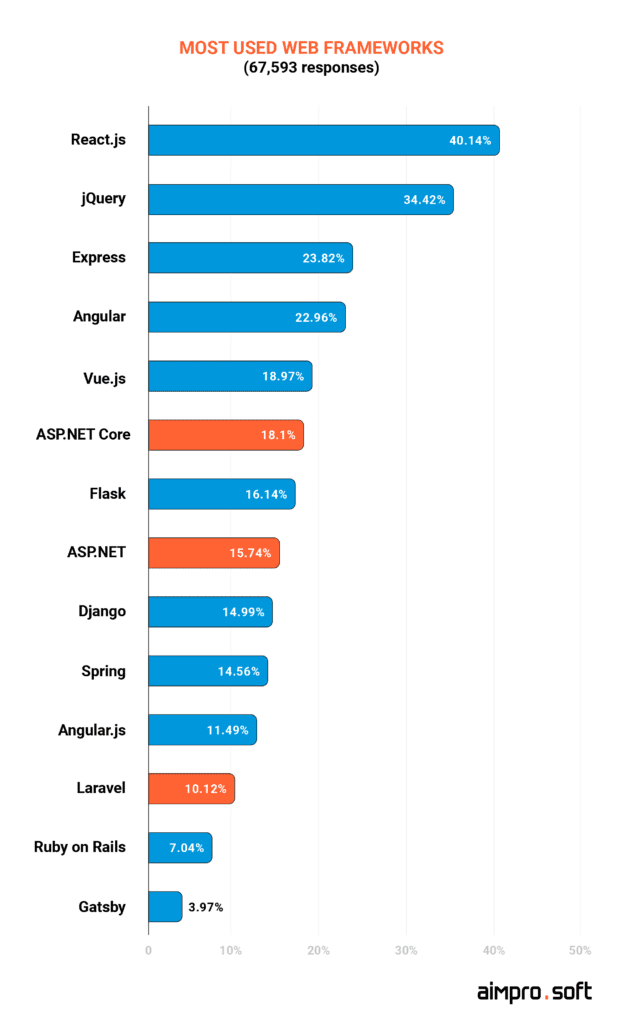 Don't forget to check out as well the most popular uses cases of this technology:
Web-based products
Games
IoT-powered software
Desktop applications
Cross-platform mobile applications
Console applications
Cloud applications
As you can see, various aspects are permeated by the versatility of the .NET technology, from its benefits to areas of application. So, if you have firmly decided that this is the type of technology that you want to build your product with, then let's explore one of the most time and cost-efficient ways to build .NET-based product — outsourcing its development.
Benefits of building your .NET software with the help of an outsourcing team
There is a wide range of reasons why businesses choose to outsource dot net development instead of assembling an in-house team for the implementation of their products. In this section, we'll explore such reasons and the financial and non-financial benefits you can gain.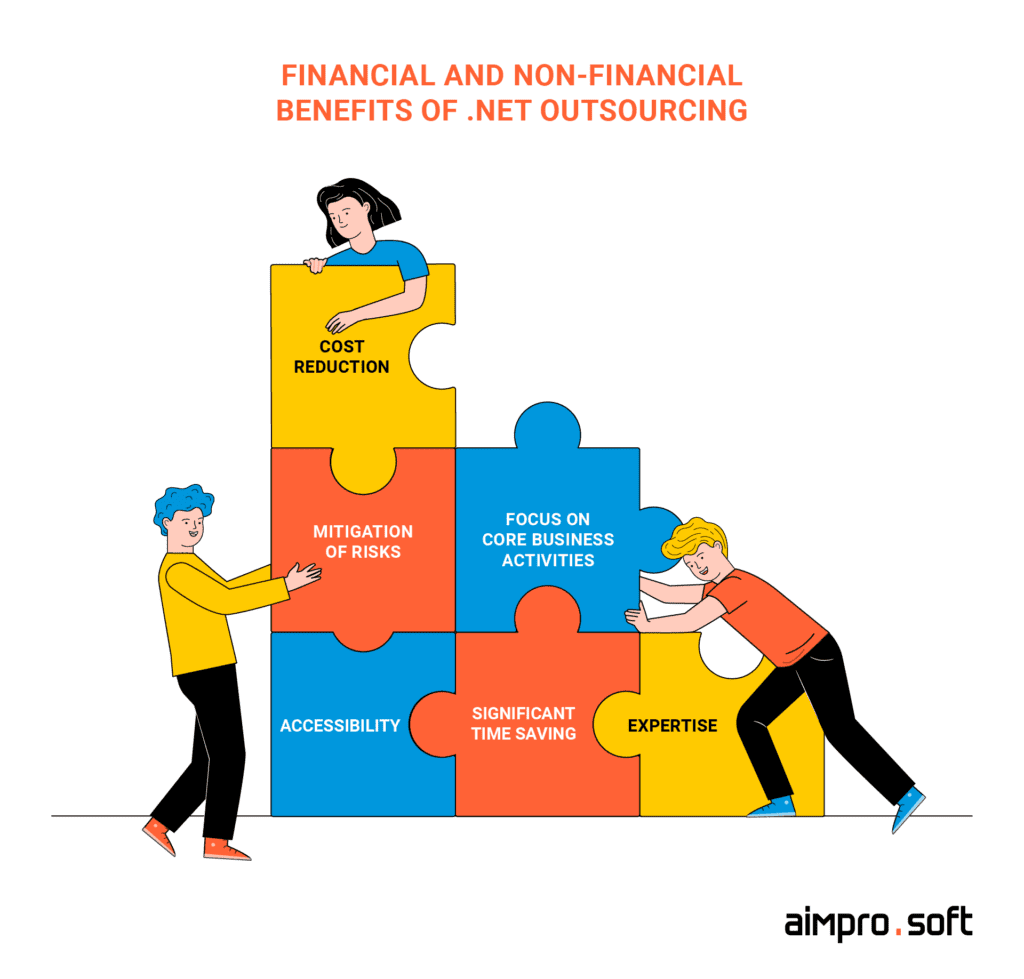 Expertise
When outsourcing product development to a trustworthy and well-established firm, expertise is the key benefit that you obtain by choosing this business practice. Since any technology is a constantly evolving phenomenon, keeping up with the updates, best practices, and changes is a must to deliver high-quality products. When it comes to the in-house employees, you will have to enable necessary professional development, qualification upgrading, and training, which can result in delays and additional expenditures.
In turn, hiring the outsourced .net software developers saves you from such spending since the vendor takes care of the developers' upskilling. Moreover, the developers from an outsourcing software company have more opportunities to acquire versatile expertise due to the constant flow of projects that differ in terms of domains and project complexity than in-house specialists that work solely on your product.

Accessibility
The degree of IT market maturity and versatility differs depending on the location. One of the most common reasons why businesses outsource .net developers to offshore and nearshore companies is the lack of necessary talent in the local market. Moreover, when outsourcing .Net development to a software vendor, you obtain access to a wide pool of specialists available at the chosen company that allows you to assemble a dedicated team, saving time and costs it on core business tasks.
Focus on core business activities
The very essence of .net developers outsourcing is to delegate development-related tasks in order to concentrate on business ones. With an outsourcing software company, you no longer need to manage your IT assets and have a full-time commitment to it since it's done on the vendor's side. Instead, you can use your valuable resources and focus on sales, marketing, promotion, and other business operations.
Significant time saving
The time necessary to build a qualified in-house team can often take 2-3 months, sometimes even more, depending on the specialists' availability in the market. You will have to spend time on recruiting, interviewing, hiring, and onboarding specialists, which will cause significant delays in the start of your product development. By going through asp dot net outsourcing, you can decrease the time spent on recruiting and retaining employees, while also saving resources and effort.
Where do the outsourcing financial profits hide?
Outsourcing gives more than just access to a larger talent pool and delegation of development-related tasks. Most importantly, outsourcing provides you with significant cost savings, which we explore below.

Cost reduction
This is the reason why software outsourcing should be chosen in the first place. According to Deloitte research, approximately 70% of businesses state that cost reduction is the primary objective in choosing IT outsourcing. Firstly, outsourcing helps you cut HR costs related to searching and hiring .NET developers. Secondly, if you choose to outsource .net programmers from popular offshore destinations (e.g., it's a popular practice to assemble a dedicated development team in Ukraine, Poland, Germany, Brazil, the Philippines, or Romania), the .NET developers' rates will be 2-3 times less than in the local market.
For instance, the average .NET developer's hourly rate in the USA will be $100-150, while the hourly rate of a developer from Ukraine with the very same level of expertise will be approximately $35-55. Finally, another cost-saving aspect is the opportunity to save on operational and administrative activities related to equipment setup and maintenance, tax-paying, retention plans creation, and many others.
Risk decrease
Software development carries significant risks, especially for startups and small businesses that don't have profound expertise in building new products from scratch and avoiding major development-related obstacles. Security problems, missed deadlines, overspending of allocated resources, the mismatch between expectations and obtained results, and the development of a product that doesn't meet target audience needs are just a few examples of possible risks that businesses can face.
Outsourcing product development to a reliable IT vendor can help you mitigate such risks due to the expertise of the company in similar software creation, efficient project management that can help avoid improper usage of resources and established workflow to coordinate all processes.
Having examined the major benefits that businesses obtain when going through asp.net development outsourcing, let's proceed to the most interesting part of our article — a detailed step-by-step outsourcing guide that will definitely "guide" you in the right direction.
Step-by-step .NET development outsourcing guide for your project: key procedures (and, of course, helpful tips)
Product outsourcing is a multi-step journey that requires following certain procedures if you want to avoid possible risks and challenges on your way. Since we have been providing software development services for more than 17 years, we have obtained solid expertise in the field of outsourcing. So, explore our guide to learn how to go through it smoothly.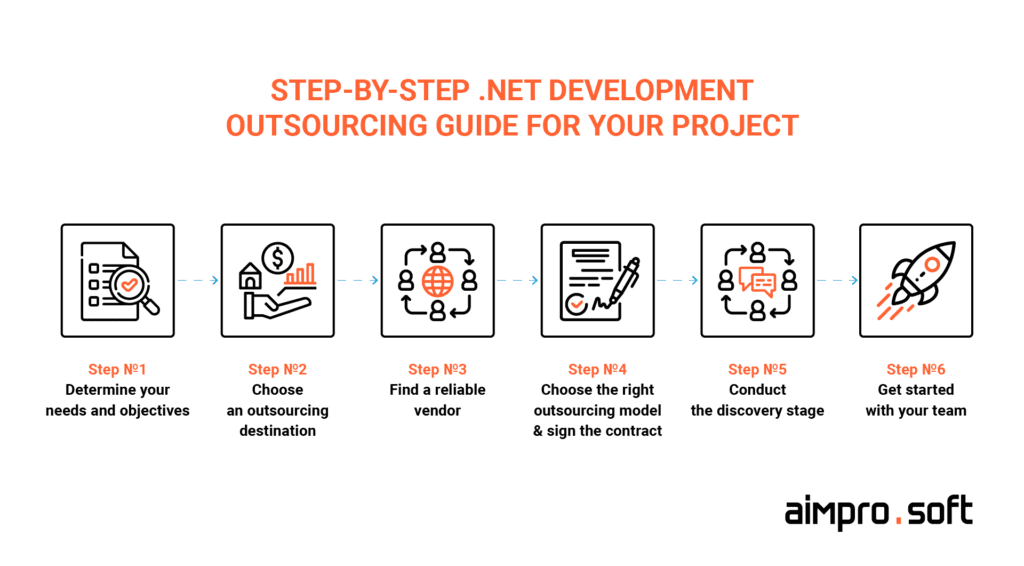 Step 1: Determine your needs and objectives
It's important to outline your needs and project goals since you will have to communicate them to the hired vendor clearly. It means that you have to determine the reasons why you outsource .net development in the first place, the gaps you aim to fill by outsourcing, the outcome you plan to obtain, the target audience you develop your product for, the budget restrictions you have, tasks you plan to delegate, and much more. Then, identify the ways you plan to manage the project and assign tasks to the development team.
Tips. The clearer you define your objectives, the better results you will get at the outcome. Moreover, precise formulation of your current business needs will help you narrow down your search, and easier find the vendor that will meet your business needs most.
Step 2: Choose an outsourcing destination
An understanding of your goals and objectives will give you a hint about where to outsource your product to. In case your goal is cost reduction, you may want to consider hiring offshore developers where the developers' rates are lower than in the local market. If your goal is to have a maximum time overlap, then opt for a popular nearshore destination so that your team can work synchronously, and so on. Correctly predefined criteria from the start will help you select the best-fit outsourcing destination that can meet your requirements.
Explore our in-depth guide on offshoring .NET development.
Take me there
Tips. When you outsource software development to another country, it's a must to pay attention to the following aspects: cultural compatibility, time zone difference, the maturity of the IT market, the overall reputation of this destination, the size of the talent pool, and the level of English proficiency.
Step 3: Find a reliable vendor
If you select a popular outsourcing destination, undoubtedly, you will face the problem of the number of companies to choose from. Each company you will consider most likely states that it provides the best quality services in the market. However, an in-depth analysis of your vendor is the key to making the right choice.
Core factors to pay attention to when shortlisting candidates are reputation, solid .NET portfolio, domain experience, social media activity, and maturity. Let's examine each of these aspects in more detail.
Reputation. The trustworthiness of the selected software vendor is one of the most important factors you have to check before outsourcing .NET development. The reputation can be verified via independent review platforms where previous clients have left their feedback and rated the company's services. For instance, you can check Clutch or Techreviewer, and verify your vendor.
.NET portfolio and domain expertise. To evaluate whether the chosen vendor can complete your project successfully, it's crucial to examine the company's portfolio. The case descriptions will show you the types of products the vendor can build, the approaches that are chosen, the results that are obtained, the tech stack used, etc. Also, pay attention to the vendor's domain expertise, namely, whether the company worked with similar projects or tech tack or not.
Social media activity & blog. It's also important to check whether the vendor shares the inner life of the company across social media channels and obtained expertise via tech articles. It's always a good sign and proof of trustworthiness when the company constantly transfers gained knowledge and shows active presence via various mediums.
Maturity. The years of IT market presence are not just numbers, it's the expertise and knowledge that the vendor has obtained over the course of time. The vendor's maturity can say a lot, starting with the well-established workflow up to the capability of providing .net software outsourcing services in a problem-free way.
Tips. Before signing the contract, we recommend organizing an in-depth consultation with the chosen vendor, which you can use to discuss the company's approach toward development, your expectations, and concerns. Figure out the way the vendor approaches security and confidentiality, the way they store sensitive data, what risk mitigation measures the vendor offers, the company's readiness to sign NDA, etc.
Looking for an outsourcing software company that meets the criteria mentioned above?
Well, you have just found one. Don't hesitate to contact us to learn more about .NET services we provide.
CONTACT US
Step 4: Choose the right pricing model & sign the contract
So, you have decided that the chosen vendor is the right option for the implementation of your product. Then, it's time to decide what pricing model to opt for to outsource your project profitably. The choice of the pricing model always depends on the following factors: the clarity of initial requirements, project scope, budget and time limitations, and complexity of the project. To understand which model suits you best, don't hesitate to check the table below.
Pricing model
Best for
Advantages
Disadvantages
Time & Materials
Perfect for projects with unclear requirements, where the amount of time to develop the product may vary because of possible changes, and the scope is not fully defined. Such projects are usually long-term and complex.
– High level of flexibility and fast adjustment to changes;

– Transparency of the resource allocation.

– The price may vary drastically depending on the time spent on the development;

– Client involvement is high;

– Lots of amendments can delay the project.

Fixed price
Great for projects with a clear scope of work, strict deadlines, and significant budget limitations.
– The terms of work, workflow, and objectives are clear from the very beginning;

– High predictability.

– Limited flexibility;

– Minor control over the development process;

– In case of extra work, additional contractual agreements will be required;

– Client involvement is low.

Once you figure out which pricing model is suitable for your business, it's time to sign the contract. Make sure that your data will be properly protected by signing NDA. The contract should include a detailed description of outsourcing services the vendor will provide, project time and cost, acceptance criteria, project guarantee, and other nuances that can save you from any risks.
Step 5: Conduct the discovery stage
Before getting started with the development of your product, it's a must to conduct a discovery stage that is a crucial part of any SDLC (software development life cycle). Whether your goal is to develop a product from scratch or modernization of a legacy application, this stage shouldn't be omitted by any means. By conducting it, you can get the following deliverables as a result: vision and scope, SRS (software requirements specification), development plan, WBS (work breakdown structure), and other important for successful development.
The benefits that you can obtain from conducting this stage are the mitigation of risks of product failure, the opportunity to obtain a clear vision of your product, the ability to assess the vendor before the start of the development, ensure proper allocation of resources, and much more.
Check out how the discovery phase can help you save costs, reduce risks, gain project clarity, accelerate chances of product success, and much more.
Learn more
Tips. Choose a company that has a business analyst on its board with solid expertise in conducting discovery stages. By completing this stage with your software vendor rather than a third-party company that specializes in a single area, you can increase the chances of product successful implementation. Namely, all the stages are conducted within one company in a coherent flow, and you obtain an opportunity to decrease time and costs on various organizational activities related to the collaboration with several companies. Finally, the fact that the vendor's BA has experience in translating business language into technical requirements will help reduce the chances of possible misunderstandings between the discovery stage participants and developers.
Step 6: Get started with your team
Finally, everything is set up, and you can start your collaboration with the vendor. Don't forget to choose a proper channel for efficient communication and progress tracking. Thus, even though product development is completely on the vendor's side, it's still important to conduct monitoring and ensure that the product implementation goes according to the plan.
Cost of .NET software development outsourcing vs. outstaffing
Outsourcing is not only a general term that means the process of subcontracting IT services to a software company; it's also one of the possible engagement models with your vendor. Hence, the cost will significantly differ depending on the scenario that you choose: outsourcing the entire product development or outstaffing. Let's have a look at how the cost differs depending on the strategy you choose.
Outsourcing
Essence. Outsourcing presupposes the delegation of the entire product development to a third-party vendor. The vendor is responsible for all stages that are a part of the development life cycle, from planning the development up to testing and delivering the product.
Management. Team management, in most cases, occurs on the vendor's side.
Best for. The outsourcing of the entire product development is more suitable for those businesses that don't have an in-house team or experience with software creation and need a reliable and experienced software vendor to take care of all development-related processes.
Pros. No need to interview and choose developers, ability to focus on business activities instead of development management, the vendor is responsible for the result.
Cons. Low control over the development process, more expensive than outstaffing (less expensive than hiring necessary in-house specialists).
Cost. Firstly, the cost will depend on the pricing model that you choose (fixed price or time & materials). Secondly, team composition is the other factor that will influence the cost. Usually, the team includes the following specialists: a project manager, several .NET developers, QA engineers, a tech lead, or a software architect. Other specialists that can participate in the project development on a temporary basis are a business analyst, designers, and DevOps specialists.
Outstaffing
Essence. Outstaffing is the practice of remote employment of the necessary specialists to expand internal IT capacities.
Management. Developers' management, in most cases, occurs on the client's side.
Best for. Outstaffing is more suitable for those already-established businesses that have already assembled an in-house team and are looking for .NET specialists with particular expertise to extend it. It's also a great option for those businesses who have experience with outstaffing and know how to select the right specialists and have seniors by interviewing them.
Pros. Full control over the development process, simple progress tracking, transparency, and flexibility.
Cons. Complete responsibility for developers' management, responsibility for choosing the right developers that will meet your requirements, and risks of poor planning.
Cost. There are several factors that influence the cost of outstaffed .NET developers, such as the developer's qualification level (junior/middle/senior), destination, skillset, and certification if any. In the table below, we provide examples of the average hourly rate of .NET developers in several locations.
| Country | Average hourly rate |
| --- | --- |
| USA | $60—80 |
| UK | $60—70 |
| Western Europe (e.g., Germany) | $50—65 |
| Eastern Europe (e.g., Ukraine) | $35—55 |
Aspects to consider when outstaffing .NET developers
As we have already mentioned before, outstaffing is a great option for businesses that have a previous experience using this cooperation model and know how to select the right .NET developers for the project. Check out the list of our tips when hiring such a specialist(s).
Firstly, .NET developer, the same as .NET technology, is an umbrella term. Hence, before hiring .NET specialists, ensure that you have figured out what type of .NET specialists you need since their skillset, tech stack, and capabilities will differ in a certain way. In short, you may need one of the following specialists:
.NET developer who can deliver .NET framework-based desktop software for Windows and knows the following technologies: Windows Forms, WPF, and MAUI;
A .NET developer who can build web products and have experience in using the following technologies; ASP.NET MVC, ASP.NET Core, Blazor, and Razor;
Xamarin programmer for the development of cross-platform mobile apps.
Secondly, if you don't have a tech lead or senior .NET specialists who have enough qualifications to assess the tech needs of your project and requirements to the specialists that you aim to hire, you can turn to an experienced vendor, such as Aimprosoft, and we'll help you out.
Finally, in case outstaffing is the cooperation model that your project requires, always assess not only hard but also soft skills (i.e., team player, high level of responsibility, problem-solving) of .NET specialists since you will integrate them into the environment of the already existing team albeit remotely.
Check out the full description of Aimprosoft .NET development services and the list of technologies our developers are skilled in.
Let's do it
Why choose Aimprosoft as your .NET outsourcing partner?
Apart from being well-established (more than 17 years on the market), experienced (600+ completed projects), and versatile (350+ skilled specialists), recently we have proved once again that we are a trustworthy and stable software vendor. .NET software development outsourcing to Ukraine is a concern for clients all over the world now. However, since the start of the war, we have managed to relocate to a safer area, expand our employee pool, retain all our clients, and even sign new contracts.
In addition to those reasons to choose Aimprosoft as your .NET vendor, take a look at other compelling arguments.
We're flexible in terms of cooperation and pricing models. At Aimprosoft, we have expertise in providing both dot net development outsourcing services which presuppose either the development from scratch or modernization of legacy systems as well as composition of dedicated teams and outsatffing.
Almost all our .NET developers are full-stack specialists with middle and senior qualification levels. However, what it means for you? Apart from the .NET stack, they are skilled in JavaScript, Angular, Vue.js, HTML, and many other technologies, which means that they can complete tasks related to the front-end and back-end sides, helping you save costs and meet deadlines faster.
We have .NET specialists who have been developing professionally along with the evolution of the .NET platform. The gained experience allows them to find an optimal solution to complete the set tasks considering possible risks.
Our .NET department has solid expertise working with a .NET stack that allows us to provide web app development services, and build desktop applications, and add-ons for Microsoft.
Our .NET team has expertise in full-cycle application development, which means the work on the projects from the initial stages (i.e., planning, requirements analysis) up to further development and product deployment.
We have expertise in developing .NET solutions for a wide range of industries, including healthcare, e-commerce, insurance, agriculture, e-learning, and others. Here are a few examples of successfully developed products: workforce and crop management software for a greenhouse, an Umbraco-based website for a state provider of electricity, and digital communications management software.
Were the arguments compelling enough?
Contact us to discuss our potential cooperation and development of a competitive .NET product.
CONTACT US
Wrapping up
Outsourcing .NET development can be a rather time-consuming and risky journey if you don't know the best practices to go through it and tips on choosing a reliable outsourcing vendor. However, if you follow our step-by-step guide, you will increase your chances of choosing the right outsourcing destination and mitigate possible risks on your way to creating a high-quality solution. Don't hesitate to contact us if you are ready to cooperate with a trustworthy company that can implement your vision properly.
FAQ
Can I have a software consultancy service before I start outsourcing the development of my product?

When outsourcing .NET programming, the most important thing to do is to have a consultancy with a vendor. Usually, such a procedure is presupposed by default, in the course of which it's crucial to discuss your vision, objectives, and requirements, and examine the vendor's approach to security and product development. A thorough consultation will help assess the vendor and their capabilities in the implementation of your product, and mitigate possible risks in choosing the wrong outsourcing IT company.
What is more profitable for startups IT managed services vs. staff augmentation?

Both IT managed services and a staff augmentation model can be beneficial for startups; however, in different scenarios. For instance, IT managed services is a more profitable option for those startup owners who are just starting their business and don't have the tech expertise to manage outstaffed specialists or build the product with an in-house team from scratch. However, for those startup owners who are tech-savvy enough, staff augmentation is also a perfect option since it will allow them to delegate the entire development and concentrate on attracting investors, conducting business and marketing activities.

In turn, startups that have already developed an MVP version of the product, gained the necessary investments, and started transforming the product into a full-fledged one, it can be more reasonable to hire several external specialists and manage further development, saving costs on the product implementation.
What are the major challenges when you decide to outsource asp.net development?

Asp.net outsourcing can impose challenges if it's approached carelessly such as poor control, missed deadline, overspending, etc. For instance, if the project management aspect isn't discussed thoroughly, outsourcing can bring you a loss of control over the development process. Secondly, if the vendor's trustworthiness isn't assessed correctly, there is a high chance of stumbling on an unreliable company that will miss the deadline, deliver software of low-quality, or leak sensitive information. 

Finally, the mismatch between your expectations and delivered results can happen due to miscommunication in the course of product creation, poor goals and requirement setting, and vision explanation in the initial stages of product development.