The Complete Guide to Clinical Trial Management System (CTMS)
The use of technologies facilitates even the most challenging processes. It is hard to find a more suitable example than the conduction of a clinical trial. That incredibly complex process has become much more affordable after the introduction of Clinical Trial Management Systems (CTMS).
In this article, we will provide a CTMS overview, consider its benefits, features, as well as the best solutions on the market. We will also tell you how to create a clinical trial management system to meet your expectations.
What is a clinical trial management software?
Before the advent of CTMS, clinical trials used separate solutions to automate different processes. Their main drawback was manifested in the overlapping data and functions that existed in each system and led to inefficiency. As a result, the industry found that eliminating data discrepancies between several solutions made it possible to end the problem of data duplication and redundancy. The answer to these difficulties would be the creation of a single system. So experts came to an understanding of their need for clinical trial management software development, which was a new approach to optimizing work processes and data integration.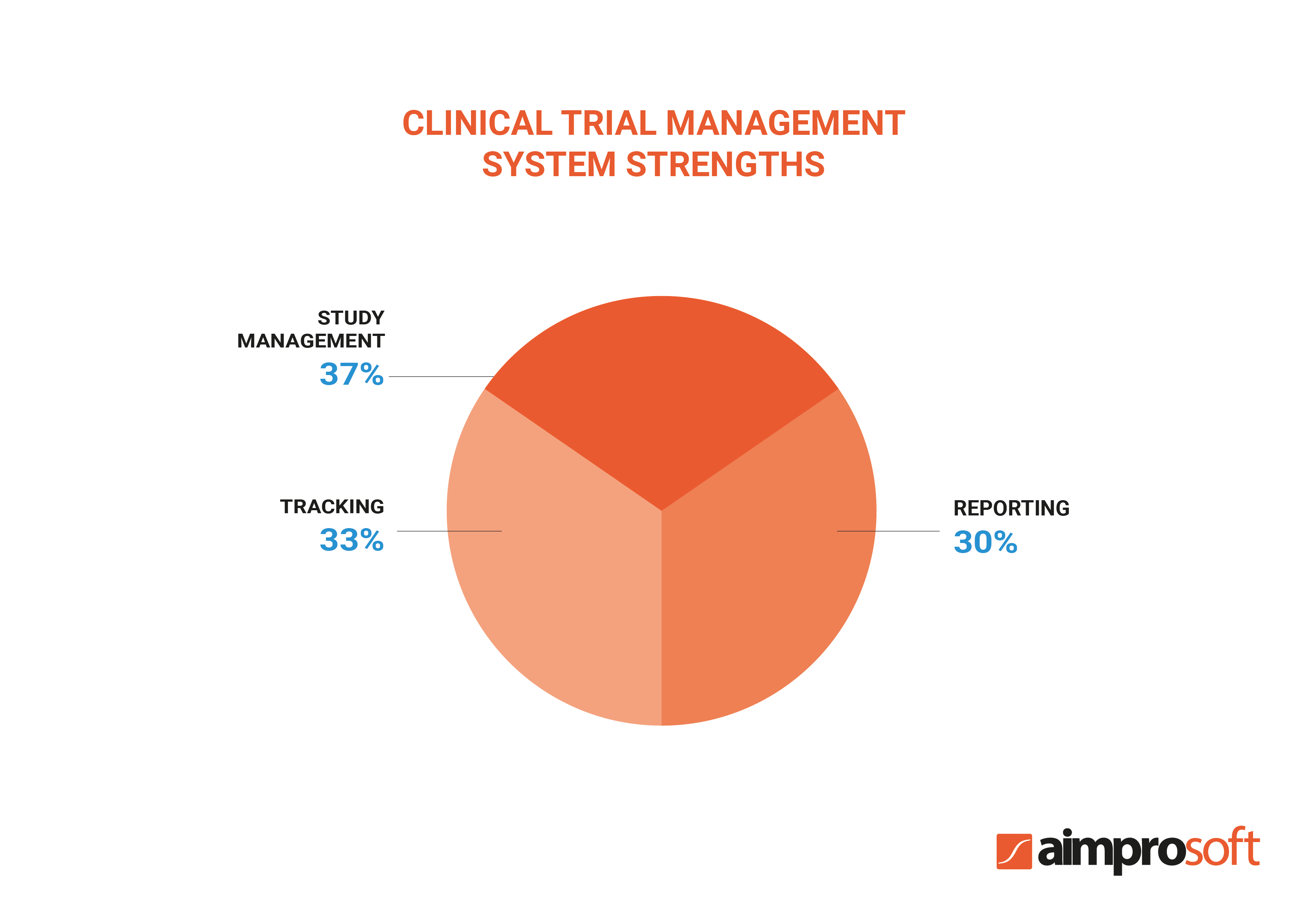 CTMS is a special clinical trial software for automating pharmaceutical research. This system solves a number of complex tasks — it helps the studies meet the deadlines exactly, increase project management efficiency, billing, and train employees through a built-in personnel training system.
In recent years, the e-clinical solution software market has grown from $3 billion (2014) to $6.5 billion (2020). To date, the industry is characterized by many new and ambitious contracts for billions of dollars, which indicates increased demand and an obvious increase in clinical trial management system adoption.
Difference between CTMS and EDC
The modern clinical trial process technically consists of the interaction of two systems: Electronic Data Capture (EDC) and CTMS. EDC, a software used in clinical trials, collects patient data in electronic form and allows monitoring, reporting, and interacting with the information during clinical trials. At the same time, CTMS does not emphasize data collection. Instead, it focuses on the operation management related to the clinical trial.
If organizations need to manage clinical trial processes effectively, they can't do without EDC. Data is a critical component of any CTMS, and the EDC system ensures its effective collection. Accordingly, both of them are irreplaceable for effective clinical trial management.
CTMS and EDC intersection provides such advantages as:
advanced screening and tracking subject records, which allows study teams to track the enrollment accurately;
subject visit tracking, including a schedule of visits and reports on them;
data collection status, including review, verification, and approval of the information;
real-time data synchronization between both systems for operating with the most relevant data.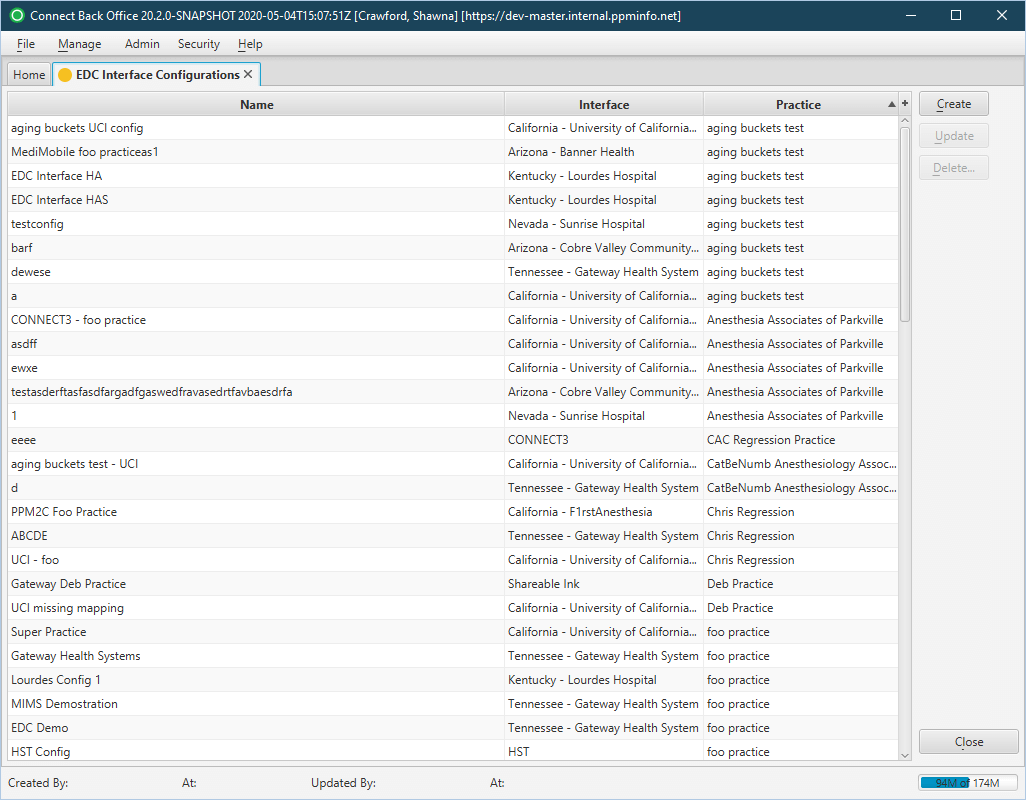 The best solution would be the integration of EDC with CTMS. In this way, clinical trial organizations can use them both for serving their intended purposes, but at the same time, leave the problem of duplication and data redundancy forever in the past, since all information will be displayed correctly in both systems separately.
If EDC is not integrated with CTMS, it will cause problems with overlapping data, and increase the risk of reporting errors. It happens because when using these systems individually, there will be a chance of operating outdated patients, protocols, and visit info.
However, some clinical trial software include EDC functionality per se, so there is no need to spend time and effort on its integration.
Benefits of a clinical trial management system
It is obvious that the high popularity of СTMS resulted from its solid advantages. Let's consider what benefits can be gained using the clinical trial management system.
Data management

CTMS offers a safe and centralized place to store all the necessary data. It can easily make and modify existing protocols, and all information is provided to sponsors in an organized and clear form. A convenient feature is the ability to generate reports and track trial stages, which will be especially useful when working on several projects simultaneously. Finally, data management systems for clinical trials provide a safe place for all data by the implementation of user permissions and logins.

Financial management

In the form of clinical trial management solutions, sponsors get a flexible financial management tool. With it, they can track all details of the project budget, issue exact invoices to sponsors, and create an interactive study calendar for easy tracking of expenses. The system is capable of monitoring available income and making forecasts, which simplifies control over finances.

Visibility and oversight

CTMS allows observing all the important elements of the clinical trial, such as the beginning of the study, preparation and collection of documentation, visit reports, problem management, and much more across all study partners. Trial's view is distinguished by visualization capability and such features as performance measurement. All this can apply to one or several trials at the same time.

Efficiency

Clinical trial planning software enhances the efficiency of clinical trials by automating numerous processes and centralizing data. When using this system, the study team will need to enter data manually into different locations much less, which will reduce the likelihood of making errors due to the human factor. Besides, centralized documentation storage helps save time when entering the same data twice. CTMS optimizes workflows and improves efficiency at all stages of clinical trials.

Collaboration

CTMS is an excellent place for teamwork as various partners will be able to work together on the study's same tasks. Moreover, the system guarantees access to relevant and accurate data for each participant. Furthermore, CTMS has convenient and affordable tools such as a dynamic dashboard with core metrics, so everyone has the opportunity to remain abreast of the study progress.
Features of clinical research software
The functionality of CTMS is determined by the client's needs and is generally always the same. We can distinguish seven main features that can form a complete MVP:
| Feature | Purpose |
| --- | --- |
| Investigator performance | Each CTMS has an investigator profile, which collects information about investigators' names, addresses, specialties, certificates, etc. These profiles are actively used in the search for worthy project candidates. The data of the investigator profile from clinical trial database systems can be combined with third-party sources to create a powerful mechanism for selecting partners and establishing high-level relations. |
| Site communications | One of the core CTMS advantages is overview capability in the study sites. Users can plan in every detail sites' visits thanks to viewing the dialogs' history and visiting requests. The site communication function includes numerous documents, technical challenges, and payment requests. Modern CTMS easily integrate documents with portals and manage different service levels using automatic notifications and extensions in contrast to outdated content management systems that send requests to the call center apps and process correspondence via mail. |
| Workflows | Clinical trial data software allows using a number of different methods for streamlined workflow: implementing one place for recording trial data, registering and scheduling visits in a couple of clicks, as well as easy and convenient search for any documents. The introduction of CTMS changes the usual workflow once and for all in a good way: the СRC (Clinical research coordinator), who plays a prominent role in ensuring research compliance with Good Clinical Practice (GCP) doesn't need to input most of the data manually. Instead, he/she gets instant access to the entire data trial and acquires convenient tools for planning visits and related activities. |
| Mobile optimization | Factors such as the growing use of smartphones and portable devices, as well as a large number of remote workers in the clinical trial sector, have created the need for a native mobile CTMS experience. Today's clinical trial management systems can be integrated with a full-fledged mobile application without loss of functionality so that researchers can access trial data at any time from anywhere. |
| Payments | This feature allows making payments accurately and timely, depending on the conditions of the contracts and stages of clinical trials. Although payment features are far from the forefront in CTMS, it is essential because there are regulations such as the Sunshine Act, which require reliable payment mechanisms. Having such a mechanism inside the CTMS is preferable to vendors' third-party solutions, where there will be a pressing need to exchange huge amounts of data between systems. |
| Cloud Deployment | Today's clinical trial systems are cloud-based solutions, which offer excellent scalability and low cost compared to the previous generation of on-premises and object-programmable solutions. The cloud phased deployment provides fast scalability and the safe provision of tools to both staff and external partners, generating much more opportunities for CTMS than could have been imagined before. |
| Managing Resources | CTMS allows setting recruitment targets. Demand forecasting and resource allocation stimulate the process of recruiting new staff for a project. There is an ability to visualize the delay and the actual staff allocation through the use of internal protocols, team history, and calendar. |
CTMS and compliance
To protect vulnerable patient data, CTMS software involves a number of regulatory protocols that must be followed. Otherwise, clinical trial leaders can undergo serious penalties in the form of heavy fines or even imprisonment.
Among the main certifications and regulations that CTMS must comply with are:
European Union — GDPR

General Data Protection Regulation is a regulation to strengthen personal data protection within the E.U. In order to comply with this law, the system should provide such GDPR recommendations as data minimization and pseudonymization (when the personal data can't be easily attributed to a specific subject, still can be processed and analyzed).

Delve into the details of the GDPR compliance in our special guide

Image 4. GDPR requirements

USA — HIPAA

The U.S. authorities have accepted the Health Insurance Portability and Accountability Act (HIPAA) in relation to Electronic Protected Health Information (ePHI). The law consists of 5 sections, which establish the rules for protecting and handling the ePHI. CTMS must adhere to HIPAA rules, such as technical safeguards and the data corroboration, to protect electronic data.

Image 5. HIPAA requirements

USA — FDA CFR Part-11

Title 21 of the Code of Federal Regulations (CFR) establishes regulations on electronic records and electronic signatures (ERES), and Part 11, in turn, defines the criteria of trustworthiness for electronic documents and signatures. The act's essence is to allow companies to replace paper records and signatures with electronic ones following the letter of the law.

In fact, many companies deliberately leave paper-based signatures and stamps, trying to escape the risk of Part 11 violation. To comply with this act, research institutions need to introduce various controls over the electronic data processing prescribed by the FDA for CTMS. Among them are audit trails, validation systems, electronic signatures, and many others.
When developing CTMS solutions, it is necessary to take into account its compliance with all regulatory requirements. When using a ready-made system, organizations usually immediately get a legally "healthy" product designed to meet all the regulations. However, maintaining compliance with these regulations can be challenging, regardless of the ready-made system purchase or development from scratch, given its continuous infrastructure expansion. Let's look at some crucial considerations:
Audit trail — create an audit trail for any data changes in the system, which will indicate who made the change, when, etc.
Archived policies — CTMS should archive data, not delete it, since archiving makes it easy to restore information if necessary. Applying such policies makes it possible to confront intentional or accidental attempts to delete data from the system.
Electronic signature — this protection means is required for records, electronic reports, and document management, as it relates to one of the main requirements of regulatory bodies.
Account control — when entering the CTMS, a requirement should arise with authorization and authentication for each user. In addition, there must be control over passwords expiration, and inactive accounts must be blocked.
Top 3 best CTMS in 2020
Now let's consider the best CTMS samples, which can serve as the examples for evaluation of the market situation and understanding which to take the lead from in terms of their features and business tactics:
BioClinica CTMS
This solution can boast the fact this is one of the few CTMS with Microsoft integration support, including access to Microsoft Office tools.
Among the BioClinica CTMS benefits are:
BioClinica offers a universal tailor-made CTMS solutions that fit the majority of organizations;
the ability to manage multiple vendors and СROs by consolidating several levels of conversions, reports in a single centralized format;
successful and fast scaling regardless of the number of users you have;
carefully selected functionality such as extensive standard reports and inventory control module, reduces research costs and accelerates its time.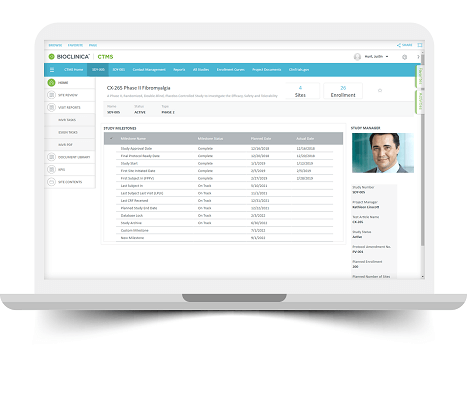 Clinical Conductor CTMS
This CTMS ensures compliance with a wide range of regulatory requirements for the management of clinical trials and provides a large number of software integrations.
We can highlight the following Clinical Conductor benefits:
the ability to manage many trials simultaneously: at the moment the system contains more than 40,000 studies, including 20% that are associated with COVID-19;
assistance in budget management thanks to high-quality finance tools;
ensuring a high level of reporting, including NCI levels 3 and 4.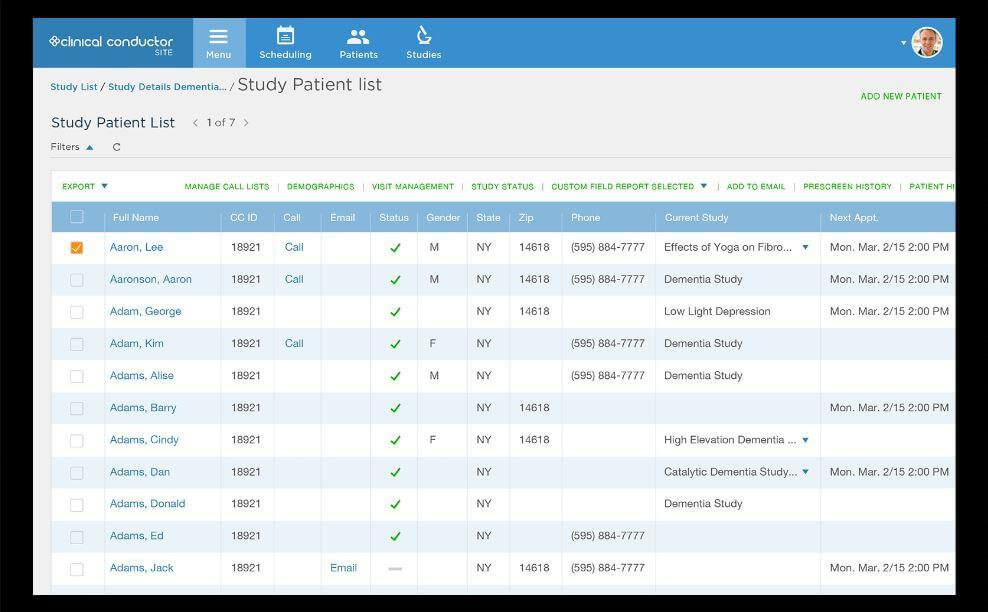 BSI CTMS
This is a simple and easy-to-use system, which is distributed both as a complete solution and as an extension of functionality to research organizations' existing CTMS with the BSI-provided add-ons. BSI CTMS is a comprehensive product that provides a complete overview of documentation, resources, and more. The system's creators adhere to such security standards as 21 CFR Part 11, EU GMP Annex, and GDPR.
Among the benefits we can highlight:
simplicity in installation and management, requiring minimal control from the customer's part during integration and system updating;
a unique patented monitoring site tool, with which users can not only plan, implement, and track the study progress, but also make sure that investors are able to follow all protocols and procedures;
the system allows creating custom reports on the fly to reflect the most relevant information.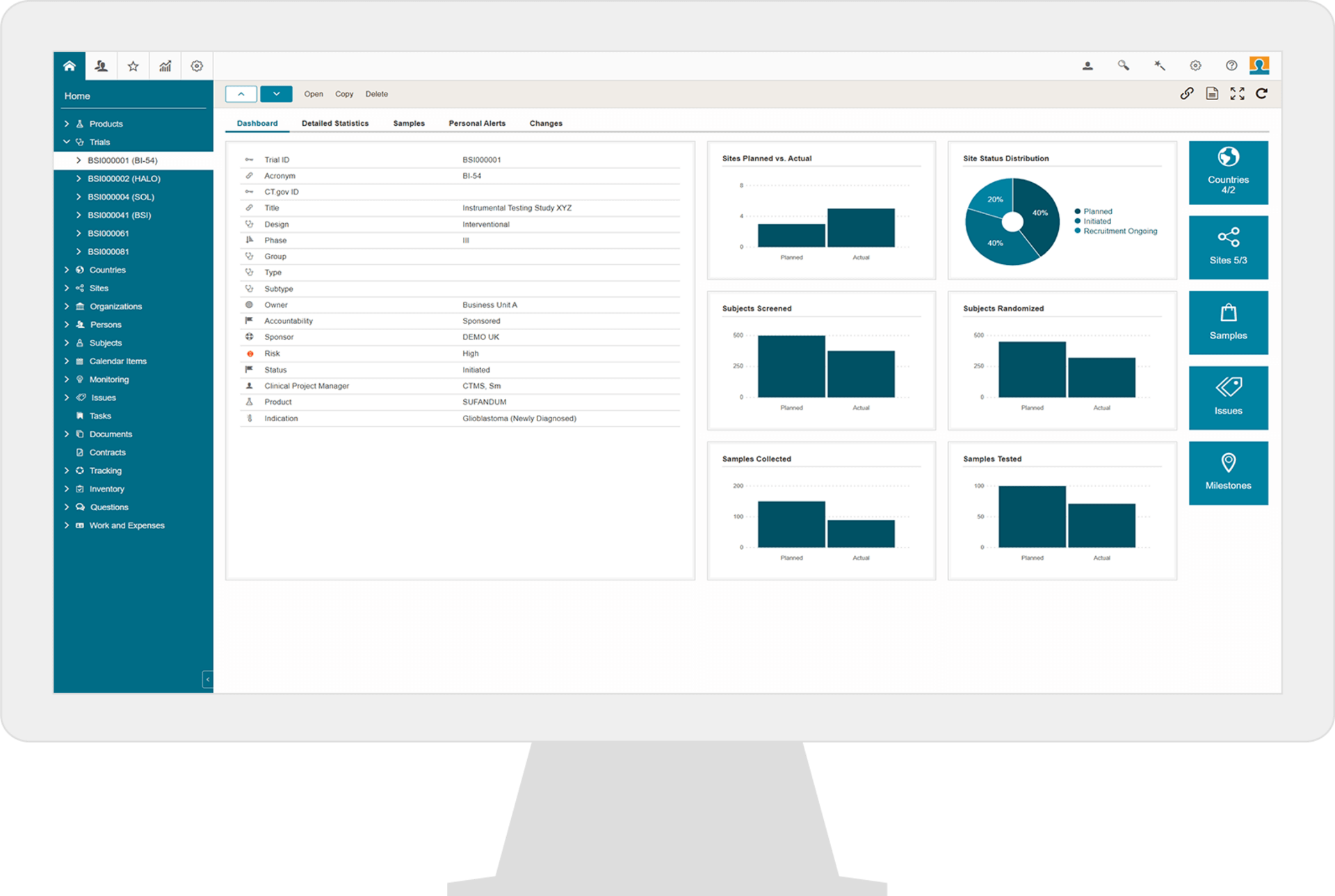 Now that you've seen clinical trial management system comparison let's dive to the next, no less urgent matter.
How to choose the best clinical trial data management software?
If clinical trial organizations think about what types of CTMS they want to see at their disposal, there are many peculiarities of such a product that they need to focus on. We have prepared some tips on what such organizations should pay attention to so that the CTMS meets their requirements best.
Choosing a turnkey system will save time and money on development and compliance with many regulatory standards. However, often it will still be necessary to refine the system to specific needs, which will entail additional costs.
When choosing a ready-made CTMS system, attention needs to be paid to:
Pricing model. The system's licensing can be based on the number of users or the number of trials. It is also crucial to find out how the project's growth will affect the cost of using CTMS.
Functionality included. It is worth considering the list of features included in the proposed version. Proceeding from this information, it will be possible to calculate how much more expensive it will be to buy a full-fledged solution (along with training, integration, support, and other modules).
Infrastructure. Clinical trial organizations need to know in advance what infrastructure the CTMS will require to support and ensure security. It's of strategic importance to know where the system will be located: is it hosted by the vendor or at trial's site location?
Update and maintenance. Every organization should find out how the settings will change with the system's development to know the potential spendings on maintenance and updating customization modules.
Answers to these questions will help any clinical trial organization make a choice and clear the view. We advise every clinical trial organization to do the following things in order not to make a mistake in choosing CTMS:
Build on an organization's priorities: in one case, an organization may need an end-to-end solution with the ability to create customized trackers, and in another, a system with patient recruitment. Therefore, the system choice should closely match your requirements.
Compare the functionality offered in the market. More than 20 CTMS vendors distribute solutions that differ in a set of features, the degree of customization, and security level with data migration and management.
Verify the system for regulatory compliance. Primarily, 21 CFR Part 11 and HIPAA if you are from the USA, and to the GDPR if your location is Europe.
Carefully check the CTMS price, given that vendors evaluate their product differently. This is particularly true for the license price and the annuity maintenance cost. Additional expenses may be associated with the integration of the system, extra services, and staff training.
Using a trial solution before buying CTMS will help understand how the solution meets the organization's needs.
So, having understood what kind of CTMS an organization needs, we can safely proceed to plan the technical aspect of product creation.
How to make a custom clinical trial management system?
Although creating a custom CTMS from scratch is more complicated than buying a ready-made solution, it is the best choice if you want to incorporate all your requirements into the system and make the clinical trial processes maximally effective. Let's look at the steps that you will need to go through when building your own CTMS:
Research
The development of CTMS software requires careful preparation, which is carried out at the stage of business analysis. Due to the large investments and narrow specifics of CTMS, you are better off not doing it yourself and turn to analytics companies specializing in BA. In addition to them, software companies that deliver full-cycle development services can provide business analysis for you.
During the business analysis, the information about your organization and product requirements will be collected, based on which the analyst determines the essence of the solution. BA for healthcare products adds compliance and specific safety requirements studies into its process.
A comprehensive estimate will require additional time (from 50 hours) but will be accompanied by a list of functions, systems, users, phases, and wireframes. Without allocating extra hours for the estimate, it will have a fudge factor of $50,000. As a result of BA, your product requirements in the form of tasks will be determined and grouped. However, even after this, the business analyst should continue to work at all product development stages and validate customer requirements.
Choosing a vendor
When choosing a vendor, you need to focus on a company that already has expertise working with projects in the healthcare industry. In particular, a portfolio with a successfully developed CTMS system will be a good sign and evidence of sufficient qualifications for your project.
We advise you to select a vendor who understands the nature of business and will actively participate in negotiations at all stages of the creation of CTMS. All requirements and changes arising in the course of the product specification, the vendor will have to reflect in the Statement of Work (SoW) — a document containing the main provisions for the project.
The brightness of the price spectrum will decline from west to east: if US developers are considered the most expensive with an approximate price of $70 per hour, Eastern European software companies have more attractive prices for services with $30 per hour.
UX/UI design
The healthcare industry puts forward certain design requirements for its products. Most of the designer's work on CTMS will inevitably be associated with UX. As in most management systems, there are several main principles that will be useful to follow. First, navigation details must be carefully considered. We advise you to build on the examples of the best-practice designs for products on the market like Jira. Implementation of repetitive and standard looking components, such as addresses, will help you achieve intuitive navigation across the system.
You will also need to devote a lot of time to the correct grouping and hierarchy of elements since in the CTMS are many fields and tabs with business information. The correct arrangement of components looks like this: first, a navigation bar, then sequentially located blocks with information, each containing information in a logical order. Any error in linking the information on the page will cost you a lot.
Despite the complexity of products such as CTMS, you can find and use opportunities to simplify its design partially. A good example of such a simplification would be a window with a new contact creation. You can put only the most necessary information to fill in there, and users, if necessary, can fill in the remaining fields later, which saves them from having to wade through a horde of various fields.
Grouping information by type with authentic indicators will make it easier for the user to understand how to work with the system and reduce the number of actions in this process. Meanwhile, the indicators must have numbers in them so that the user is always aware of how many new updates, items, etc. are awaiting their attention.
As for UI, when opting for a color scheme, you should choose from light tones — blue, salad, and other bright sides of the palette. At the same time, the main elements of the page, such as buttons, should be made colorful, preserving the cold gamma of the rest.
Development: defining tech stack and architecture approach
The choice of the approach to building architecture is especially important in the context of creating CTMS. As a basis, both Java or .Net enterprise-level languages can be used for its development, making no difference for the system's functioning. MySQL is a good database choice due to the advantage of autoscaling. Since such a system operates with a lot of data all the time, we advise you to take Google Scholar as a search engine for its fast and stable operation. Anyway, with the right approach to architecture building, the final result will be the same whether you use Java or .Net.
Check out our article on healthcare app development
Clinical trial systems architecture should be created on the service-oriented or microservices principle. Such an approach will allow you to distribute the functionality due to the scaling of individual parts of the system and to manage the system at high loads easily. To write interfaces, yet we recommend using Angular or React. These frameworks allow developing fast, functional, and reliable interfaces.
As a hosting, we recommend choosing cloud solutions, such as Azure, AWS, or Google Cloud, as these platforms will make it easy to configure high-availability for services and disaster recovery. This is especially important for products like CTMS because access to data and functionality should be 24/7, and in case of a crash, it must be able to recover quickly.
Here are some general tips to help you develop a proper CTMS:
Ensuring data security is of great importance for clinical trial management systems. Since the requirements for CTMS differ from country to country, we advise you from the very beginning to lay the possibility of easy editing in the system. However, even in this case, you always need to quickly expand the system if a crash or critical errors occur because even a one-day lack of working capacity can become catastrophic.
Since CTMS is intended for the planning and management of clinical trials and does not imply heavy loads, the main causes of crashes may lie in incorrectly made analysis and reporting tools. An excellent example of this is when massive statistics use an abundance of records and group them by certain criteria inaccurately, so be ready to approach the implementation of this functionality wisely.
In order to ensure the correct functioning of the recovery disaster, you should correctly configure the backups and host servers in different regions.
Implement responsive design for convenient work with CTMS from any device, including mobile iOS and Android platforms.
Learn more how to create a hospital management software
Conclusion
The approach to creating clinical research software is sophisticated, and therefore you need an experienced vendor to rely on in this matter. The process of CTMS building can be much easier for you by choosing the right approach to the system's architecture, competent interaction with regulatory compliance, and using cloud hosting services. The only thing you need to do is contact us, and we will answer these and any other questions.
You may also want to read