Best Practices for SAP Wholesale Distribution

Key takeaways
Is Node.js technology still in high demand? Explore facts & statistics regarding Node.js and find out why Node.js programmers are so popular nowadays.
Warehouse, logistics, transportation, accounting, finance: know more about how to improve your business processes with automated decisions.
People buy, not companies. Find out why customer experience improvement is key in successful wholesaling.
Aimprosoft's use case: a B2B portal for the US car manufacturer.
What is a niche Hybris team, and how Aimprosoft can help you with that.
For many years, strong, stable relations with the customers were the formula for the success of the wholesale distributors. Nowadays, when rapidly developing digital technologies have taken over the world, client expectations are constantly growing. A customer wishes for something bigger than free delivery or a flexible discount system. The wholesalers are forced to come up with innovative approaches to business management and new wholesale SAP solutions; otherwise, they will be left behind.
Wholesale distribution industry challenges and trends in 2022
We will long remember the consequences of the pandemic, which left an indelible mark on the global economy. During the pandemic, B2B and B2C industries were in the zone sensitive to economic shakes with 17% down.

E-Commerce: the rise of online B2B marketplaces
A return-to-work program with an obligatory online presence lies at the core of sector recovery. Traditionally, wholesalers take ownership of the products they buy from suppliers. As customer preferences shifted, wholesale distributors had to compete with larger enterprises. Direct competition is unreasonable in place. Customer needs are centered around personalized buying experiences, similar to their familiar consumer purchasing. Instead, customer satisfaction-driven personalization based on the online marketplaces and focus on a specific segment will help focus on the areas that will stand out from rivals.
Business process automation solutions
By working with B2B customers for over 12 years, we are continuously seeing changes in our clients' business models, not without the help of automation. The best business practices of wholesalers and distributors include electronic document workflow, customer relationship management (CRM), business process automation, logistics and inventory management, supply chain management, transportation management, and warehouse management.
Along with online selling adoption, wholesalers pay attention to the in-depth analytics and predictions automation applications that help approach the issue more precisely. Business intelligence solutions attract by their capabilities to make smart expansions in the product range and complementary offerings.
Continuity of supply chain
There are three main concerns related to the supply chain in 2022:
Globalization;
Rapidly changing market conditions;
Compliance with customer expectations.
While the process may seem simple, producing and selling products across multiple continents and time zones involves complying with international regulations and standards, as well as keeping up with ever-changing market requirements, which require significant effort.
Responding to the challenges, there are solutions widely used by businesses of high priority:
automated AI-based solutions for multi-channel global distribution with machine learning algorithms;
synchronization control systems for data interchange and process consistency;
optimization and costs reduction by automating procurement processes;
risks minimization by compliance with established regulations and faster adaptation to ever-changing legal requirements.
By using IT solutions, wholesalers can prepare for disruption with supply chain management software ensuring business continuity.
B2B2C business model
The post-pandemic market anticipates more flexibility from participants. Earlier B2C sales were distinguished by their high-tech element. Today they infiltrate B2B sales communication when personal contact between C-Levels contact was foremost.
You may keep your business afloat and possibly even expand your market share by switching from a B2B to a B2B2C commerce model. For instance, Salesforce, SAP Commerce Cloud, and Magento have a combined B2C/B2B commerce functionality for scaling.
Mobile presence
According to Statista, the user penetration indication is expected to reach 54.1% in 2022, with a 62.5% hit by 2025. Insider Intelligence, in its turn, According to statesstates that US m-Commerce will double total retail sales via mobile between 2020 and 2025. How is that related to the wholesale distribution industry?

People make purchases, not companies. Understanding this, wholesale distributors feel serious about developing customer-oriented mobile applications to increase customer loyalty while deepening relationships.
Features of SAP wholesale distribution solutions
There is a range of feature-rich SAP solutions that cover wholesaling commerce needs.
SAP Business One is an ERP software for small businesses that covers accounting and financials, purchasing and sales, price comparison, inventory management, CRM, reporting, and revenue analytics.
Sales & Operations Planning (SOP) is a set of forecasting and planning tools to leverage data you anticipate into useful actual data. The comprehensive historical, current, and estimated data lies at the core of SOP. It is ideal for long- and medium-term planning.
SAP Procurement is a cloud-based modular e-procurement suite with procure-to-pay processes known as Arriba. It enables collaboration with suppliers in terms of purchase orders, invoices, timesheets, vendor and supplier contracts, sales order processing, etc.
SAP Transportation Management is an application that integrates fleet and logistics management across all your distribution networks. It aims to help you significantly reduce transportation complexity with SAP Digital Supply Chain Management available as editing for SAP S/4HANA.
SAP Extended Warehouse Management concentrates on automating goods movement processing and scheduled stock management of all logistics processes in the warehouse. It streamlines the current determination of materials in the warehouse systems and their movement tracking.
SAP Enterprise Risk Management (ERM) allows getting detailed insights about risk drivers, identifying weak spots, making assessments, analyses, and monitoring to prevent needless loss.

Yard Logistics is SAP software that helps enterprises run supply chain logistics more efficiently and reduce yard-process management costs. You can plan and preview planned workloads, see real-time order status, accelerate processing time and staffing needs, and improve the usability of assets and areas more efficiently.
Top 4 reasons to use SAP Hybris in the wholesale industry: best practices
When enterprises are volume-based, a choice of software to control operation isn't a matter of luck. E-Commerce companies rely primarily on a line of proven business products from SAP. Hybris has four major reasons to buy wholesale or retail online compared to other software vendors. Let's check the best practices of SAP wholesale distribution.
1. Full integration with the business processes
If you are a wholesaler, you should be set for the changes caused by digital transformation and embrace new opportunities offered by the e-Commerce world. Adoption of the SAP Hybris portfolio will help you keep up with the times. It provides full integration with the business processes as well as simplified integration between frontend and backend operations.
Business process automation as a core part of the integration has an advantage in time, resource, and cost saving. Employees who do not have to perform routine tasks are more productive. SAP software for wholesale frees time on phone calls to the prospects. Sales managers can take time to improve inventory management, order processing, or find new suppliers. With SAP Hybris B2B, companies can store all specific data on pricing, open orders, and other sales information in one place.
2. CLOSE ATTENTION TO EACH STEP OF THE CUSTOMER JOURNEY
Sometimes it is tough to define customer segmentation correctly and make the right business proposition to the right audience. That's ok. SAP wholesale distribution products are designed to meet these challenges. Using them, you can satisfy your customers across all their touchpoints, starting from the first visit to the business website to a commerce interaction. The synergy of segmentation with omnichannel experience delivered by SAP Hybris ensures a flawless customer journey.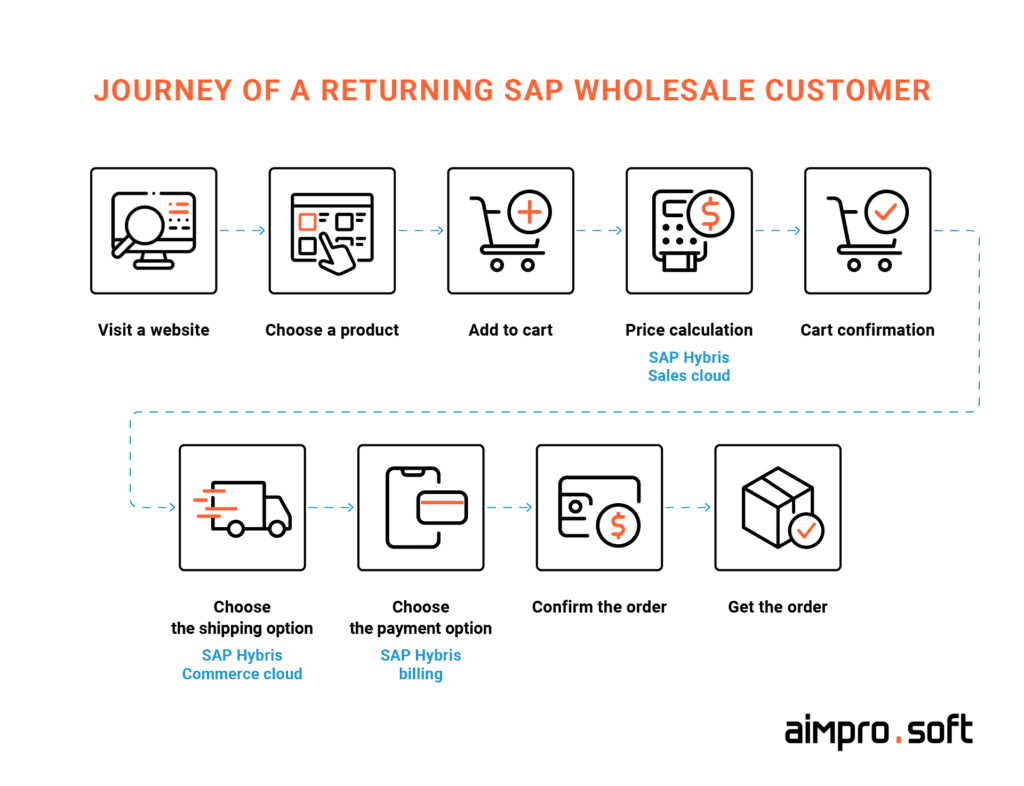 Take the example of a returning customer. He visits your site on SAP Hybris and chooses the required products and preferred payment options. Knowing invoice payments are crucial for B2B companies, SAP developed an SAP Hybris Billing solution in order to automate billing and invoicing processes.
The next step is adding goods to the cart. Analyzing the customer's payment history, the SAP solution for wholesale distribution calculates the price automatically. The customer places an order online. When it comes to shipping, the client has two options. The goods can be shipped either after processing the payment or just before. In the second case, the deferment of payment and penal sanctions can vary after the past due payment.
SAP Hybris substantially simplifies the purchasing process and makes it more familiar for your B2B customer. Its advanced features (SAP Hybris Billing, order management as a part of SAP Hybris Commerce Cloud, SAP Hybris Sales Cloud) are designed to avail your wholesale customers at each step of their journey. However, if your business processes are based on other SAP products by now, you can incorporate additional SAP solutions at an extra charge.
As you may see, thanks to SAP wholesale solutions, you can target clients where they make the most profit and discover things they care about. That makes every single interaction with a customer relevant and meaningful
3. INTEGRATION WITH SAP S/4HANA
You hate it when your traditional platform cannot process a large amount of data within a certain period. You stand for the implementation of a stable system that copes easily with this task. Besides, since you do business in the digital era, reliable integration of all business processes in the digital space is a must-have. Having studied your pain points, SAP combined the power of the SAP Hybris set of tools with the SAP S/4HANA business suite.
SAP S/4HANA is a new generation corporate solution for enterprise resource management, developed on the basis of the advanced in-memory platform called SAP HANA.
SAP S/4HANA does the following:
simplifies the data modeling (financial reports, cash management, financial planning);
changes the perception of the SAP solutions user interface; it is getting more straightforward and more intuitive; overview screens are made under different roles and business tasks;
gives the ability to review current business processes and introduce new ones to remain commercially viable in a rapidly changing environment.
Let's say you don't use an SAP ERP system for wholesale distribution and enterprise resource planning favoring a traditional one. When sales order issues occur, your team has to work down numerous transactions and worklists to resolve them (e.g., incomplete orders and incomplete outbound deliveries). This process can be time-consuming. In its turn, a sales order fulfillment cockpit gives your sales team instant access to the respective documents. The sales issues are defined and resolved much quicker. Thus, the tool raises the productivity of your team and the transparency of order management.
4. MARKETING, COMMERCE, SALES, AND SERVICES
The latest innovative technologies used in the SAP Hybris set of tools forever modified the interactions with the customers. All solutions are based on the integrated approach to business and allow experimenting, responding to market changes, and coming off with flying colors.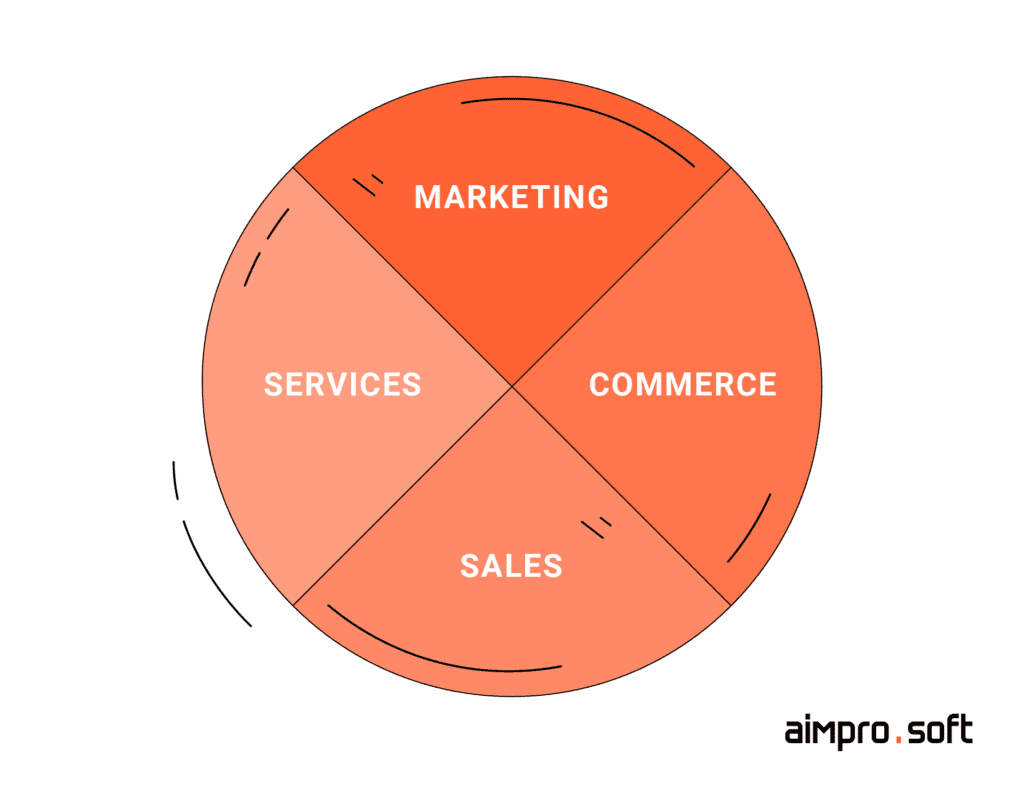 The wholesale business has four pillars: marketing, sales, commerce, and services. SAP Hybris proves to be helpful to any of them.
Marketing
Marketing is a starting point that underpins the success of any business. Marketers tend to know everything about their customers to achieve their goals. Realizing the marketing challenges, the SAP team designed a specific solution called SAP Hybris Marketing Cloud. It helps to get all the required information about your clients and identify the right target audience for each marketing campaign.
The analytical tools simplify the process of analyzing the past and predicting the future, and what is more, it is essential considering the present actions of the clients. You may follow the customer's order history, purchased products, and quantity. It will help your employees better perform warehousing duties, marketing, and sales activities.
Besides knowing what customers had already bought, SAP Hybris Marketing Cloud can predict what repeat purchases customers may plan after a certain period. Thus, you can implement effective cross-selling and up-selling techniques with special incentives you prefer to offer for those who purchase in bulk (e.g., rewards, coupons) or industry firsts for improving customer experience like free delivery, one-click order, and related product recommendations.
Commerce
As a wholesale supplier, you probably put your mind to choosing a proper industry-specific solution that allows you to create a robust online store for multi-channel communication with a large number of suppliers, partners, vendors, and wholesale customers in a short amount of time. SAP Hybris Commerce Cloud provides a wide range of tools that streamlines managing your catalogs and content. The prime advantages of the service are:
centralized work with content;
advanced search and display of catalogs and prices adapted for a particular customer (individually selected product lists);
attractive product catalogs with images, technical descriptions, co-branding, and individual promotions;
creation of individual online stores for large customers;
work with multilingual sites, different currencies, brands, and taxation systems.
Sales
The wholesale companies' distribution industry should not ignore the downsides of digital sales to survive in today's highly volatile market. These are the continually growing cost of acquiring new customers and retaining existing ones, the sharp decrease in productivity of the sales team, and high expectations of wholesale distributors concerning sales, service, and customer data. SAP Hybris Sales Cloud eliminates these obstacles.
You may remember the situation when you last time had to set different prices for the same goods for different categories of customers. You considered the client's history or order quantity while fixing the price. Therefore, you needed instant access to the data of all contacts. Account and contact management functionality available in SAP Hybris Sales Cloud gives such an opportunity. Your sales reps can select any customer, view all the information concerning order and payment history or transaction sales, and make special commercial offers after that.
Services
It does not matter what communication channel the customers use to contact your company, whether it is a self-service that allows quick and straightforward answers without contacting customer support or a contact center. They expect to receive in-depth assistance even before making a purchase. Due to SAP Hybris Cloud for Customer, comprehensive support regardless of the communication channel chosen by the customer.
The service turns the sales team in the right direction. All the information about the contacts is recorded in a single database and available at any time. Usage of SAP Hybris Cloud for Customer enables your wholesale company to:
get detailed information on the history of interactions with each customer;
track the responses and convert them into potential deals;
engage with the clients across all possible channels (emails, phone calls, social networks).
Outstanding omnichannel experience with SAP Hybris Cloud for Customer swell the ranks of satisfied customers and helps to stand out from the crowd.
Benefits of SAP for wholesale distribution
THE ACCESS TO SAP HYBRIS COMMERCE ACCELERATOR
SAP Hybris Commerce Accelerator caused a great stir in the e-Commerce world. Wholesalers want this tool because it generates an addon code automatically to display a web page avoiding manual, time-consuming code writing. The following features of this addon not available in any other e-Commerce software products made Hybris the leader among the most significant B2B commerce solution providers:
simplified management of cost centers and budgets for all purchases through the B2B e-Commerce shop;
advanced navigation and search capabilities speed up the process of making the purchase decision: and, therefore, contribute to sales growth;
the ability to track orders online and collect specific information about their current status;
the customized catalog enables wholesalers to present specific groups of customers with distinctive targeted offers;
support of complex pricing models set up either in the SAP backend system or natively within the e-Commerce platform;
the ability to define credit limits on the basis of different criteria, e.g., currency, order value, etc.
So if you noticed that your competitors outperformed you being differentiators, there is a good chance they have been using SAP Hybris Commerce Accelerator. Now all you have to do is to show determination and follow suit
FAST ADAPTATION TO DYNAMIC MARKET NEEDS
With the solutions developed by SAP for distribution, the wholesalers take a chance to respond instantly to constantly evolving market conditions and changes in existing legislation. Focusing on General Data Protection Regulations, which entered into force on 25 May 2018, SAP released version SAP Hybris 6.6 to respect the privacy of EU citizens. It is characterized by transparency and clarity when it comes to handling the customers' personal data.
The enhancements also affected SAP Hybris Product Content Management and SAP Hybris Customer Experience modules. Now you can edit your product content with the newest Microsoft import and export feature in Backoffice Product Content management.
Well-known for its demand-driven approach and quick response to the boldest market calls, SAP didn't stay on the sidelines about personalization issues. Personalized search profiles in SAP Hybris 6.6 let optimize product searches and navigation increasing closed deals.
The list is far from complete, and it is in your power to extend it. Be brave to share your feature needs with your Hybris development partner, and who knows, maybe with the next update, you will get what you want.
RICH OUT-OF-THE-BOX FUNCTIONALITY
As you may notice, when it comes to developing e-commerce platforms, more and more companies opt for the out-of-the-box (OOTB) approach. That is not surprising since such products cost less than the custom-developed ones. There are no issues with the updates of these sites. Besides, they are more reliable than those from scratch. Hybris developers spend more time setting up the dashboard and choosing the themes on TemplateMonster than developing itself.
SELF-SERVICE ANALYTICAL TOOLS
In the white paper by Intershop, about digitalization in the wholesale industry, business analytical tools are on the list of the essential features of the successful B2B e-Commerce platform. Indeed, you can't measure and increase the profitability of your wholesale company without them.
The real-time reports, standard analytics, and dashboards are presented in all components of the SAP Hybris service. For example, you can find sales marketing functionality in SAP Hybris Sales Cloud. It is responsible for creating and executing campaigns and subsequently measuring their performance by means of standard delivered reports and analytics. Lead management functionality provides analytical tools for measuring the quality of leads and improving their conversion ratio.
As you see, we have everything we need here. SAP for the wholesale sector covers all critical business points.
Our experience in SAP Hybris development for the wholesale industry
One of our old clients, an American industrial conglomerate of spare parts for control, protection, and distribution of electrical power, chose SAP Hybris for wholesale distribution within a unique digital trade space-oriented on B2B accounts. The primary reason why the client gave preference to SAP Hybris was an out-of-the-box integration with Data Hub. This solution connected the operating SAP ERP system and the online store for wholesale trade under development.
Besides having a catalog that comprises over 12 million items, the client desperately needed a full-text search to reduce search time and improve catalog management. The previous usage of the Oracle system with payment for every core came at a high price to support a full-text search. After migrating to RDS paid with a full-text search of Hybris, they considerably reduced the overhead costs, and his catalog management became much more manageable.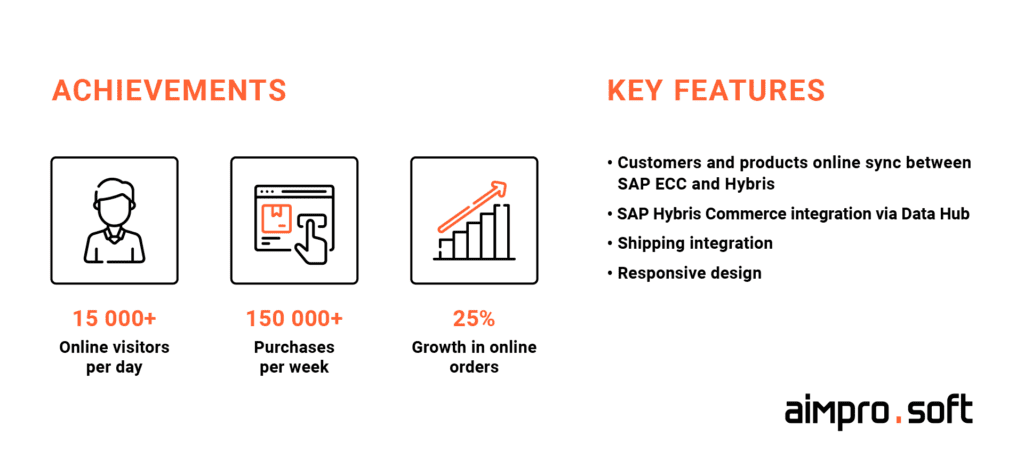 The benefits of the OOTB approach are evident. So you have to call on an experienced Hybris development company like Aimprosoft and get your B2B online store done.
How Aimprosoft can help wholesale distributors to grow
Aimprosoft is a digital transformation partner with a long story of 600+ successfully delivered projects for 100+ clients who appreciate quality for a reasonable price.
For over 17 years, we have delivered e-commerce solutions for startups and enterprises. Within an intensive SAP portfolio, our clients can count on us ordering the following services:
SAP Hybris integration with SAP ECC;
Data Hub integration;
Third-party integration (shipment, payment);
Addons implementation;
Custom extension development with further publication in the SAP marketplace;
SAP Commerce suite integration and customization;
E-commerce model shift B2B2C.
Aimprosoft is an SAP Silver Partner helping build, implement, run, and support the SAP solutions that best follow your unique needs.
Despite the war, we retained 100% of our clients in 2022, demonstrating our reliability and clients' loyalty and support.
A dedicated team, full-cycle development, and staff augmentation are our clients' most comfortable business models when hiring developers from Aimprosoft to implement SAP solutions for wholesale distribution.
Clients can hire a niche Hybris team from Aimprosoft, which means you will get backend, frontend, QA, and UI/UX design specialists deeply integrated into SAP Hybris solutions for wholesale distribution. This can accelerate the time to market and go live of the product/solution, decreasing time for project investigation and start of development under your specific requirements.
Are you ready to be a disruptor?
In a highly competitive environment, wholesalers are forced to become the disruptors in their industry, only to avoid being disrupted by other commercial giants. SAP distribution solutions help wholesalers to achieve their desired objectives with the best practices. The main features of the customer engagement and commerce suit will bring the agility required for your company to become the leader in your area.
SAP ERP for wholesale distribution has flourished, largely thanks to the state-of-the-art wholesale platform. Contact us right now to know the cost and get a rough estimate for your upcoming project.
FAQ
Why does Hybris help to try your e-commerce idea by paying less?

Many e-commerce startups avoid SAP solutions because of their cost. However, when you look at it, Hybris allows trying your e-commerce e-idea before you dive headlong into continuous investments; you can test if your business model is feasible and your target audience and invest funding reasonably.
Is Hybris a good option for manufacturers wholesaling?

We'd rather say it's perfect. Manufacturers can sell wholesale products online, managing their clients through the customer journey. Hybris (now SAP Commerce) seamlessly integrates with SAP suite products, providing a comprehensive distribution approach for a complete product/service transaction. Moreover, there is some room to maneuver to a B2B2C model using Hybris.
Can I shift from B2B to B2B2C with Hybris later?

Yes, Hybris provides this. You can create two websites for wholesale and retail selling: one for businesses and another for end customers. Businesses will be allowed to enter your online B2C-styled store with prices, special offers, and assortment by login still. End customers will see a familiar storefront with different offers.
How to develop an online store for wholesale on Hybris?

Looking for a digital foundation among e-commerce solutions, manufacturers and wholesalers find themselves disparate until they get acquainted with Hybris. It is designed strictly to cover call center consultation, presentation of printed catalogs, invoicing, returns, and manual client base management methods.

You can ask an SAP partner to set up an e-commerce store. A partner (your software vendor) will be able to download and deploy the store based on the SAP wholesale distribution software on-premise with or without customizations or adjust its cloud variant, which is faster. The license can be purchased when the website goes live in production.
What is the technology behind Alibaba?

Alibaba can't be called just a website. It is a Java-based software-hardware complex with servers and data centers in key locations under the umbrella provided interconnection of these servers. A big idea demands a big solution that is possible with JVM and Java advantages. SAP distribution solutions are based on Java too, which defines them as a perfect option for big projects.
What does ​​the SAP distributor management system look like?

A SAP wholesale Distribution Management System (DMS) is a set of applications designed to efficiently monitor and control the entire distribution industry network. You can automate planning, sourcing, stock, selling, recovery, and analyzing insights.