SAP Hybris solutions for Airlines
It has passed a hundred of years since the Wright brothers took off the heavier-than-air aircraft at the first time in human history. They were aiming to make a point-to-point transit with vehicle controlled high in the air. It's gone a long way from that great day, civil flights became an ordinary thing, and there is a competitive market of air transport providers. Today's traveler expects from airlines far more than moving passengers from one place to another.
At present, people often associate aviation industry with civil or military vehicles. Multiple service providers are hidden from their eyes. Some suppose there are certain systems used in the airline industry for managing daily operations as well as activities concerned maintenance of airports, fleets, booking and selling tickets. But in fact, airline companies draw upon the work of leading software providers which develop solutions for the general use of retailers. The collection of air travel tailored tools is SAP airline solutions.
In this article we would like to talk about some exactly fascinated innovations sprung up to transform the traveling experience of every single client, how to gain favor with the most demanding clients by simple things, we will clarify and precise the concept of "digital traveler", and how entities can benefit with SAP Hybris Commerce solutions for airlines. Let's go on board.
Why using Hybris for airlines is a good idea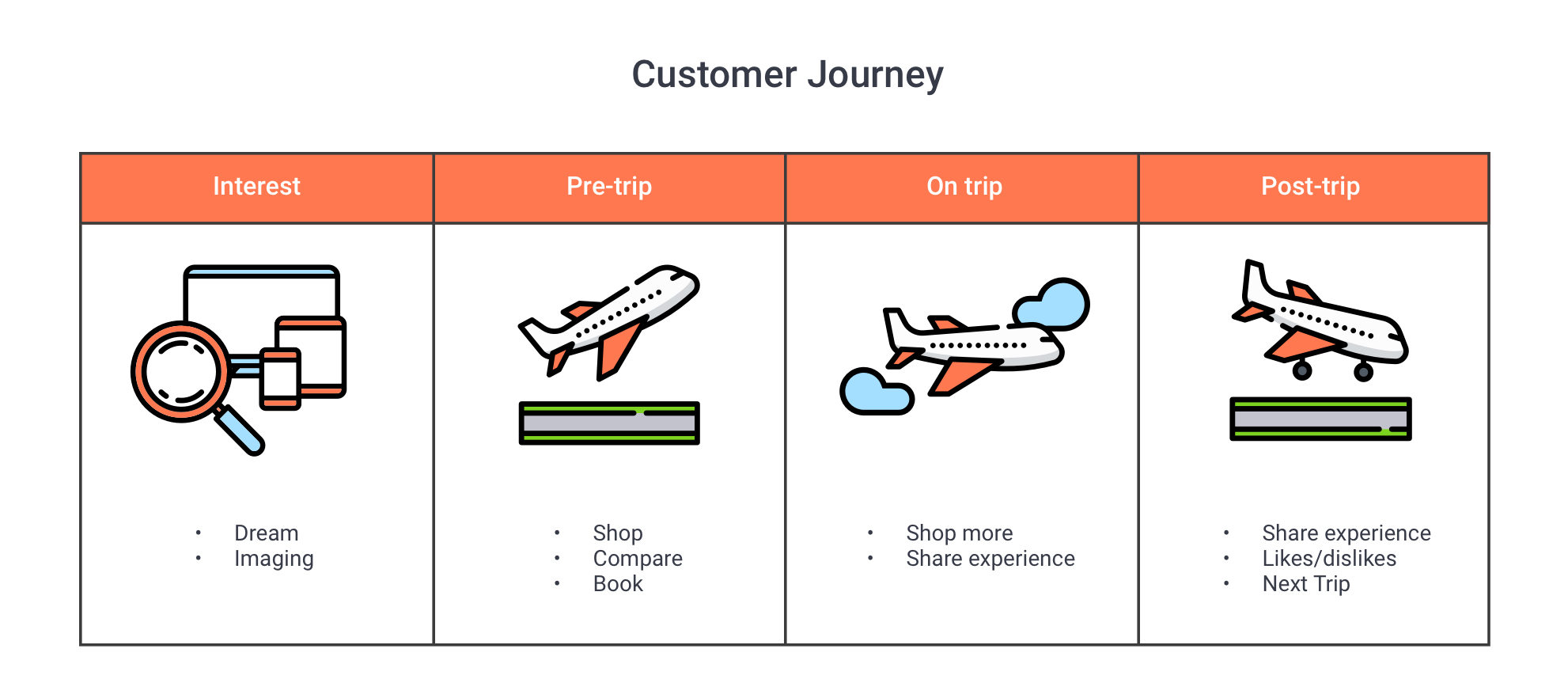 Digital traveler
Up to Accenture study, travelers agree to share biometrics while traveling abroad, 62% mark they are ready to facilitate security changes with biometric data sharing. It suggests that people can't imagine their life without digital technologies anymore.
Digital travelers expect a particular relevance to their personas with personalized advice, offers, and care in any form or via channel convenient for them. Global trends conclude young travelers prefer to spend less time searching for good deals. They rely on recommendations of their friends (79%) shared on socials more than professional consultants and don't take reviews posted on websites at face value.
Read Also: Travel Agency Website Development. How to Go to Market?
Digital economy
Digital economy lies in the connection between those who want to get something and those who provide it by information technologies. Contemporary organizations embrace the ideas being in the number of first-adopters and use them to their advantage successfully.
There are five cornerstones of digital economy concept relevant to airlines pretended to remain top of mind with travelers:
Personal touch. Travelers are versed, and as a result, personalized engagement will be welcomed warmly. A long-term, ad hoc approach results in a considerable rise in the consumer's loyalty.
Merchandise like retailers. Leading airlines follow retailers' merchandising principles to hold their ground in the travel chain.
Real-time actions. A traveler is kept under constant review by airlines. Artificial intelligence algorithms help predict disruptions and contingencies, soften passengers' inconveniences.
Proactiveness. Safety of travelers depends on the prevention the breakdowns with digital sensors and in time maintenance of vehicles./li>
Finance scores. A customer journey with flights, booking, sales, transactions, and ancillaries is open to analyze.
Find out how explosive business scores with SAP Hybris Commerce.
Omnichannel capabilities
It's only a start after the journey is ended. SAP Hybris omnichannel solutions blur the lines between channels of communication with their clients. Modern digital travelers like to be pleased as nobody else before. SAP knows it. That's why engineers came off rather well to anticipate upcoming travels of people.
When a yesterday tourist returns home, the fairytale of his journey is still enveloped him. This sweet aftertaste is expected to last as long as possible. It's an excellent occasion to cheer up clients and offer personalized routes and travel care offers (connecting flights, available accommodation en route, perks for loyal clients, lounge zones, etc.) for the next fascinating trips.
Up to American Express, 85% of surveyed respondents preferred customized itineraries to general, mass-market offerings. Traveling people prefer to be accompanied by travel services after the trip is finished. It is well founded by human nature: we all fond of anticipation. We cannot fail to recall Forrester's finding that customers expect easy engagement with them by companies in fostering their audience at every turn.
Collected data and deep analysis based on habits and preferences, previous experience, travel history and more allow using ample approaches to turn single-channel customers into omnichannel ones. As a result, a Customer Journey Map (CJM) will be more completed with touch points in the brand-customer communication and form the basis of an experience map.
SAP Airline retailing solutions. Directions and opportunities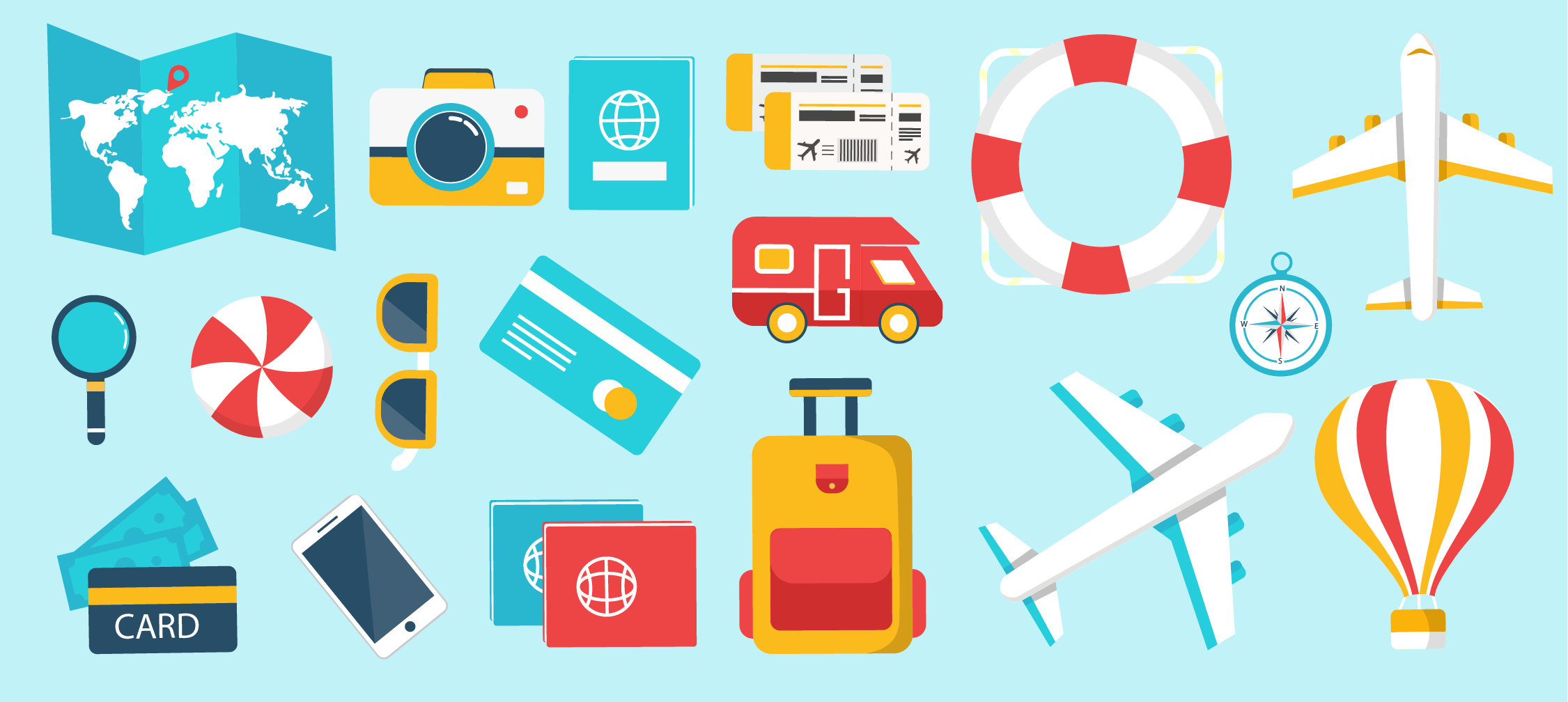 Travel Accelerator for Airline industry
The SAP Hybris Commerce platform was enriched with travel accelerator in 2016. Airlines joined in an improvement which can take under control distribution of their products. Until then it was an arduous task to find out which products (basic or ancillary) are on demand, to whom they should be offered and at what price.
The Travel Accelerator is a boilerplate template — some framework with functionality which you can adjust to your needs instead of developing from scratch. It will save you an enormous amount of time and deliver from unexpected bugs.
Get more about B2B and B2C accelerators and their benefits.
A suite of business services is aimed to provide full comprehensive customer experience for a B2B2C entrepreneurial model. A default storefront of travel accelerator took the best from the B2C retail model to suffice the B2B clients. Its UI design complies all rules of responsiveness to guarantee fitting website content to all devices automatically. One more but not least feature is connectors which can be developed to third-party providers and systems within the industry.
Let's consider a number of exceptional features thoroughly.
Features
Storefront. It consists of a landing page that can be customized to match the brand. There is a specific type of search named travel search what makes travel accelerator special. Its peculiarity is in flight connection option largely. Hybris is linked to flight searching systems which enable customers to immediately find and book convenient flight connections without being constrained by one airline company. Also, the main page of Hybris B2B website storefront places a trip finder to stimulate tickets sales via offers with complex trips.
Fare selection. A fare selection page is designed to show search results and has a dynamically updating itinerary basket to keep pace with changes.
Ancillaries are shown on a separate page which is a sales stimulator of flight and non-flight related services across the travel booking flow as. Preparing for journey a traveler is complemented with discrete upgrades to be added to the itinerary. They can be a lounge room at the airport, special flight menu, seat selection option, extra legroom, etc.
Passenger profile can be created both by B2B and B2C accounts with preferences. B2B accounts are allowed to manage booking, passenger details, payment details, whereas B2C users are enough to control customer login/registration, check flight and payment status. Also, customer profiles allow making well-thought-out traveling with personal care.
Assisted Service Module (ASM) is made to connect third-party integrations to solve business issues with a customer (business or end client) in a rapid way. Product support and transactions directly from baskets are achieved with the help of ASM.
Backoffice cockpits are displayed in a number of managing interfaces for products, schedules, special offers, etc.
Administration Cockpit is used to manage data validation constraints and instances of types.
Opportunities
Bookings. The travel accelerator as a part of SAP aviation combo set collects content from partners. Ready-made models of further actions make up individual offers for every single customer. For instance, to complement airline booking, additional information about available hotels at the destination, transfer services like car rentals, car sharing or public transport opportunities, insurance, guide support, business events related to traveler's concerns, and leisure activities are used to support a client who tends to make on-the-spot decisions fully.
Management. With the help of travel accelerator, price management is reaching a new level for airlines. Algorithms tailored to the travel industry perform a formerly tedious task of customer segmentation based on purchase behavior automatically. It allows keeping under control all engaged distribution channels (offline and online) in real time as well as composing packaged offers.
Integrations. Backoffice of travel accelerator connects seamlessly with existing accounting, CRM, and loyalty systems. An order history available out of the box is at the core of loyalty system with discounts, coupons, special offers, etc. Analytical systems for loyalty systems are tailored-made.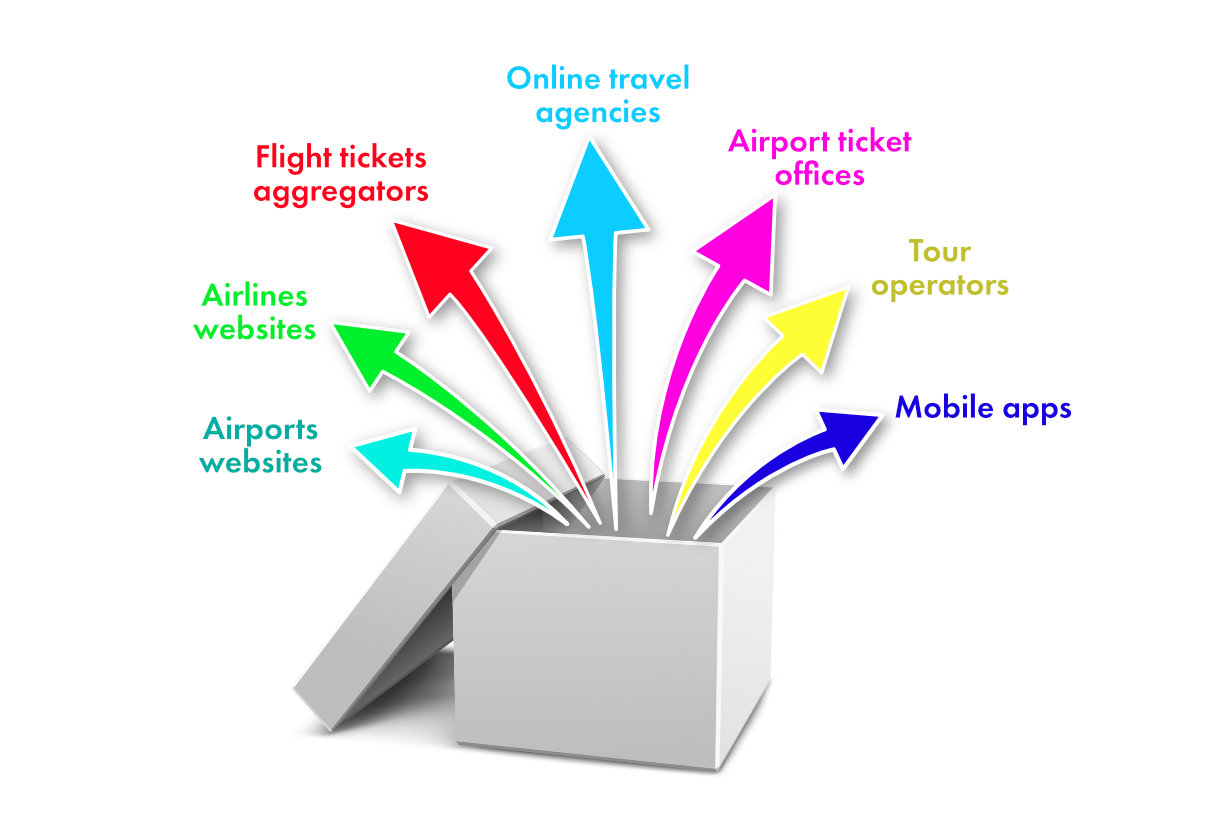 Types of sales in airline industry where Hybris is in high demand
Here it comes to additional profits arising as a direct result of B2B sales. Significantly increasing turnovers require higher requirements for the reliability and security of the systems. Hybris airline solutions provide exactly the inherent e-Commerce possibilities.
Services (selling food on board, VIP services in airports, etc.).
Tickets (direct and indirect selling, etc.).
Spare parts (suppliers of spare parts for airports and aircraft fleets, etc.).
Today business intelligence unleashes infinite possibilities for aviation industry not only in traditional service and ticket selling. How SAP aviation solutions are used in e-Commerce issues are described below.
Know how 4 points how to build a successful customer-centric omnichannel strategy with SAP Hybris solutions.
Channels of distribution in the airline industry where Hybris is in high demand
New strides in technology bring about new ways of distribution. After the International Air Transport Association (IATA) has standardized One Order to accelerate product delivery, it blew up the airline industry instantly. A single simplified standard along with omnichannel Hybris solution in airline order management process will catalyze a big shift towards airlines distribution.
One Order is nothing but the omnichannel approach to sales when a connection with the traveler is carried out on every step of his journey seizing up on all the data details associated with a traveler's purchase. It is fully realized in SAP airline solutions with Hybris Commerce platform. Below, top channels of products and services distribution of airlines are itemized.
Airlines websites;
Aeroports websites;
Flight tickets aggregators;
OTAs (Online travel agencies);
Airport ticket offices;
Tour operators;
Mobile apps for online sales channels, etc.
This is a list of most substantial distributions channels through airline companies make a profit. Time never stands still — and continuous change is a fact. Frankly speaking, we'd like to be engaged in a cutting-edge project to implement some incredible conception and helping our clients to discover new ways of selling with Hybris.
SAP ERP integration with Hybris. Benefits
Aviation companies one by one make a decision to adopt SAP solutions. Emirates Airlines is a good case in point. SAP for aviation is a set of multiple tools for powering operations across systems connecting continents and people. Being a leader in its segment SAP ERP allows managing flight operations, fleet management, route planning, accounting, sales and other activities aimed to gain benefit. Paired with Hybris responsible for sales channel, SAP ERP processes orders being a heart of airline management system.
SAP has released to the market services for the effective and comprehensive management of airline activities such as:
Strategic management;
Engineering, maintenance, and operations asset management;
Contextual marketing and customer service ;
Digitization of commerce and sales;
SAP S/4HANA (ERP suite for in-memory computing);
SAP Hybris Marketing Cloud;
Choosing ERP and commerce platforms from different vendors requires extra efforts to integrate them into one working mechanism. To avoid a resource consuming downtime SAP acquired Hybris to unite management software for enterprise level and commercial opportunities. Seamless integration of two core in performance systems is provided by Data Hub which is a management solution for agile data operations across the enterprise. Data Hub is nothing but a go-between bridge for scalable data integration from Hybris to SAP ERP.
Conclusion
At present days, commercial air travel becomes an ordinary thing for a more considerable amount of people. Anyone can cross borders in the air due to the affordability which is greater than ever. Much of the credit for this achievement goes to digitization. As we have figured out, software used in the airline industry is not distinguished by particular complexity when it comes to sales and management. It is ranked as full-fledged enterprise level solution which is synced and operate in synergy. Are you ready for takeoff? Welcome aboard with SAP aviation suite for airlines.
Frequently Asked Questions
Why SAP Hybris?

The SAP Hybris platform supports the most complicated process of customer journey based on omnichannel approach. You can manage all touch points with customers during direct and supportive sales and get data collected into SAP ERP seamlessly. Effective sales management is achieved due to the unique solutions Data Hub and B2B/B2C Accelerator.
What SAP extensions might be handy?

There are a lot of handy extensions placed on the SAP marketplace and third-party integrations that can supplement your online sales channel with payment, analytics, marketing, reporting, and other solutions.
What is SAP Commerce Cloud for Aviation?

SAP has certified its Commerce Cloud solution according to IATA regulations for the aviation industry. It has an adapted travel accelerator for SAP Commerce Cloud designed to provide personalized digital experiences for inflight eCommerce and other steps of the customer journey.
How can SAP Hybris help avia business adapt to the new reality?

SAP Hybris supports B2C and B2C models. In times when plane tickets sales don't bring revenue, aircraft companies can earn from aircraft leasing to some operators. In this case, a business can leverage the B2B perks of Hybris continuing running business in the new reality.
What are the channels of distribution SAP Hybris can support?

As usual, airlines get revenue due to ancillary sales such as in-flight connectivity, inflight advertising, and e-commerce. People travel using their smartphones that can also be leveraged by airline operators as a means of reaching the customer with personal offers. SAP airline solutions (Hybris) integrate data from all channels and provide an omnichannel sales experience.
You may also want to read